World update: August 8-9 2020
Stories from Lebanon, Tunisia, Belarus, and more
This is the web version of Foreign Exchanges, but did you know you can get it delivered right to your inbox? Sign up today:
---
THESE DAYS IN HISTORY
August 7, 1819: Simón Bolívar's victory over colonial Spanish forces at the Battle of Boyacá allows his forces to seize Bogotá and secure the independence of the colony of New Granada (roughly Colombia, Ecuador, and Panama). It's considered one of the first key battles in Bolívar's campaign to liberate the whole of northern South America.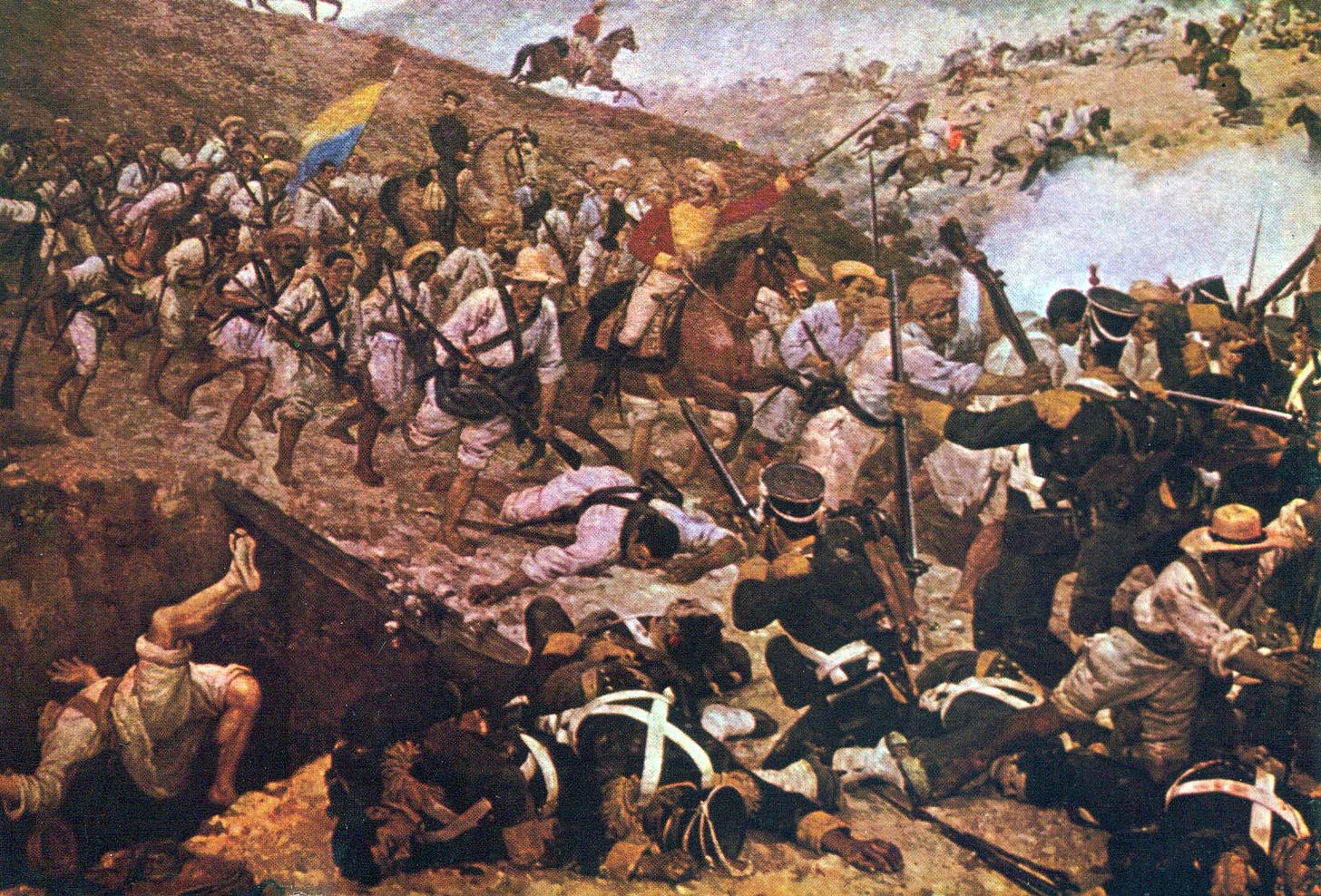 Venezuelan painter Martín Tovar y Tovar's 1890 work The Battle of Boyacá (Wikimedia Commons)
August 7, 1946: The Soviet Union informs the Turkish government that its management of the Dardanelles and the Bosphorus has been detrimental to other Black Sea countries (i.e., the Soviets themselves) and that it would seek to reopen international negotiations on the subject. This was the main event of the Turkish Straits Crisis and pushed Turkey to drop its neutrality and align itself with the US. It was also a key factor in the development of the Truman Doctrine, about which FX subscribers can read more here.
August 8, 1988: Hundreds of thousands (perhaps millions) of protesters engage in demonstrations and civil disobedience across Myanmar (then Burma) to protest the ruling Burma Socialist Programme Party's repression, corruption, and economic mismanagement. The 8888 Uprising, as it's known, ended with a military coup in mid-September and the imposition of the military government that ruled Myanmar until 2011 and in some ways still rules it today. So, mission not really accomplished. But it was a coming out party of sorts for future Nobel laureate Aung San Suu Kyi. This was of course well before she became complicit in ethnic cleansing.
August 9 (or so), 378: A Gothic army annihilates a larger Roman army at the Battle of Adrianople (modern Edirne). Some two-thirds of the Roman soldiers were killed, including Emperor Valens. The virtual eradication of an imperial army opened the door for the Goths to move into the empire for good and contributed to the eventual fall of the empire in the west.
August 9, 1945: The United States drops its second atomic bomb, this time on the Japanese city of Nagasaki, while the Soviet army invades Japanese-occupied Manchuria. Some 80,000 people are believed to have died of causes that can be linked to the bombing. The combination of the atomic bombings and the entry of the Soviets into the war against Japan convinced Japanese leaders to finally surrender. The Soviet invasion also turned Manchuria into a natural base of operations for Mao Zedong's communist forces in the ensuing Chinese Civil War.
INTERNATIONAL
Worldometer's coronavirus figures for August 9:
20,016,547 confirmed coronavirus cases worldwide (6,390,460 active, +219,598 since yesterday)

733,607 reported fatalities (+4798 since yesterday)
MIDDLE EAST
TURKEY
240,804 confirmed coronavirus cases (+1182)

5844 reported fatalities (+15)
European Union foreign minister Josep Borrell issued a statement on Sunday in which he called Turkey's energy exploration operations in the eastern Mediterranean "extremely worrying," saying that they "will lead to a greater antagonism and distrust" in the region. Countries in the eastern Mediterranean are trying to define their maritime borders due to the discovery of offshore energy deposits. Turkey's efforts in this regard have been more…oh, let's say "proactive" than its neighbors', which has caused tensions with Cyprus, Egypt, and Greece.
LEBANON
6517 confirmed cases (+294)

78 reported fatalities (unchanged)
It was a weekend of sometimes-violent protests in Lebanon, amid the ongoing fallout from Tuesday's explosion at Beirut's port. Demonstrators actually broke into the offices of the Lebanese economy, energy, and foreign ministries on Saturday, while Sunday saw a sustained action around the Lebanese parliament building. As they have been since last fall, the protesters are demanding wholesale political change, and their protests explicitly targeted prominent political figures like President Michel Aoun and Parliament Speaker Nabih Berri, as well as prominent tangentially political figures like Hezbollah leader Hassan Nasrallah.
A handful of cabinet ministers and members of parliament resigned over the weekend in what was probably little more than a performance for the protesters. Among these were Information Minister Manal Abdel-Samad and Environment Minister Demianos Kattar. They followed ex-Foreign Minister Nassif Hitti, who resigned a day before the explosion citing Lebanon's overall political crisis, but none of these piecemeal resignations will make much difference as far as the protesters are concerned. Prime Minister Hassan Diab has reportedly asked ministers who are thinking about resigning to hold off, and says he's planning to call for an early election after negotiations with Lebanon's major political bosses. There's little reason to think a new election held under these circumstances would produce any substantive change, since those bosses still hold the levers of power.
French President Emmanuel Macron, whose actions over the past week suggest he still views Lebanon as a sort of French colony emeritus, hosted a United Nations donor conference on Sunday, promising via Twitter that "Lebanon's future is being decided now." For the record, as far as I can tell no Lebanese people were involved in deciding their future apart from Aoun, arguably the main target of these anti-government protests and a man who should have no credibility when it comes to talk of political reform.
The international community seems insistent on two things: that any aid funds raised be delivered directly to the Lebanese people and that the Lebanese government commit to substantial reforms as a prerequisite to additional economic assistance. This apparently means that aid money will be disbursed to international NGOs rather than to the government, though how that's going to work when it comes to rebuilding the infrastructure destroyed in the explosion is unclear. As to the reform, there's no question Lebanon needs it. But the kind of reforms European governments and the International Monetary Fund are talking about likely involve more austerity for a country that's already struggling with more austerity than it can handle. What Lebanon really needs is debt forgiveness, but none of its international saviors seem willing to take a haircut on their loans in order to make that happen.
ISRAEL-PALESTINE
83,002 confirmed cases (+678) in Israel, 14,208 confirmed cases (+280) in Palestine

600 reported fatalities (+7) in Israel, 97 reported fatalities (+1) in Palestine
Thousands of people resumed their protests outside Benjamin Netanyahu's house in Jerusalem on Saturday, demanding the prime minister step down over his corruption trial and his mishandling of the pandemic.
IRAN
326,712 confirmed cases (+2020)

18,427 reported fatalities (+163)
The Gulf Cooperation Council has thrown its support behind a US effort to extend the United Nations arms embargo against Iran, which will expire in October. This seems unlikely to make much difference in swaying Russia and China to support the extension, but it is an interesting show of unity by the GCC, which is still internally divided by the Saudi-Qatari rivalry. The Qataris have relied on Iran to some extent to help them weather the blockade imposed by the Saudis and their allies/clients three years ago, so it's a little surprising to see them go along with this move.
ASIA
AFGHANISTAN
37,054 confirmed cases (unchanged)

1312 reported fatalities (unchanged)
The consultative council (loya jirga) that assembled Friday apparently voted in favor of completing the Afghan government's prisoner swap with the Taliban. Afghan President Ashraf Ghani announced on Sunday that Kabul will release the last 400 prisoners on the Taliban's list, who were deemed too dangerous to free without a more thorough deliberation. This should clear the last hurdle to direct Taliban-government peace talks. Obviously there's a long way to go before a peace agreement, if this process actually does result in one. But the onset of talks could help pave the way to further US troop reductions in Afghanistan.
INDIA
2,214,137 confirmed cases (+62,117)

44,466 reported fatalities (+1013)
It seems that Indian Prime Minister Narendra Modi is planning to do to India's environment what he's already doing to its religious minorities—sacrifice it to his right-wing nationalism:
Over the past decade, Umeshwar Singh Amra has witnessed his homeland descend into a battleground. The war being waged in Hasdeo Arand, a rich and biodiverse Indian forest, has pitted indigenous people, ancient trees, elephants and sloths against the might of bulldozers, trucks and hydraulic jacks, fighting with a single purpose: the extraction of coal.

Yet under a new "self-reliant India" plan by the prime minister, Narendra Modi, to boost the economy post-Covid-19 and reduce costly imports, 40 new coalfields in some of India's most ecologically sensitive forests are to be opened up for commercial mining.

Among them are four huge blocks of Hasdeo Arand's 420,000 acres of forest in the central Indian state of Chhattisgarh, which sit above an estimated 5bn tonnes of coal.
AFRICA
TUNISIA
1697 confirmed cases (+19)

51 reported fatalities (unchanged)
In the wake of former prime minister Elyes Fakhfakh's resignation last month, the Arab Center's Daniel Brumberg warns that the Tunisian political system may be teetering on the brink of a crisis:
Perhaps it was inevitable. The July 15 resignation of Tunisian Prime Minister Elias Fakhfakh—provoked by accusations of financial malfeasance—came only five months after the creation of a fractious power sharing government that was beset by incessant squabbling. These tensions seemed to diminish in the spring as the government struggled—with some success—to contain the COVID-19 crisis. But this moment of solidarity did not last long. Tunisia's fragile economy could not withstand the shock of a health crisis that also forced the government to ban nearly all foreign flights, thus dealing a severe blow to the tourism industry. In the midst of an economic meltdown, political rivalries reemerged.

This debilitating dynamic was exacerbated by the regional power struggle raging in neighboring Libya. Tunisia's warring leaders tried to leverage the Libyan situation to their domestic advantage. Predictably, their maneuvering created a toxic environment in the parliament, thus setting the stage for Fakhfakh's resignation. President Kais Saied has now appointed Interior Minister Hichem Mechichi to be the new interim prime minister. He has one short month to form a new government, and if he fails, new elections will ensue. Such a prospect raises real concerns about the very future of Tunisia's young democracy.
NIGER
1158 confirmed cases (+1)

69 reported fatalities (unchanged)
Gunmen killed eight people—six French aid workers plus their Nigerien guide and their driver—on Sunday in a giraffe sanctuary in southwestern Niger. There's been no claim of responsibility. Without a claim it's hard to discern a motive, but it is true that one half of the Islamic State's West Africa Province affiliate is active in western Niger and there are also al-Qaeda affiliates that operate in the region.
SOMALIA
3227 confirmed cases (unchanged)

93 reported fatalities (unchanged)
An al-Shabab suicide bomber killed at least eight Somali soldiers and wounded 14 others in an attack on a military base in Mogadishu on Saturday.
ZIMBABWE
4649 confirmed cases (+74)

104 reported fatalities (+2)
An anonymous dispatch to Africa Is a Country describes a troubling situation in Zimbabwe:
Zimbabwe's government went from openly mocking countries shutting down in response to the COVID-19 pandemic, to begging the international community to fund its national response. Once funded, the health minister ignored healthcare workers' demands for better personal protective equipment (PPE) and improved working conditions, while actively over-inflating the pandemic budget in order to plunder funds from the nation's nearly 15 million people. State hospitals in the country's capital are barely equipped to manage the pandemic; the rest of the country's healthcare infrastructure is severely understaffed, under-equipped, and on the precipice of a public health disaster that will leave many exposed, if not dead. The state has decided it does not care whether Zimbabweans live or die. And it appears, neither do President Emmerson Mnangagwa's relatives.

The government has arrested, abducted, and tortured citizens for speaking out against the administration's failure. Journalist Hopewell Chin'ono was abducted, later confirmed as arrested, and is facing trial for "incitement to participate in public violence." In reality, Chin'ono's crime is exposing state corruption and looting of the country's COVID-19 funds. Chin'ono demanded transparency, accountability, and encouraged citizens to engage in peaceful protest until the former two demands were met. The calls were made on Twitter, in a country with only 56.5% internet connectivity and likely very few Twitter users. If Twitter activism makes the government this uncomfortable, one can only imagine what else they are trying to hide. In particular, women face the brunt of the government's draconian retaliation. Police violently beat women in Bulawayo for violating curfew. Police arrested activists calling for a stop to constitutional amendments that are being pushed through without sufficient citizen consultations. And most recently award-winning author Tsitsi Dangarembga and opposition party spokesperson Fadzayi Mahere were arrested along with many others for holding a peaceful, socially distanced demonstration again calling for an end to government violence and persecution.
EUROPE
RUSSIA
887,536 confirmed cases (+5189)

14,931 reported fatalities (+77)
Tens of thousands of people protested again in Khabarovsk on Saturday to demand the release of the region's popular former governor, Sergei Furgal. Russian authorities have arrested Furgal and charged him with involvement in several murders years ago, but the charges seem politically motivated as justification for ousting a popular governor who is a member of an opposition party.
BELARUS
68,850 confirmed cases (+112)

587 reported fatalities (+2)
Large protests have reportedly broken out in Belarus after an official exit poll gave incumbent Alexander Lukashenko nearly 80 percent of the vote in Sunday's presidential election. Lukashenko has been the target of popular anger of late over his mishandling of the pandemic. Momentum seemed to be behind his main challenger, Svetlana Tikhanovskaya, who won a mere seven percent according to the poll. Because Belarusian elections are mostly for show and there's no reliable pre-election polling or reliable media coverage of the vote, it's impossible to say with any certainty that Lukashenko didn't win, or even that he didn't win in a landslide. But these results seem implausible to say the least, and since Lukashenko controls the entire electoral apparatus in Belarus there's no particular reason to believe the outcome was legitimate.
To be sure, this was the inevitable outcome of the election. Lukashenko might have faked a narrower outcome to offer a greater veneer of plausibility, but he was always going to produce a count that showed him winning, regardless of how the actual vote went. Which makes these protests equally inevitable. It's what happens next that's still to be determined.
AMERICAS
BOLIVIA
89,055 confirmed cases (+1164)

3587 reported fatalities (+63)
A tense situation in Bolivia may be escalating to something worse, as the junta government says it is preparing to use military force to break up about 70 roadblocks protesters have set up on several large highways around the country. The protesters are angry over the junta's repeated delays in holding a general election. One was supposed to be held in May, then September, and now October. The delays have ostensibly been due to the pandemic, but suspicions are that the real reason is that candidates from former President Evo Morales's Movement for Socialism party, like presidential nominee Luis Arce, are leading in the polls. The frustration is understandable, but in the midst of the pandemic roadblocks—which hamper response efforts—may not be the best way to express that frustration.
PERU
478,024 confirmed cases (+7012)

21,072 reported fatalities (+228)
A group of indigenous people attacked an oil facility in Peru's Loreto region late Saturday, sparking a clash with police in which at least three of the attackers were killed. The indigenous community says the Canadian-owned oil well has polluted their land and that the Peruvian government has ignored their concerns. Police say it was the indigenous group who fired the first shot, but the indigenous umbrella group ORPIO contends that the group had no firearms and so it would have been impossible for them to fire any shots at all.
BRAZIL
3,035,582 confirmed cases (+22,213)

101,136 reported fatalities (+593)
Overall deforestation in the Amazon may have been down in July compared with last year, but with Brazil entering its dry season there's reason to be very concerned about where things are headed:
One year after a surge in man-made fires in the Amazon forest drew international condemnation and embarrassed the Brazilian government, President Jair Bolsonaro has stepped up law enforcement against illegal burning.

Still, this year's dry season is off to a worse start.

In July, the first month of the season, fires were up nearly 30 percent over last year. The 6,803 fires reported by the government's satellite agency were the second-highest tally in 15 years. That came after June fires hit a 13-year high.
VENEZUELA
25,805 confirmed cases (+844)

223 reported fatalities (+8)
A Venezuelan court on Friday sentenced two former US special forces soldiers to 20 years in prison a piece for their role in the bizarre, botched attempt to unseat President Nicolás Maduro in May. The Trump administration continues to deny having any knowledge of or involvement in the plot, but says it is trying to obtain the release of the two Americans.
UNITED STATES
5,199,444 confirmed cases (+47,849)

165,617 reported fatalities (+534)
Finally, New America's Alexandra Stark argues that the United States needs to end its proxy wars in the Middle East:
While it has worn various titles over the years, such as "by, with, and through," the approach is more or less the same: Empower local actors—via support from U.S. special operations forces, training, arms transfers, intelligence sharing, and so forth—to fight the wars that Americans cannot or don't want to fight themselves. In the Middle East, it has meant arming proxy actors in some places, such as Syria, and empowering security partners to do so or intervene directly in others, such as Yemen and Libya.

But these proxy wars have not accomplished U.S. strategic goals—in some cases, they have even done the opposite. Advocates who criticize U.S. policy in the broader Middle East region have tended to focus on "ending endless wars." This is a critical step, but U.S. policy must go beyond ending these wars. The proxy approach to Middle East conflicts has failed. It's time to focus on a new strategy centered on major investments in development and diplomacy. This will help ensure that wars do not simply start up again in a revised form and pull the United States back in.

My research has found that U.S. security partners in the region, particularly the Persian Gulf monarchies, already understand the shortcomings of their own proxy-war approaches. As the Arab Spring toppled governments across the region in 2011, Qatar, the United Arab Emirates, and Saudi Arabia saw the instability as an opportunity to gain regional influence by replacing opponents with friendlier regimes. However, rather than achieving quick victories in Libya and Syria as they had hoped, these states found themselves sucked into complex quagmires without hope for outright victory. Instead, regional proxy sponsors have transformed localized conflicts into destabilizing regional wars that spill across borders. They have contributed to massive levels of human displacement, with significant impacts on the domestic politics of countries where refugees arrive.