World update: August 6 2020
Stories from Lebanon, Sri Lanka, Russia, and more
This is the web version of Foreign Exchanges, but did you know you can get it delivered right to your inbox? Sign up today:
---
THESE DAYS IN HISTORY
August 5, 1571: The Cypriot city of Famagusta surrenders to the Ottomans, ending a nearly 11 month siege. As the final Venetian-held city on Cyprus, Famagusta's surrender meant the total Ottoman conquest of the island. What was supposed to be a peaceful handover turned violent when the Ottoman commander, Lala Mustafa Pasha, abruptly had Venetian commander Marco Antonio Bragadin mutilated and taken into custody (and ultimately executed a couple of days later) and then unleashed his soldiers on the residents of the city. It's unclear why Mustafa did this—he argued that Bragadin had executed his own Ottoman prisoners and murdered a group of Muslim pilgrims, but it may be that he was letting out some pent up frustration that such a small garrison was able to hold off and embarrass his much larger army for so long. The siege prompted the formation of a new "Holy League" alliance that eventually defeated the Ottomans at the Battle of Lepanto, though that took place after Famagusta fell.
August 5, 1960: Although it was called the "Republic of Upper Volta" at the time, this is the date when Burkina Faso declared its independence from France.
August 6, 1806: Francis II abdicates and dissolves the Holy Roman Empire as a result of Napoleon's victory at the Battle of Austerlitz and in the War of the Third Coalition. Luckily he landed on his feet—having already styled himself Francis I of the new Austrian Empire in 1804, he had a very nice golden parachute.
August 6, 1945: The United States drops the first of two atomic bombs on Japan, this one at Hiroshima. The full death toll is difficult to assess because of the nature of radioactive fallout but estimates of over 200,000 are probably within the ballpark.
August 6, 1962: Jamaican Independence Day
INTERNATIONAL
Worldometer's coronavirus figures for August 6:
19,245,806 confirmed coronavirus cases worldwide (6,179,066 active, +280,044 since yesterday)

716,744 reported fatalities (+6457 since yesterday)
MIDDLE EAST
SYRIA
999 confirmed coronavirus cases (+55)

48 reported fatalities (unchanged)
With the caveat that it's a pro-government media outlet, al-Masdar is reporting renewed fighting between Islamic State forces and the Syrian army near the city of Salamiyah in Hama province and in a part of Homs province. IS fighters attacked army positions in both regions overnight but seem to have been driven off. There's no casualty count as far as I can tell.
Elsewhere, Al-Monitor's Metin Gürcan reports that there are signs the Turkish-Russian ceasefire in southern Idlib province is breaking down, as Turkey has been unable to control rebel factions there and consequently the ceasefire has failed to achieve its main objective—the reopening of Syria's M4 highway. Russian and Syrian air and artillery attacks are starting to resume, which could be the precursor to a renewed full-scale offensive. Local sources seem to think the Turks might be willing to trade territory in southern Idlib for Russian concessions in Libya, and maybe to avoid a new military operation that would push more displaced Syrians toward the border.
YEMEN
1768 confirmed cases (+5)

508 reported fatalities (unchanged)
The Saudis say they shot down a Houthi drone headed toward the Yemeni-Saudi border on Thursday. There's been no comment from the Houthis as yet.
TURKEY
237,265 confirmed cases (+1153)

5798 reported fatalities (+14)
Turkey may be the next economic domino to fall in the Middle East, as the lira reached a historic low of 7.28 per US dollar on Thursday. It's since recovered slightly, but the lira has lost 20 percent of its value this year. Investors are dumping the lira and lira-based investments, and Turkey's central bank is depleting its foreign currency reserves in a failing effort to prop up their own currency. Turkish President Recep Tayyip Erdoğan is ideologically opposed to raising interest rates, but at some point he may have no choice.
LEBANON
5672 confirmed cases (+255)

70 reported fatalities (+2)
There doesn't appear to be much substantially new today with regard to Tuesday's explosion that destroyed Beirut's seaport and damaged a large portion of the city. The casualty count remains at 137 dead, over 5000 injured, and it's still too soon to assess the material damage though I've seen estimates as high as $15 billion thrown around. Shipping companies are diverting their container vessels to Lebanon's second-largest port, at Tripoli, though long term there are questions about whether Tripoli can handle the kind of traffic Beirut regularly sees.
The investigation into the explosion continues to center on negligence at the port in the handling of a very large quantity of ammonium nitrate, which had been stored carelessly at the port since 2014 and fueled the blast. There remains no evidence that this was a deliberate attack, although at this point the failures of the Lebanese government are starting to seem intentional, and a Lebanese public that was already fed up seems to have hit a new level of rage. Protests broke out in central Beirut Thursday evening and turned violent, with police using tear gas to break up crowds that set fires and attacked storefronts. Comparisons of this explosion to the 1986 Chernobyl disaster, albeit on a far smaller scale, could be prescient in that Chernobyl hastened the downfall of the Soviet political establishment and this incident may do something similar for the Lebanese establishment. Although that may be too optimistic a prediction.
The international response is continuing, with multiple countries sending aid and the large Lebanese diaspora community doing likewise. French President Emmanuel Macron visited the city, apparently uninvited, and got a first-hand taste of the public outrage I noted above. The strangeness of a foreign head of state just popping by unannounced to check out the damage was perhaps magnified when Macron started talking about crafting a "new political pact" in Lebanon. Those of you familiar with history and/or keeping up with our subscriber-only podcast series on the Lebanese Civil War will note that Lebanon's last "political pact" with France contributed mightily to creating the dysfunctional system that allowed this incident to happen. We already knew Macron regarded himself as Jupiter, but apparently he also likes to think of himself as the modern Georges Clemenceau.
If you're as economics-challenged as I am, you'll appreciate Ryan Cooper's effort here in summarizing the economic catastrophe that's underpinning Lebanon's situation:
The roots of the economic crisis are complicated, but as Hannes Baumann explains in a recent paper, the Lebanese elite has for decades pursued a form of unproductive rentier capitalism. Unlike many countries in the region, Lebanon has no oil, but rather than trying to build up a productive export sector so it can pay for much-needed imports, its elite has built up domestic finance and real estate with oil money from Gulf states and remittances from the Lebanese diaspora. The Lebanese pound was pegged to the dollar, and to pay for imports, the government borrowed, offering high interest rates to well-connected domestic and foreign banks that preferred lending to the state instead of actual domestic business. One result was a skyrocketing debt-to-GDP ratio, which reached 170 percent.

Essentially, a tiny minority of people at the top of Lebanese society managed to divert a good chunk of global income flows and the vast majority of what Lebanon actually does produce into their own pockets, through a combination of chicanery and outright corruption. A side consequence of this kind of rigged, unequal economy is appallingly bad public services, as elite looting leaves no space for anything else. For years Lebanon has been drowning in trash, thanks to government dithering and corrupt sanitation contracting. It suffered severe wildfires recently in part because the state had not maintained donated firefighting helicopters. The whole thing was built on economic sand.
ISRAEL-PALESTINE
79,559 confirmed cases (+1640) in Israel, 13,398 confirmed cases (+333) in Palestine

576 reported fatalities (+11) in Israel, 92 reported fatalities (+3) in Palestine
One of the countries pledging assistance to Lebanon is Israel—though, as Israeli activist Orly Noy points out, the Israeli government has had its own role in bringing Lebanon to the brink of total collapse:
But even if Israel played no part in the current disaster in Beirut, it plays a key role in the ongoing disaster in Lebanon. In fact, Israel — alongside states like Syria and Iran — has for decades been one of the central agents of the bloody chaos that has plagued its northern neighbor, and has helped to crush the delicate political and social fabric that has existed there for decades.

This includes, but is certainly not limited to, the refusal since 1948 to allow Palestinian refugees in Lebanon to return to their homes; a full-scale invasion of the country in 1982; the ensuing brutal occupation of southern Lebanon that lasted until 2000; and a destructive war with Hezbollah in 2006 that shattered a country still reeling from a bloody years-long civil war.
SAUDI ARABIA
284,226 confirmed cases (+1402)

3055 reported fatalities (+35)
Saad Aljabri, a former chief of staff to ex-Saudi Crown Prince Mohammad bin Nayef who now lives in Canada, filed a lawsuit in the US on Thursday alleging that current Saudi Crown Prince Mohammad bin Salman is trying to have him murdered. Several members of Aljabri's family, still in Saudi Arabia, have been detained by authorities in what is certainly an effort to force him to return to the kingdom, and Aljabri alleges that MBS tried to send a team to Canada to kill him but they were stopped by Canadian customs authorities. Aljabri says MBS blames him for the CIA's conclusion that the prince was directly involved in the 2018 murder of Jamal Khashoggi.
Meanwhile, the New York Times reports that US intelligence agencies are investigating MBS's nuclear ambitions, specifically as concerns a joint Saudi-Chinese effort to help the kingdom develop a civilian nuclear power program. There's apparently some suspicion that the Chinese government has already helped the Saudis build several undeclared nuclear facilities that may be involved in enriching uranium.
Uranium enrichment is a component of a civilian nuclear program, but it can also be a component of a nuclear weapons program, and the kind of lightly enriched uranium used in civilian reactors is so readily available worldwide that it makes little sense for a country like Saudi Arabia to pursue its own enrichment capability unless it's looking to weaponize the technology. This is the argument most often made about Iran's uranium enrichment program, though for a country like Iran that is constantly at the mercy of US sanctions the desire for a domestic enrichment capacity is somewhat more understandable. While I can't speak to the specific details in this case, there seems to be little question that MBS would like to develop the capability to produce nuclear weapons, though not weapons themselves at this time.
IRAN
320,117 confirmed cases (+2634)

17,976 reported fatalities (+174)
The Trump administration's special envoy for Iran, Brian Hook, is leaving his post. There's no indication as to why he's decided to quit, though given the travel pressures of his job he may just be burned out. Now he'll get to spend more time preventing his family from obtaining basic necessities.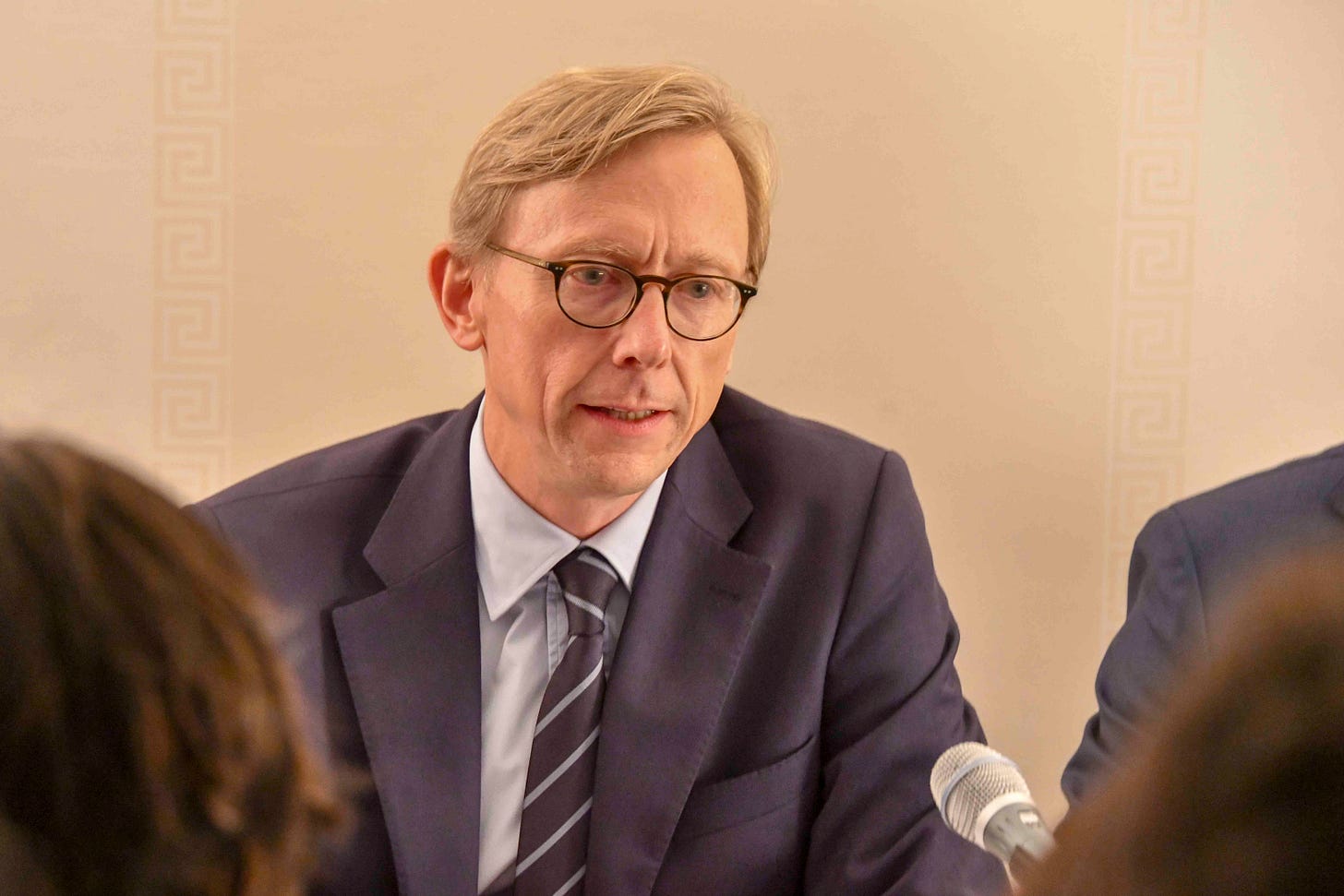 Maybe he'll do something wholesome, like stealing candy from children (State Department photo via Flickr)
Hook's replacement will be Trump envoy for Venezuela Elliott Abrams, which is a little much even for this administration seeing as how Abrams famously was convicted of lying to Congress in the Iran-Contra Affair. He'll retain his Venezuela post and serve now as a kind of Regime Change Czar for the administration. I've seen speculation that Hook's departure somehow suggests the administration has lost interest in diplomacy with Iran, but I have no idea how anybody could be less interested in diplomacy with Iran than Hook was.
ASIA
TAJIKISTAN
7665 confirmed cases (+40)

62 reported fatalities (+1)
The Tajik government has decided to move up its presidential election to October 11, rather than sticking to its usual November schedule. Tajik elections aren't really contested, but there is some suspense here over the question of whether incumbent Emomali Rahmon plans to stand for another term. There have been some signals, but nothing conclusive, that he could pass the office to his son, newly promoted National Assembly chair Rustam Emomali. Rahmon holds an extra-constitutional position, "Leader of the Nation," so he'll still be running the country no matter what.
AFGHANISTAN
36,896 confirmed cases (+67)

1298 reported fatalities (+4)
The end of the Eid al-Adha holiday on Monday brought with it the end of a Taliban-Afghan government ceasefire, and of course that means they're now fighting again. Afghan officials say that ten Taliban fighters were killed Wednesday in two battles with government forces in Ghazni province. Peace talks are still hinging on the final resolution to a prisoner exchange, with Kabul still reluctant to release the 400 Taliban prisoners it's identified as the most violent. An Afghan consultative council (loya jirga) is scheduled to meet Friday to deliberate the issue. Such councils are traditionally called over major decisions, and in this case President Ashraf Ghani doesn't want to be personally responsible for releasing this last batch of prisoners.
SRI LANKA
2839 confirmed cases (unchanged)

11 reported fatalities (unchanged)
Unsurprisingly, Sri Lankan Prime Minister Mahinda Rajapaksa's Sri Lanka People's Front (SLPP) party has won an overwhelming victory in Wednesday's parliamentary election. The vote counting isn't over, but so far it appears the SLPP is on track to finish with at least 150 seats in the 225 seat parliament, giving it the two-thirds majority needed to amend the constitution. President Gotabaya Rajapaksa wants to change the constitution to empower his office, though it's not clear how much of his own executive authority PM Mahinda will be prepared to sacrifice. Final results will be released Friday.
THAILAND
3330 confirmed cases (+2)

58 reported fatalities (unchanged)
Big news: it appears Thailand is changing its pronunciation:
Good for them, I like the new name.
CHINA
84,528 confirmed cases (+37) on the mainland, 3850 confirmed cases (+95) in Hong Kong

4634 reported fatalities (unchanged) on the mainland, 46 reported fatalities (+3) in Hong Kong
Donald Trump issued an executive order late Thursday that bans any US transactions with ByteDance Ltd., the Chinese parent company of the TikTok video-sharing app, effective 45 days from now. Trump is trying to force ByteDance to sell TikTok to a US company, possible Microsoft, over concerns about the parent company's relationship with the Chinese government and just for general antagonistic reasons.
SOUTH KOREA
14,499 confirmed cases (+43)

302 reported fatalities (unchanged)
Although it has yet to gain the approval of the South Korean government, a farmer's co-op has reportedly cut a deal to barter a large supply of sugar to North Korea in exchange for a variety of North Korean products. The deal would get around international sanctions barring cash transfers to North Korea while helping to alleviate a bit of North Korea's food shortage. If it goes through this deal could help rebuild some momentum behind inter-Korean diplomatic efforts, which have stalled over the past few months.
AFRICA
MAURITANIA
6444 confirmed cases (unchanged)

157 reported fatalities (unchanged)
Mauritanian Prime Minister Ismail Ould Cheikh Sidiya and his cabinet resigned on Thursday amid an ongoing investigation into corruption under former President Mohamed Ould Abdel Aziz. Current President President Mohamed Ould Ghazouani was Abdel Aziz's chosen successor, but he's sharply turned against his former patron. Several members of the now previous cabinet had served under Abdel Aziz and are therefore implicated in the various corruption allegations surrounding his presidency. Ghazouani appointed veteran bureaucrat Mohamed Ould Bilal as his new PM.
IVORY COAST
16,447 confirmed cases (+98)

103 reported fatalities (unchanged)
As expected, Ivorian President Alassane Ouattara announced Thursday that he will stand for a third term in office in October's election. Ouattara has already served his constitutionally limited two terms, but he contends that the adoption of a new constitution in 2016 reset his term limit counter and so he's legally allowed to run again. Nevertheless, he had planned to stand aside in favor of his former prime minister, Amadou Gon Coulibaly, until Coulibaly's sudden death last month upended that plan.
NIGERIA
45,244 confirmed cases (+354)

930 reported fatalities (+3)
A new video released by Boko Haram (the original in this case, not the Islamic State West Africa Province) purports to show its fighters hanging out in Niger province, in north-central Nigeria. That would be quite a distance away from the group's home turf in Borno state. But it fits with a recent piece from the Institute for Security Studies' Malik Samuel, who says Abubakar Shekau's gang is expanding its presence to other parts of Nigeria:
Boko Haram is extending its reach from north-east Nigeria into the country's north-west. It is taking advantage of old and new local conflicts and insecurities to further embed itself in the area through violent extremism.

Since January 2019 thousands of people in the north-west states of Kaduna, Katsina, Sokoto and Zamfara have been killed or injured. Others have lost their livelihoods, at least 23 000 have been displaced and dozens have been abducted for ransom, nurturing an economy of violence.

The growing extremism here and in Niger State in the country's north central region has led Boko Haram leader Abubakar Shekau to thank fighters from the north-west who he claims have expressed their allegiance and goodwill to the group. Communities in north-west and north central Nigeria, lacking state protection, are becoming increasingly vulnerable to these converging threats.
The banditry problem in northwestern Nigeria has seemed increasingly sophisticated and organized in recent months, which fits with the theory that Boko Haram or some group like it has been getting involved there.
DEMOCRATIC REPUBLIC OF THE CONGO
9309 confirmed cases (+56)

215 reported fatalities (unchanged)
At least seven people were reportedly killed in inter-communal fighting in the central DRC's Kasai region on Wednesday. Congolese authorities say the clash involved a dispute between the Kuba and Luba communities over land rights.
MAURITIUS
344 confirmed cases (unchanged)

10 reported fatalities (unchanged)
An oil tanker that ran aground off the Mauritian coast last month is reportedly beginning to break up, putting the country in what Environment Minister Kavy Ramano has characterized as a "crisis situation." Oil has visibly begun leaking from the vessel, though it's unclear how much at this point. The ship wasn't carrying a payload, fortunately, but it still had thousands of metric tons of fuel on board and efforts to pump it out or to stabilize the wreckage have failed.
EUROPE
RUSSIA
871,894 confirmed cases (+5267)

14,606 reported fatalities (+116)
Foreign Policy's Amy McKinnon says the Trump administration may actually be close to achieving a significant US foreign policy aim, but it looks like it will be a photo finish:
Russia's controversial Nord Stream 2 gas pipeline is close to the finish line—but might be closer to finished as a viable project, after one of the companies involved in laying the pipe on the Baltic seafloor said Wednesday that it would withdraw from the project. 

For years, the United States has tried to kill off Russia's latest effort to strengthen its energy stranglehold on Europe, to little avail. But targeted U.S. sanctions that go after the pipe-laying vessels needed to finish the 760-mile-long pipeline from Russia to Germany might finally do the trick, if they arrive in time. To get around U.S. sanctions on firms helping to build the project, which would double Russian gas flows to Germany, Russia acquired a specialized ship, the Akademik Cherskiy, which can weld the steel tubes needed to carry highly pressurized natural gas. But Russia has been relying on a second ship to lay the pipe, and the pipe-laying barge Fortuna now seems to be out of action. That could double the time left to finish the project, which is 94 percent done.

The big question now is whether new U.S. sanctions contained in this year's defense spending bill can be passed and signed into law before the project is completed. 

"The race then is between a slow pipe and a slow sanctions bill," said Kevin Book, the managing director of ClearView Energy Partners, an energy consultancy. The Akademik Cherskiy, which Gazprom acquired in 2016 in anticipation of just such a U.S. move, could finish the pipeline in around 110 days, Book said. The National Defense Authorization Act is not expected to be signed into law until December—at least 117 days away. 
BELARUS
68,503 confirmed cases (+127)

580 reported fatalities (+3)
An estimated 5000 people turned out Thursday evening for a rally in support of Belarusian presidential hopeful Svetlana Tikhanovskaya, despite having been barred from doing so by authorities. This came after Tikhanovskaya's had been briefly detained by the authorities earlier in the day, I'm sure for something benign like parking tickets. President Alexander Lukashenko hasn't seemed this vulnerable since he became president in 1994, and given his near-dictatorial control over the country it's still far from clear that Tikhanovskaya is going to emerge victorious in the presidential election that wraps up on Sunday. But if—or when, maybe—Lukashenko declares victory, it's going to seem implausible and chances are it will spawn protests that could escalate into a genuine threat to his continued reign.
UKRAINE
76,808 confirmed cases (+1318)

1819 reported fatalities (+31)
The Ukrainian government said Thursday that it's planning a small prisoner swap (100 on each side) with separatist rebels in Ukraine's eastern Donbas region that could be finalized "within weeks." That would be the second swap this year and will hopefully build momentum for another round of peace talks. A ceasefire reached last month seems to be taking hold after a rocky start, and if that lasts it would also generate some progress toward negotiations.
GREECE
5123 confirmed cases (+149)

210 reported fatalities (unchanged)
The Greek and Egyptian governments have reportedly reached agreement on a mutual maritime border that's mostly intended to counter a similar deal reached between Turkey and Libya last year. The discovery of natural gas deposits in the eastern Mediterranean and an increasingly aggressive Turkish foreign policy have combined to escalate tensions over sea boundaries and economic zones, particularly involving Greece, Cyprus, and Turkey. Ankara has been trying to assert maximalist claims in the eastern Mediterranean over fears that the EastMed pipeline project—involving Cyprus, Egypt, Greece, and Israel—could cut Turkey out of the potentially lucrative energy market. And with Turkey and Egypt backing opposite sides in the Libyan war, that's added a military dimension to the situation.
AMERICAS
UNITED STATES
5,032,179 confirmed cases (+58,611)

162,804 reported fatalities (+1203)
Finally, at TomDispatch, journalist Patrick Cockburn offers a thoughtful take on the similarities between reporting on a war and reporting on a pandemic:
The struggle against Covid-19 has often been compared to fighting a war. Much of this rhetoric is bombast, but the similarities between the struggle against the virus and against human enemies are real enough. War reporting and pandemic reporting likewise have much in common because, in both cases, journalists are dealing with and describing matters of life and death. Public interest is fueled by deep fears, often more intense during an epidemic because the whole population is at risk. In a war, aside from military occupation and area bombing, terror is at its height among those closest to the battlefield.

The nature of the dangers stemming from military violence and the outbreak of a deadly disease may appear very different. But looked at from the point of view of a government, they both pose an existential threat because failure in either crisis may provoke some version of regime change. People seldom forgive governments that get them involved in losing wars or that fail to cope adequately with a natural disaster like the coronavirus. The powers-that-be know that they must fight for their political lives, perhaps even their physical existence, claiming any success as their own and doing their best to escape blame for what has gone wrong.