World update: August 4 2020
Stories from India, Belarus, Bolivia, and more
This is the web version of Foreign Exchanges, but did you know you can get it delivered right to your inbox? Sign up today:
---
In case you haven't noticed, this is our first one of these in about a week and a half because I took some time off last week. As usual I'll mostly focus on today's news though we'll weave in a few things that happened while I was gone as well. Also as usual, this update is likely to be long.
THESE DAYS IN HISTORY
August 3, 1940: An Italian army crosses from Italian East Africa into British Somaliland, beginning an invasion that will end with Italy's annexation of the colony on August 19. Britain organized a counterattack, Operation Appearance, which began on March 16, 1941, and ended with the British recapture of Somaliland on April 8. Following World War II Britain assumed control over Italian East Africa, and eventually the former British and Italian Somalilands gained independence and merged into Somalia. Nowadays the territory of British Somaliland, under the name Somaliland, considers itself independent of Somalia, though that claim is not recognized internationally.
August 3, 1960: Having expressed its intention to leave the neocolonial "French Community" the previous month, the government of Niger gains full independence. Annually commemorated as Nigerien Independence Day.
August 4, 1578: The Battle of Alcácer Quibir
August 4, 1791: The Treaty of Sistova ends the Austrian-Ottoman War of 1787-1791. This rather unremarkable treaty, ending a rather unremarkable war (the Ottomans lost a little territory, but that's it), turned out to be quite remarkable in hindsight because it marked the end of the long (265 year) series of Ottoman-Habsburg conflicts. Austria's attentions turned west, due to the French Revolution, and later turned to the rise of Prussia, while Russia became the Ottomans' main adversary moving forward.
INTERNATIONAL
Worldometer's coronavirus figures for August 4:
18,692,376 confirmed coronavirus cases worldwide (6,079,484 active, +254,988 since yesterday)

703,381 reported fatalities (+6298 since yesterday)
In today's global news:
According to the World Health Organization, the pandemic's demographics are shifting younger. From late February through the middle of last month, the proportion of COVID-19 cases in the 15-24 age range has climbed from 4.5 percent to 15 percent, while the proportion in the 5-14 age group has risen from 0.8 percent to 4.6 percent.

Meanwhile, the United Nations is warning that over a billion children are facing a total disruption of their education, with schools closed in around 160 countries due to the pandemic. It probably seems contradictory, and maybe it is, to be warning about the spread of the virus among young people while pushing to reopen schools, which will increase the spread of the virus among young people. But it is indisputable that many of those children are facing a lost year or more, especially those unable to access distance learning options to replace in-person schooling, and the knock-on economic effects of the pandemic could worsen or even eliminate schooling for some portion of them over the long term.
MIDDLE EAST
SYRIA
892 confirmed coronavirus cases (+45)

46 reported fatalities (unchanged)
The Syrian Observatory for Human Rights says that Syrian government forces launched an attack against rebel positions in Latakia province on Monday but were driven off, losing at least 12 of their number against at least six rebels killed. The SOHR also claims that a Russian airstrike killed three people on Monday in neighboring Idlib province.
Elsewhere, the Israeli military attacked several targets in southern Syria on Monday in retaliation for an incident in which it claims four people attempted to plant explosives along a border fence in the Golan region. It's unclear who these alleged bombers were, but tensions have been high since the Israelis killed a Hezbollah fighter (something they've been seemingly trying to avoid doing for the past several months) in a missile strike near Damascus a couple of weeks ago. That's already led to one confrontation along the Israeli-Lebanese border, with the Israelis alleging that a group of Hezbollah fighters were attempting a cross-border raid, but so far that's been it.
YEMEN
1760 confirmed cases (+26)

506 reported fatalities (+7)
According to the Red Cross, the Yemeni government and Houthi rebels "are talking about a prisoner release that is quite considerable." This would be a notable development in terms of getting some kind of peace process going, but there are still disagreements over the lists of prisoners and those could undermine the effort.
TURKEY
234,934 confirmed cases (+1083)

5765 reported fatalities (+18)
The New York Times says that Turkey's relationship with Russia and its behavior in the eastern Mediterranean have made Ankara a serious but largely unmentionable problem for NATO:
Turkey — increasingly assertive, ambitious and authoritarian — has become "the elephant in the room" for NATO, European diplomats say. But it is a matter, they say, that few want to discuss.

A NATO member since 1952, Turkey is too big, powerful and strategically important — it is the crossroads of Europe and Asia — to allow an open confrontation, alliance officials suggest.

Turkey has dismissed any criticism of its behavior as unjustified. But some NATO ambassadors believe that Turkey now represents an open challenge to the group's democratic values and its collective defense.
NATO has no formal expulsion mechanism, and while it's conceivable that a member could be found in material breach of the North Atlantic Treaty and thereby booted out of the organization, it's unclear how that would actually work in practice. Tossing Turkey out of the organization also risks it turning even more sharply toward those policies that the rest of NATO finds objectionable.
IRAQ
134,722 confirmed cases (+2836)

5017 reported fatalities (+83)
Iraqi Prime Minister Mustafa al-Kadhimi has announced an early election for next June, about a year ahead of schedule. Which does not mean it will actually happen, since holding an election requires Iraq's deeply dysfunctional parliament to actually pass an election law beforehand. The hope is that the election would result in a less dysfunctional parliament. It's unclear whether Kadhimi intends to extend his time in office beyond the election but it seems a safe bet.
LEBANON
5062 confirmed cases (unchanged)

65 reported fatalities (unchanged)
We don't normally spend much time on industrial accidents around here, but I'm going to make an exception for the explosion that shredded Beirut's port and leveled a good chunk of the city on Tuesday. I'll caution you not to click on this video if you don't like watching explosions:
This video gives you some sense of the devastation without showing the actual blast:
An accurate casualty count is almost impossible this soon after something like this, but the Lebanese Health Ministry's latest estimates have more than 78 people dead and 4000 injured. Based on those two videos above I would have to say both of those figures are likely to increase, possibly by quite a lot. On top of that, we have no idea what the potential long-term effects of the blast could be (see below) and we don't really know what else was destroyed at the port. Food? Medicine? Anything is possible and none of it is good, particularly for a country that depends on imports and whose economy is already in tatters.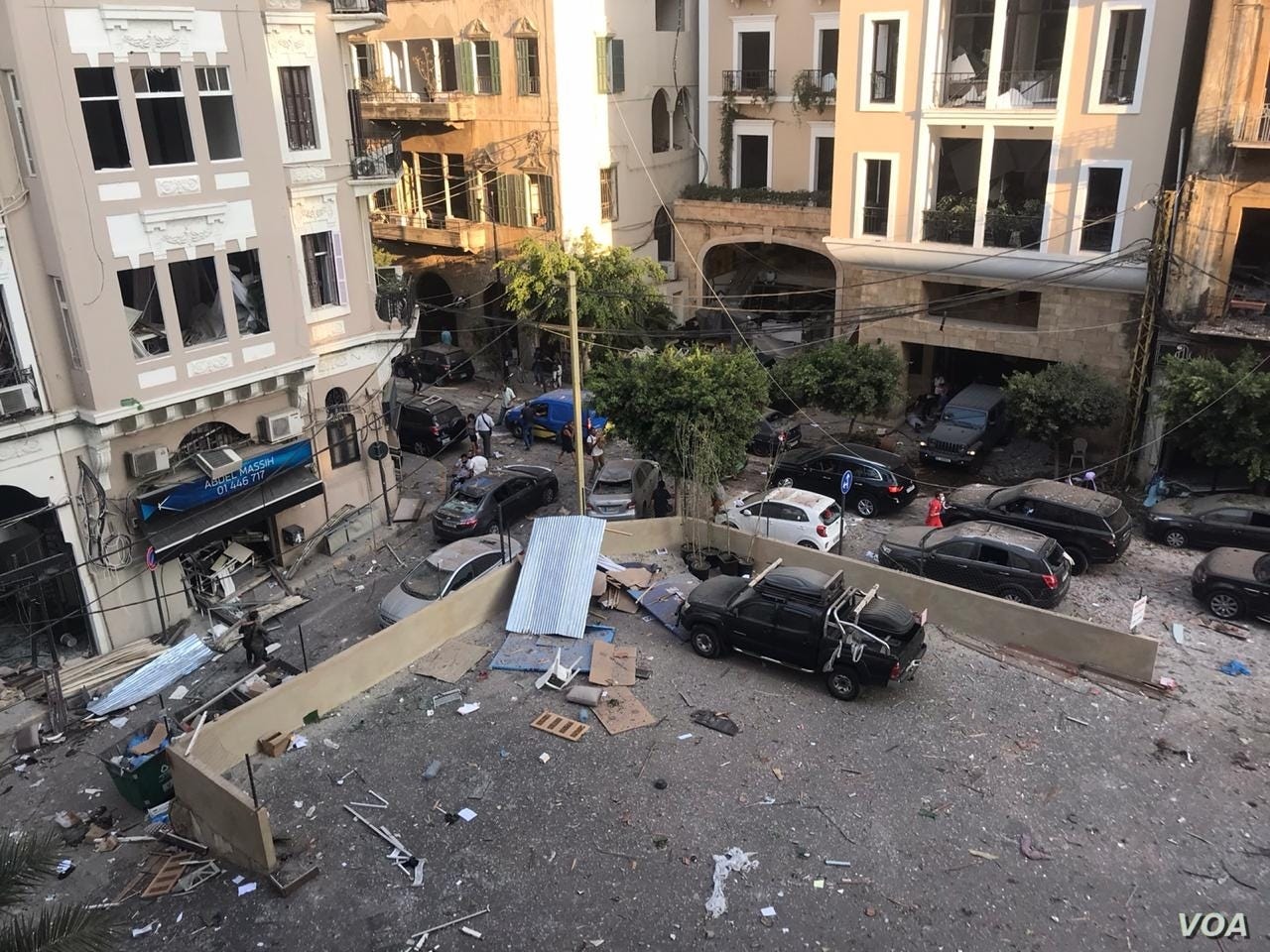 One of several scenes of devastation after the explosion (Voice of America's Anchal Vohra via Wikimedia Commons)
I know the imagination runs wild in a situation like this, but there is every reason to believe that this was indeed an accident, albeit one borne out of the Lebanese government's endemic negligence and incompetence. The preliminary official explanation appears to be that an initial explosion caused a fire at the port, which spread to a warehouse holding a huge stockpile of ammonium nitrate fertilizer that Lebanese authorities impounded in 2014 and then just…left there. It's unclear what initially exploded, but those small flashes visible in the smoke in the first video up there are consistent with early reports that fireworks were involved (though to be fair and given that we're talking about Lebanon, a weapons cache would also fit).
There's no way to rule out a more nefarious explanation at this point, but there's also no evidence as yet to support such an explanation, despite what you might hear from random dipshits. I would make more of Trump's comments but I don't think he intends them to mean anything, I think he's just riffing. If there is something more nefarious at work here, I would argue it's more likely to be that one of Lebanon's vast array of militias was storing the ammonium nitrate on purpose for potential use at some point. It seems unlikely that Tuesday's explosion was intentional.
Lebanese Prime Minister Hassan Diab said after the blast that "those responsible for this catastrophe will pay the price," but despite the martial overtones of that statement it seems he was talking about "those responsible" for leaving highly explosive materials sitting around unsecured in a port warehouse for six years. It's a nice sentiment, but the next time the Lebanese government holds itself accountable for its failings will be the first since the end of Lebanon's civil war, and I wouldn't advise holding your breath until it happens.
Without slipping too far into hyperbole, I have seen unconfirmed (as far as I'm able to confirm anything) reports that Lebanese officials are advising people to evacuate the port area or even Beirut altogether. If true it would be consistent with an ammonium nitrate explosion that's created a toxic cloud. In the maximal case where people need to evacuate the whole city, that could be a catastrophe. Where would they go? How would they survive once they got there? What about people who are unable to flee without assistance? Is their government, which can't even consistently manage to organize trash pickup or the provision of basic utilities and has defaulted on its debt, going to suddenly throw together a massive emergency evacuation of its largest city? Unsurprisingly there's been an outpouring of international offers of assistance, but what kind of assistance and how quickly it could be organized is uncertain.
KUWAIT
68,774 confirmed cases (+475)

465 reported fatalities (+4)
Kuwaiti Prime Minister Sheikh Sabah al-Khalid al-Sabah apparently reported on Tuesday that Emir Sheikh Sabah al-Ahmad al-Sabah's medical condition has shown "significant improvement." The emir sought treatment in the United States almost two weeks ago following some unspecified surgery.
IRAN
314,786 confirmed cases (+2751)

17,617 reported fatalities (+212)
In a national address on Friday, Iranian Supreme Leader Ali Khamenei rejected any negotiations with Donald Trump, arguing that he would only use them to try to score political points ahead of November's election. Trump has already urged the Iranians to make a deal with him before the election, though to assume that Donald Trump is interested in talks simply for the political benefit is to assume that he's so crass as to…well, yeah, that's probably it. Khamenei seems to be betting big on a Joe Biden win in November that reverses Trump's Iran policy, with the fallback of these extended "partnerships" the government has been negotiating with China and Russia to sustain Iran in the event that Trump remains in office.
ASIA
AFGHANISTAN
36,782 confirmed cases (+35)

1288 reported fatalities (unchanged)
Islamic State fighters attacked a prison in Jalalabad late Sunday, sparking a battle with Afghan authorities that ultimately killed at least 39 people and caused the release of some 400 inmates. Afghan security forces eventually recaptured the facility and have apparently been able to track down many of the escapees, but officials say around 270 are still at large. Most are believed to be IS fighters.
INDIA
1,906,613 confirmed cases (+51,282)

39,820 reported fatalities (+849)
The Indian government has reimposed a full curfew in Kashmir ahead of the one year anniversary of its decision to strip the region of its previous constitutional autonomy on Wednesday. Officials claim they have intelligence that Kashmiri resistance groups are preparing to hold violent protests, or worse, to commemorate the anniversary. Not coincidentally, a group of UN human rights rapporteurs issued a statement Tuesday decrying Kashmir's "alarming human rights situation." The group says that "the human rights situation in Jammu and Kashmir has been in free-fall" since Narendra Modi's government revoked its autonomy.
Indian authorities are marking the anniversary with a push to entice people from other parts of India to move into Kashmir in an obvious attempt to colonize the region. Whether this manifests as a push to alter Kashmir's demographics, a la the Chinese government's project to encourage Han Chinese to move into Xinjiang to overwhelm the Uyghur population, or to a situation in which a protected settler class claims land and displaces the Kashmiri population, a la the West Bank, remains to be seen.
SRI LANKA
2834 confirmed cases (+6)

11 reported fatalities (unchanged)
Sri Lankan voters will head to the polls on Wednesday in which the drama is not so much about who will win—Prime Minister Mahinda Rajapaksa's Sri Lanka People's Front is the overwhelming favorite—but how big the margin will be. If Rajapaksa's party gains a two-thirds majority it can amend the constitution to dramatically empower the office of president, held by his brother Gotabaya. A 2015 amendment to the constitution weakened the presidency by, among other things, imposing a term limit and devolving some executive functions to a council. The Rajapaksas will be hoping to undo those changes.
CHINA
84,464 confirmed cases (+36) on the mainland, 3670 confirmed cases (+80) in Hong Kong

4634 reported fatalities (unchanged) on the mainland, 41 reported fatalities (+1) in Hong Kong
The Chinese government said Tuesday that it will retaliate for what it suggests has been "hostile" Trump administration treatment of Chinese journalists. The administration has apparently been refusing to renew visas for Chinese reporters, which it now regards as state agents rather than real journalists. Beijing is also rejecting Donald Trump's new demand that the Chinese firm ByteDance sell its popular TikTok video app to Microsoft. Trump has threatened to block TikTok in the United States if the sale does not go through within 45 days. Trump has framed his demand as a national security issue, since TikTok collects user information and is obliged to share it with the Chinese government if requested.
NORTH KOREA
1 officially suspected case (?)

No reported fatalities
The North Korean government last week announced its first suspected case of COVID-19, involving a North Korean defector who fled South Korea last month to evade a rape charge. All Pyongyang has said as far as I know is that the man was exhibiting symptoms of the illness, but I don't know if he's been tested or what the results were. Of course, it's possible, or likely even, that North Korea has already been dealing with an internal COVID-19 outbreak that its government simply refuses to acknowledge.
A new UN expert report says that North Korea has probably developed the kind of compact nuclear weapons technology that would enable it to construct a warhead that could fit on a ballistic missile. This is not groundbreaking news, but this particular report was compiled as part of the UN's North Korean sanctions program and so it may lead to an escalation in sanctions.
AFRICA
SUDAN
11,780 confirmed cases (+42)

763 reported fatalities (+11)
Africa Is a Country's Razaz Basheir says that relations between the civilian and military sides of Sudan's transitional government are breaking down, with security forces apparently undermining pandemic lockdown efforts:
The global dilemma of COVID-19—saving lives or saving the economy—has even more layers in the crisis-stricken Sudanese capital. The power-sharing agreement signed after the December 2018 uprising between the "civilians," comprised of opposition parties and backed by the revolutionary masses, and the "military" generals, who deserted the sinking ship of the former regime, is becoming an endless scene of rivalry and finger-pointing. The two parties of the transitional government not only possess divergent interests but also conflicting ones. Simply put, the success of this transitional phase toward civilian and democratic rule is a major threat to the decades-long military control over the country.

Although it is not clear if an Egypt-like coup scenario is on the generals' minds, they have worked tirelessly to discredit their civilian partners. Khartoum, the pandemic's hotspot, has been the stage for this standoff. In the capital, there are the officially declared lockdown measures: the ones enforced by the security forces and the ones followed by "formal" citizens. Then there are the ones navigated by the "informal" urbanites, as well as the numerous combinations of all these versions.
ETHIOPIA
19,877 confirmed cases (+588)

343 reported fatalities (+7)
Ethiopian, Egyptian, and Sudanese officials restarted negotiations on Monday over the operation of the Grand Ethiopian Renaissance Dam, a welcome development that offers the possibility of avoiding a conflict over water levels on the Blue Nile and Nile rivers. The three countries have been unable to agree on a deal so far to ease concerns about the GERD's reservoir and the potential for it to reduce those water levels in periods of drought, but as long as they keep talking, there's every reason to be optimis—aaaaand they're done.
Yes, the Egyptian delegation has already pulled out of the talks for "internal consultations," claiming that the Ethiopians presented a new plan that didn't include any guidelines for operating the dam and had no dispute resolution mechanism. If that's true then it's hard to imagine what the Ethiopian plan did include. Immediate tensions over the GERD have eased somewhat in the wake of an Ethiopian announcement that it's already completed the first stage of the reservoir project purely due to heavy rains, without impacting downstream water levels. But longer term, absent a deal the GERD will continue to be a potential regional flashpoint rooted in an ultra-sensitive issue, control of water resources.
ZIMBABWE
4221 confirmed cases (+146)

81 reported fatalities (+1)
Zimbabwean President Emmerson Mnangagwa's government is working off of his predecessor Robert Mugabe's script these days, cracking down brutally against writers, activists, and political opposition figures. Mnangagwa claims that "terrorist opposition groupings" and "foreign detractors" are trying to destabilize his government. It seems more likely that the faltering Zimbabwean economy and Mnangagwa's heavy-handed treatment of the opposition are doing the destabilizing, but what do I know?
EUROPE
BELARUS
68,250 confirmed cases (+84)

574 reported fatalities (+3)
With multi-day voting underway in Belarus's maybe-competitive presidential election, suddenly vulnerable-looking incumbent Alexander Lukashenko has decided for his last campaign act to pick a fight with Russia. Or maybe Russia has decided to pick a fight with him. Or maybe they're running an electoral con. Belarusian authorities arrested dozens of Russian mercenaries last week and have accused them of plotting some kind of nefarious action—stoking violent protests or even an outright terrorist attack—to coincide with the election. Lukashenko delivered a speech on Tuesday that, while stressing the strength of the Belarusian-Russian alliance, more or less accused Moscow of attempting to overthrow him in a violent revolution.
While the relationship between Lukashenko and Vladimir Putin has been deteriorating for a few years, it's difficult to conceive a scenario under which Putin would prefer to oust Lukashenko in favor of his opponent, activist Sviatlana Tsikhanouskaya, who is supported by opposition parties that seek greater engagement with the European Union at Russia's expense. But Lukashenko's allegations give him a justification for criminalizing protests against his government and allow him to portray himself as the defender of Belarus against Russian encroachment. I suspect it's a completely manufactured "October Surprise" (July Surprise?), perhaps with Putin's help but not necessarily.
POLAND
48,149 confirmed cases (+680)

1738 reported fatalities (+6)
While acknowledging that there were some irregularities, the Polish Supreme Court on Monday confirmed the result of last month's presidential runoff, meaning that President Andrzej Duda has seemingly clinched his reelection. Duda, a close ally of the far right Law and Justice Party-led government, won a tight 51-49 victory over Warsaw Mayor Rafał Trzaskowski. The opposition challenged the result but mostly for show, since there was little chance the court would overturn it.
GERMANY
212,331 confirmed cases (+11)

9232 reported fatalities (unchanged)
Hey, it turns out that a substantial plurality of Germans approve of Donald Trump's plan to reduce the US military presence in that country by 12,000 soldiers, even though according to most of the DC foreign policy community it means that Russian tanks will be rolling down the Autobahn within weeks, if not days. A YouGov survey finds that 47 percent like the idea, compared with only 28 percent who want to see the US presence unchanged and 4 percent who for some reason want to see it increased. Who knew so many Germans were enthralled to Vladimir Putin? The withdrawal will still leave some 24,000 US soldiers in Germany, though of course that won't be enough to fend off the Russian invasion that is certainly right around the corner.
SPAIN
349,894 confirmed cases (+5760)

28,498 reported fatalities (+26)
Former Spanish king Juan Carlos I fled the country on Monday amid allegations that he took bribes, including a whopping $100 million one from Saudi Arabia that was directed to his alleged mistress, German businesswoman Corinna zu Sayn-Wittgenstein-Sayn, during his 1975-2014 reign. It's unclear where he's gone—most speculation has him either in Portugal or the Dominican Republic, but neither government has acknowledged his presence—though he insists he's still "available" to investigators despite his abrupt departure.
UNITED KINGDOM
306,293 confirmed cases (+670)

46,299 reported fatalities (+89)
The British government is telling domestic pharmaceutical companies to begin stockpiling medicine ahead of a potential hard exit from the EU at the end of this year, when the UK's one year Brexit transition period ends. There's no indication that the UK and the EU are seriously talking about a trade deal anymore, let alone that they're anywhere near agreement on one, and without a deal…well, I think the suggestion to "stockpile medicine" probably speaks for itself.
AMERICAS
ARGENTINA
213,535 confirmed cases (+6792)

3979 reported fatalities (+166)
The Argentine government announced on Tuesday that it's reached an agreement with three creditors to restructure $66 billion in debt, a sizable chunk of its overall $324 billion national debt. The deal will issue new bonds to those creditors at 55 cents on the dollar (it appears the pandemic lowered expectations enough to get the bondholders to accept a substantial loss) and should be enough to prevent Argentina from losing access to international credit even though it has already missed two interest payments and is therefore in default. It's not in itself a solution to Argentina's debt problem but it is a step in the right direction. The government's next priority is probably a restructuring of its $44 billion debt to the International Monetary Fund.
BOLIVIA
81,846 confirmed cases (+1693)

3228 reported fatalities (+75)
Friend of FX Thomas Field reports on the backlash to the Bolivian junta's decision to delay elections for a second time:
With each postponement of elections in Bolivia, the country's political and social situation deteriorates. Furious at seeing their democracy destroyed and its reestablishment repeatedly deferred, last week the country's largest social movements called for a general strike and nationwide roadblocks.

The movements calling for a return to democracy include the so-called Unity Pact, which helped bring Evo Morales's MAS to power fourteen years ago, in addition to trade union organizations such as the national workers federation (COB, Bolivian Workers Central), the peasant workers federation (CSUTCB, Unified Syndical Confederation of Rural Workers of Bolivia), and powerful neighborhood associations of working-class districts throughout the country (FEJUVEs, Federation of Neighborhood Councils). "We have already suffered two massacres," one organizer told me morosely, adding with a touch of hope that her country seems to be entering "a period of struggle … a very profound moment of inflection."
There have already been reports of localized roadblocks and demonstrations, but my impression is that tensions are still building up to the level of a national strike and general civil disobedience. Things may escalate to that level soon, or it may take a third electoral postponement, which is almost certainly coming as we approach the now-October date for the vote.
PERU
439,890 confirmed cases (+6790)

20,007 reported fatalities (+196)
Peruvian Prime Minister Pedro Cateriano's government lost a confidence vote on Tuesday, forcing President Martín Vizcarra to go back to square one and put together a new cabinet. Vizcarra's popularity is collapsing due to the pandemic, which prompted him to appoint Cateriano as part of a cabinet reshuffle last month to try to regain some political momentum.
UNITED STATES
4,918,420 confirmed cases (+54,504)

160,290 reported fatalities (+1362)
Finally, it may surprise you to learn that many of Donald Trump's political ambassadorial appointees are not very good at being ambassadors:
"America is an extreme outlier in sending inexperienced and unqualified ambassadors," said Barbara Stephenson, a former career foreign service officer, ambassador to Panama and ex-president of the American Foreign Service Association, the union that represents US diplomats.

Political supporters can make fine diplomats and many have – a personal relationship with the president and an understanding of his agenda can be an advantage. But those clearly unfit for the job are expected to be weeded out through the Senate confirmation process.

Still, some have arrived at their embassies lacking the skills or tact that would have allowed them to avoid controversy.
All US presidents send unqualified political hacks abroad as ambassadors, but as with so many other things Trump has taken a common bad practice and raised it to a new level of badness.