World update: May 7 2020
Stories from Israel-Palestine, Afghanistan, Venezuela, and more
This is the web version of Foreign Exchanges, but did you know you can get it delivered right to your inbox? Sign up today:
---
THESE DAYS IN HISTORY
May 6, 1527: A group of around 20,000 Habsburg soldiers and mercenaries, who were mutinying over not being paid, sack the city of Rome and besiege Pope Clement VII in the Castel Sant'Angelo. The city was heavily looted, and Clement was only released after agreeing to pay a ransom. Some art historians consider the sack and the devastation it entailed to mark the end of the Italian High Renaissance. It definitely marked a shift in the Catholic world. Clement and the papacy were badly weakened, and although Habsburg Emperor Charles V may have been a little embarrassed about how it happened, he was happy to take advantage, and so power shifted away from the popes and toward the emperors. Among other things this meant that the Church did not pursue the Crusade against Protestantism that Clement had favored, which helped solidify the Reformation.
May 6, 1782: On the orders of Siamese King Rama I, work begins on a massive new royal residence in Bangkok that is today still the home of Thailand's royal family and is known as the Grand Palace or the Phra Borom Maha Ratcha Wang. I've never been there, which I'm sure is simply an oversight on the Thai government's part, but if you enjoy very large, extravagant things it seems nice: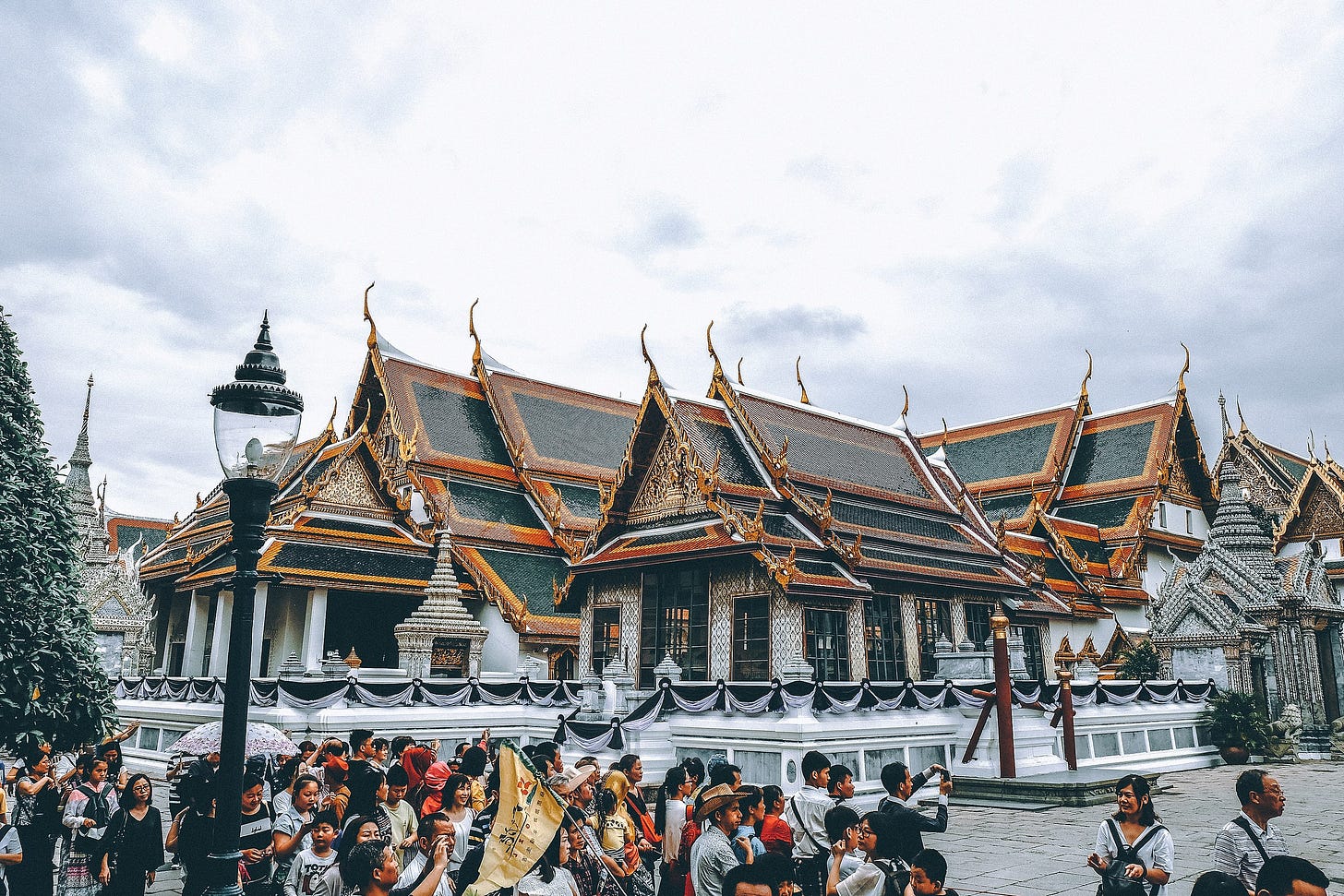 Part of the Grand Palace (Hanny Naibaho via Wikimedia Commons)
May 6, 1954: British runner Roger Bannister becomes the first person to verifiably run a mile in under four minutes. That's cool. I run a three minute mile myself, but four is really nice. Bannister's time of 3:59.4 obviously stood as the world record, but only for about six weeks before it was broken on June 21 by Australian runner John Landy's 3:58 mile.
May 7, 1664: French King Louis XIV kicks off a week-long celebration called Lesplaisirs de l'Île enchantée ("The Pleasures of the Enchanted Island") to mark the start of the first phase in his project to expand his father's getaway chateau in Versailles into a massive, opulent royal palace. It is also quite nice if you like looking at extravagant things, especially its extensive gardens: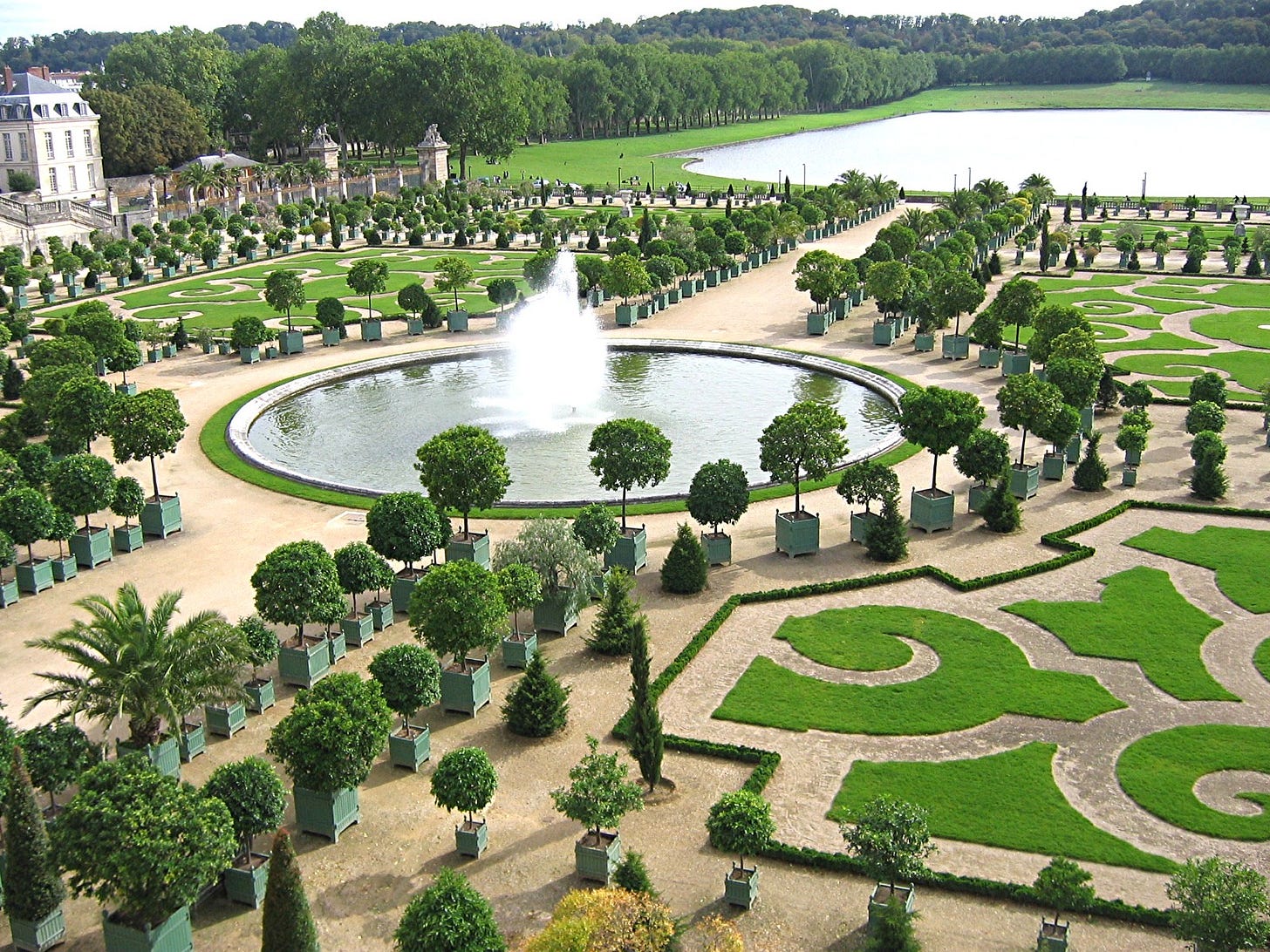 They're a lot (Urban via Wikimedia Commons)
May 7, 1942: The naval Battle of the Coral Sea reaches its climax, which is…mixed. The Japanese Navy won a tactical victory, sinking several heavy US vessels, including the fleet carrier USS Lexington, while losing comparatively less. But the losses Japan suffered severely curtailed its naval strength, preventing a planned invasion of Port Moresby in Papua and to the Allied victory at the Battle of Midway in June. What's most noteworthy about this engagement is that it was the first naval battle in history in which the actual ships involved never directly fired on one another. The entire battle was fought via carrier aircraft. Needless to say this had a profound impact on naval warfare moving forward.
INTERNATIONAL
Worldometer's coronavirus figures for May 7:
3,913,559 confirmed coronavirus cases worldwide (+96,177 since yesterday)

2,302,136 active cases

270,422 reported fatalities (+5585 since yesterday)
In today's global news:
New research from South Korea suggests that the dozens of cases observed there recently in which people who had already recovered from the coronavirus appeared to have contracted it again have actually been false positives of a sort. It's not that the tests are wrong, it's just that they appear to be detecting some viral remnants in the body that are not infectious but do show up in tests for coronavirus material. There continues to be no evidence of anyone who's recovered from the virus and gone on to infect someone else after recovery. This clarification may reduce some of the uncertainty about reopening society.

The United Nations says it needs $6.7 billion to combat the pandemic in vulnerable countries. It initially appealed for $2 billion in late March and has raised $1 billion so far to fund efforts in 37 countries. These are objectively large numbers, but they represent tiny fractions of the money wealthy countries have spent on economic stimulus—which is going to be wasted if the virus takes hold in these poorer countries and that sparks a global resurgence. Since the virus seems to be slow to spread into places that are relatively peripheral to the global economy, the peak outbreaks in these countries may still be months away.
MIDDLE EAST
SYRIA
45 confirmed coronavirus cases (unchanged)

3 reported fatalities (unchanged)
According to the Syrian Observatory for Human Rights, Islamic State fighters attacked a Syrian military vehicle in a desert region along the border between Homs and Deir Ezzor provinces on Thursday, killing 11 Syrian soldiers and pro-government paramilitaries. That death toll could rise.
YEMEN
25 confirmed cases (unchanged)

5 reported fatalities (unchanged)
The Houthi rebels' special forces commander, Mohamed Abdel Karim al-Hamran, was reportedly killed in fighting in central Yemen on Thursday. There were reports of heavy Saudi airstrikes across the frontline provinces of Marib and Bayda, as well as in the Yemeni capital, Sanaa.
ISRAEL-PALESTINE
16,381 confirmed cases (+71) in Israel, 375 confirmed cases (+1) in Palestine

240 reported fatalities (+1) in Israel, 2 reported fatalities (unchanged) in Palestine
The Israeli Knesset voted Thursday to authorize a new government under incumbent Prime Minister Benjamin Netanyahu, extending his unprecedented term as PM for at least another 18 months. The "unity" government formed by Netanyahu and former opposition leader Benny Gantz won the backing of 72 Knesset members, which gives Netanyahu a much more stable majority than his usual razor-thin hard right coalitions, but he did have to cede considerably authority to Gantz, who assumes the bespoke position of deputy prime minister. They now have to form a cabinet that can win a parliamentary confidence vote, but that should be relatively easy.
Under their coalition arrangement, Netanyahu will give way to Gantz in 18 months, which will bring an end to his by-then 12+ year reign as PM. I know some naysayers have suggested he might double-cross Gantz at that time in order to remain in office, but frankly I see no reason not to take Netanyahu at his word. Now if you'll excuse me, there's a federal wallet inspector at my door so I need to take care of that.
QATAR
18,890 confirmed cases (+918)

12 reported fatalities (unchanged)
The living situation for Qatar's migrant workers appears to be getting even more desperate the longer the pandemic continues:
In more than 20 interviews, workers in the World Cup host nation have described a mounting sense of desperation, frustration and fear. Many told the Guardian they have suddenly been left jobless, with no other way to earn a living. Others say they are desperate, but unable, to return home. Some have been forced to plead for food from their employers or charities.

"I don't have much food left. Just some rice and lentils. It will last only a few days. What happens when this food finishes?" said Rafiq, a cleaner from Bangladesh who lost his job in March.

Qatar, home to over 2 million migrant workers, now has one of the highest rates of infection per capita in the world with almost 18,000 cases in a population of just 2.8 million. Over 25% of those tested for the virus in the past week have been found to be infected; the vast majority migrant workers.
Qatari officials have only reported 12 fatalities amid all of those infections, though in a country that treats its migrant laborers as contemptuously as Qatar does I think you have to question whether they're really trying to suss out all of the COVID-19 fatalities they're actually experiencing. The Qataris have allowed businesses that employ migrant workers to stop paying even their meager wages during the economic downturn, though it has required them to continue supplying food and boarding. It would appear at least some firms are not even doing that, and the requirement is not being enforced.
Hundreds of thousands of migrants have reportedly applied to leave the Gulf states during this crisis, and some countries that are major labor suppliers to the Gulf, like India and Pakistan, have started repatriation programs to bring them home. The effect of this is likely to vary—in Saudi Arabia, where there's high youth unemployment and the double impact of the pandemic and low oil prices is likely to tamp down economic activity, having fewer migrant workers may not matter. But in the smaller Gulf states like Qatar, Kuwait, and the UAE, the effect could be intense. By some estimates foreign workers approach around 90 percent of the Qatari population, and their labor—plus the economic activity they generate—would be impossible to replace if there's a sustained and significant exodus.
SAUDI ARABIA
33,731 confirmed cases (+1793)

219 reported fatalities (+10)
The Trump administration has decided to remove two Patriot missile batteries, other air defense systems, and a number of military aircraft from Saudi Arabia amid lingering hostility over global oil prices. It's unclear whether there's a cause and effect relationship there—the Pentagon may simply want to redeploy those forces elsewhere, like Iraq—but the implication cannot be denied. The Saudis' decision earlier this year to join Russia in flooding the oil market to drive US shale producers out of business—one of many big ideas that Saudi Crown Prince Mohammad bin Salman has had that have ultimately backfired on him—cost the Saudis substantial support in Washington among Republicans. The GOP has generally been willing to overlook the crown prince's other grand schemes, like "destroying Yemen" and "murdering journalists," which have cost the kingdom support among Democrats, but hurting our precious oil was a bridge too far even for them.
IRAN
103,135 confirmed cases (+1485)

6486 reported fatalities (+68)
The Senate on Thursday upheld Donald Trump's veto of a War Powers Resolution that would have obliged him to seek Congressional approval ahead of any future military action against Iran. I realize we haven't covered this story here, but that's because there's been a lot of other news and I didn't see much point spending time on a bill that was destined for a veto.
The Carnegie Endowment's Jarrett Blanc argues that the Trump administration's recent fixation on the soon-to-expire international arms embargo against Iran is more political than practical. Iran wasn't a major arms importer before those bans went into effect back in the 00s, and its military strategy is based on regional proxies, not weapons imports. Plus it doesn't have any money to buy weapons now anyway. What focusing on the UN ban does provide is a justification to try to invoke the 2015 nuclear deal's "snapback" mechanism, despite the absurdity of a country that withdrew from that deal trying to invoke its terms. If that scheme works, as Secretary of State Mike Pompeo seems to be hoping it will, it would destroy the 2015 accord just in time to prevent a potential Biden administration from rejoining it.
ASIA
AFGHANISTAN
3563 confirmed cases (+171)

106 reported fatalities (+2)
Two Afghan members of parliament, part of a team appointed by President Ashraf Ghani to investigate reports that Iranian border guards threw dozens of Afghan migrants into the Hari River either earlier this month or late last month, say that 45 of the original group of 57 drowned as a result. One of the lawmakers, Habiburrahman Pidram from Herat province, says that the migrants "were kept in custody by Iranian forces and, after 24 hours, the Afghan workers were brought to the bank of the river, beaten and ordered to jump in the river to go back to Afghanistan." Only 12 of them have been recovered alive, hence the conclusion that 45 were killed. At least 15 bodies have been found so far. The Iranian government continues to deny that its border guards were involved and now claims that the incident happened on the Afghan side of the border.
TAIWAN
440 confirmed cases (+1)

6 reported fatalities (unchanged)
The Taiwanese government is urging the World Health Organization to allow it to send a delegation to the World Health Assembly later this month. The problem, of course, is that the Chinese government, which claims Taiwan as its territory, refuses to allow such a thing. China has at times been lenient about allowing Taiwanese representatives to attend international conferences and participate in international organizations, but it has taken a hard line against such things since the election of pro-independence Taiwanese President Tsai Ing-wen in 2016. Taiwan has complained of its exclusion from the WHO and other international organizations, but those complaints have taken on new urgency during the pandemic.
The US is calling on the WHO to let Taiwan attend, of course, but so are Australia and New Zealand. It is unclear whether the WHO has the unilateral power to invite non-members to attend the WHA in an observer capacity, but even if it does it seems unlikely the organization would be willing to antagonize China in that way. Of course, as the WHO's main funder the United States has far more influence that it can levera-oh, wait, no it doesn't. Never mind.
AFRICA
SUDAN
930 confirmed cases (+78)

52 reported fatalities (+3)
At least 30 people have been killed this week in Sudan's South Darfur province, amid heavy fighting in and around the town of Rumali between the Falata people and the Arab Rizeigat tribe. This kind of inter-communal fighting is a major hurdle for the interim Sudanese government to overcome as it tries to settle the country's multiple insurgencies and get its economy on something approaching solid ground. It is a particular concern right now, obviously, given the health crisis.
LIBYA
64 confirmed cases (unchanged)

3 reported fatalities (unchanged)
At least five people were reportedly killed and "dozens" wounded by "Libyan National Army" artillery fire in Tripoli. The shelling hit the residential neighborhood of Abu Salim in the southern part of the capital, and the suburban town of Tajoura located to the east.
LESOTHO
Lesotho's King Letsie III gave his assent on Thursday to a law that will bar Prime Minister Thomas Thabane from dissolving parliament and calling for a new election in the event that he loses a confidence vote. This presumably spells the end of Thabane's time as PM. He'll either resign or he'll lose that confidence vote and be removed from office. For now at least, Thabane still sounds like he plans on sticking around until his previously announced retirement this summer, which he insists is due to age and exhaustion rather than his legal issues. Thabane is suspected of involvement, along with his current wife, in the murder of his former wife in 2017, and there have been growing calls for him to vacate office forthwith. But Thabane denies involvement in the murder and has resisted efforts at removal.
EUROPE
RUSSIA
177,160 confirmed cases (+11,231)

1625 reported fatalities (+88)
If you keep track of coronavirus statistics for some reason, you may have noticed that Russia's outbreak has been drastically escalating over the past several days. It now boasts the fifth highest number of confirmed cases in the world, after the US, Spain, Italy, and the UK. And those confirmed cases may be a drastic undercount of the real scope of the outbreak. Moscow Mayor Sergei Sobyanin, who is a political ally of Russian President Vladimir Putin and has no reason to try to show him up, pointed to research on Thursday suggesting that the outbreak in Moscow alone has reached more than 300,000 people. That's nearly twice the number of confirmed cases in all of Russia and well over three times the number in Moscow.
POLAND
15,047 confirmed cases (+307)

755 reported fatalities (+22)
Poland's lower house of parliament voted Thursday to approve a plan to conduct the country's presidential election by mail at a date to be determined. That was the outcome of an eleventh hour compromise between two parties in the ruling coalition, the senior Law and Justice Party and its junior partner the Accord party. The vote was due to be held Sunday, but Poland's National Electoral Commission made it clear on Thursday that it's unprepared to hold any vote, whether by mail, in person, or any other method. Even so, it's still not clear how Sunday's vote can legally be canceled or postponed this close to the election.
AMERICAS
BRAZIL
135,693 confirmed cases (+9082)

9188 reported fatalities (+600)
Brazilian President Jair Bolsonaro on Thursday ordered his military to assume control of the country's environmental agencies to lead the fight to protect the Amazon rain forest from destruction. On an unrelated note, at lunchtime today I ordered my dog to assume control of the kitchen to lead the fight to protect my hot dog from being eaten by somebody else. Sadly she just wasn't up to the task, because I couldn't have been gone for more than a minute and the thing had completely vanished. The point here is of course not protecting the rain forest, it's inserting the Brazilian military into yet another part of what is supposed to be a civilian government. Bolsonaro's new plan is apparently to forego the loud, splashy coup and just gradually install military rule bit by bit while hoping nobody notices.
VENEZUELA
381 confirmed cases (+2)

10 reported fatalities (unchanged)
The Washington Post has apparently uncovered some details about this past weekend's botched mercenary invasion of Venezuela, and they may not come as that big a surprise:
Inside a glittering Miami high-rise, representatives of the Venezuelan opposition sat in a room adorned with samurai swords and listened to a pitch. They had been appointed by opposition leader Juan Guaidó to explore all options in their U.S.-backed quest to oust Venezuelan President Nicolás Maduro. On that afternoon on the shores of Biscayne Bay last September, a former U.S. Army Green Beret presented them with an answer.

Operation Resolution.

Jordan Goudreau, a 43-year-old Special Forces veteran who ran a strategic-security firm on the Florida Space Coast, laid out a plan that could double as a screenplay for an episode of "Jack Ryan." Goudreau claimed to have 800 men ready to penetrate Venezuela and "extract" Maduro and his henchmen, according to J.J. Rendón, the Venezuelan political strategist tapped by Guaidó to help lead the secretive committee.

Guaidó "was saying all options were on the table, and under the table," Rendón told The Washington Post. "We were fulfilling that purpose."
Hey, nothing else Guaidó has tried has worked, so why not respond to that "DO YUO NEED SUM MERSENAREES" ad he saw on Craigslist? What did he have to lose?
It probably goes without saying at this point that Goudreau didn't have 800 men and he definitely didn't have the millions of dollars in private funds he claimed he had to bankroll a serious invasion. Rendón apparently became suspicious when Goudreau became really fixated on collecting a $1.5 million deposit he said the Guaidó crew had promised (at one point it seems he even threatened to take Rendón to court). The official story with respect to the Trump administration is that Goudreau tried to connect with somebody in Vice President Mike Pence's office—implausibly, we're supposed to believe that neither Pence nor anyone on his staff was dumb enough to fall for Goudreau's sales pitch.
As far as I know Rendón is still in charge of the "strategic committee" described in the piece, whose job is to brainstorm exciting innovations in the field of Latin American coups in order to get Guaidó into office. With this otherwise foolproof operation having failed, one assumes Rendón and his boss will turn to other out of the box ideas, like hiring a magician to make Maduro disappear or something.
MEXICO
27,634 confirmed cases (+1609)

2704 reported fatalities (+197)
Al Jazeera reports on the ways that criminal gangs in Mexico, Peru, and elsewhere across Latin America are trying to look like they're Doing Something to help people get through the pandemic crisis:
UNITED STATES
1,292,594 confirmed cases (+29,502)

76,926 reported fatalities (+2127)
A few random items:
The Trump administration plans to leave in place an expedited deportation program it instituted because of the coronavirus, even after the pandemic has subsided. I know, I was surprised to hear it too.

One of Donald Trump's military valets has reportedly tested positive for the virus. Don't worry though, because Trump is completely hea-well, he's in the same state of health as usual. Probably.

The US military says it killed 132 civilians in conflict zones last year, a figure that's remarkably consistent with the 120 civilians it claimed to have killed in 2019 and a sign that the Pentagon definitely cares about this kind of thing and isn't just tossing out extremely lowball guesses to get people off its back. Personally, I figure if you're going to lie anyway, go bigger. Instead of offering some laughably small figure of civilians killed, why not claim that American ordinance resurrected 120 or so dead people last year? OK, maybe resurrection is a bit much, but isn't it possible that the explosions from our airstrikes might wake up a couple of dozen people from comas? Or why not claim that the heavy metal residue from all that exploded US ordinance is, I don't know, helping cure cancers around the world? Really get creative with it.
Finally, Foreign Policy's Keith Johnson, who's living in Spain, compares that country's reopening after a thorough, organized lockdown to…whatever Donald Trump and the US government are doing, and for some reason he seems to favor the former approach:
The driver behind the push to get back to something resembling normal is, of course, the same in Spain as anywhere else in Europe or in the United States. Not only are parents desperate, but so are businesses. Economies everywhere have gotten the Rasputin treatment: repeatedly poisoned, shot several times, and dumped in a river. Spain has posted record jumps in unemployment and slumps in GDP; activity in both manufacturing and services in Spain, as in other European countries, has literally fallen off the charts. The United States seems to be faring even worse, with well over 33 million fresh out of work and the country on pace for an unprecedented contraction of perhaps 30 percent or more in second-quarter GDP.

The big difference is the timing. Spain is just now starting to take the first steps toward a very partial reopening, now that new daily cases are about 8 percent of what they were at the peak. In the United States, where new daily cases are still about 70 percent of what they were in the darkest days, and where more than 2,500 people are still dying every day, states are rushing to crowd people into restaurants, onto beaches, and into gyms and theaters. Spain is gingerly limping back toward normal after having bent the curve by a severe lockdown; the United States mostly never bothered to lock down, didn't really bend the curve, and is already raring to reopen.