World update: July 23 2020
Stories from Turkey, Ukraine, Bolivia, and more
This is the web version of Foreign Exchanges, but did you know you can get it delivered right to your inbox? Sign up today:
---
Foreign Exchanges is taking a bit of a break. We'll be back to regular programming on August 4, and in the meantime I'll have the usual "this day in history" roundups so you don't forget about me.
Also in the meantime, I would invite all of you to check out a new project that a group of Substack writers and podcasters, including me, is starting, called Discontents. You can read more about our goals here and follow us on Twitter here, but the short description is that we're creating a new weekly newsletter that will share what we've all been doing with (hopefully) a wider audience. It will be a great way to learn about some other Substack folks I think you might like. Please give it a look!
THESE DAYS IN HISTORY
July 22, 838: An outnumbered Abbasid army defeats the Byzantines under Emperor Theophilos at the Battle of Anzen/Dazimon, in eastern Anatolia. The victory allowed the Abbasids to proceed unimpeded to the major Byzantine city of Amorium, in central Anatolia, which they would eventually sack in one of the most devastating episodes of the Byzantine-Abbasid conflict.
July 22, 1456: The Siege of Belgrade ends
July 22, 1946: Members of the Irgun, a Zionist terrorist group that was one of the predecessors of the modern Likud party, bomb the King David Hotel in Jerusalem and kill 91 people in the process. Their target was the headquarters of the British mandatory authority and the attack was meant as a response to the British arrest of hundreds of Zionist militants in Operation Agatha in late June. Most Zionist leaders condemned Irgun, which in turn blamed British authorities for not evacuating the hotel despite telephoned warnings about the bomb.
July 23, 1952: Egypt's 23 July Revolution
July 23, 1970: With British assistance, Qaboos b. Said al-Said overthrows his father, Said b. Taymur, and becomes sultan of Oman. Qaboos, who ruled until his death in January 2020, ended his father's policy of isolationism and began investing Oman's oil wealth in development projects.
INTERNATIONAL
Worldometer's coronavirus figures for July 23:
15,641,987 confirmed coronavirus cases worldwide (5,476,186 active, +276,000 since yesterday)

635,666 reported fatalities (+6309 since yesterday)
In today's global news:
The United Nations Development Program issued a new report on Thursday calling for a temporary basic income program for the world's 2.7 billion poorest denizens. It estimates that $199 billion would be enough to provide those people with food and pay for basic health and educational expenses—a tidy sum of money, but still only a bit over a quarter of what the Pentagon charges the American people every year to provide substantially less stability and security than this would. We could even account for a bit chunk of the money just by forgiving developing world debt—on the condition that governments in the developing world put the money toward a program like this, of course.

Although they keep promising to invest in clean energy, AFP says that Shell and Total—the second- and fourth-largest energy companies in the world, respectively—still sock about 90 percent of their cash into fossil fuels. Shell hilariously claims it intends to cut its net carbon emissions by 65 percent by 2050, and Total by 60 percent, and frankly unless they're both planning to go out of business in a couple of years I don't think they're going to make it.
MIDDLE EAST
SYRIA
584 confirmed coronavirus cases (+23)

35 reported fatalities (+3)
Turkish media reported a car bombing in the Syrian border town of Ras al-Ayn early Thursday that killed at least two people. The Turks are blaming the YPG militia for the attack though there's been no claim of responsibility. In the Afrin region, meanwhile, fighting between rebel factions under Turkish supervision killed at least one person. Details on both incidents are sketchy at best.
Additionally, Iranian media says that two US fighter jets intercepted and nearly collided with an Iranian passenger jet in Syrian airspace on Thursday. Initial reports identified one Israeli aircraft but those reports have since been updated. The Iranian flight reportedly had to change altitude rapidly, injuring some of the passengers. The Pentagon says one of its fighters, not two, came "within visual range" of the Iranian flight but was still a "safe distance" away.
TURKEY
223,315 coronavirus cases (+913)

5563 reported fatalities (+18)
Turkey and France are still feuding over the eastern Mediterranean. The Greek government put its navy on alert on Wednesday over Turkish plans to drill for undersea energy deposits near a Greek island, an area that Turkey nevertheless claims under a somewhat tortured "continental shelf" standard of maritime law. This prompted French President Emmanuel Macron on Thursday to call for European Union sanctions against Turkey for violating the sovereignty of an EU member state, which led to an angry rebuke from Ankara.
Turkey's almost limitless claims in the eastern Mediterranean, which have led among other things to its intervention in Libya, are ultimately going to spark a much bigger regional confrontation. Al-Monitor's Diego Cupolo suggests, however, that the Turks aren't really trying to claim the entire eastern Mediterranean as their own but are instead just trying to force their way to the regional negotiating table:
The developments come after the Israeli government ratified plans for the EastMed undersea pipeline project Monday. Despite doubts over the project's financial feasibility amid falling gas prices, the pipeline would seek to export regional gas to European markets and is being pursued by a consortium of nations including Egypt, Cyprus and Greece, but excludes Turkey.

Ozgur Unluhisarcikli, Ankara director for the German Marshall Fund, said Ankara officials view Turkey's exclusion from eastern Mediterranean energy developments as a hostile attempt to contain the nation within its own region.

"In response to this containment policy, Turkey is upping the game by exploring for gas in the eastern Mediterranean," Unluhisarcikli told Al-Monitor.
If this interpretation is correct, than the Turkish goal isn't to claim these offshore energy deposits for itself, but simply to create so much havoc that nobody else can exploit them either unless they reach a regional agreement that involves Turkey and protects Turkish interests.
KUWAIT
61,872 coronavirus cases (+687)

421 reported fatalities (+4)
According to Kuwaiti media, Emir Sheikh Sabah al-Ahmed al-Sabah has been medically transferred to the United States to "complete" his treatment, whatever that may be, and is in "stable" condition. It's unclear whether that's "stable good" or "stable bad." The 91 year old Sabah had some kind of surgery over the weekend, which was supposedly successful but nevertheless has necessitated further care in the US even though the quality of medical care available to the ruler of Kuwait in Kuwait is pretty high. Kuwaiti officials haven't been particularly forthcoming with details.
SAUDI ARABIA
260,394 coronavirus cases (+2238)

2635 reported fatalities (+34)
Saudi authorities, on the other hand, have been pretty forthcoming about King Salman's recent medical affairs. The 84 year old Salman has reportedly undergone successful surgery to remove his gallbladder, after having been hospitalized with inflammation earlier this week. Saudi authorities released video on Tuesday purportedly showing Salman leading a cabinet meeting from the hospital, so his condition seems fine.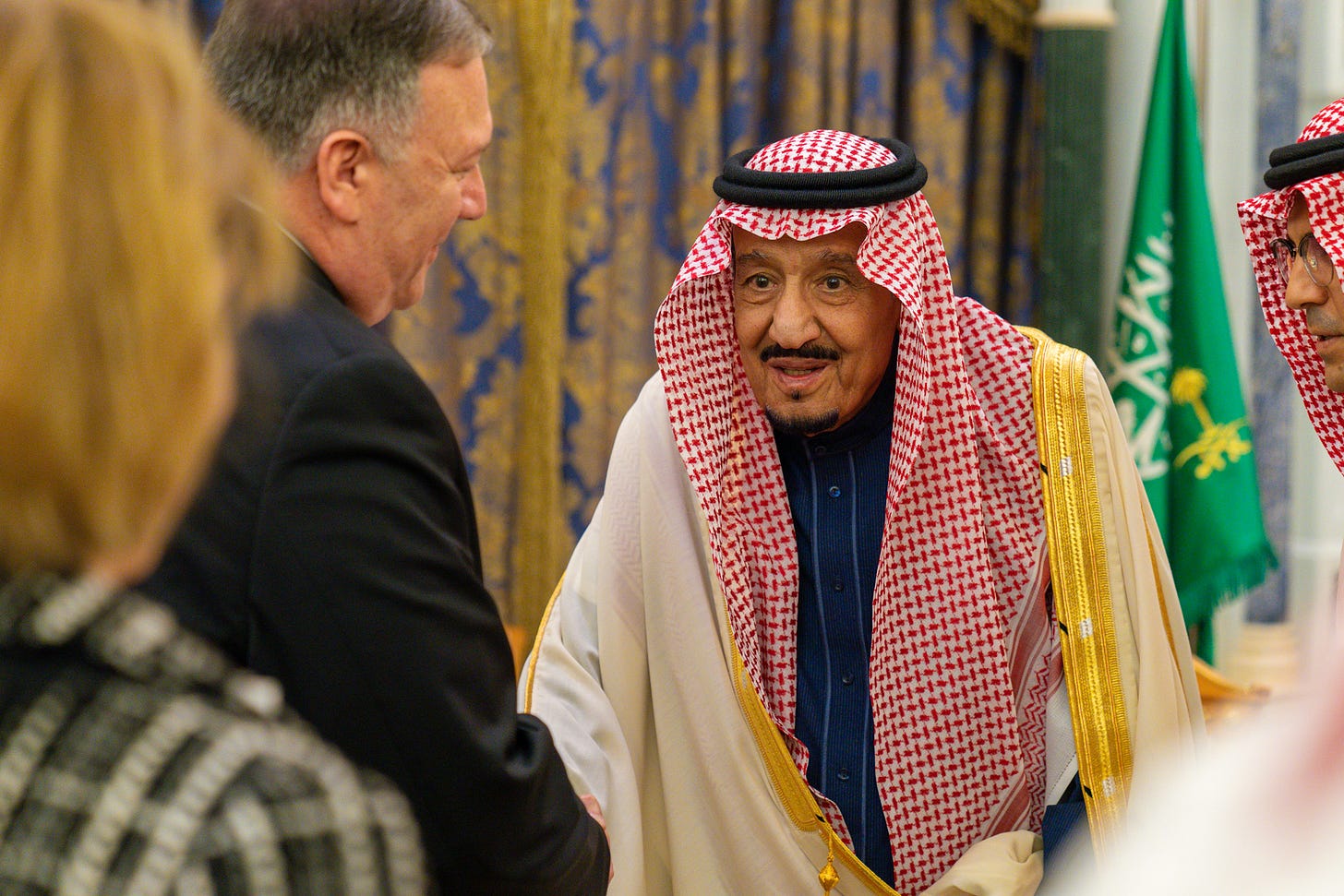 Or, you know, relatively fine (State Department photo via Flickr)
ASIA
AFGHANISTAN
35,928 coronavirus cases (+201)

1211 reported fatalities (+21)
Taliban spokesman Suhail Shaheen said on Thursday that the Taliban are prepared to begin negotiations with the Afghan government as soon as the end of the Eid al-Adha holiday, provided disagreements about their prisoner swap have been ironed out. This is not really news, and it's not really a sign that talks are about to begin, since the prisoner swap, and in particular a group of several hundred prisoners that Kabul deems too dangerous to release, remains as big a sticking point as ever.
PAKISTAN
269,191 coronavirus cases (+1763)

5709 reported fatalities (+32)
Pakistani authorities are accusing India of escalating its cross-border fire in Kashmir even compared with last year, when the number of recorded cross-border incidents reached their highest level in a decade. They've been taking reporters on what seem to be very carefully arranged trips into the Kashmiri border region to speak with villagers who say that Indian forces are deliberately targeting civilian populations. The reason for the sudden PR campaign is unclear.
CHINA
83,729 confirmed cases (+22) on the mainland, 2250 confirmed cases (+118) in Hong Kong

4634 reported fatalities (unchanged) on the mainland, 15 reported fatalities (+1) in Hong Kong
The Chinese space agency successfully launched a Mars probe on Thursday that will attempt to land a rover on the surface of the planet. If all goes well the probe will reach Mars in seven months, then orbit the planet for as long as three months before attempting the landing. This launch is part of a flurry of Mars-related activity happening these days, as the United Arab Emirates just launched its own Mars probe via a Japanese rocket earlier this week, and the US is planning to launch its own Mars rover next week.
AFRICA
IVORY COAST
15,001 coronavirus cases (+268)

93 reported fatalities (unchanged)
The opposition Democratic Party of the Ivory Coast is calling for a delay of up to a year in October's presidential election, citing a lack of "balance" on local electoral councils that threatens "the credibility of the electoral process." The African Court on Human and Peoples' Rights issued a ruling last week that the opposition says affirmed the claim of imbalance, bolstering this call for a postponement, though the Ivorian government has interpreted the ruling much differently. President Alassane Ouattara is considering whether to stand for a third term in office, after his plan to pass the baton to former Prime Minister Amadou Gon Coulibaly was upended by the latter's unexpected death earlier this month. A delay could give him time to settle on a new successor, or it could lead to schisms within Ouattara's Rally of the Republicans party.
MALI
2494 coronavirus cases (unchanged)

123 reported fatalities (unchanged)
The French government announced Thursday that one of its soldiers has been killed in combat with Islamist militants in Mali. As far as I know it did not specify where or when the killing took place.
Meanwhile, the leaders of five West African states—Ouattara, Ghanaian President Nana Akufo-Addo, Nigerien President Mahamadou Issoufou, Nigerian President Muhammadu Buhari, and Senegalese President Macky Sall—met with Malian President Ibrahim Boubacar Keïta in Bamako on Thursday to try to mediate a settlement to Mali's political crisis. Whatever compromise plan they offer—if they do wind up offering one—will have to concede more to Keïta's opposition than the plan for a national unity government that was floated by mediators from the Economic Community of West African States over the weekend. The opposition rejected that deal flat-out, insisting it will settle for nothing less than Keïta's resignation. It's still an open question whether that's a firm demand or a negotiating tactic.
CENTRAL AFRICAN REPUBLIC
4590 coronavirus cases (+16)

58 reported fatalities (+1)
United Nations peacekeepers killed three fighters with the CAR's Return, Reclamation, Rehabilitation militia in a gun battle last Friday in Nana-Mambéré province. The "3R" militia, one of the CAR's largest, recently announced its withdrawal from a peace agreement between the government and a host of armed insurgent groups reached last year.
EUROPE
RUSSIA
795,038 coronavirus cases (+5848)

12,892 reported fatalities (+147)
The US and UK governments both accused Russia on Thursday of testing an anti-satellite weapon during an orbital mission last week. The Russian Defense Ministry says it sent a small vehicle to "inspect" a satellite in orbit on July 15, but Washington and London are instead calling it an "on-orbit weapons test," in the words of US Space Force commander John Raymond. The concept of anti-satellite warfare is one of those things that everybody is supposed to pretend is beyond the pale, even though it's clear that satellites would be among the first targets in the event of any war between the US and either Russia or China and it's equally clear that the US, as well as Russia and China, are preparing for that possibility.
UKRAINE
61,851 coronavirus cases (+856)

1551 reported fatalities (+17)
The Ukrainian government and rebels in eastern Ukraine have reportedly reached a new ceasefire agreement, one that is "complete and all-encompassing" and will be implemented starting Monday. As part of these agreement they've supposedly agreed to withdraw heavy weaponry away from the front line. A ceasefire is by definition temporary, but this one carries particular significance because it's seen as a necessary precondition for a resumption of the so-called "Normany format" peace talks, involving France, Germany, Russia, and Ukraine.
BULGARIA
9853 coronavirus cases (+269)

329 reported fatalities (+8)
Bulgarian Prime Minister Boyko Borisov fired his economy, finance, and interior ministers on Thursday in an effort to appease the protesters who have been coming together just about every day to demand his resignation over allegations of rampant corruption. It does not appear to have had the desired effect. The protests appear to be losing momentum of their own accord, however, simply because it's hard to maintain the same level of intensity for more than two weeks, especially in summer heat.
CROATIA
4634 coronavirus cases (+104)

128 reported fatalities (+3)
The Croatian government approved Prime Minister Andrej Plenković's new government on Thursday, a foregone conclusion after his Croatian Democratic Union picked up seats in this month's parliamentary election. The HDZ wound up with 66 seats, not the 68 early forecasts gave them, but nevertheless Plenković was able to pick up the ten seats he needed for a majority relatively easily. Although he's now got the slimmest possible majority—76 seats in a 151 seat parliament—that's not expected to be an issue in terms of stability.
AMERICAS
BOLIVIA
64,135 coronavirus cases (+1778)

2328 reported fatalities (+55)
The Bolivian government has decided to postpone its planned general election, the first since the coup that ousted former President Evo Morales in November, from September 6 to at least October 18. There's a reasonable chance it won't happen then either. The ostensible reason for the postponement has to do with the sudden, shocking, and maybe even a little suspicious discovery by Bolivian police of more than 420 dead bodies in La Paz and Santa Cruz this week, almost all of whom apparently died of COVID-19. This really almost too amazing to believe development has left Bolivian officials with, gosh, just no way they could possibly hold a safe public vote on September 6. You understand, I'm sure. The fact that the candidate for Morales' Movement for Socialism party, Luis Arce, is probably the favorite to win the Bolivian presidency, according to polling, was I'm sure not at all a factor in this decision.
UNITED STATES
4,169,991 coronavirus cases (+69,116)

147,333 reported fatalities (+1150)
Finally, before I go take that break I mentioned above, I'll leave you with my fellow Discontents newsletter founder Patrick Wyman, and his rumination on the way America's wars have seeped into its domestic politics:
The last four years have been a period of numbingly rapid change in our politics, a critical juncture containing the seeds of many different potential future paths. That rapid change has built on a much deeper structural foundation rooted in everything from demographic turnover and shifts in partisanship to full-on breakdowns of the formal and informal institutions that make up our political system. This adds up to a full-blown legitimacy crisis for the system as a whole. It's a great deal to take in, even if we choose to put aside the raging pandemic for the moment and concentrate on the purely political. We won't be able to grasp the full implications of everything that's happened for years and even decades to come.

There's a lot to all this, many different threads leading in a bewildering array of directions and encompassing intertwined themes ranging from race and economic structure to policing and foreign policy. It's frankly overwhelming, particularly in an age of constant informational bombardment.

There is a common thread tying together many, if not all, aspects of our ongoing series of crises: These things can be understood - at least partially - as the consequences of empire coming home to roost.