World update: July 4-5 2020
Stories from Iran, Libya, Croatia, and more
This is the web version of Foreign Exchanges, but did you know you can get it delivered right to your inbox? Sign up today:
---
THESE DAYS IN HISTORY
July 3, 1863: The Union Army of the Potomac defeats the Confederate Army of Northern Virginia at the Battle of Gettysburg. Their defeat ended a brief Confederate invasion of the north and, combined with the Union victory at Vicksburg, Mississippi, a day later, is often considered the turning point of the US Civil War.
July 3, 1866: The Battle of Königgrätz, the key engagement in the Austro-Prussian War, ends with a decisive Prussian victory. The war ended a few weeks later and established Prussia as the dominant German state. This paved the way for German unification under Prussian control.
July 3, 2013: A military coup overthrows the Egyptian government of Mohamed Morsi, ending a brief experiment in democracy and returning Egypt to military rule.
July 4, 1187: The Battle of Hattin
July 4, 1776: The Declaration of Independence is published in Britain's North American colonies. Independence Day in the United States.
July 5, 1811: Venezuelan Independence Day, marking the adoption of Venezuela's Declaration of Independence in a congress of colonial provinces.
July 5, 1962: Algeria declares its official independence from France. Independence Day in Algeria.
July 5, 1977: Pakistan's civilian government, under Prime Minister Zulfikar Ali Bhutto, is overthrown in a military coup led by General Zia-ul-Haq. Zia ruled Pakistan as president/dictator until he died in 1988.
INTERNATIONAL
Worldometer's coronavirus figures for July 5:
11,550,542 confirmed coronavirus cases worldwide (4,482,990 active, +175,499 since yesterday)

536,445 reported fatalities (+3572 since yesterday)
MIDDLE EAST
SYRIA
358 confirmed coronavirus cases (+20)

13 reported fatalities (+3)
According to the Syrian Observatory for Human Rights, the Syrian military and Islamic State fighters have been engaged in heavy fighting in Homs province since Thursday night. It says that at least 31 IS fighters have been killed by the Syrians and by Russian airstrikes, while 20 Syrian soldiers have been killed. The fighting apparently started with an IS attack on Syrian positions near the town of Sukhnah in the eastern part of the province. IS fighters briefly captured Sukhnah back in April but weren't able to hold it.
TURKEY
205,758 confirmed cases (+1148)

5225 reported fatalities (+19)
You can add the Russian Orthodox Church to the list of institutions warning the Turkish government not to convert Istanbul's Hagia Sophia museum back into a mosque. A Turkish court is currently considering the issue, which would involve overturning a decree from Mustafa Kamal Atatürk, the founder of modern Turkey, that converted the structure from a mosque to a museum. The Hagia Sophia, built in 537, was commissioned by the Roman Emperor Justinian, and until the Ottoman conquest of Constantinople it was the foremost Christian church in the eastern Mediterranean. Its link to Orthodox Christianity has never entirely been severed, and Metropolitan Hilarion, a senior official in the Moscow Patriarchate, called the idea of converting it "an unacceptable violation of religious freedom" in an interview with Russian media on Saturday.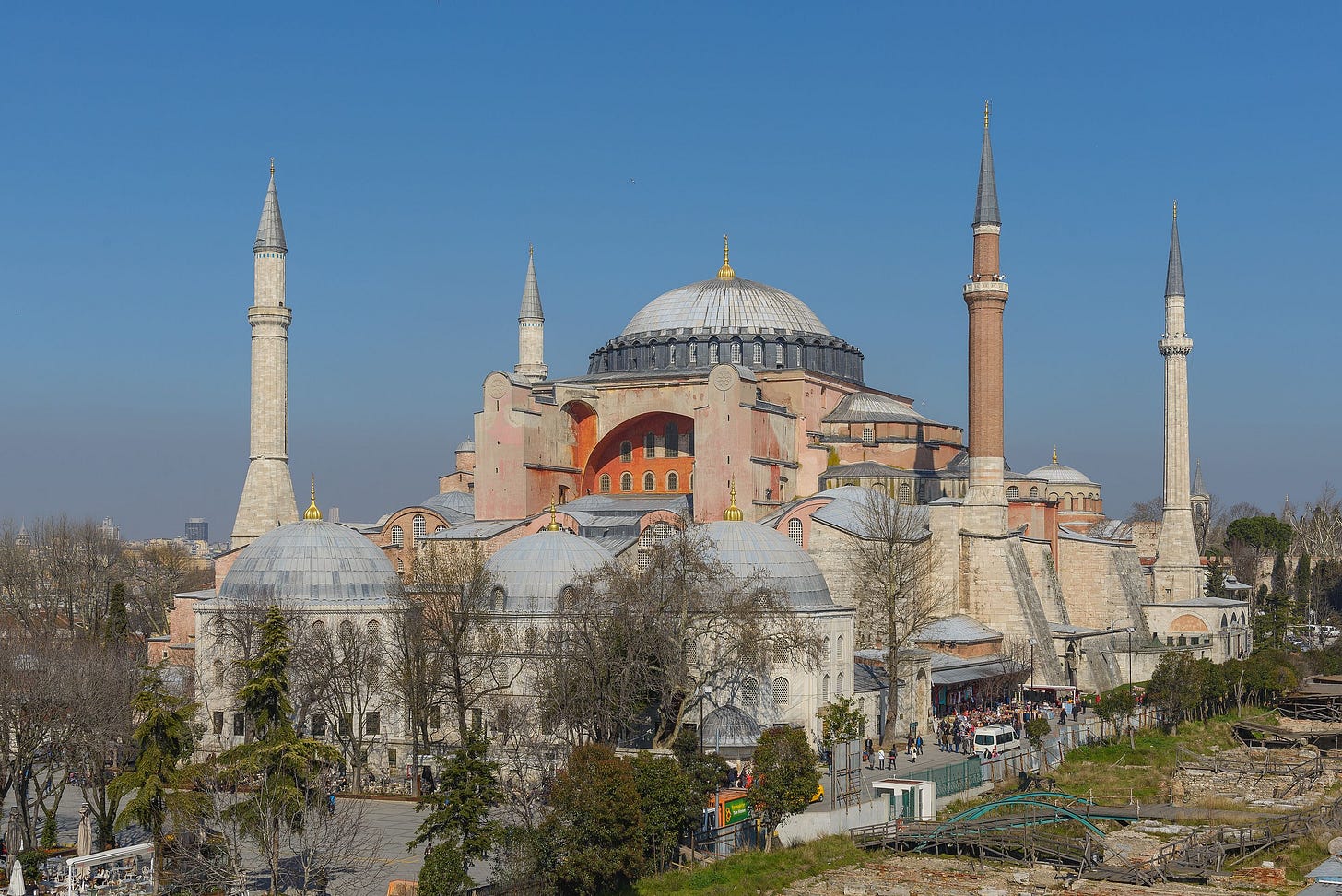 The Hagia Sophia (Arild Vågen via Wikimedia Commons)
Turkish President Recep Tayyip Erdoğan's fixation on converting the Hagia Sophia back into a mosque is to some extent understandable, since the issue is red meat for his religious-nationalist supporters. But from a practical standpoint there's very little to be gained for Turkey from the conversion, which will not only create international resentment but will probably (depending on how the conversion is handled) make this major landmark less appealing for tourists. Erdoğan has resisted international pressure so far, but now that he's getting it from both the US and Russia, and given how strained Ankara's relationship with Russia has gotten, this warning may nudge him in the direction of foregoing the conversion or at least implementing it with a fairly light touch.
IRAQ
60,479 confirmed cases (+2125)

2473 reported fatalities (+105)
The Turkish military says its airstrikes killed at least three Kurdistan Workers' Party fighters in northern Iraq late Friday. Late Saturday, a rocket fired toward Iraq's Green Zone may instead have landed near a house and injured a child, while another rocket attack on the Camp Taji military base north of Baghdad was "thwarted," as the AP put it. The Baghdad rocket may have been intercepted by a new air defense system recently installed at the US embassy in the Green Zone, which leaves some uncertainty as to whether it was the initial rocket or the defense system that actually caused the damage to the house and the injury to the child there.
ISRAEL-PALESTINE
29,958 confirmed cases (+788) in Israel, 4277 confirmed cases (+442) in Palestine

331 reported fatalities (+1) in Israel, 16 reported fatalities (+3) in Palestine
You may have noticed from the above figures that the coronavirus is surging here, and consequently the Israeli government has decided to resume using a military surveillance program, normally used to track Palestinians, to track COVID-19 patients and those with whom they come into contact. The use of this program was not popular with the Israeli public when it was imposed during the previous height of Israel's outbreak, and it seems its operations have been put under greater legislative oversight this time around in order to forestall a legal challenge.
EGYPT
75,253 confirmed cases (+1218)

3343 reported fatalities (+63)
Islamic State fighters reportedly killed three civilians, one of them a judge, in a village in northeastern Sinai on Saturday. IS accused the three of cooperating with Egyptian authorities.
SAUDI ARABIA
209,509 confirmed cases (+3580)

1916 reported fatalities (+58)
The pandemic is also surging in Saudi Arabia, and so the US government has reportedly allowed the voluntary withdrawal of "non-essential" diplomatic personnel from the kingdom. At least 30 employees in the US embassy in Riyadh have been infected, and while most aren't US citizens the risk of further spread is hard to deny. The State Department had a voluntary departure policy in place for Saudi Arabia until May, when the kingdom started reopening. The reopening then caused the resurgence.
IRAN
240,438 confirmed cases (+2560)

11,571 reported fatalities (+163)
A power station in the southwestern Iranian city of Ahvaz caught fire on Saturday. Also, there was a chlorine gas leak at a chemical plant outside the nearby port city of Bandar Imam Khomeini. At this point there have been so many "mishaps" at various Iranian facilities over the past week and a half that either we have to conclude that the entire countries is quite literally falling apart physically or that somebody is sabotaging these facilities, and by "somebody" I don't meant to suggest any country specifically and for sure I'm definitely not saying that it's Israel.
Iran's Atomic Energy Organization acknowledged via a spokesperson on Sunday that a previous "mishap," Thursday's fire at Iran's uranium enrichment facility in Natanz, did in fact strike a sensitive part of that facility and did considerable damage to Iran's centrifuge production capabilities. The Iranians had previously claimed the fire, which was probably the result of a cyber attack and again I'm for sure not saying Israel did it, only affected a storage area. The Israelis, by the way, say they're not "necessarily" responsible for the fire, which is not exactly a firm denial. To be fair, the Natanz attack has been claimed by a group calling itself "Cheetahs of the Homeland," which reportedly describes itself as a group of "disaffected" members of Iran's security state. The only problem with this is that there's no evidence apart from the claim itself that such a group actually exists.
Iranian Foreign Minister Mohammad Javad Zarif appeared before parliament on Sunday for the first time since it took a hard conservative turn in February's legislative election, and it does not seem to have been a pleasant experience. Several lawmakers chanted "death to a liar" during Zarif's remarks, in which he tried to defend his performance and that of President Hassan Rouhani amid angry denunciations over the failure of the 2015 nuclear deal and Iran's management of the pandemic. The incident highlights the ascendance of hardliners, which has largely been engineered by the Trump administration's "maximum pressure" campaign and doesn't bode terribly well for the outcome of next year's presidential election.
ASIA
CHINA
83,553 confirmed cases (+8) on the mainland, 1269 confirmed cases (+10) in Hong Kong

4634 reported fatalities (unchanged) on the mainland, 7 reported fatalities (unchanged) in Hong Kong
The Chinese city of Bayan Nur in Inner Mongolia issued a "third-level alert" on Sunday over a suspected case of plague. You know, I was really starting to worry that 2020 was going to come and go without an outbreak of plague, so this really comes as a relief.
The US Navy sent the aircraft carriers USS Nimitz and USS Ronald Reagan to the South China Sea over the weekend to conduct exercises while a Chinese naval group did the same thing in pretty much the same place. Since the Chinese government claims the entire South China Sea as its territory, the US exercise was more about demonstrating that Washington doesn't recognize that claim than anything having to do with military readiness.
NORTH KOREA
North Korean deputy foreign minister Choe Son-hui said on Sunday that Pyongyang has no interest in resuming dialogue with the United States. Choe contended that the US government views talks with North Korea as "nothing more than a tool for grappling its political crisis," which at this point is hard to argue, frankly.
SOUTH KOREA
13,091 confirmed cases (+61)

283 reported fatalities (unchanged)
For South Korean President Moon Jae-in, meanwhile, the breakdown in talks with North Korea is his political crisis. He staked his presidency on easing tensions with Pyongyang, and that's getting harder and harder to envision. On Friday, Moon promoted his intelligence chief, Suh Hoon, as his new national security adviser, and named a former envoy to North Korea, Park Jie-won, to replace Suh. He also named Lee In-young as his new unification minister. All are known for favoring diplomacy with North Korea, suggesting that he's planning to take another shot at outreach.
AFRICA
LIBYA
1046 confirmed cases (+57)

32 reported fatalities (+5)
Somebody conducted airstrikes on Libya's al-Watiya airbase overnight. Watiya was the main airbase used by Khalifa Haftar's "Libyan National Army" during its offensive against Tripoli, but Libyan government-aligned forces captured it in May as they were in the process of driving the LNA out of eastern Libya altogether. Rumors are rampant that the Libyan government is prepared to turn the facility over to Turkey, its largest foreign supporter. While it's obvious this strike was carried out either by the LNA or on its behalf, the actual identity of the attackers is unknown. If they were LNA, Egyptian, or Emirati that would be one thing. But if Russia, another LNA ally, carried out the strike, that could add more tension to the Russia-Turkey relationship.
NIGERIA
28,711 confirmed cases (+544)

645 reported fatalities (+11)
Suspected Boko Haram fighters killed at least two people in an attack on a United Nations aid helicopter in northeastern Nigeria on Saturday. As usual, there's no indication whether this attack was carried out by the original Boko Haram group or its Islamic State West Africa Province splinter group, or by a local faction whose loyalties are unclear.
ETHIOPIA
5846 confirmed cases (unchanged)

103 reported fatalities (unchanged)
At least 166 people have now died in protests sparked by the murder of Oromian singer Hachalu Hundessa on Monday, with more deaths expected due to the severity of many of the injured. Most of the protests took place in the Oromo region, which appears to have calmed down though obviously tensions remain high. It's unclear how or why so many people have been killed amid these demonstrations, but Ethiopian security forces used to violently repress dissent routinely so they're still fairly experienced at it, and it's not hard to imagine what might have taken place.
SOMALIA
2997 confirmed cases (+36)

92 reported fatalities (unchanged)
At least six people were killed Saturday in a bombing at a restaurant in the Somali city of Baidoa. Additionally, a suicide bombing near Mogadishu's seaport left at least seven people injured. Al-Shabab unsurprisingly claimed both attacks.
CAMEROON
12,592 confirmed cases (unchanged)

313 reported fatalities (unchanged)
The Cameroonian government and anglophone "Ambazonia" separatist leaders opened negotiations with one another on Thursday, the first time they've done that since the separatist conflict began back in 2017. The government has spoken with exiled separatists, but the extent of their involvement with the current separatist community is debatable. The talks are at this point focused on establishing a ceasefire, perhaps in line with the UN's call for a global ceasefire in order to focus efforts on dealing with the pandemic, but there's also a sense that the conflict has become stalemated and the only way forward may be through negotiations.
EUROPE
CROATIA
3151 confirmed cases (+57)

113 reported fatalities (unchanged)
With 90 percent of the vote counted, the ruling Croatian Democratic Union (HDZ) party appears to have won a decisive victory in Sunday's parliamentary election, taking 68 seats in the 151 seat legislature to finish well ahead of its center-left rival, the Restart Coalition, which is on pace to win 42 seats. The outcome not only far exceeds the HDZ's pre-election polling, some of which had the party finishing behind the Restart Coalition, but it puts HDZ just a few votes shy of an outright majority. That means the party can afford to be selective in how it chooses its coalition partners and likely won't have to concede very much to whichever party or parties it does choose.
AMERICAS
ARGENTINA
77,815 confirmed cases (+2439)

1507 reported fatalities (+26)
The Argentine government is reportedly about to offer its creditors a new debt restructuring deal whose deadline will run through the end of August. Argentina defaulted in May and has roughly $65 billion in foreign debt to manage at a time when its economy, like pretty much everybody else's, is struggling with the pandemic.
UNITED STATES
2,982,928 confirmed cases (+44,530)

132,569 reported fatalities (+251)
Finally, Oxford fellow Nima Gerami calls for a more thorough discussion of the intersection of race and US foreign policy:
Of course, the underrepresentation of minorities in the national security community is a serious problem that must be redressed. Despite efforts in recent years to increase diversity, people of color at the State Department and USAID remain disproportionately represented, especially at senior levels, and are less likely to be promoted than their white counterparts, according to the U.S. Government Accountability Office.

But as important as it is to improve racial equity in public service, these efforts do not automatically translate to fewer wars against predominantly black and brown countries, so long as the connection between race and foreign policy remains largely ignored.

As political scientists Kelebogile Zvobgo and Meredith Loken observe, the role of race is strikingly absent in mainstream international relations scholarship. This is because the major theories of international relations — realism, liberalism, and constructivism — view political events through a Eurocentric perspective that justifies Western dominance. After all, the study of international relations, as the late Stanley Hoffman famously said, is an "American social science" whose development roughly coincided with the emergence of the U.S. as a global hegemon. It should therefore come as no surprise that the paradigmatic work of international relations, mostly written by Western white male scholars, ignores the issue of race in foreign policy.

Still, history is replete with examples of how race and racism have influenced America's role in the world. The racism that permeates our foreign policies today is an extension of the belief in white supremacy that shaped the territorial and ideological boundaries of our nation from its inception.