Stories from Israel, Kashmir, Europe, the United Kingdom, and more
As always, FX's weekend news updates are unlocked for everyone. For the full FX experience, including nightly updates, podcasts, and more, please subscribe today!
MIDDLE EAST
SYRIA
The Syrian military recaptured the town of Kfar Nabudah Sunday morning, according to state media and the Syrian Observatory for Human Rights. It had taken the northern Hama province town from rebels earlier this month but then lost it on Wednesday to a rebel counterattack. The SOHR says that 28 rebels and 16 pro-government fighters were killed in the most recent fighting, which unsurprisingly has included a significantly escalated Syrian-Russian air campaign that reportedly killed at least 12 people in other parts of northwestern Syria.
The rebels can't match Russian air power so they're going to struggle to hold on to any territory they regain, but the fact that they were able to regain Kfar Nabudah, however briefly, was in part due to Turkish support. The Turks have reportedly been boosting their weapons supplies to rebel proxies in northwestern Syria after failing to convince the Russians to relax the pro-government offensive. Included in those supplies has been armored vehicles and anti-tank weaponry, which has helped shift the military situation on the ground. Turkey's aim is mostly to stem the flow of refugees toward the Turkish border, so if it can simply strengthen the rebels enough to make the Syrian military halt its advance that would be a successful outcome from their perspective.
YEMEN
The Houthis launched another drone strike against Saudi Arabia on Sunday. This time around the target was the Saudi airport in Jizan, and the drone was apparently shot down by Saudi air defenses. Mohammed Ali al-Houthi, one of the leaders of the Houthi organization, told reporters on Sunday that the recent spike in Houthi drone attacks on Saudi Arabia is a response to the Saudis "spurning" Houthi concessions. Presumably he's referring to the fact that the Saudis haven't acknowledged the Houthi withdrawal from three seaports in Hudaydah province, which the Yemeni government insists was a smokescreen that just transferred control of those ports to Houthi-friendly militias. Houthi "dismissed" the notion that the rebels were attacking Saudi Arabia on Iranian orders, insisting that the Houthis "are not subordinated to anyone."
TURKEY
Kurdistan Workers' Party (PKK) head Abdullah Öcalan has ordered his supporters in Turkey to cease their hunger strikes. Dozens of Kurdish politicians, many of them in Turkish custody, have been engaged in a weeks-long hunger strike to protest Ankara's treatment of Öcalan, who's been held in isolation for several years with no access to his lawyers or to family. Turkish authorities have recently allowed him to resume seeing his lawyers, which has raised hopes of a new round of peace talks though the goal is probably to decrease Kurdish support for the opposition candidate in next month's Istanbul mayoral election. That said, Öcalan has suggested he could play a role in negotiations over creating a safe zone in northeastern Syria, which might be amenable to the Turkish government.
IRAQ
There have been several attacks across Iraq this weekend. A car bomb on Sunday killed at least five people in a village called Oweinat, near the Syrian border in Nineveh province. In Kirkuk province, a series of fires and explosions that began Saturday evening has left at least four dead and destroyed several farms and crops. And at least five people were killed in two explosions—one Friday and the other Saturday—in Saladin province. ISIS has claimed the Saladin attacks and is the likely culprit behind the others as well.
ISRAEL-PALESTINE
Benjamin Netanyahu has until Wednesday to form a cabinet lest he lose his chance to remain prime minister. A disagreement between a religious conservative party and the secular right party of Avigdor Lieberman over military conscription for ultra-orthodox Jewish youth has so far thwarted what seemed like a fairly straightforward coalition negotiation process following last month's election, and Netanyahu has already had to accept an extension from President Reuven Rivlin.
If Netanyahu fails to form a coalition, Rivlin could turn to the Blue and White Party led by Benny Gantz, which tied Netanyahu's Likud Party in the election with 35 seats but has a much harder path to build a majority coalition. If Gantz fails, which would be expected, it could mean a new election and Likud is already reportedly preparing for such an outcome (though there's reason to think it's doing so more to frighten other right-wing parties into falling in line). Before it gets to a new election, Rivlin might task Netanyahu and Gantz with forming a unity government, but it's very far from clear that they'll be able to work that out.
QATAR
It looks like Qatar will get to attend Saudi Arabia's big "Iran Bad" summit (summits, technically there are two of them) later this month after all. Qatari Emir Sheikh Tamim bin Hamad Al Thani reportedly got his invitation on Sunday. Maybe it got lost in the mail. It's unclear whether he's accepted, and while he probably will it would be pretty effective trolling were he to reject King Salman's invitation/summons.
ASIA
AFGHANISTAN
Afghan security forces raided a Taliban position in Nangarhar province overnight Friday-Saturday and in the process apparently gunned down six civilians who were attempting to escape the firefight in their car. Ten Taliban fighters were also killed in the raid, which comes shortly after new statistics showed that Afghan and coalition forces killed more civilians in the first quarter of 2019 than did insurgents.
As deadly as the war has been, more Afghans have been dying from air pollution than violence of late:
The respiratory ward of Kabul's Indira Gandhi Children's Hospital, built with Indian aid, is filled with children gasping for breath. Some scream as they're treated, their cries echoing off the concrete walls. Amid the shrieks, doctors, parents, and patients struggle to heal, soothe, and breathe. The ward follows a seasonal rhythm—in the summers, it's used to treat gastric issues, but during the winter, doctors treat Afghanistan's vulnerable population for chronic respiratory illnesses that they attribute to pollution in the air, a mix of heating from homes and pollution from industrial sources.

Air pollution is killing more Afghans than the war. According to the State of Global Air, a collaborative initiative between the Health Effects Institute and the Institute for Health Metrics and Evaluation, more than 26,000 Afghan deaths could be attributed to pollution in 2017. The United Nations Assistance Mission in Afghanistan documented nearly 3,500 civilian deaths from pollution for the same time period. The root cause is the burning of anything possible to get Afghans the energy and heat they need in harsh winters—including plastic, coal, and rubber. Mixed into that is the use of leaded fuels banned in the West decades ago, as well as waste energy plants and heavy industry.
Of course, part of the reason pollution is so high, the reason families are forced to burn anything and everything to get through the winter, is the war. Or wars—Afghanistan hasn't really had a sustained peace since the Soviets invaded in 1979 except possibly for the brief period of Taliban rule in the late 1990s (and suffice to say the Taliban weren't winning any good governance awards). The United States, the World Bank, and international donors have thrown money at Afghan infrastructure challenges, but don't have very much to show for it.
PAKISTAN
Pakistani soldiers clashed with protesters demanding equal treatment for Pakistan's Pashtun minority in North Waziristan on Sunday, leaving at least three protesters dead and at least ten wounded along with five wounded soldiers. The official Pakistani story is that members of the Pashtun Tahafuz Movement attacked a military checkpoint, but Pashtun leaders counter that the soldiers opened fire on what had been a peaceful protest. They also challenged the government's casualty count, saying that some 30 protesters were wounded, not ten. Several protest leaders were arrested and charged with "inciting violence against the state."
KASHMIR
A new report finds that Indian authorities have used torture as standard operating procedure in Kashmir for decades without anyone being held accountable:
Authored by the Jammu Kashmir Coalition of Civil Society and the Association of Parents of Disappeared Persons, the report alleges that torture has been systematically used as a tool of military rule, describing it as "a tactic employed to break people's will." The report collected over 430 individual testimonies of people who have been subjected to torture in Indian military custody, including beatings, electrocution, rape, cutting with sharp implements, burning with metal rods, and the use of prolonged solitary confinement.

"Torture is an ongoing issue in Kashmir, but the reality is that most cases are not even reported," said Shazia Ahad, a Kashmiri human rights activist and co-author of the report. "Our report looks at cases of torture going back several decades. It was more difficult, however, to talk to people who had been tortured recently, because these people are under constant surveillance. They fear reprisals for speaking out, particularly that they will be arrested and tortured again."
NEPAL
Three explosions hit Kathmandu on Sunday, killing at least four people and wounding at least seven others. There's been no claim of responsibility but police have found evidence suggesting that Maoist insurgents, who have never accepted the resolution to Nepal's 1996-2006 civil war, were the culprits. They also carried out a bombing in Kathmandu back in February.
THAILAND
The Palang Pracharat party, which is a political outgrowth of the military junta that ran Thailand from the country's 2014 coup through elections earlier this year, has reportedly negotiated a coalition deal that will keep junta leader Prayut Chan-o-cha in power as prime minister. Palang Pracharat finished second in March's election, but there's never really been any question that the military would hold on to power since it gets to appoint the entire 250 seat Thai senate. But the agreement between the party and two smaller parties, the Democrats and Bhumjaithai, gives it 251 seats in the 500 seat lower house and ends any doubt as to the makeup of the government.
PHILIPPINES
According to Philippine officials, a group of Abu Sayyaf insurgents attacked a unit of soldiers in a village in Sulu province on Saturday, kicking off a lengthy gun battle. Two children were killed in the fighting, along with six of the militants.
NORTH KOREA
Donald Trump says he's unperturbed by recent North Korean weapons tests, especially since the North Koreans are making fun of his potential political rivals:
North Korea fired off some small weapons, which disturbed some of my people, and others, but not me. I have confidence that Chairman Kim will keep his promise to me, & also smiled when he called Swampman Joe Biden a low IQ individual, & worse. Perhaps that's sending me a signal?
If you're looking for signs of daylight between Trump and, say, John Bolton, this might be another one. On Saturday, Bolton spoke more forcefully against the weapons tests, telling reporters that there was "no doubt" the tests violated a UN ban.
JAPAN
Trump is in Japan, where he and Japanese Prime Minister Abe Shinzō have golfed, watched sumo, eaten burgers, and presumably talked a bit about trade issues. Trump has threatened to levy tariffs against Japanese auto imports over Japan's trade surplus, mostly because he still doesn't understand how tariffs or trade surpluses actually work. Nevertheless, Trump said on Monday that he expects trade issues to be "straightened out" by August. The two men are also likely to talk North Korea. During his visit, Trump became the first foreign head of state to meet with new Japanese Emperor Naruhito. FX extends its sincerest condolences both to him and to the Japanese people.
OCEANIA
PAPUA NEW GUINEA
Papuan Prime Minister Peter O'Neill announced his resignation on Sunday after multiple defections from his People's National Congress had made his political situation untenable and left him facing a potential no-confidence vote that he likely would have lost. Well, maybe. Several PNG opposition figures have expressed some skepticism about O'Neill's announcement, arguing that it's a "ploy" to get those defectors to return to the fold and that they'll believe he's gone when he actually submits his formal resignation.
AFRICA
SUDAN
Sudanese junta leader Abdel Fattah al-Burhan is on his first overseas trip as de facto head of state, and naturally he's visiting some of the Middle Easts's more authoritarian-friendly destinations. Burhan first visited Egypt for meetings with Egyptian President Abdel Fattah el-Sisi—I believe we have a photo of their first encounter:
Burhan and Sisi both "agreed on the priority of supporting the free will of the Sudanese people and its choices." What? Why are you laughing? Burhan next visited the UAE, presumably with his hand out, while deputy junta leader Mohamed Hamdan Dagalo hit up Saudi Arabia. Both countries have already promised a combined $3 billion in aid to Sudan but I'm sure the junta could use more, and the Gulf states may want to buy more assurances that the junta isn't going to do anything outrageous like actually handing Sudan over to a true civilian government.
The Forces for the Declaration of Freedom and Change, Sudan's umbrella opposition group, is calling for a two-day strike starting Tuesday to force the junta to give way to a civilian transitional government. But one of the FDFC's constituent parties, the Umma Party, has rejected that call. Its specific criticisms of the strike are unclear but the party says it opposes its "preparations and timing."
LIBYA
The "Libyan National Army" made a new attack on Tripoli from the south on Saturday but does not appear to have made much if any progress. Over 500 people have been killed and an estimated 75,000 displaced in fighting since the LNA began its Tripoli offensive last month, but the fighting had slowed down prior to Saturday's attack. The International Crisis Group suggests there is a path forward to a settlement of the fighting if the international community stops enabling Libya's warring parties and starts pressuring them to make a deal:
A prerequisite for a negotiated de-escalation is for both sides to feel that their basic interests have been adequately addressed. The Serraj government and the military forces aligned with it say they want the LNA's violent effort to unseat the GNA to end, the assault on Tripoli to stop, and guarantees that military power will remain under civilian oversight. The eastern government says it wants its fair share of oil revenues and to liberate the capital from what it considers militia rule before restarting negotiations over a political roadmap. Taken at face value, these objectives are not necessarily incompatible, and so a negotiated ceasefire that would allow the resumption of political, financial and military negotiations that achieves them should be possible.

International stakeholders ought to press the parties to accept a ceasefire reflecting a compromise between their respective positions: a withdrawal of Haftar's forces from Tripoli's immediate periphery but, at this stage, not (as Serraj demands) from other towns in the greater Tripoli area. They also should agree to steps to maximise the chances that both sides implement such a ceasefire: first, giving international legal backing through a UN resolution to an agreed ceasefire; secondly, endorsing and establishing an international monitoring mechanism, which could consist of unarmed monitoring personnel from EU member states with access to surveillance equipment and satellite imagery; thirdly, imposing sanctions on any eventual ceasefire violators; and fourthly, fully complying with the UN arms embargo on Libya, which is being openly flouted at present.
BURKINA FASO
Gunmen attacked a church in northern Burkina Faso on Sunday, killing at least four people. This is the fourth attack on Christians in the region in about a month, with upwards of 20 people killed in total. Islamist militants are presumably to blame though there's been no claim of responsibility.
NIGERIA
Boko Haram fighters attacked a group of Nigerian soldiers trying to evacuate civilians from a village in northeastern Nigeria on Saturday morning, killing at least 25 soldiers and an unknown number of civilians.
UGANDA
The Ugandan government says that Rwandan soldiers crossed into Uganda on Friday while chasing an alleged smuggler, whom they caught and killed along with a Ugandan bystander. They're demanding some sort of punishment for the soldiers, who don't appear to have crossed deep into Ugandan territory but then it doesn't really matter given that they killed a Ugandan citizen. Uganda and Rwanda aren't getting along terribly well these days anyway, with Rwanda accusing the Ugandans of harboring Rwandan rebels including the FDLR, which is comprised in part of former Hutu génocidaires.
MALAWI
Malawian electoral officials have ordered a partial recount in the country's May 21 presidential election. Preliminary results have shown incumbent Peter Mutharika winning reelection, but his main opposition candidate, Lazarus Chakwera, has sought a recount due to numerous allegations of irregularities. The recount area includes Blantyre, Malawi's second-largest city, so there could be a significant swing in the vote count once its completed.
EUROPE
EUROPEAN UNION
Results from this week's European parliamentary elections are pouring in and, well, who cares? The next important thing that happens in the European parliament will be…the first? Or at least close to it. However, I'm being too dismissive. These elections can be insightful as a political barometer in particular countries, and below we'll look at a few places where the results are likely to have some impact.
As far as the EU is concerned, the overall outcome appears to be that the center has collapsed. Please, try not to look so surprised. Far-right parties seem to have done well across Europe, though not as well as they may have expected, and far-left parties seem to have done well too—the Greens netted at least 15 more seats and say they're going to use their new leverage to push for stronger environmental policy. On the far-right, Matteo Salvini's League party in Italy and Nigel Farage's Brexit Party in the UK look to be in a dead heat as to which will emerge as the largest single party in the EP. The dominant center-right and center-left blocs both lost seats and will no longer hold a combined majority, which should make things more interesting when it comes time to replace European Commission President Jean-Claude Juncker and other top EU executive officials. Both blocs seem to be hinting at a broad coalition of left to center-right parties that would lock the far-right out of power, but we'll see.
RUSSIA
Russia launched a new nuclear-powered icebreaker on Saturday. It's the latest move in Moscow's larger effort to wring as much economic benefit out of the mostly melted Arctic Sea as possible before our collective environmental stewardship causes the final collapse of human civilization. The US, Canada, and Norway are all investing in this new Arctic Great Game as well, along with China even though it doesn't really have a geographical claim on the Arctic region.
LITHUANIA
Gitanas Nausėda, who won the first round of Lithuania's presidential election earlier this month, closed the deal by winning Sunday's runoff by what's shaping up to be a wide margin—with over 40 percent of the vote counted, he's at around 72 percent. Nausėda ran as an independent but has promised to pattern himself after term-limited incumbent Dalia Grybauskaitė, which first and foremost means he'll be taking a cool stance toward Moscow. He's also going to have to tackle a weak Lithuanian economy and high levels of both inequality and corruption.
UKRAINE
The International Tribunal for the Law of the Sea has ordered Russia to release the three Ukrainian ships and 24 sailors it detained back in November. Moscow has said it detained those ships in a military operation, which is outside the tribunal's jurisdiction, and didn't even bother sending representatives to Hamburg to contest the case so you can probably assume it won't be complying with the ruling unless it believes doing so would be in Russia's national interest. As with most international law, the tribunal's rulings are technically binding but practically unenforceable unless somebody decides to enforce them—which nobody is going to do when it would mean going up against Russia.
AUSTRIA
Austrian Chancellor Sebastian Kurz's People's Party won the country's European parliamentary election, bolstering his political position, but it's probably not going to be enough to save him from a no-confidence vote. The vote, brought about due to the collapse of Kurz's coalition with the far-right Freedom Party, looks like it will happen on Monday, and the result will come down to the votes of Freedom Party legislators, many of whom blame Kurz for the coalition's failure. If Kurz loses he will not be able to lead Austria into an early election that's already been called for September, and will instead have to hand power over to an interim caretaker government. This would be a blow to his reelection chances, though perhaps not a fatal one.
GREECE
One country in which the EP results are having an immediate political impact is Greece. Prime Minister Alexis Tsipras says he will call for a snap election after his Syriza party was badly beaten by the center-right New Democracy Party. Greece was already supposed to have an election in October at the latest, but now it looks like the timetable will be moved up. Syriza is not polling well so I wouldn't expect the outcome to be to Tsipras's liking.
BELGIUM
Belgium held its general election on Sunday and the results seem even more inconclusive than usual, which is saying something for Belgian politics. The far-right Vlaams Belang party gained seats in Flanders while the N-VA lost a few but still emerged as the largest Flemish party. The Parti Socialiste likewise lost seats but still held ground as the largest party in French-speaking Wallonia. Because Belgium is so ethnically divided its governments are inevitably made up of coalitions of various regional parties, and this government will be no different though it may take more time to negotiate the makeup of the coalition.
FRANCE
Marine Le Pen's far-right National Rally party won France's EP election, finishing slightly ahead of French President Emmanuel Macron's La République en Marche party. Ruling parties, especially in France, can fare poorly in EP elections as voters use them to send a message. But Macron was heavily, personally invested in the campaign so this result could be seen as a bigger slap in the face than the norm. It may also revive Le Pen's political career. On the other hand, Macron's party only finished about a point behind Le Pen's, and ultimately it is just the European Parliament, so it's not that big a slap in the face objectively speaking.
UNITED KINGDOM
In the UK, where Brexit has already made a wreck of national politics, the EP election may have shaken things up a bit further. For one thing, former UKIP leader Nigel Farage has reemerged, not unlike a venereal disease, as a national political force. His clearly pro-Brexit Brexit Party won handily, with the clearly anti-Brexit Liberal Democrats coming in second as British voters ditched both the hapless Conservatives, for obvious reasons, and the eternally indecisive Labour, which still can't decide if it wants to be anti-Brexit or pro-Brexit-but-in-a-different-way. Labour finished third, followed by the Greens, with the Tories coming in a mighty fifth.
The EP result, as well as some internal party dissension, seems to have prompted Labour leader Jeremy Corbyn to firm up his stance on a second Brexit referendum. Corbyn says that Brexit must "go back to the people," either via a referendum or a new general election, which he's unlikely to get because the Conservatives stand to lose big. Farage, meanwhile, now wants a role negotiating Brexit and says he's preparing his party for national elections. Great.
As for the Tories, their main concern is figuring out who's going to replace Prime Minister Theresa May when she steps down early next month. The number of candidates now stands at eight:
Environment Minister and human simulacrum Michael Gove

Health Minister Matt Hancock

Foreign Minister Jeremy Hunt

Former Foreign Minister and case study in human de-evolution Boris Johnson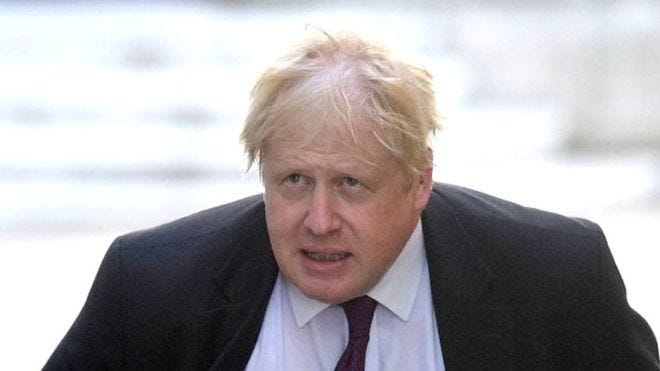 Yeah, him
Former Tory floor leader Andrea Leadsom, whose decision to quit that job was what finally forced May's resignation

Former Work and Pensions Minister Esther McVey

Former Brexit Minister Dominic Raab

International Development Secretary Rory Stewart
At this point the favorite is Johnson, which means the two likeliest outcomes are that he'll do or say something so stupid as to disqualify himself or that the UK will definitely be treated to a remarkable second straight PM dumber than David Cameron.
At this point the party leadership election seems likely to turn on the question of a "no-deal" Brexit, or perhaps it would be better to say the questions of a no-deal Brexit because there are two:
Will the Tories allow a no-deal Brexit?

Which candidates seem comfortable with a no-deal Brexit?
Six contenders—Gove, Hunt, Johnson, Leadsom, McVey, and Raab—have said they'll lead the UK out of the EU on October 31 with or without a deal, though all but McVey say their preference would be to negotiate a new deal with Brussels (good luck with that) and Gove has suggested he'd be more flexible in negotiations than the others, particularly Johnson. While that may help them with party members, it's not clear that supporting a no-deal Brexit is actually going to help whichever of these folks wins the race. In fact, several senior Conservative Party figures including Chancellor of the Exchequer Philip Hammond have suggested they will strongly oppose any move in that direction and could even vote to collapse the government over it, which would lead to that general election the Tories probably want to avoid.
AMERICAS
ARGENTINA
The newly-minted Peronist presidential ticket of Alberto Fernández and ex-president Cristina Fernández de Kirchner is off to a strong start in the polls despite Fernández de Kirchner's corruption trial. Polling shows Fernández y Fernández taking over 39 percent of the vote in a first presidential round, ten points ahead of incumbent Mauricio Macri and within shouting distance of winning outright without a runoff (which in Argentina means taking over 45 percent of the first round vote or taking over 40 percent and winning by more than 10 percent). It's one poll and the election isn't until October, but if Macri didn't already realize he was in some trouble then he should now.
BRAZIL
Supporters of Brazilian President Jair Bolsonaro turned out in more than 300 cities and towns across Brazil on Sunday to demonstrate in support of their guy. Bolsonaro's approval rating is heading in the wrong direction as the Brazilian economy has continued to sputter and he's found it hard to mobilize enough political support to get anything done, so it's unsurprising that his fans are trying to rally support behind him. And while there are some reasonable concerns about the supporters of a fascist president mobilizing across the country, Sunday's demonstrations appear to have been mostly peaceful.
VENEZUELA
Representatives of Venezuela's government and its political opposition are set to meet in Norway again this week. This will be the second round of talks, which is a positive thing in itself, but opposition leader Juan Guaidó on Sunday downplayed expectations for the talks. He maintains that the only solution to Venezuela's political crisis is for Maduro to go, which admittedly doesn't leave much room for common ground, and the opposition in general has argued that Maduro uses talks like these as a delaying tactic to get his bearings after he's been shaken, but that he doesn't participate in good faith.
UNITED STATES
Finally, nuclear weapons specialists Cheryl Rofer and Anne Harrington explain why the US government's rules about using nukes—which seemed like a good idea at the time—now leave the planet at the whim of Donald Trump's Very Good Brain:
Debates about launch authority have always been intimately bound up with whether we consider nukes' function to be primarily military or political. Nuclear weapons are so destructive that, since the bombs were dropped on Hiroshima and Nagasaki, even the explicit threat of their use has been sparing. They have been used as political deterrents and levers, instead of direct weapons of war.

Reserving launch authority for the president was a key way to emphasize the political nature of the nuclear mission.

Historians trace the precedent of presidential launch authority to President Harry Truman's decision to check his generals' use of nuclear weapons. After destroying Hiroshima and Nagasaki, they planned to bomb a third Japanese city, but Truman forbade them to carry out the attack without his express consent and ultimately decided against it. According to Truman's commerce secretary, Henry Wallace, the presidentthoughtkilling "another 100,000 people was too horrible." By assuming personal responsibility for the launch order, Truman started a tradition of differentiating this new technology from conventional weapons.