World update: June 8-9 2019
Stories from China, Sudan, Moldova, and more
MIDDLE EAST
SYRIA
Under the guise of clearing war debris or destroying facilities used by rebels, the Syrian government appears to be blowing up the homes of people who have been displaced by the war. The program threatens to prevent the return of the 12 million or so Syrians who have fled the fighting, or at least of the 5.6 million or so who have fled the country altogether. This is all pretty speculative, but it does fit a pattern of behavior whereby the Syrian government has not treated returning IDPs—most of whom fled because they support the rebels—particularly well. It's arrested many of them, conscripted others, and has used new housing laws to seize their homes.
YEMEN
According to Yemeni officials, attackers from a UAE-backed militia called the "Security Belt" shot up a mosque in Dhale province on Friday, killing five people and taking three more captive. Security Belt insists that they were Houthis and the five who were killed refused to surrender.
IRAQ
The Turkish government says that its forces have "neutralized" 43 Kurdistan Workers' Party (PKK) fighters since beginning a new operation in northern Iraq late last month. "Neutralized" in this context means anything from captured to killed, but most likely killed.
LEBANON
The US and Iran may actually start talking directly with one another soon, but not about Iran's nuclear program or US sanctions. No, instead it looks like they might start negotiating over the Lebanon-Israel border:
On May 13, while The New York Times reported that the White House was reviewing military plans to attack Iran, a plane carrying the State Department's Acting Assistant Secretary for Near Eastern Affairs David Satterfield quietly landed1 in Beirut on an unannounced trip. Heightened tensions between Washington and Tehran did not prevent the US official from rushing to seize a breakthrough as the Iran-backed Hezbollah finally endorsed the Lebanese government's stance to enter direct negotiations to settle the border dispute with Israel. These negotiations are expected to begin in the coming weeks as the United States and Iran may explore direct talks for the first time since President Donald Trump took office in 2017.

Since 2012, the United States has been mediating a maritime border dispute between Lebanon and Israel over a triangular area of 860 square kilometers (330 square miles) off the Mediterranean coast where gas was discovered in 2009. Last year, a consortium of France's Total, Italy's ENI, and Russia's Novatek was awarded a contract to start drilling in two blocks off the Lebanese coast, including the disputed block 9. This led to tensions between the two countries. There was no breakthrough in those talks until last month.
ISRAEL-PALESTINE
Israel has "the right" to annex "some, but unlikely all, of the West Bank," according to US ambassador to Israeli David Friedman. I have to admit, when Donald Trump nominated a guy who funds Israeli West Bank settlements to be his ambassador, I didn't see this coming. In an interview with the New York Times, Friedman went on to say that there's a "silent majority" of Palestinians who would happily accept the Kushner Accords' promise of some economic crumbs in exchange merely for sacrificing the concept of Palestinian personhood. I think we can all agree that if anybody has his finger on the pulse of the Palestinian community, it's David Friedman. The Palestinian Authority says it might file a complaint against Friedman with the International Criminal Court, and I have to assume they're just looking for ways to pass the time at PA headquarters because that would be completely pointless.
The Wall Street Journal reported on Friday that a large number of Palestinians are actually ready to "give up on their own state." Big if true, which of course it's not. A growing number of Palestinians are coming around to the realization that there's no more viable two-state solution, but they're instead demanding citizenship in a single Israeli-Palestinian state. Which the Israelis will under no circumstances allow.
EGYPT
According to Egyptian authorities their security forces killed four militants in a "shootout" south of the city of Arish on Saturday. As always, take Egyptian authorities with a grain of salt when they say these guys were killed in an active gun battle and not given extrajudicial executions.
SAUDI ARABIA
According to Houthi media, the Yemen rebels launched "multiple drone attacks" against the Saudi airport at Jizan. There's been no confirmation of these attacks or their outcome.
Senators Chris Murphy (D-CT) and Todd Young (R-IN) will on Monday introduce a resolution requesting the Trump administration produce a human rights report on Saudi Arabia within 30 days. Once that report has been issued, under a provision in the Foreign Assistance Act Congress could then vote, by simple majority, to "terminate or restrict" US security assistance to the Saudis. This is a privileged resolution meaning that in principle it can't be blocked from a floor vote, though there are other parliamentary tricks that can be used to bottle it up and Senate Majority Leader Mitch McConnell will likely use them. It's unlikely this will lead to anything, but even the fact that it's been proposed reflects how far the debate on the US-Saudi relationship has come in the past few years.
IRAN
The US Treasury Department unveiled new sanctions against Iran on Friday, this time on its Persian Gulf Petrochemical Industries Company. PGPIC accounts for about half of Iran's annual petrochemical exports so this is going to hurt, especially when Iran's petrochemical exports have been on the rise for several months. But it's not going to hurt that much, as there aren't a lot of foreign companies that are willing to do any business with Iran in general these days, in light of US sanctions. PGPIC has links to the Islamic Revolutionary Guard Corps, recently designated as a terrorist organization by the Trump administration, hence the sanctions. The Iranians responded with the argument that the new sanctions prove that the administration's offers to negotiate are "hollow," but I feel like we kind of knew that already.
ASIA
KAZAKHSTAN
The votes are being counted in Kazakhstan's presidential election, I guess, even though the outcome is a foregone conclusion. Exit polling shows interim president Kassym-Jomart Tokayev, former president and current "Leader of the Nation" Nursultan Nazarbayev's handpicked successor, willing with around 70 percent of the vote, and while exit polling is often very bad, I'd like to reiterate here that the outcome of this election has never been in doubt. Kazakh authorities arrested hundreds of people in Kazakhstan's largest city, Almaty, and its capital, Nur-Sultan (named for the former president), on Sunday for protesting the fact that the outcome has never been in doubt. They accused the protesters of trying to "destabilize society."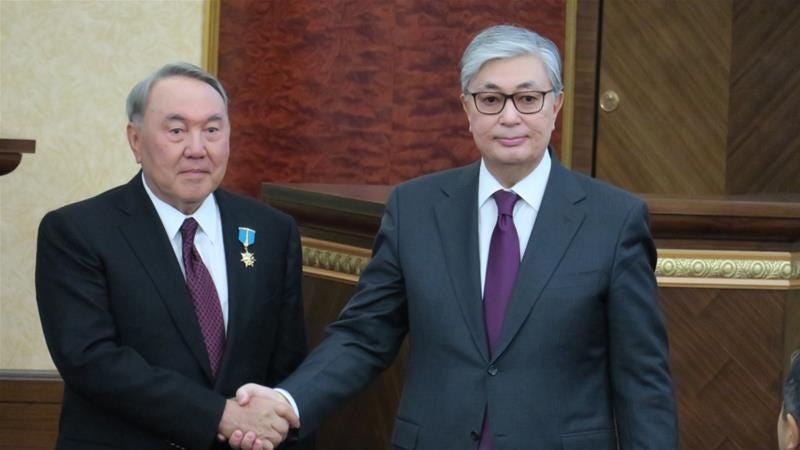 Tokayev (right) shaking hands with Nazarbayev after being sworn in as interim president back in March
AFGHANISTAN
Taliban fighters attacked checkpoints in Ghor province late Friday, killing at least 14 members of a pro-government militia that was manning them.
INDIA
Political differences escalated into violence in India's West Bengal state on Saturday. Three members of the country's ruling Bharatiya Janata Party were killed in the fighting along with one member of the Trinamool party. At least 18 other people were wounded. The conflict apparently started over the issue of putting up pro-BJP signs and flags in the province's Sandeshkhali district.
CHINA
Over one million people hit the streets of Hong Kong on Sunday to protest against a bill that would let Hong Kong authorities extradite fugitives back to mainland China, according to organizers (police put the figure at around 240,000, but images of the protest sure do make it look a lot closer to one million). The bill could become law later this month and, opponents fear, would drastically reduce Hong Kong's autonomy. Chinese media is blaming the protest on foreign agitators or the like.
Columbia University's Stephen Wertheim wonders if the Trump administration's confrontational approach toward China might not be such a great idea given where we're all headed in the fairly near future:
At the moment, confrontation with China might seem to offer something for everyone, much as the anti-Soviet crusade initially promised. In the late 1940s, businesses saw an opportunity to expand trade and secure capitalism; organized labor signed on, agreeing to discipline its ranks for a slice of the economic pie. It seemed like a good bargain, at least until growth stalled and the Cold War turned out to mean dying in Vietnam.

The costs were immense then, and they could be steeper now. For one, it is no coincidence that a president who denies climate change is leading the charge against China, the top emitter of greenhouse gases. Arresting climate change requires America and China to cooperate and channel their competition into salvaging the planet rather than seizing its resources. The American people can live with an authoritarian China. They cannot live on an uninhabitable Earth.
AFRICA
SUDAN
At least four people were killed on Sunday as Sudanese opposition groups began a general strike intended to punish the country's ruling military junta for the crackdown it began earlier this month. Somewhere in the neighborhood of 120 people have been killed amid the crackdown, assuming that the four deaths on Sunday—one shooting death in Khartoum, one shooting and two stabbing deaths in Omdurman—are related to the political crisis. Opposition leaders accused Sudan's Rapid Support Forces paramilitaries, who have locked down Khartoum and Omdurman and have considerable experience committing crimes against humanity from their days as the Janjaweed militia in the Darfur conflict, of the killings.
Sudanese authorities also arrested large numbers of professional workers (bankers, doctors, engineers, etc.) in what was obviously an effort to break the strike. They even arrested three opposition leaders on Friday right after those leaders met with Ethiopian Prime Minister Abiy Ahmed, who was in Khartoum seeking to broker a solution to Sudan's political crisis. It's believed the junta has arrested hundreds of people since the crackdown started, but just like the death toll (obscured by all the bodies the junta has been dumping into the Nile) it's difficult to get precise figures.
I mentioned above the RSF's past life as the Janjaweed, or at least that portion of the Janjaweed that agreed to place itself under direct government control. That past has become immediately and sickeningly relevant since the junta took power:
The violent crackdown on pro-democracy demonstrators in Khartoum, Sudan, this month has been carried out by Sudan's Rapid Support Forces, a notorious paramilitary force that has committed mass atrocities in Darfur and other parts of Sudan.

In a bitter twist of irony, the Sudanese Transitional Military Council recently issued a decree demanding the United Nations-African Union Hybrid Operation in Darfur, or UNAMID, which deployed thousands of peacekeepers in Darfur more than a decade ago to protect civilians, hand over its peacekeeping facilities to the paramilitary force as UNAMID carries out a dramatic drawdown of its mission there.

The U.N. is in the middle of an effort to shut down the troubled peacekeeping mission—which has long faced criticism of falling short in its mission to protect civilians—by next summer. Last year, facing pressure from the United States to cut peacekeeping costs, the U.N. Security Council ordered a phased reduction of a force that once numbered over 16,000 strong, citing a reduction in large scale armed clashes—though human rights abuses remain endemic. For our Document of the Week, Foreign Policy is publishing a copy of the May 13 decree in Arabic, along with an English translation.
UNAMID has already withdrawn from ten facilities in Darfur, nine of which are now being used by the RSF. It's refusing to withdraw from any additional facilities until the junta guarantees that the RSF isn't going to assume control of them.
LIBYA
Donald Trump's love for Libyan strongman Khalifa Haftar has proven fleeting, at least as far as his administration is concerned. Though Trump was seemingly on Team Haftar after the two talked by phone back in April and the US helped block a United Nations resolution that would have condemned Haftar's offensive against Tripoli, it appears the US is now back in the pro-ceasefire camp. The difference, apparently, is that back in April Trump was listening to John Bolton on Libya and lately he's allowed Secretary of State Mike Pompeo to handle the issue. So far the shift away from Haftar hasn't translated into any additional pressure on him to put an end to the Tripoli operation, but it may at some point.
EUROPE
MOLDOVA
Moldova's Constitutional Court suspended President Igor Dodon on Sunday in order to allow Prime Minister Pavel Filip to step in and call a new election for September. Filip's Democratic Party of Moldova and its chairman, extremely rich person Vladimir Plahotniuc, have accused Dodon of maneuvering around Moldova's electoral laws in ignoring a court-mandated deadline to dissolve parliament and call a new election on Friday. Dodon's failure to follow that court order led to Sunday's court order.
This is where things hit a bit of a gray area as far as I can tell. Moldova still doesn't have a legitimate government following its February 24 parliamentary election. Dodon did announce on Saturday that his Socialist party had reached a deal with the centrist ACUM party to form a government. Saturday comes after Friday, however, and the court had ordered him to dissolve parliament on Friday. It didn't give him the weekend to sort things out. That said, Dodon is now calling the court's independence into question, and there may be a legitimate argument to be made that the court is inclined toward the Democratic Party politically.
Complicating things is a disagreement over Moldovan election law. According to the Moldovan constitution the president is supposed, in the absence of a government, to dissolve parliament either three months or 90 days after the date the election results are certified, which was March 9. Nobody seems to be able to agree on whether it's 90 days or three months, though. If it's 90 days then the court was technically within its rights to set the June 7 deadline as that was 90 days after March 9. But if the deadline is three months then the deadline should have been Sunday, June 9, and the court was not within its rights to set that Friday deadline.
And yes, if you were wondering, Russia is apparently a factor here. Dodon's Socialist party is pro-Russia, and has proposed turning Moldova into a federal republic in which substantial authority would devolve to regional governments. Like, hypothetically, the pro-Russia breakaway government currently in charge of Moldova's Transnistria region. The Democrats are more inclined toward the European Union though Plahotniuc, like pretty much every Eastern European oligarch, has some complicated links to Moscow. He may have even come up with the federal system idea. Anyway, it all sounds like a real fun and normal situation.
CORRECTION: I know nothing about Moldovan election law and originally wrote this as though the deadline for forming a government came either three months or 90 days after the election, when in fact it's after the date the election results are certified, which in this case was March 9. That changes the story substantially since under one reading of the law the Constitutional Court was out of bounds in setting June 7 as the deadline for calling a new election. I've changed the text above and apologize for the error.
ALBANIA
In another really cool and nice situation, Albanian President Ilir Meta has canceled local elections that were supposed to be held on June 30. He cited ongoing protests against the Albanian government and argued that the unrest would not allow the elections to be conducted fairly. Prime Minister Edi Rama, the guy against whom people have been protesting, still says the elections will take place. I guess we'll see.
GERMANY
New polling puts Angela Merkel's CDU-CSU alliance at 24 percent, a new low, and its Social Democrat coalition partner at 12 percent, even with the far-right Alternative for Germany. That CDU-SPD coalition is really working out great for everybody. Coming in first place, if Germany were to hold elections today and if this poll is accurate, would be the Greens, who came in at 27 percent. Needless to say if Germany did hold an election today and this were the result, the ensuing coalition talks would be a blast.
UNITED KINGDOM
The inexplicable frontrunner to replace Theresa May, Boris Johnson, now says he'll threaten to withhold the UK's roughly $50 billion Brexit payment to the European Union in order to strong-arm the EU into giving Britain a better Brexit deal. Yeah, that'll work. The EU, which needs the money less than it needs to be seen making the UK pay for leaving, will likely treat a failure to pay as a default on UK debt, which would take the wild economic ride of a no-deal Brexit and kick it up a few notches.
AMERICAS
MEXICO
Hey, so this is kind of awkward. The New York Times seems to think that the big tariff-avoiding migration deal that Donald Trump struck with Mexico on Friday basically amounts to a bunch of stuff the Mexican government had already promised to do:
Friday's joint declaration says Mexico agreed to the "deployment of its National Guard throughout Mexico, giving priority to its southern border." But the Mexican government had already pledged to do that in March during secret talks in Miami between Kirstjen Nielsen, then the secretary of homeland security, and Olga Sanchez, the Mexican secretary of the interior, the officials said.

The centerpiece of Mr. Trump's deal was an expansion of a program to allow asylum-seekers to remain in Mexico while their legal cases proceed. But that arrangement was reached in December in a pair of painstakingly negotiated diplomatic notes that the two countries exchanged. Ms. Nielsen announced the Migrant Protection Protocols during a hearing of the House Judiciary Committee five days before Christmas.

And over the past week, negotiators failed to persuade Mexico to accept a "safe third country" treaty that would have given the United States the legal ability to reject asylum seekers if they had not sought refuge in Mexico first.
Making a reckless threat and then manufacturing a fake resolution and declaring victory would certainly be in the Trump playbook, but needless to say the president himself doesn't agree with the NYT's assessment:
If Trump really feels like he's losing face he may revert to his tariff threat. The Mexican government has said it would take the US before the World Trade Organization if it did impose tariffs, which would be symbolically meaningful and practically pointless. The WTO would probably rule in Mexico's favor, but who's going to enforce that decision on the United States?
HAITI
At least two people were killed in Port-au-Prince on Sunday as protesters demanding the ouster of President Jovenel Moïse blockaded roads across the city. Both were shot, and while that presumably means the police shot them at this point the identity of the shooter(s) is still unclear. Corruption allegations are at the top of the protesters' list of grievances.
UNITED STATES
Several US diplomatic facilities around the world are displaying rainbow Pride symbols in defiance of the Trump administration's ban on such displays. It's a small display of resistance that speaks to a much larger problem, which is that evangelical Mike Pompeo has been downplaying LGBT issues since taking over the State Department last year.
Finally, I have some good news from the world of defense contractors—two of the biggest are merging in order to more effectively gouge US taxpayers:
United Technologies and Raytheon are joining forces to create an aerospace and defense powerhouse. It is one of the biggest corporate mergers of 2019.

The two companies announced Sunday that they have agreed to combine in an all-stock deal they termed a "merger of equals." The new company would have annual revenue of about $74 billion. Together, UTC and Raytheon are worth about $166 billion in market value now. UTC makes up the lion's share of that.

Under the terms of the deal, United Technologies shareholders would own 57% of the combined company, with Raytheon shareholders owning the rest.

"The combination of United Technologies and Raytheon will define the future of aerospace and defense," Greg Hayes, United Technologies chairman and CEO, said in a news release. The Wall Street Journal reported Saturday that a deal was in the works.
Hot damn that sounds great. We better boost the Pentagon budget by another $100 billion or so in order to properly thank these guys.