World update: July 2 2020
Stories from Yemen, China, Venezuela, and more
This is the web version of Foreign Exchanges, but did you know you can get it delivered right to your inbox? Sign up today:
---
THESE DAYS IN HISTORY
July 1, 1097: The Crusaders defeat a Seljuk army at Dorylaeum. The outnumbered Seljuks caught the vanguard of the Crusader army by surprise but were eventually worn down as the day went on and more Crusader forces kept arriving as reinforcements. The victory cleared the Crusaders' path to Antioch.
July 1, 1968: The Non-Proliferation Treaty is signed by 62 countries. Nowadays it's signed by 190 countries and has prevented the spread of nuclear weapons except for all the times—India, Israel, North Korea, Pakistan, South Africa—it hasn't done that.
July 1, 1997: Sovereignty over Hong Kong passes to China after 156 years of British colonial rule. And they all lived happily ever after.
July 2, 1582: Two vassals of the deceased Japanese daimyō Oda Nobunaga, Akechi Mitsuhide and Toyotomi Hideyoshi, meet at the Battle of Yamazaki, with Hideyoshi's army emerging victorious. Hideyoshi thus ended Mitsuhide's rebellion and exacted some vengeance for Mitsuhide's defeat of Nobunaga, after which the daimyō committed suicide. Power now passed from the Oda clan to the Toyotomi clan, where it resided until Tokugawa Ieyasu took it from them in 1600.
July 2, 1853: Citing the Ottomans' supposed failure to protect Christian religious sites as a pretext, Russian Tsar Nicolas I sends an army across the Pruth River to occupy Moldavia and Wallachia, both nominally still Ottoman territories. Nicolas assumed that the European powers would not begrudge him a little annexation, as a treat. He was wrong, and the Crimean War ensued.
INTERNATIONAL
Worldometer's coronavirus figures for July 2:
10,974,421 confirmed coronavirus cases worldwide (4,315,907 active, +208,864 since yesterday)

523,242 reported fatalities (+5155 since yesterday)
MIDDLE EAST
YEMEN
1221 confirmed coronavirus cases (+31)

325 reported fatalities (+7)
The new Saudi offensive against the Houthis has begun in earnest, with reports of airstrikes in Sanaa and across northern Yemen overnight. At least two civilians were killed in Saada province. The offensive is a response to renewed Houthi missile and drone attacks against Saudi Arabia, and it's unclear whether it represents a sustained new phase in the war or is intended strictly to get the Houthis to settle down. Regardless of the scope, this resumption of heavy fighting obviously means whatever peace process was happening is not happening anymore. The International Crisis Group argues that, to get it back on track, the warring parties need to abandon the idea that they can win a decisive military victory, and the international community will need to expand its approach beyond an inadequate Houthi-government binary:
Secondly, Yemen's political and territorial fragmentation demands a rethink of the negotiation framework and the substance of an achievable agreement. There is growing international and Yemeni consensus that the two-party settlement the UN has attempted to broker over the course of the war is unlikely to translate into lasting peace. It is increasingly clear that the UN must open talks up, at a minimum to ensure the buy-in of powerful groups such as the secessionist Southern Transitional Council (STC), which are capable of upending any settlement. The current approach also leaves out tribal groups, local authorities and a range of political parties, women's and youth groups and other civil society actors whose support will be invaluable in sustaining an agreement.

The content of an agreement will need to address new realities and acknowledge past mistakes. Local groups prize autonomy won over the course of the war and will resist a rush to recentralise the state in Sanaa. Failure to address the social and economic grievances that sparked Yemen's 2011 popular uprising, and contributed to the Huthis' rise, would invite future instability and war.
TURKEY
202,284 confirmed cases (+1186)

5167 reported fatalities (+17)
Turkey's Council of State court heard a case on Thursday that could determine the future of one of the most recognizable landmarks in Europe. The Turkish government wants to convert the Hagia Sophia, the massive Byzantine church-turned-Ottoman mosque-turned museum, back into a mosque, challenging a 1935 decree issued by none other than Mustafa Kemal Atatürk. It's facing opposition from some secularist Atatürk fans in Turkey, from the Greek Orthodox Church, from some European governments (especially Greece), and even a little from the United States. The court is expected to issue its ruling within the next two weeks.
Turkish Foreign Minister Mevlüt Çavuşoğlu is demanding an apology from the French government over a recent naval encounter between the two countries in which Paris says Turkish vessels threatened to fire upon a French ship. It's not entirely clear to me why it is Çavuşoğlu thinks France should apologize, though he did mention the French government's support for eastern Libyan warlord Khalifa Haftar. Turkey has been supporting Haftar's rival, the Government of National Accord. The French government denies backing Haftar (it has), and its foreign ministry responded by accusing the Turks of peddling "inaccurate and biased information."
IRAQ
53,708 confirmed cases (+2184)

2160 reported fatalities (+110)
The Iranian government has reportedly had to cut its monthly support payments to friendly militias in Iraq by half or more in some cases, due to the economic one-two punch of US sanctions and the pandemic. Tehran doesn't acknowledge funding the militias at all, of course, but at least some portion of their funding does come from Iran, and according to Reuters the loss of that revenue has forced the militias to scramble for other sources of cash.
IRAN
232,863 confirmed cases (+2652)

11,106 reported fatalities (+148)
There was another minor catastrophe at an Iranian facility on Thursday, the third such incident in about a week. This time it appears there was a mysterious fire at Iran's uranium enrichment facility in Natanz, which follows a mysterious explosion late last week at a missile production facility outside of Tehran and another mysterious explosion at what's been described as a medical clinic in northern Tehran on Tuesday. Unlike the previous two incidents, after this one Iranian state media seemed to leave open the possibility that the fire was the result of sabotage perpetrated by Israel and/or the United States. Natanz has also been the target of sabotage in the past. Iranian officials claim that the fire only struck a storage area, but there are reportedly indications from satellite imagery that it may have hit a more sensitive area, possibly one involved in the production of advanced centrifuges.
According to the Swedish government, Iran is prepared to compensate families of the victims of Ukraine International Airlines Flight 752, which the Islamic Revolutionary Guard Corps shot down outside of Tehran on January 8. Swedish Foreign Minister Ann Linde suggested Thursday that Tehran has already agreed in principle on the idea of compensation and is now in talks over the amount.
ASIA
AFGHANISTAN
32,022 confirmed cases (+186)

807 reported fatalities (+33)
According to Donald Trump, the US intelligence community doesn't actually believe that a Russian military intelligence unit has been paying bounties to Taliban fighters for killing coalition soldiers in Afghanistan. Which is weird because they've apparently tried to brief him on that very thing a couple of times. I have to admit I'm torn here. Even with the additional reporting on this story since last week it still seems to me there are significant holes in what's been made public so far. On the other hand, if we follow the principle that pretty much everything Trump says is a lie, that would seem to indicate that there really is something to the bounty allegations. Admittedly that's not a scientifically sound basis for drawing a conclusion, but I think it does have some empirical validity.
CHINA
83,537 confirmed cases (+3) on the mainland, 1243 confirmed cases (+9) in Hong Kong

4634 reported fatalities (unchanged) on the mainland, 7 reported fatalities (unchanged) in Hong Kong
Several countries have suggested they might be willing to grant asylum to residents of Hong Kong who decide to leave in the wake of Beijing's imposition of a tough and alarmingly vague new security law. Chief among them are the four countries you would expect to be involved in something like this—Australia, Taiwan, the United Kingdom, and the United States. Of those, the UK's offer of blanket admission and the possibility of full British citizenship seems to be the most generous, though the Australian government may make a similar proposal.
The UK's offer is also the most diplomatically provocative, since it directly violates an agreement the British government made when it transferred Hong Kong to Chinese control in 1997 not to offer the territory's residents the chance to become British citizens. Then again, the UK could counter that this new security law violates Beijing's agreement not to infringe on Hong Kong's autonomy for at least 50 years, nullifying the whole arrangement. Regardless, the Chinese government can simply bar people from leaving Hong Kong and that would largely contain any rush to exit.
AFRICA
BURKINA FASO
967 confirmed cases (+5)

53 reported fatalities (unchanged)
The Burkinabé military conducted a "counter-terrorism" operation in a town in eastern Burkina Faso on Monday. After they left, residents discovered the bodies of seven people shot dead on the town's outskirts. What a strange coincidence, am I right folks? Folks? Authorities say they plan to investigate the incident.
CAMEROON
12,592 confirmed cases (unchanged)

313 reported fatalities (unchanged)
A small bomb exploded in Yaoundé on Thursday, wounding two people. This is apparently the third such homemade device to go off in the Cameroonian capital recently, raising some obvious questions about who or what is responsible. No group has claimed the explosions, and while there's a temptation to say the blasts are connected to the anglophone separatist rebellion in western Cameroon, Yaoundé is pretty far removed from that conflict. If the separatists were intent on launching an attack there, it seems reasonable to assume they'd want it to be bigger than this.
EUROPE
RUSSIA
661,165 confirmed cases (+6760)

9683 reported fatalities (+147)
To the surprise of pretty much nobody, Russian voters have overwhelmingly approved a slate of constitutional amendments that will, among other things, allow Vladimir Putin to run for two more six year terms as president after his current term ends in 2024. The vote was roughly 78 percent-21 percent in favor of the changes, with turnout at a fairly robust 65 percent, which definitely allows Putin to claim a popular mandate for his now-lifetime (if he wants it) presidency.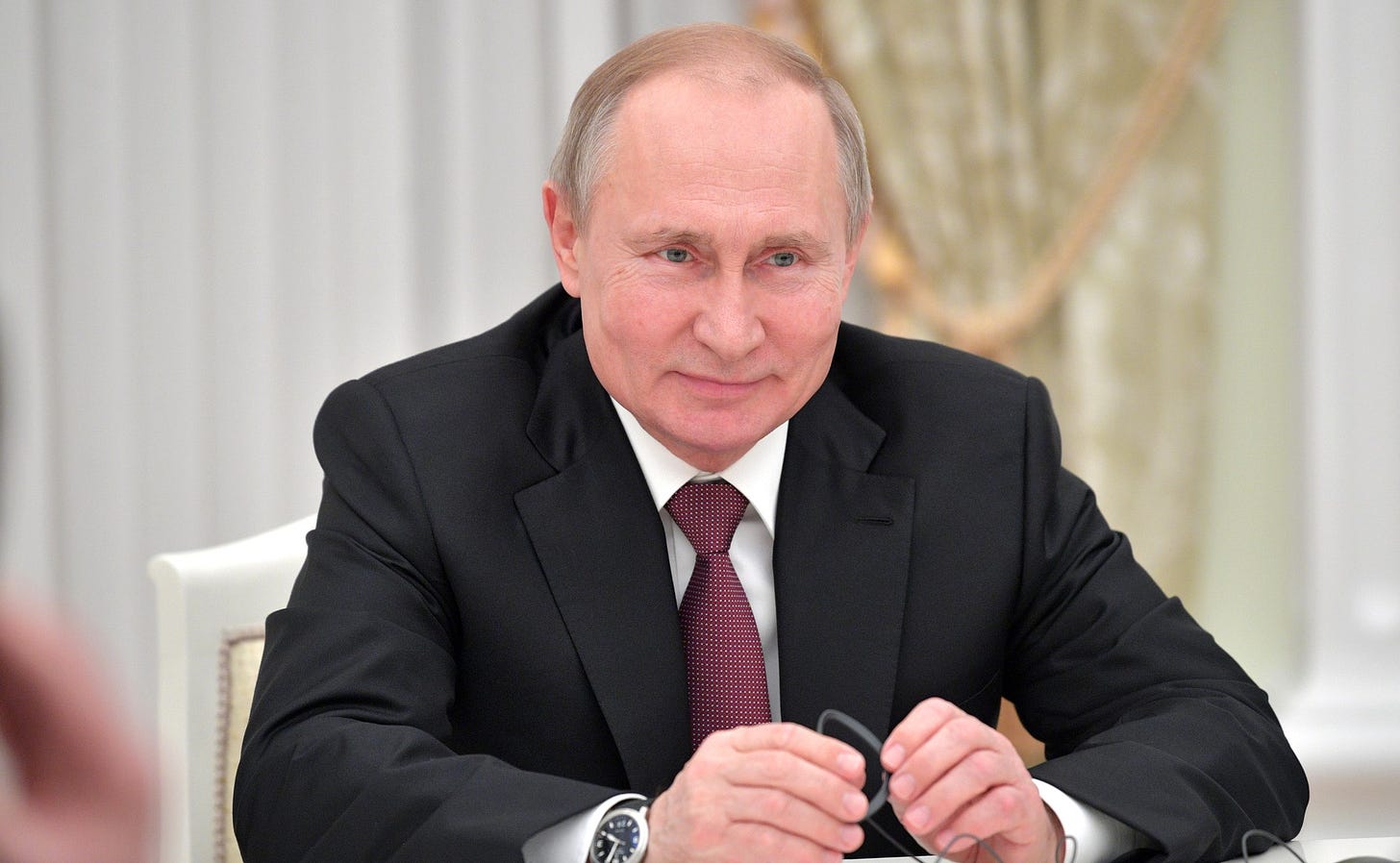 Probably sticking around for a while (Russian government via Wikimedia Commons)
Assuming, of course, you believe the official numbers. I'm sure there's no reason to question them. Sure, they don't align with either pre-referendum or exit polling, but I'm sure there's a simple and believable explanation for that.
UKRAINE
45,887 confirmed cases (+889)

1185 reported fatalities (+12)
When the International Monetary Fund approved a $5 billion emergency bailout for the Ukrainian government, it did so under the stipulation that the independence of Ukraine's central bank would be protected. So about that:
The fund transferred the first, $2.1 billion installment of the new loan to Ukraine on June 12. Just under three weeks into the 18-month agreement, on Wednesday, the central bank director, Yakiv Smoliy, resigned, saying political pressure on the central bank had become intolerable. Mr. Smoliy, in his resignation letter, did not specify exactly how he had been pressured, or by whom.

In his resignation letter to Mr. Zelensky, Mr. Smoliy cited "systematic political pressure." He wrote that, "I seek to warn against other attempts to undermine the institutional foundations of the Central Bank of Ukraine."

The I.M.F. issued a statement on Thursday saying, again, that "the independence of the National Bank of Ukraine is at the center of Ukraine's fund-supported program."
The rest of the bailout is to be disbursed subject to four periodic reviews, meaning there's a possibility the rest of that $5 billion could be suspended if IMF authorities don't like what they see.
AMERICAS
VENEZUELA
6273 confirmed cases (+211)

57 reported fatalities (+3)
A British judge ruled Thursday that since the UK government has "unequivocally recognized" opposition leader Juan Guaidó as Venezuela's "true" president, the current government of Nicolás Maduro cannot rightfully withdraw the $1.8 billion in gold bullion that Venezuela still has deposited with the Bank of England. Maduro's lawyers had argued that the UK's recognition of Guaidó was in fact very equivocal, since it still recognizes Maduro's ambassador and Maduro's government still controls the Venezuelan embassy in London.
In a tangentially related story, Maduro's government has reportedly rescinded its decision to expel European Union ambassador to Venezuela Isabel Brilhante Pedrosa. It expelled her on Monday in response to a new round of EU sanctions against several Venezuelan officials.
The Trump administration is attempting to seize four Iranian tankers accused of carrying gasoline to Venezuela, and has reportedly filed a civil forfeiture motion in federal court to effect that seizure. It does not appear that it's made any effort to take possession of the tankers as yet. Also on Thursday, the administration revoked sanctions against several shipping firms and individual tankers that have apparently agreed to stop doing business with Venezuela as long as Maduro is in power.
MEXICO
231,770 confirmed cases (+5681)

28,510 reported fatalities (+741)
Unknown gunmen attacked a drug rehabilitation center in the city of Irapuato on Wednesday, killing at least 24 people. It was the second attack on a rehab facility in that city in less than a month. The previous incident, on June 6, left 10 people dead.
UNITED STATES
2,837,189 confirmed cases (+57,236)

131,485 reported fatalities (+687)
Finally, with Congress on the verge of approving another whopping military budget, the Arms Control Association's Jeff Abramson argues for a different way of thinking about security that would put that money toward better uses:
Moments of global challenge, from world wars to pandemics, lay bare the need for course correction, especially as relates to responsible international problem-solving. The humanitarian disarmament approach is a proven model that — by concentrating on human security, rather than state security — has led to successful multilateral security agreements and practices that assist and empower vulnerable communities. Campaigns and organizations across the world issued a joint letter today explaining how the approach can help set a new normal during and after the global pandemic.

Tragically, the United States has been eschewing this approach and the Trump administration has been taking the country even further from it.

Instead, the U.S. should find ways to shift investments from unneeded and odious weapons to more humanitarian purposes, including healthcare and social spending. It would bring itself into much closer alignment with its global allies and, by changing course, open up greater support for approaches better suited to tackle today's challenges. These include a focus on prevention and remediation, inclusivity, and commitments to transparency and cooperation that underlie humanitarian disarmament.