World update: October 3 2019
Stories from Iraq, North Korea, Tunisia, and more
THESE DAYS IN HISTORY
October 2, 1187: Jerusalem's garrison, led by Balian of Ibelin, surrenders to Saladin.
October 2, 1944: The Warsaw Uprising ends with the Polish resistance defeated. Estimates vary, but over the two month conflict the Nazis killed upwards of 200,000 civilians and expelled hundreds of thousands more from the city. Somewhere in the neighborhood of 15,000 Polish resistance fighters were also killed against at least 2000 German soldiers (with several thousand more MIA).
October 3, 42 BC: First round of the Battle of Philippi, pitting the army of assassins Marcus Junius Brutus and Gaius Cassius Longinus against the combined armies of Triumvirs Marc Antony and Octavian. Brutus's forces defeated Octavian's, but Antony's forces defeated Cassius's and Cassius subsequently committed suicide after false reports told him that Brutus had also been defeated. So the battle was more or less a draw. The two armies would meet again 20 days later, at which point the Triumvirs soundly defeated Brutus and he, too, committed suicide.
October 3, 1932: Iraq gains independence from Britain. Iraqi National Day.
October 3, 1990: The German Democratic Republic ("East Germany") is merged into the Federal Republic of Germany ("West Germany") after a 45 year separation. German Unity Day.
MIDDLE EAST
SYRIA
US officials appear to be taking Turkey's renewed threat to invade northeastern Syria very seriously, possibly based on Turkish military movements along the border. So in response, according to the Wall Street Journal, they're threatening Ankara with a complete US withdrawal from Syria should Turkey go through with it.
This threat doesn't make any sense, which is why I feel like it must be genuine. The Trump administration seems to think it can threaten Turkey with a "be careful what you wish for" scenario wherein the US leaves the Turks to manage a possible Islamic State resurgence and its inevitable reckoning with the Syrian government on its own. But a US withdrawal would clear the deck for a full-scale Turkish offensive against the Syrian Kurds, and the fact is that Ankara has never regarded IS as a threat on the level it regards the Kurds. A few years back, a cynical person even could have argued that Turkey's border policies were designed to help (indirectly) IS against the Kurds. Not that I'm making that argument, mind you. It's unclear to me why they would regard a US threat to do something that actually helps advance Turkish policy as something to avoid. It must make sense to somebody in the administration, though.
YEMEN
A separatist protest in the southern Yemeni town of Azzan turned violent on Thursday when government-aligned forces opened fire on the crowd. They killed at least one person and wounded five more.
IRAQ
Multiple violent protests broke out across southern Iraq again on Thursday for the third day in a row, with multiple deaths reported that have brought the three day death toll to at least 27. A couple of Iraqi police officers have been killed but most of the deaths have been of demonstrators, leading to international calls for Baghdad to rein in and investigate its security forces. Al-Monitor's Ali Mamouri writes that at least some of the protesters have been chanting anti-Iran slogans and there's reason to believe that part of the cause of this latest outburst is frustration over Iranian interference in Iraqi politics. Iraqi Prime Minister Adel Abdul Mahdi on Thursday called on the Iraqi parliament to give him permission to rearrange his deck chairs—er, I mean, his cabinet, in response to the protests. Abdul Mahdi, who increasingly looks like the Middle East's great hope for an intermediary between Iran and Saudi Arabia, may not even be able to hang on to his day job, let alone assume a second gig.
These protests are happening just prior to Arbaeen, the annual pilgrimage that brings millions of pilgrims (especially from Iran) to Karbala at the end of the 40 mourning period for the martyrdom of the Shiʿa Imam Husayn in 680. One of the main border crossing points between Iran and Iraq has been closed because of the protests, and Iranian officials are advising pilgrims to reconsider or at least wait to enter Iraq until things have calmed down.
ISRAEL-PALESTINE
Benjamin Netanyahu may call a snap leadership vote within his Likud Party in the coming days in order to strengthen his position in coalition talks with Blue and White Party leader Benny Gantz. At this point Neither Likud nor Blue and White can form a government without the other, and there's reason to think Gantz is trying to force an internal Likud coup that would remove Netanyahu from the leadership and pave the way to a unity government. But Netanyahu is still very popular among Likud rank and file, and an internal election could force his rivals in party leadership either to fall in line or to challenge him and risk losing their own standing.
IRAN
The French government is warning that the US and Iran have one more month to get it together and start talking, or else…well, it's not clear. In his remarks to parliament, Foreign Minister Jean-Yves Le Drian was referring to Iran's plans to further reduce its compliance with the 2015 nuclear deal come November. At some point the Iranians may reduce their compliance beyond the point where European governments will be willing to continue trying to salvage the accord. Of course, if European governments start imposing their own penalties on Tehran it will reward Donald Trump's efforts to scuttle the nuclear deal, so it's unclear what this French ultimatum is supposed to achieve. If anything it incentivizes the Trump administration to stay the course.
The Atlantic Council's IranSource blog explains Iranian President Hassan Rouhani's most recent regional diplomatic initiative:
Iran has sought an inclusive regional dialogue forum since the 1990s similar to the Organization for Security and Cooperation in Europe (OSCE).

The OSCE provides a particularly suitable framework for Iran and Gulf Cooperation Council (GCC) countries. An official summit could be organized in Baghdad, Muscat or Kuwait City to improve relations between countries surrounding the Persian Gulf, or in other words, the Hormuz Strait Community. This would be the first such meeting of the eight littoral nations of the Persian Gulf—with the possibility of including Yemen in later stages—to tackle mutual concerns and shared threats.

President Rouhani presented an updated version of Iran's proposal at the 2019 United Nations General Assembly, which he dubbed the Hormuz Peace Endeavor, or HOPE.

Foreign Minister Mohammad Javad Zarif briefly explained the contents of the proposal during a special session of the UN Security Council. HOPE, according to Zarif, is based on the fact that all regional states have the responsibility to ensure peace, stability and prosperity in the region and, together with the global community, have a common vital interest in maintaining freedom of navigation and energy security for all.
The Iranian goal is a regional security architecture that boots the US from the Persian Gulf altogether. It's a counter to Washington's long talked about yet probably unworkable idea for an "Arab NATO" whose role would be explicitly to oppose and isolate Iran, as well as narrower US ideas like a joint maritime patrol mission. The Iranian plan is unworkable too, at least absent a lot of preliminary work to build relations and confidence between Iran and the Gulf Arab states.
ASIA
AFGHANISTAN
Taliban negotiators visited Pakistan on Thursday as part of their ongoing "make America talk to us again" world tour, which has already taken them to Russia and China. They and the Pakistani government agreed that peace talks should resume as soon as possible. Interestingly, US Afghanistan envoy Zalmay Khalilzad is also in Islamabad, though there's no indication he's planning to encounter the Taliban representatives as part of his visit.
INDONESIA
According to the Indonesia government, unrest in the Papuan town of Wamena has displaced more than 11,500 people over the past two weeks. At least 33 people were killed in Wamena last week amid violent protests over the alleged mistreatment of Papuans in Indonesia. The government says that most of the deaths were of non-Papuans, implying that they were killed by the mob, but there have been unconfirmed reports suggesting that not only has the government under-counted the number of dead, but that many of them were killed by Indonesian security forces.
CHINA
The Hong Kong government is taking more extreme measures to suppress protests, including relaxing restrictions on police violence and possibly banning face masks, which demonstrators use both to hide their identity and mitigate the effects of tear gas. Authorities have already eased rules on the use of violence, which may help explain why a protester was shot with live ammunition earlier this week for the first time since these protests began in March-April.
NORTH KOREA
A group of North Korean negotiators has reportedly arrived in Sweden for what are expected to be working-level talks with US representatives this weekend. Assuming the talks actually happen they'll be the first since the whole negotiating process broke down earlier this year. Vox says it's seen the deal that those US negotiators are planning to offer and that it calls for suspending US sanctions against North Korean coal and textile exports for 36 months in return for the closure and destruction of Pyongyang's main nuclear research facility and Yongbyon and something else (Vox suggests the "something else" could be a freeze on North Korea's uranium enrichment program). It seems unlikely that the North Koreans would accept this offer but it could be a jumping off point for negotiations.
Meanwhile, Wednesday's North Korean weapons test—which was apparently a response to South Korea's decision to show off its newly purchased F-35s earlier this week rather than anything to do with the nuclear talks—did involve a submarine-launched ballistic missile, according to North Korean state media (which even provided photos of the missile emerging from the water). The website 38 North has more on the missile they apparently tested:
It is not possible to extract absolute dimensions of the missile from the available photographs, but given its flight details, the Pukguksong-3 is likely to be about 1.4 to 1.5 meters in diameter, and roughly 7.8 to 8.3 meters long, making it similar, if not the same as, the land-based Pukguksong-2, but with a substantially shortened and blunted nose cone. The shorter nose cone was likely adopted to fit the missile into a submarine-launch tube. The US Poseidon and Trident SLBMs and the Chinese JL-2 all employ similar front ends.

The Pukguksong-3's size and configuration is consistent with other SLBM designs. The US Polaris SLBM had a diameter of 1.37 meters, early-French SLBMs were 1.5 meters in diameter and China's JL-1 was 1.4 meters. The first stage motor of the Pukguksong-3 is roughly two times the size of the second stage motor. This ratio is similar to those found on the US, French and Chinese SLBMs. These similarities are driven by engineering optimization, and not by one country copying another's design decisions.
AFRICA
TUNISIA
A potentially huge scandal has hit Tunisian presidential candidate Nabil Karoui and his political party ahead of Tunisia's parliamentary election and its presidential runoff:
As Tunisians prepare for back-to-back legislative and presidential elections, news first revealed by Al-Monitor has had a bombshell effect: A purported emissary of imprisoned presidential candidate Nabil Karoui signed a $1 million lobbying contract to secure a meeting with President Donald Trump, among others.

Karoui's newly formed Qalb Tounes (Heart of Tunisia) party is leading in the polls for Sunday's legislative elections. The jailed businessman's rivals are demanding that he be disqualified from a presidential runoff that is set to be held Oct. 13. One rival, the Democratic Current party, filed a criminal complaint with the public prosecutor today at the Tunis Court of First Instance, calling the contract with Canadian firm Dickens & Madson a criminal act.

Karoui's opponents cite laws that forbid any foreign funding or support for Tunisians running for office. "The money didn't come from Tunisia so it came from outside Tunisia, and that is against the law," said Leila Chettaoui, a member of parliament for Prime Minister Youssef Chahed's pro-secular Tahya Tounes party. "If it's proven to be the case, Karoui must be disqualified."
The complaint is that Karoui engaged a lobbyist to drum up support for his presidential campaign in the US, Russia, the European Union, and the United Nations. Which seems cartoonishly sleazy but obviously that doesn't mean it's not true. This case is not related to the corruption charges that have landed Karoui in jail in what he says is a deliberate attempt to derail his presidential bid. Those charges date back two years while Karoui is alleged to have hired the lobbyist in August.
CAMEROON
Cameroonian President Paul Biya on Thursday released 333 anglophone separatist fighters awaiting trial on a variety of offenses. The move is meant to complement his "national dialogue" effort reduce tensions in the country's western "Ambazonia" region. The conflict there has killed hundreds of people and displaced hundreds of thousands since it began about two years ago.
EUROPE
UKRAINE
Ukrainian President Volodymyr Zelenskiy on Thursday defended his decision to accept a regional election in the country's breakaway Donbas region. On Tuesday, Zelenskiy signaled his acceptance of the "Steinmeier formula," a plan for ending Ukraine's frozen civil war that calls for an election followed by the creation of a new regional self-governance framework for the Donbas. There are fears in Kyiv and beyond that such an election election would benefit separatist parties and could be the first step toward outright secession, but Zelenskiy insists that he'll make sure the vote is on the up-and-up and that Ukrainian political parties are involved, not just separatist parties. He also stressed that this was pretty much Ukraine's only path forward to reopen negotiations and potentially bring the war to a close.
AMERICAS
BRAZIL
I'm sure this is purely a coincidence, but a photograph has emerged of Brazilian President and man named "most likely to be a concentration camp guard" in his high school yearbook Jair Bolsonaro palling around with one of the (alleged) assassins of Rio de Janeiro city councillor and human rights activist Marielle Franco back in March 2018. Actually this is the second photo that has emerged of Bolsonaro looking chummy with somebody implicated in Franco's murder, which makes it an even wilder coincidence. In all fairness nobody thinks Bolsonaro was involved in the assassination plot, just that he happens to run in the same social circles with the extremist right-wing paramilitary types who were.
PERU
With the Peruvian Congress's effort to suspend him from office falling apart, President Martín Vizcarra swore in a brand new cabinet on Thursday. Vizcarra dissolved congress earlier this week and called for a new election, in response to which his right-wing opposition suspended him and promoted Vice President Mercedes Aráoz, who abruptly resigned and called for a new general election, totally undermining the opposition's plan. Vizcarra's decision to dissolve congress obliged Vizcarra to also dissolve his government and appoint new ministers. Given that he now seems to have won the political battle and has the Peruvian military and most of the Peruvian public behind him to boot, there seems to be little recourse for opposition leaders other than to resign themselves to a new legislative election, probably in January.
ECUADOR
The Ecuadorean government on Thursday declared a state of emergency after massive and at times violent protests broke out in response to the government's decision to end its decades-long fuel subsidy program. Later in the day President Lenín Moreno announced that security forces had restored order.
UNITED STATES
Donald Trump now wants Ukraine and China to help him rig the 2020 election. And he's saying so publicly, which is a fascinating way to defend himself from the charge that he's soliciting foreign interference. We're playing checkers while he's…also playing checkers but trying to cheat in a ridiculously obvious way.
Energy Secretary Rick Perry is reportedly the latest member of Team Trump to go looking for the exit, probably by the end of next month. Imagine being so apparently in trouble that even Rick Perry realizes it. Yikes. I think it's safe to say that Perry's legacy of just kind of being there, but never really doing very much so that people started to forget who the energy secretary actually was, will not be forgotten for the roughly five minutes it takes for him to fade from the public consciousness forever.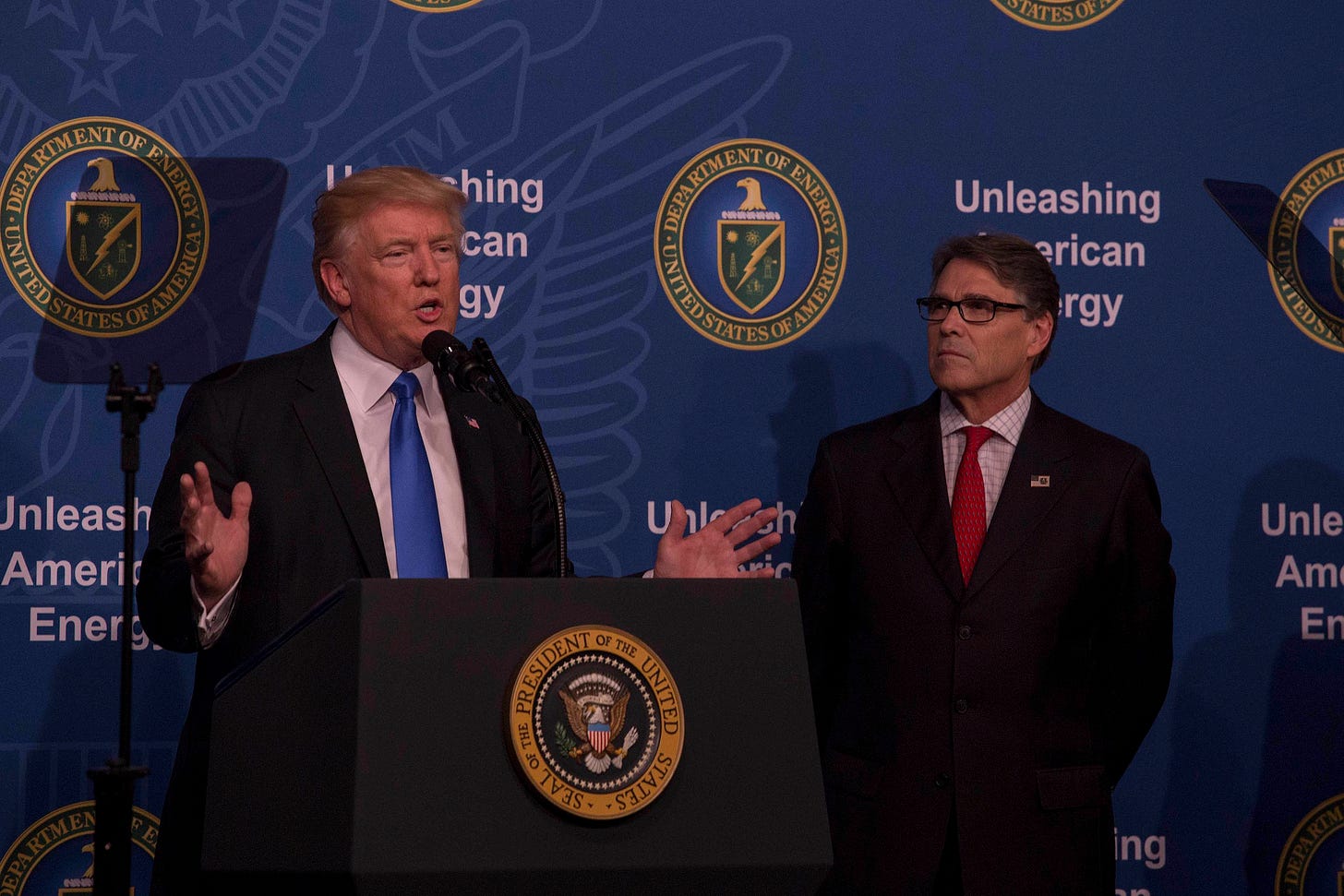 Remember that time when Perry [reading closely] uh, unleashed American energy? Boy that was great, wasn't it? All that American energy? Unleashed? (Energy Department via Wikimedia Commons)
Finally, the Trump administration loves economic sanctions. Iran, North Korea, Venezuela, Cuba, China, Lebanon, if there's an irritant anywhere in the world chances are we've already sanctioned it at least once. And officials within the Trump administration love to talk about economic sanctions, and how gosh darned effective they are at doing all sorts of things, from starving Venezuelans to starving North Koreans to starving Iranians…well, you get the idea.
I kid, though. Administration officials actually love to talk about how effective sanctions are at getting countries to change their behavior, despite a dearth of obvious examples of that phenomenon, especially since Trump took office. They don't talk about the starvation bit. Anyway, it may surprise you to learn that when scrupulously honest folks like Donald Trump and Mike Pompeo talk about how effective sanctions are, they don't actually have any factual basis for that claim:
The GAO conducted its audit of the performance from May 2018 to October 2019, including both primary research with government agencies and a review of available studies on the effectiveness of sanctions.

It found that Treasury, State and Commerce used analysis from the intelligence community to estimate the effect of the economic effect of sanctions. They said that these sanctions often contributed to broader interagency discussions, typically coordinated through the National Security Council.

Officials, however, suggested that a variety of factors made accurately gauging the effectiveness of a sanction a difficult task. "For example, a sanctioned country may decide to cease certain behavior for any number of reasons that may be unrelated to the sanctions or other U.S. policy measures," the report argued, noting that sanctions are often used in conjunction with diplomatic engagement and other tools.

The report also said that officials said that foreign policy aims may change over time and that a lack of underlying data made it difficult to make accurate assessments.