World update: October 1 2019
Stories from the UAE, China, the UK, and more
THESE DAYS IN HISTORY
September 30, 737: The Battle of the Baggage
September 30, 1938: The leaders of Britain, France, Italy, and Nazi Germany sign the Munich Agreement, giving the Nazis control of Czechoslovakia's predominantly German Sudetenland region. Depending on your worldview you may regard British Prime Minister Neville Chamberlain's actions here as either the most vile act of appeasement in human history, a necessary evil (that Chamberlain may still have handled badly) given that Britain was in no shape for a war in 1938, or the germ of a plan Chamberlain had to ally with Hitler against the Soviet Union. You decide.
October 1, 331 BC: This is the generally accepted date of the Battle of Gaugamela, in which Alexander the Great's Greek-Macedonian army decisively defeated a larger Persian army and almost instantly gained control over the western half of the Achaemenid Empire. Persian Emperor Darius fled east hoping to recruit a new army, but he was murdered by his cousin Bessus, who proclaimed himself the new emperor. Alexander made fairly short work of him and controlled the whole empire by 329.
October 1, 1827: An imperial Russian army defeats the Qajars at Yerevan during the 1826-1828 Russo-Persian War. The Russians followed up by capturing Tabriz, the largest northern Iranian city, at which point the Qajars surrendered. Under the terms of the ensuing treaty, they gave both the Erivan Khanate and the Nakhichevan Khanate to the Russians. This effectively created the modern nations of Armenia and Azerbaijan, respectively, and ended centuries of Persian domination in the southern Caucasus—which would henceforth be dominated by Russia instead.
October 1, 1918: The Capture of Damascus
October 1, 1949: People's Republic of China National Day
October 1, 1978: Tuvalu Independence Day
MIDDLE EAST
SYRIA
According to the Syrian Observatory for Human Rights, a bombing meant to target Syrian Democratic Forces fighters at an oil field in Deir Ezzor province on Tuesday instead killed three civilian oil workers. The roadside bomb failed to detonate as an SDF patrol drove by but then did go off as a civilian vehicle went past. The Islamic State is almost certainly the culprit though there's been no claim on responsibility.
To the north, Ankara's deadline for the creation of a joint US-Turkey safe zone in northeastern Syria has passed and, well, there's still no safe zone. There's a joint command center and there have been a couple of joint patrols, but that's it. The Turkish government had threatened to take unilateral action, by which it means invading northeastern Syria, if nothing was concluded by the deadline. Turkish President Recep Tayyip Erdoğan repeated that threat on Tuesday. But a Turkish invasion would be heavily complicated by the presence of US forces in the area, and anyway the Turks threaten to do a lot of things but only follow through sometimes.
IRAQ
An estimated 3000 people protested in the streets of Baghdad on Tuesday over Iraq's weak economy and the ineptitude and/or corruption of the Iraqi government. Demonstrators clashed violently with police as they attempted to enter Baghdad's "Green Zone," home largely to government offices and embassies, and at least one person was reportedly killed (most reports are now saying two people) with another 200 wounded when those security forces apparently opened fire on the crowd.
ISRAEL-PALESTINE
Whatever lingering chance remains of Israel's two largest political parties coming together to form a unity government may have been dealt a fatal blow on Tuesday when Benny Gantz's Blue and White Party announced that it's pulling out of a planned meeting between Gantz and Likud Party leader/Prime Minister-designate Benjamin Netanyahu. They were supposed to meet on Wednesday in what was widely seen as a last-ditch effort to bridge their political divide before Netanyahu reports back to Israeli President Reuven Rivlin that he's unable to form a government. Rivlin may give Gantz an opportunity to form a government, but his path to a majority is even more challenging than Netanyahu's. Barring some compromise that nobody seems to be anticipating, like Likud ousting Netanyahu as its leader (which is exceedingly unlikely as he's very popular among Likud voters), it would appear that Israel is headed for an astonishing third snap election in a row. And no, there's no reason to think that one will be decisive either.
EGYPT
The Egyptian government says it's returned two million people to the country's food subsidy program this week at President Abdel Fattah el-Sisi's behest. Those people were removed from the program amid austerity cutbacks in February, cutbacks that are undoubtedly fueling the current wave of protests against Sisi though their immediate focus appears to be corruption. Basically it would appear that Sisi is trying to buy some friends to help him through this rocky time. At LobeLog, human rights activist Joe Stork looks at the government crackdown that's attended the protests:
During the week that followed, evidently intent on making sure there would be no repeat of the September 20 protests, security forces arrested more than 2,000 people. But as of September 28, fewer than half had been brought before prosecutors as required by law. Some arrests were targeted—among those detained were activist lawyers like Mahienour al-Massry and Mohamed Saleh Agag, well-known political science professors like Hassan Nafaa and Hazem Hosny, and people who were known activists but who had not participated in these protests like Khaled Dawood. Many others were apparently arrested randomly, for being in the vicinity of a protest or having suspect social media links when police inspected their mobile phones at checkpoints.
UNITED ARAB EMIRATES
Also at LobeLog, Eli Clifton digs into the shady finances of a prominent anti-Iran advocacy group in DC:
Speaking last week at United Against Nuclear Iran's (UANI) annual conference, [Secretary of State Mike] Pompeo announced the administration was expanding its pressure campaign, targeting Chinese entities believed to be transporting Iranian oil. "[W]e're telling China and all nations, know that we will sanction every violation of sanctionable activity," said Pompeo.

Pompeo's choice of venues was a curious one. What UANI is and who is behind it appears to be a closely held secret but documents reviewed by LobeLog show a funding apparatus funneling over $35 million over two years into anti-Iran and anti-Qatar advocacy work. LobeLog was provided emails that appear to show UANI principals soliciting diplomats and government advisers from regional rivals of Iran for funding, raising questions about UANI's funding sources and whether the group is acting as an undeclared foreign agent.
SAUDI ARABIA
It's unconfirmed report time! First, Middle East Eye is reporting that the Saudi government has "given a green light to Iraqi Prime Minister Adel Abdul Mahdi to arrange a meeting with Iran as a first step towards de-escalating tensions in the region." Abdul Mahdi is an obvious choice for that role since it's his country that perhaps stands to lose the most if those tensions spin up into a violent conflict. But I get nervous when outlets start reporting stuff like this second-hand, as in this case where MEE's source is somebody who works in Abdul Mahdi's office. This story does align with recent comments out of Iran, most prominently by Iranian parliament speaker Ali Larijani, suggesting that the Saudis have sent out feelers about engaging in negotiations with Tehran. I just wouldn't get carried away with it yet.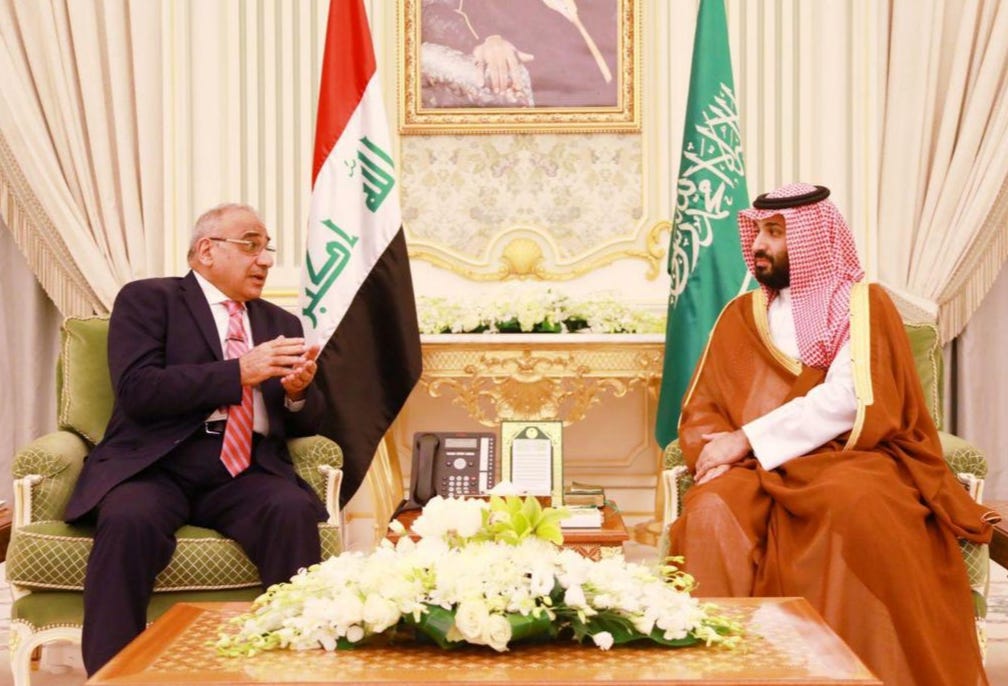 Abdul Mahdi meeting with Saudi Crown Prince Mohammad bin Salman back in April (Twitter)
In today's second speculative story, The New Arab is reporting that a "militant group" calling itself Humat al-Tawhid ("the Protectors of Monotheism") has taken responsibility for the murder of former Saudi royal bodyguard Abdulaziz al-Fagham. The official story is that a friend of Fagham's shot and killed him during an argument over the weekend, but given how sketchy that story is and the fact that the Saudis are not exactly known for their forthrightness, questions surrounding his demise have lingered. Humat al-Tawhid is apparently a real group though almost nothing is known about it and it's far from clear that their claims can be believed.
ASIA
AFGHANISTAN
Taliban fighters attacked a police headquarters in Balkh province on Monday evening, killing at least 11 police officers before setting fire to the building. Steady fighting has also been reported in Takhar province since Saturday.
PHILIPPINES
At Jacobin, human rights activists Azadeh Shahshahani and Sadie Stone call for the US to stop selling arms to Rodrigo Duterte's government:
Last year, an International Peoples Tribunal was held in Brussels, Belgium to delve into the human rights violations and US government support. Based on numerous testimonies, the tribunal declared that Duterte's forces have summarily killed human rights defenders and those in the Philippines civil society who have criticized the government. The tribunal found the defendants Duterte and Trump, among others, guilty of war crimes, crimes against humanity, criminalization of human rights defenders, and other human rights violations, and called for accountability and reparations for the population whose rights have been violated.

The US government is indeed complicit in the human rights abuses by Duterte as it is providing hundreds of millions of dollars in police and military aid to the Philippines government. In 2018, US military aid to the Philippines increased to a total of $193.5 million dollars — this figure does not include arms sales or donated equipment. This is in clear violation of the Leahy law which "prohibit(s) the U.S. Government from using funds for assistance to units of foreign security forces where there is credible information implicating that unit in the commission of gross violations of human rights."
CHINA
Tuesday marked the 70th anniversary of the founding of the People's Republic of China, and celebrations went pretty smoothly in Beijing:
The Chinese military even unveiled a "hyper-sonic ballistic missile" that it claims can defeat any known missile defense system and whose speed could increase the risk of a catastrophic miscalculation as the US and countries in the Asia-Pacific region may feel they no longer have any time to carefully consider something that looks like it might be a Chinese missile launch. So that's nice.
The situation in Hong Kong, however, is not so good. A Hong Kong police officer shot a protester with live ammunition for the first time since demonstrations there began in earnest back in June, potentially turning a very dangerous corner in the conflict there. Tens of thousands of people protested across the region in an effort to overshadow the National Day celebrations on the mainland. The shooting notwithstanding, things didn't really get violent until nightfall, when protesters began setting fires in the streets and using molotov cocktails while police responded with tear gas and water cannons.
NORTH KOREA
On Tuesday, North Korean officials announced that they'd reached an agreement with the Trump administration to restart talks this weekend on Pyongyang's nuclear program. On Wednesday morning, they conducted another weapons test off of North Korea's eastern coast. The projectile—it's too early to definitively say what it was, though initial reports suggest it was submarine-launched—landed in Japanese waters, the first time the North Koreans have done that in a couple of years. The test of what appears to have been another short-range weapon probably won't upend the planned talks, since Donald Trump has made it clear that he doesn't consider short-range weapons tests a violation of the pledges that Kim Jong-un has made to him in the past.
SOUTH KOREA
South Korean military jets flew a patrol on Tuesday over the Dokdo Islands, as they're known in South Korea, or the Takeshima Islands, as they're known in Japan. The reason they have two different names is because they're claimed by both countries, though South Korea has practical control over them. The patrol was part of South Korea's "Armed Forces Day" celebration, but it didn't go over well in Tokyo and certainly didn't do much for the faltering Japanese-South Korean relationship.
AFRICA
LIBYA
US Africa Command says it carried out another airstrike in southern Libya on Sunday—its fourth this month—killing at least seven suspected Islamic State fighters. As these strikes now seem like they're becoming a regular thing, it's worth asking whether Africa Command intends to actually try to identify its Libyan casualties or whether it plans to do what it does in Somalia, which is to just assume anybody it kills must ipso facto be a militant.
MALI
The Malian government says that at least 25 of its soldiers were killed and some 60 remain missing after Islamist militants attacked two military camps in central Mali on Monday. It's unclear whether these were al-Qaeda or IS aligned militants. Both are active in that part of the country.
GHANA
Ghanaian authorities last week arrested three civilians charged with planning a coup in collaboration with unspecified members of the Ghanaian military. The three had founded an organization called "Take Action Ghana" that ostensibly intended to increase civic engagement among young people but that the authorities claim was just a front for their nefarious plans. This is a pretty sketchy story, especially insofar as the Ghanaians claim to have seized the group's "weapons cache," which amounted to a few pistols, some homemade explosives, and a knife. Probably not enough to overthrow an entire government, but what do I know?
KENYA
The Kenyan government says its security forces killed three militants on Tuesday who were planning terrorist attacks in the city of Mombasa to coincide with Kenyan National Day celebrations later this month. It's unclear how advanced their planning really was or whether they had an affiliation with al-Shabab or some other militant organization.
EUROPE
UKRAINE
If you've been hoping that Ukrainian President Voldymyr Zelenskiy was going to clean up the country's systemic corruption problem, this is probably not a great sign:
Danylyuk, who is generally regarded as a reformer, had been head of Zelenskiy's National Security and Defense Council. He apparently resigned before Zelenskiy went to New York for the United Nations General Assembly, but the Ukrainian government didn't announce the move until Monday. Kolomoisky and Zelenskiy have a close relationship from Zelenskiy's days as a TV star on the oligarch's TV station, and that relationship has raised some red flags about Zelenskiy's real commitment to anti-corruption efforts. Kolomoisky has been under fire for allegedly defrauding Privatbank, which he once owned before it was nationalized in 2016, of billions of dollars.
Zelenskiy's government has reached a new agreement to buy $39 million in Javelin anti-tank missiles from the United States. Of course, no Ukrainian arms deal these days can escape the shadow of the looming Donald Trump impeachment proceeding, though this one doesn't seem to have anything to do with it.
UNITED KINGDOM
Boris Johnson is planning to offer the European Union a "take it or leave it" Brexit plan on Wednesday that Brussels is almost certainly going to leave. Johnson will tell European officials that it's his way or the no deal highway, though some reports have him only demanding that the EU "engage" with his plan, not accept it as-is. And, hey, mockery is a kind of engagement, right?
The Telegraph says it's seen Johnson's offer, and since their story is behind a paywall here's a Twitter thread from the reporter who wrote it:
The upshot appears to be that Northern Ireland would remain in some sort of modified single market relationship with the EU until 2025, meaning that some goods will face customs checks at the Irish border but others will face checks when going between Northern Ireland and the rest of the UK. The Northern Ireland assembly will then have the prerogative to stay in that arrangement or come into full compliance with the UK (it will presumably choose the latter). It's impossible to completely parse anything Johnson says because, as dumb as he is, he's a master at talking a lot while saying almost nothing, but as far as I can tell he's relying on magic technology woo to prevent the Irish border from turning into the kind of hard international border that could threaten the Good Friday Agreement, which ended the conflict in Northern Ireland back in 1998. Or he doesn't really care if it threatens the Good Friday Agreement, which is probably more accurate.
As Foster concluded in his Twitter thread, the sense one gets from this convoluted non-plan is that Johnson is just looking to punt to a no deal Brexit but wants to give himself some cover to blame the EU for it. In reality he may not even be looking for that. Since parliament has already passed a bill blocking a no deal Brexit and requiring the government to seek an extension from the EU, there's a fair chance that Johnson is going to be blocked legally from taking the UK out without a deal. If he realizes this he may be setting up a scenario in which he can blame the opposition and maybe the courts for whatever happens. Anything to avoid taking responsibility, I guess.
AMERICAS
PERU
Peruvian President Martín Vizcarra may have shut down the Peruvian Congress on Monday, but a rump group of around 20 opposition lawmakers has refused to leave the legislative chamber and the country appears to be in the midst of a full-blown political crisis. Vizcarra accuses the congress of undermining his anti-corruption efforts, most recently by looking to appoint several judges with shady records to Peru's Constitutional Tribunal. Opposition leaders have accused Vizcarra of acting like a dictator and suspended him from office after he moved to dissolve the legislature. If it comes to a fight Vizcarra seems to be in the stronger position. Peruvian police and the military seem to be on his side, and polling indicates that most of the Peruvian people are as well.
UNITED STATES
As I tried to do with the whole "Russia-gate" story I'm going to try to limit discussion of the impeachment story to things that directly impact foreign affairs, which the latest revelation in the case kind of does. It turns out, you see, that Secretary of State Mike Pompeo was on Donald Trump's now-infamous July 25 phone call with Ukrainian President Voldymyr Zelenskiy in which Trump appeared to shake Zelenskiy down for help digging up dirt about potential 2020 challenger Joe Biden. That's a wrinkle Pompeo hadn't felt compelled to disclose. House Democrats are now looking to talk with Pompeo and others at the State Department, which according to Pompeo is akin to "bullying." That poor man. Apparently he's actually got a history of throwing temper tantrums like the one he seems to be throwing now:
He seems nice.