World update: November 7 2019
Stories from Syria, China, South Sudan, and more
We took in a couple of donations after last night's update, so thank you! But there are still several students hoping you'll help them by donating a subscription to FX. If you can see your way clear to contributing a subscription, please donate today:
THESE DAYS IN HISTORY
November 6, 1865: The CSS Shenandoah surrenders in Liverpool, almost six months after Joseph Johnston's surrender had effectively ended the Confederate rebellion. The Shenandoah circumnavigated the globe, having set out from England in October 1864 with a mission to disrupt Union commerce. It sailed through the Indian Ocean to Australia, then spent some time attacking US whaling vessels in the North Pacific before planning an attack on San Francisco and then aborting it when its captain, James Waddell, learned of the war's end. He opted to return to Liverpool and surrender there due to concerns that his crew would be treated as pirates by the US government.
November 6, 1975: The Green March begins
November 7, 1917: The Third Battle of Gaza ends with the Ottoman Yıldırım Army Group abandoning Gaza and Britain's Egyptian Expeditionary Force occupying the town. The first (in March) and second (in April) battles of Gaza had both ended in indecisive Ottoman victories, by which I mean the Ottomans held their positions but were unable to force the EEF back. Britain's capture of Beersheba a week earlier was decisive and an extended British bombardment on November 6 proved to be the final straw for the Ottoman defenders. Capturing Gaza put the EEF well on its way to capturing Jerusalem, which it would do around Christmas.
MIDDLE EAST
SYRIA
Several places are reporting that Hayat Tahrir al-Sham attacked the town of Kafr Takharim in Idlib province on Thursday in retribution for anti-HTS protests that residents held there earlier this week. The New Arab is saying that five people were killed but there are reports via the Syria Live Map that upwards of ten people may have been killed. Protests against HTS and in solidarity with the people of Kafr Takharim reportedly broke out in other towns in Idlib province. HTS controls most of Idlib but the residents, many simply displaced from other parts of Syria due to the war, are not necessarily wildly pleased about that. These protests do break out from time to time but you don't often hear about HTS rolling tanks and artillery out to deal with them.
Over at LobeLog, I have a lengthy Q&A with Oklahoma University's Joshua Landis about the situation in northeastern Syria in which Landis paints a bleak picture of the Donald Trump's big "take the oil" initiative:
What you could do is draw off the dribs and drabs that are still coming out of these wells without any rehabilitation, and truck them out. Which is what's happening now. But whose oil is it? Is America just going to give it to the CIA and the Defense Department and let them run operations in the region using Syria's oil? I don't think so. They might try to do that, but then everybody is going to point out that it's totally illegal. Even the Kurds will dislike it, because they'll want their share. But the Kurds can no longer deal with the U.S. on their own, because they've had to seek protection from Assad, and Assad can threaten to abandon them to the Turks if they cooperate with the U.S. in a plan to plunder Syria's oil.

Who are going to be the proxies guarding these oil fields? It will have to be U.S. troops, and they're going to be sitting ducks. It puts America in a position it didn't want to be in, with U.S. soldiers vulnerable to attack, surrounded by hostile forces looking to drive them out of the region, and without a legal justification for being there. I think that as cooler heads try to grapple with this policy it will become clear that it's temporary and won't even produce enough money to pay for itself, and that it's a drag on the U.S. position in the region because it's not supported by any local or regional actors. It's a sad commentary on the level of dysfunction in U.S. foreign policy. We've never seen it at this level before, and we need to hope a different administration comes in and sorts it out.
The Pentagon is defending the legality of its new deployment around those oilfields, arguing that US forces are there to keep the oil away from the Islamic State and therefore their deployment is covered under the same 2001 Authorization to Use Military Force that the US government has used to justify nearly every military intervention it's undertaken since 9/11. Of course, the AUMF's applicability to Syria was already dubious at best, but we've long since crossed that bridge. What the AUMF definitely doesn't allow the US military to do is to fire on, say, the Syrian military, or Russian or Iranian forces, should they roll through and try to take over the oilfields. So it will be exciting to see what the US does if that happens.
On the plus side, I guess, it seems the US has opted not to follow the "take the oil" initiative through to its ultimate conclusion, pillaging. However, the plan now is apparently to give any oil that's extracted from these fields (and to be fair it's probably not going to be very much) to the Syrian Democratic Forces. Think of it as a "sorry we screwed you over" gift. This is still kind of pillaging, because it's not really up to the United States to decide what happens to Syrian oil, but it's not as egregious as the US just keeping it. And it's probably one reason why the SDF has now agreed to assist in securing the oilfields and to maintain some role in anti-IS operations. Not only do they get some oil revenue out of the deal, but they can maybe trade the oilfields back to Damascus at some point in exchange for some (probably limited) concessions from the Syrian government. Damascus seems pretty anxious to reclaim Syria's oil facilities and begin repairing them, which could attract foreign investment or at the very least reduce Syria's need for costly oil imports.
YEMEN
The US State Department on Thursday put a $6 million bounty on the head of a senior leader of al-Qaeda in the Arabian Peninsula, Saʿad bin Atef al-Awlaki, and a $4 million bounty on the head of another AQAP official, Ibrahim Ahmed Mahmoud al-Qosi. Just in case you were looking for some quick cash. Qosi has already been in US custody once for working for al-Qaeda, but was transferred to Sudanese custody and then went off to join AQAP after his release.
TURKEY
According to Turkish President Recep Tayyip Erdoğan, members of Abu Bakr al-Baghdadi's "inner circle" are just scrambling over one another to get into Turkey. That must be why the Turks have arrested so many of them in the days since Baghdadi's death. I mean, I know I can't think of any other reason why Turkey would suddenly know where all these folks are, can you? I guess it's a little weird that they're all so interested in settling in Turkey, though that's probably just because they're all coming from northern Syria—where they've definitely been this whole time—and Turkey is the closest neighboring country. That must be it.
IRAQ
Iraqi security forces killed at least ten more protesters on Thursday—six in Baghdad and four in Basra. After the government had briefly cleared protesters away from Iraq's Umm Qasr seaport, the facility had to be shut down again as protesters returned and blocked the entrance. All of the Iraqi government's efforts to appease and/or brutalize the protesters have so far failed, and now there are reports that Iraqi Prime Minister Adel Abdul-Mahdi is going to tell his security forces to really take the gloves off. Given that those security forces have murdered somewhere around 270 protesters in a little over a month, one wonders how much more blood Abdul-Mahdi plans on shedding in order to hang on to his job.
ProPublica is reporting that the Trump administration, at the behest of Vice President Mike Pence, has been channeling US aid to Iraq so that it primarily benefits Iraqi Christians:
Last November, a top Trump appointee at the U.S. Agency for International Development wrote a candid email to colleagues about pressure from the White House to reroute Middle East aid to religious minorities, particularly Christian groups.

"Sometimes this decision will be made for us by the White House (see… Iraq! And, increasingly, Syria)," said Hallam Ferguson, a senior official in USAID's Middle East bureau, in an email seen by ProPublica. "We need to stay ahead of this curve everywhere lest our interventions be dictated to us."

The email underscored what had become a stark reality under the Trump White House. Decisions about U.S. aid are often no longer being governed by career professionals applying a rigorous review of applicants and their capabilities. Over the last two years, political pressure, particularly from the office of Vice President Mike Pence, had seeped into aid deliberations and convinced key decision-makers that unless they fell in line, their jobs could be at stake.
In addition to the moral and legal issues here, routing aid to Christian organizations is bad foreign policy and bad from a humanitarian perspective (since some of these organizations barely exist, let alone have the capacity to use the funds effectively).
LEBANON
Thousands of Lebanese students joined the protesters already in the streets demanding wholesale political change on Thursday. Many gathered in front of the Ministry of Education in Beirut to complain about poor conditions of Lebanon's public schools and about their meager future job prospects. Protesters continue to demand a depoliticized government of "technocrats" while Lebanese leaders continue to discuss the issue among themselves.
JORDAN
The Jordanian government completed its planned reshuffle on Thursday, the big change being Prime Minister Omar al-Razzaz's appointment of economist Mohammad al-Ississ, formerly his planning minister, as his new finance minister. Ississ's job will be to figure out how to implement an International Monetary Fund-mandated austerity program without causing the Jordanian public to start protesting as the Iraqi and Lebanese publics are currently doing. Jordan has delayed its austerity program because of protests that took place last year, but it can't hold off the IMF forever.
SAUDI ARABIA
The US-led coalition that's supposed to secure shipping lanes in the Persian Gulf region officially began its "Operation Sentinel" on Thursday. The coalition includes Gulf states Bahran, Saudi Arabia, and the United Arab Emirates as well as non-Gulf states Australia, the United Kingdom, and, uh, Albania.
ASIA
AFGHANISTAN
Taliban gunmen killed three Afghan judges and an aid after ambushing their car in Logar province on Thursday. The Taliban hasn't claimed responsibility for the attack but they almost certainly did it.
CHINA
A student who was critically injured in a fall during a protest in Hong Kong over the weekend died early Friday of his injuries. It's unknown exactly how Chow Tsz-lok fell. Authorities say he fell down one floor from an elevated parking structure, but it's possible he jumped in an attempt to escape tear gas that had been deployed by Hong Kong police. Regardless, the fact that he was injured during a police crowd control action is expected to spawn new protests and further increase popular resentment toward police.
US and Chinese negotiators haven't reached agreement on "phase 1" of their long-hoped-for trade agreement, but they have agreed to a plan to cut tariffs progressively if or when they do agree on phase 1. Which is raising expectations that phase 1 could be just around the corner. The details of the rollbacks haven't been worked out and in particular there still seems to be some deliberation within the Trump administration about how fast to roll back and what China's obligations ought to be.
AFRICA
TUNISIA
Almost none of Ennahda's potential coalition partners have agreed to join a coalition government led by one of its party members as prime minister. This is potentially going to be a problem, because Ennahda emerged from last month's election as the largest party in the Tunisian parliament and so it has been given the first crack at forming a government. However, it only controls 52 seats in the 217 seat legislature. The upshot is that Ennahda can't govern without other parties, but those other parties may find it impossible to govern without Ennahda. The likeliest way out of this bind is a neutral prime minister who isn't beholden to any party, but we'll see. Ennahda has another month or so to continue negotiations before new President Kaïs Saïed could ask another party to take the lead.
MALI
The US on Thursday blacklisted al-Qaeda-linked Malian jihadist leader Amadou Kouffa, which means his US assets (presumably he doesn't have any) will be frozen and US citizens will be barred from interacting with him. Koufa is the leader of the Macina Liberation Front, which is active in central Mali and is one of the groups that merged into Jamaʿat Nasr al-Islam wal Muslimin in 2017.
SOUTH SUDAN
South Sudanese President Salva Kiir and rebel leader Riek Machar met in Uganda on Thursday and reportedly agreed to postpone the formation of a national unity government for 100 days past the November 12 deadline they had set for themselves. Kiir and Machar signed a peace agreement to end South Sudan's civil war last year, but still haven't made much progress on its preliminary steps—especially incorporating rebel fighters into the South Sudanese military—so they keep delaying the ultimate step, which is the unity government in which Machar would resume his former position as vice president. Each side has blamed the other for the failure to implement the agreement, and needless to say it seems unlikely that they'll be able to achieve in 100 days what they've failed to achieve in a year so far.
EUROPE
KOSOVO
Election officials published the final results of Kosovo's October 6 election on Thursday, and it seems pretty clear that the next government will consist of a seemingly unwieldy coalition between the leftist Vetevendosje party and the center-right Democratic League of Kosovo. They emerged from the election as Kosovo's two largest parties, winning 32 and 29 seats respectively in the 120 seat parliament. Both parties seem committed to approaching smaller ethnic parties in an effort to extend their slim joint majority, and both also say they're committed to negotiating with Serbia to try to normalize relations with Belgrade. Lingering tensions from the Kosovo War of the late 1990s have prevented both Kosovo and Serbia from pursuing European Union memberships, and are even keeping Kosovo out of the United Nations (Russia, Serbia's ally, can use its Security Council veto to keep Kosovo out of the UN).
FRANCE
French President Emmanuel Macron bemoaned the "brain death" of NATO in an interview with The Economist that was published on Thursday, which drew sharp rebuttals from NATO Secretary-General Jens Stoltenberg and German Chancellor Angela Merkel. Macron was complaining about Turkey's recent invasion of Syria, which it undertook unilaterally after Donald Trump gave the go-ahead, arguing that it was a sign of NATO weakness to have a member state take such an action without some input from Brussels. Macron is a big proponent of a separate European defense network and has been highlighting Trump's criticisms of NATO as a sign that the alliance is collapsing and that Europe should not continue to depend on the United States to come to its defense.
AMERICAS
BRAZIL
The Brazilian government on Thursday joined the US and Israel in voting against the UN General Assembly's annual resolution to condemn the US trade embargo against Cuba. The vote is non-binding so it's irrelevant and voting no is even more irrelevant, but it's nice to see Jair Bolsonaro playing so well with Donald Trump. Colombia abstained, citing Cuba's relations with Nicolás Maduro's government in Venezuela and its refusal to extradite members of Colombia's ELN rebel militia, as did Ukraine, probably because Volodymyr Zelenskiy doesn't want to get another phone call from Trump.
NICARAGUA
The Trump administration on Thursday also blacklisted three people in the Nicaraguan government, over human rights violations and corruption allegations.
UNITED STATES
Finally, at The Nation, John Feffer looks at the increasing globalism of right-wing nationalism:
The European far right, for instance, is actively coordinating across borders, particularly within the European parliamentary bloc once known as the Europe of Nations and Freedom. In 2017, the group held a convention in Koblenz that featured the movement's headliners: France's Marine Le Pen, Geert Wilders of the Netherlands, and Italy's Matteo Salvini. The meeting took place shortly after Donald Trump's inauguration, which prompted Wilders to comment, "Yesterday a free America, today Koblenz, tomorrow a new Europe." In 2019, the bloc doubled in size as a result of the European Parliament elections and renamed itself the Identity and Democracy Party.

It's not just far-right politicians and parties that are organizing across borders. They are cooperating with a well-funded network of right-wing civil society organizations campaigning around the world to roll back civil rights advances, particularly by women and the LGBT community. White nationalists and other extremists have established sophisticated digital platforms for sharing hate-filled messages, some of which have shown up in shooter manifestos around the world. And the far right has constructed a powerful narrative of victimization that is fast moving into the mainstream with the help of conventional conservatives and media conglomerates like Fox News.

The left has not abandoned transnational organizing. But at a time when transnational organizing is needed more than ever to deal with global scourges like climate change, progressives have shifted to the defensive—and to the domestic—as politics has moved rightward globally. "Internationalism is now a problem for the left," observes Israeli activist and academic Gadi Algazi, "and a reality for the right."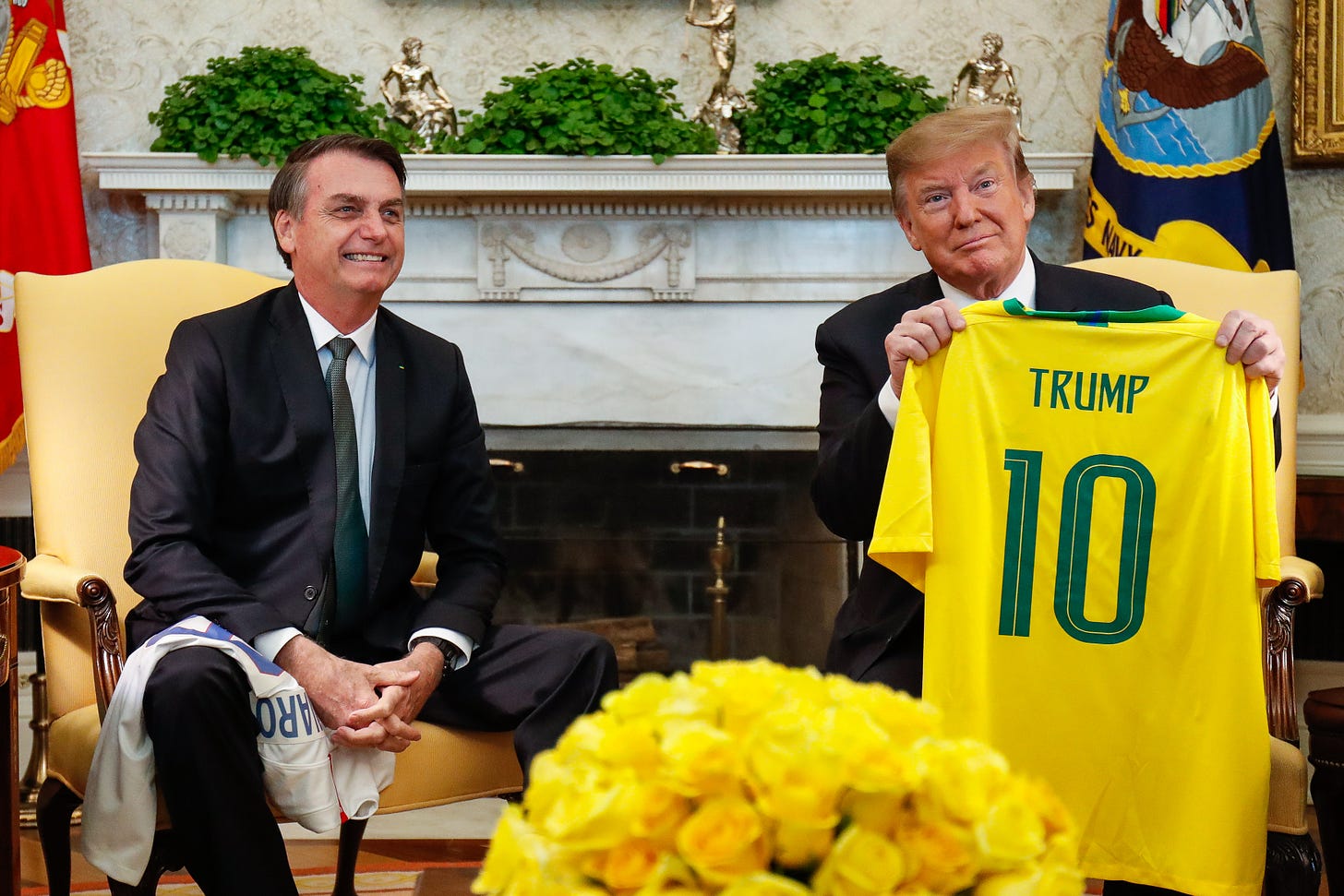 There they are (Palácio do Planalto via Wikimedia Commons)