World update: November 23-24 2019
Stories from Israel-Palestine, China, Uruguay, and more
FX's writer/editor/assistant manager will be traveling for the US Thanksgiving holiday, so tonight's update will be our last until December 3. Keep an eye out for a few historical pieces in the meantime. Happy Thanksgiving to those celebrating and thanks for reading!
THESE DAYS IN HISTORY
November 22, 1943: Amid considerable international pressure, especially from the United Kingdom, the French government acknowledges Lebanon's independence. Marked as Lebanese Independence Day.
November 22, 1948: A People's Liberation Army force surrounds the Republic of China's 12th Army in China's Anhui region, beginning the Battle of Shuangduiji. The battle ended in mid December with the 12th Army's almost total destruction and, perhaps more importantly, the PLA's seizure of its artillery and armored vehicles. The battle contributed to the overall PLA victory in the Huaihai Campaign, which ended in mid January.
November 22, 1963: US President John F. Kennedy is assassinated, either by Lee Harvey Oswald or by [REDACTED]. Oswald would be arrested and then was himself killed while in police custody on November 24, either by Jack Ruby or [REDACTED].
November 23, 1248: The Muslim military commander in the city of Seville, Axataf, surrenders the city to King Ferdinand III of Castile (later Saint Ferdinand) in the capstone of the so-called "Early Reconquista." Fueled primarily by the retreat of the Almohad Caliphate back to North Africa, the 20 years from 1228 to 1248 saw Christian kings conquer the entire Iberian Peninsula save for the Emirate of Granada, which was reduced to the status of Castilian vassal. Things remained relatively frozen that way until 1482, when Ferdinand and Isabella began the campaign that eventually eliminated Granada and left all of soon-to-be Spain in Christian hands.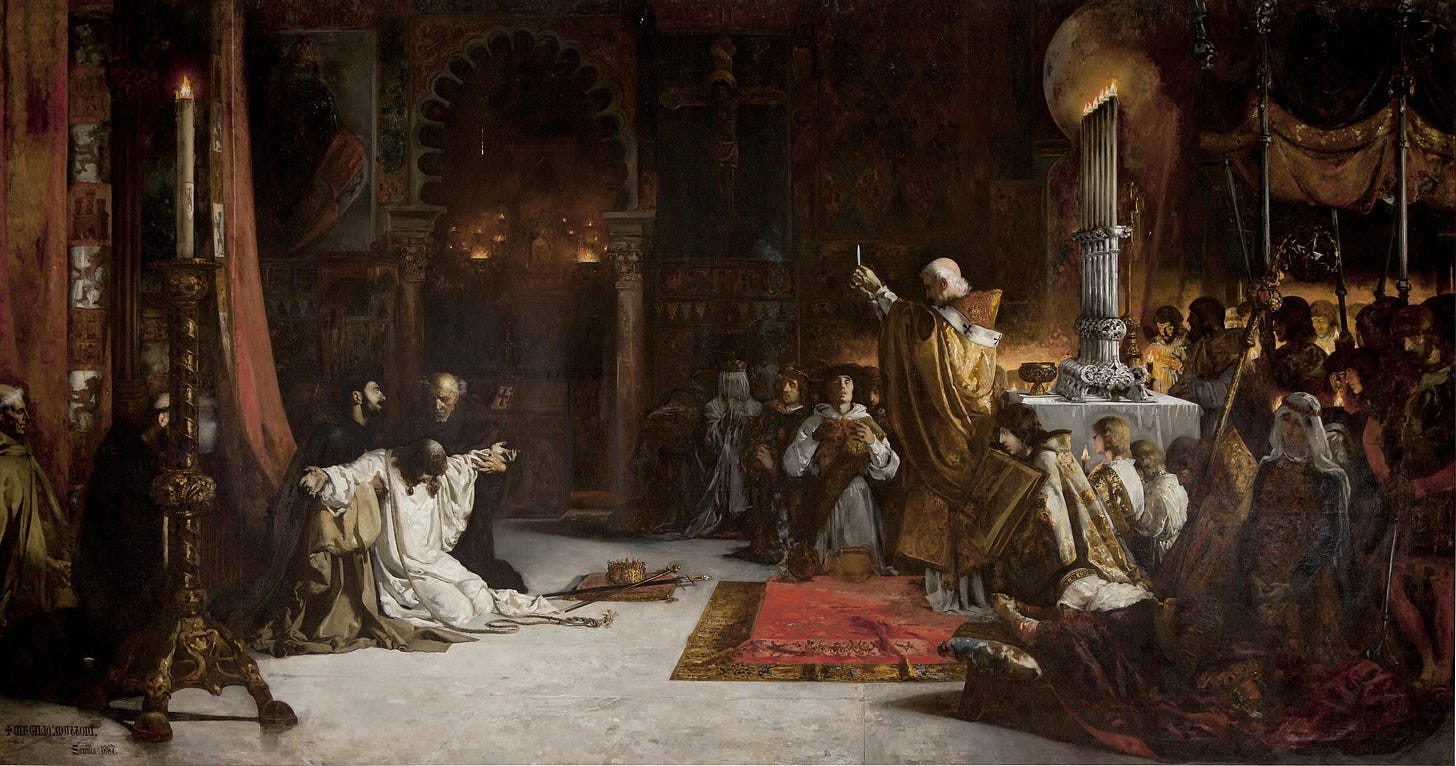 Ferdinand III, near death (in 1252) and being supported by two monks as the archbishop of Seville performs mass, in a painting by 19th-20th century Spanish artist Virgilio Mattoni (Wikimedia Commons)
November 23, 1934: British and Ethiopian officials discover an Italian-Somali fortress in the town of Walwal, which is well beyond the designated borders of Italian Somaliland. The ensuing "Abyssinia Crisis" led into the 1935-1937 Second Italo-Ethiopian War and the annexation of Ethiopia by Italy.
November 24, 1859: Charles Darwin's On the Origin of Species is published. Its theory of evolution by natural selection became a fundamental tenet of modern biology.
November 24, 1965: Congolese army chief of staff Mobutu Sese Seko leads a bloodless coup that installs him as the unquestioned ruler of the Democratic Republic of the Congo. Mobutu ruled his repressive totalitarian state, which he renamed "Zaire" in 1971, until he was overthrown in the First Congo War in 1997. He died several months later in exile.
MIDDLE EAST
SYRIA
A car bomb killed at least 10 people in Tel Abyad on Saturday. Turkish officials accused the Kurdish YPG militia of carrying out the attack, and given that Tel Abyad is one of the border towns Turkey seized from the YPG-led Syrian Democratic Forces last month that makes sense. However, the SDF accused Turkish proxies of carrying out the attack to terrorize Kurdish civilians into leaving the region, and the Islamic State also has to be considered a potential suspect.
On Sunday, Syrian forces captured the village of Msheirfeh in Idlib province from rebel forces. Msheirfeh lies on the outskirts of the city of Maarrat al-Numan, which a look at the Syria live map will show was the focus of multiple Syrian and Russian airstrikes on Sunday. It looks increasingly like the government plans to renew its offensive in Idlib despite the still-unsettled situation in northeastern Syria, and Maarrat al-Numan is its next major target.
In Geneva, the United Nations has been talking up the first meeting of the Syrian Constitutional Committee, which has been in session since late last month and will resume on Monday. While simply getting the parties together represents progress, Al Jazeera suggests things haven't progressed much beyond that:
The committee has an uphill battle, given that Bashar al-Assad has no particular reason to compromise on anything at this point and the rebels are increasingly finding themselves in a "nothing left to lose" situation.
IRAQ
Iraqi security forces killed at least another 13 protesters across southern Iraq on Sunday. At least seven were killed in what must have been a fairly major clash between security forces and protesters attempting once again to blockade the port at Umm Qasr. At least 13 protesters were wounded in clashes in Baghdad, where at least two protesters were killed a day earlier. The fighting this weekend has focused primarily on Baghdad's Rasheed Street and a security blockade set up there to protect the approach to the Ahrar Bridge. Protesters are trying to seize at least one of Baghdad's bridges in an effort to cross the Tigris and break into the city's secure Green Zone, where most government buildings and embassies are located.
LEBANON
There have been clashes reported in Beirut on Monday morning between anti-government protesters and "supporters" of Shiʿa parties Hezbollah and Amal, allegedly over remarks the protesters made about Hezbollah leader Hassan Nasrallah. Police and soldiers moved to separate the two crowds and used tear gas in an effort to disperse them.
ISRAEL-PALESTINE
With Prime Minister Benjamin Netanyahu now officially under indictment on multiple corruption charges, he's facing multiple potential challenges to his position. Israel's Supreme Court ruled on Sunday that Netanyahu can remain in office, denying a petition by an Israeli NGO to have him removed or to force his recusal over the indictment. More serious may be a new threat from within the Likud Party. Gideon Saar, a former cabinet minister seen as Netanyahu's leading intra-party rival, has called for a party primary to determine whether Netanyahu should lead it into what looks like an inevitable new election. Israeli media is now reporting that Netanyahu has agreed to hold a primary but this story is still developing.
Netanyahu's indictment, and his absolute reliance on a coalition filled with far right religious parties, has made it impossible for him to deal with Benny Gantz's Blue and White party and Avigdor Liberman's secular far right Yisrael Beiteinu party in a national unity government, which still seems to be the only way to avoid the snap election nobody really wants. Gantz has also offered a compromise, in which he would serve as the PM of a unity government for two years while Netanyahu's legal case proceeds, and then cede the office to Netanyahu for two years if the latter is acquitted. But Netanyahu wants to be PM now, because remaining in that office could be his best chance to avoid legal jeopardy. On top of that, even if Netanyahu were acquitted Gantz could serve his two years and then call for a snap election if he thinks conditions are favorable to him, which would still deny Netanyahu his turn at the wheel.
Elsewhere, several Palestinian political factions have joined President Mahmoud Abbas's call for a new general election. But Hamas, whose participation would be essential for a legitimate election in both the West Bank and Gaza, has yet to agree:
Among the more interesting bits in that video is the theory that a new election would result in Fatah winning Gaza and Hamas winning the West Bank, a 180 degree flip from the current situation, because voters in both areas are sick of their own governments. That would be a chaotic outcome, to say the least.
EGYPT
Egyptian authorities on Sunday raided the Cairo offices of Mada Masr, arguably the last independent media outlet left in the country. The raid came a day after authorities arrested a Mada Masr editor, who was released along with the rest of the newspaper's staff following the raid. This is the latest and perhaps biggest attack on press freedom by Abdel Fattah el-Sisi's government, one of the world's most repressive regimes in terms of stifling both political opposition and independent reporting.
ASIA
AFGHANISTAN
At least one person was killed and five wounded in Kabul on Sunday when a grenade attack struck a UN vehicle. No group immediately claimed responsibility. In Daykundi province, meanwhile, Taliban fighters attacked a military checkpoint and killed at least eight Afghan soldiers. At least 20 attackers were reportedly killed in the battle.
PHILIPPINES
The Philippine military killed an alleged bomb-maker and trainer for the Abu Sayyaf Group in a firefight on Friday in Sulu province. The man, Talha Jumsah, also allegedly served as a "finance conduit and liaison" between Abu Sayyaf and the Islamic State.
Philippine President Rodrigo Duterte on Sunday fired Vice President Leni Robredo from her role as the country's "drug czar." That's a position to which Duterte had appointed her all the way back in, uh, earlier this month, probably in order to embarrass her over her criticisms of Duterte's "kill everybody" technique for fighting the drug trade. Robredo allegedly tried to access classified information and/or met with foreign entities regarding the Philippines' anti-drug campaign, both of which seem like they should have been within her new purview. This appears to be one of those sudden, erratic changes in mood that are just part of Duterte's quirky, irascible personality and not at all a symptom of his old age and/or some kind of medical condition like tertiary syphilis, which he probably doesn't even have.
CHINA
Hong Kong's district council elections on Sunday appear to have produced both record turnout and a decisive victory for anti-government protesters. Hong Kong's district councils are not especially powerful, but they are the only offices wholly elected by popular vote and this year's vote was seen as a referendum on the protests that have rocked the region since March. Pro-Beijing candidates did poorly, with several incumbents losing seats and anti-Beijing politicians winning control of at least 11 of the region's 18 councils. If nothing else, this would seem to disprove the Hong Kong government's repeated claims that the protests were only supported by a minority of Hong Kong's residents, and the outcome could have downstream effects on higher offices like the regional legislature and even its chief executive, since the district councils do play a role in the process of filling those offices.
A new leak of internal Chinese documents related to the government's internment of Uyghurs highlight just how prison-like its supposed "vocational training schools" in Xinjiang really are:
The orders called on guards to strictly control and monitor the activities of students. "Prevent escapes while they are at class, dining, using the toilet, washing, receiving medical care or meeting with family."

Other instructions call for erecting guardhouses and internal partitions inside the camps to prevent inmates from moving around freely; rigorously checking any people, vehicles or goods entering, and recruiting informants to spy on other detainees.

"Evaluate and resolve students' ideological problems and abnormal emotions at all times," the directive said.

The document included orders for "full video surveillance coverage of dormitories and classrooms free of blind spots," and prohibited detainees from having contact with the outside world, except in strictly monitored interactions.
OCEANIA
PAPUA NEW GUINEA
The people of Papua New Guinea's Bougainville region began voting on Saturday in a referendum on declaring independence. The referendum will be held over two weeks to give island residents plenty of time to cast their ballots, so the results won't be released until next month. But going in, "yes" was expected to win easily. The vote itself is non-binding but will lead to negotiations between Bougainville leaders and the PNG government on next steps, with the PNG parliament holding the final say in terms of granting independence.
AFRICA
LIBYA
The "Libyan National Army" says it has imposed a no-fly zone over Tripoli even though it doesn't control that city. The move comes after two Western drones—one Italian and the other American—were either shot down (the Italian one) or simply "lost" (the US one) in that area in recent days. Libyan authorities say they've arrested eight Islamic State fighters in Sirte recently. IS was driven out of Sirte back in 2016, suggesting that the ongoing LNA assault against Tripoli has opened up space for IS to make a comeback. The group has managed to preserve itself in the uncontrolled southern Libyan desert, despite US airstrikes whose results can't really be verified because the ongoing LNA offensive makes it impossible to sent anybody out to follow up on them.
GUINEA-BISSAU
Voters in Guinea-Bissau went to the polls on Sunday to elect their next president. Incumbent José Mário Vaz may be facing a tough fight against challenger and former prime minister Domingos Simões Pereira, thanks to the combination of an economic downturn and political gridlock. Results are supposed to be issued on Thursday and there will be a runoff on December 29 if there's no outright winner.
ETHIOPIA
As expected, Ethiopia's Sidama people did vote overwhelmingly to create for themselves an autonomous region in Wednesday's referendum. With near universal turnout, 98.5 percent of voters opted to create what would be Ethiopia's tenth autonomous region. The new region will be carved out of Ethiopia's Southern Nations, Nationalities, and Peoples region and will take the city of Hawassa as its capital—to the chagrin of other ethnic communities in that city.
NAMIBIA
Namibians, meanwhile, will go to the polls on Wednesday in a general election that could go badly for the ruling South West Africa People's Organization (SWAPO) party. A mix of economic weakness and corruption scandals have weakened the party that has won decisive presidential and legislative electoral victories in every election since Namibia became independent from South Africa in 1990. Incumbent President Hage Geingob is facing a serious challenge from a dentist, Panduleni Itula, who is also a SWAPO member but is running as an independent on an anti-corruption/social welfare platform. SWAPO still leads in parliamentary polling, where the question is not so much whether it will win as whether it will retain its current supermajority.
EUROPE
ROMANIA
Incumbent Romanian President Klaus Iohannis easily won a presidential runoff on Sunday against challenger and former prime minister Viorica Dăncilă. Exit polling gives Iohannis somewhere around 66-67 percent of the vote. He won the first round of voting earlier this month but with only around 38 percent of the vote, well short of what he needed to avoid a runoff. As a former PM and the public face of the increasingly unpopular Social Democratic Party (PSD), however, Dăncilă wasn't able to attract much anti-incumbent support so her numbers didn't increase much from the first to the second round. Looking ahead to next year's parliamentary election, this outcome doesn't bode well for the PSD, whose campaign to decriminalize corruption hasn't done much for its public image.
UNITED KINGDOM
Several new polls released over the weekend all showed a substantial Tory lead with the UK's December 12 election approaching. A YouGov poll has the Conservatives up over Labour 42-30, unchanged from the previous version of that poll. A Deltapoll survey has the lead at 43-30, narrower than last week's 45-30 edge. A Survation poll has it at 41-30, also narrower than last week's 42-28 lead. On the other hand, an Opinium/Observer poll that accounts for the fact that the Brexit Party will not run candidates in Conservative-held seats has the Tories up 47-28. None of these polls account for the Conservative Party's election manifesto, which Boris Johnson unveiled on Sunday and which has sometimes marked the point in these campaigns where UK voters collectively say "wait, the Tories believe in that?" and then rethink their vote. With this proving so far to be a single-issue—Brexit—campaign, however, the manifesto may not play as great a role as in past elections.
AMERICAS
URUGUAY
Uruguayan voters also hit the polls on Sunday for a presidential runoff, and with most of the votes counted it would appear that Luis Lacalle Pou of the center-right National Party has won a very narrow victory over Daniel Martínez of the ruling center-left Broad Front coalition. Polling has suggested that Lacalle Pou would win easily, ending the Broad Front's 15 year hold on the presidency, so the close outcome is something of a surprise and could delay the release of the official results. Neither candidate was able to win outright in October's general election, which saw the Broad Front lose its slim congressional majorities, though it still emerged as the largest bloc in both chambers. As it usually does, a weak economy likely played the deciding role in swinging the outcome toward the opposition candidate (assuming this result holds).
BOLIVIA
The Bolivian Congress on Saturday unanimously passed a bill on Sunday that wiped out the October 20 election that led to the ouster of former President Evo Morales and establishes a new electoral board to oversee a new presidential election. Members of Morales's Movement for Socialism (MAS) party have agreed to field another candidate in that race, which has not yet been scheduled. The passage of the bill was accompanied by a lull in the public unrest that's claimed over 30 lives, most of them Morales supporters killed by Bolivian security forces since he resigned and fled the country on November 10.
Bolivian Interior Minister Arturo Murillo, whose only two mandates are to ensure that a new election is able to happen and that his ministry's offices don't collapse in disrepair before a new, legitimate interior minister can take over, nevertheless has decided that he's going to arrest and imprison Morales for "terrorism and sedition." Murillo claims that Morales has been personally directing the unrest from his exile in Mexico in what looks a lot less like a legitimate accusation than like an effort to steer an eventual election toward the Bolivian right by discrediting the ex-president.
COLOMBIA
Hundreds of anti-government protesters participated in a mostly peaceful march in Bogotá on Sunday. The focus of the protests is already shifting from dissatisfaction over the policies and performance of President Iván Duque and toward the violent response by his security forces, who critically injured an 18 year old demonstrator in the city on Saturday with a tear gas canister.
UNITED STATES
Finally, at TomDispatch, Fordham University's Karen Greenberg looks at the forms and consequences of dishonesty in Washington:
The corrosiveness of official lying has long been the subject of philosophers. Hannah Arendt, writing about the Pentagon Papers and the corrosive effects of falsehoods back in 1971, called "the right to unmanipulated factual information" basic, one "without which all freedom of opinion becomes a cruel hoax." But it's important to note that, when it comes to the Trump presidency, there is so much more to the strategy of degrading public discourse and debasing the facts than anything as simple and straightforward as mere lying. Political scientist Kelly Greenhill has aptly termed Trump's assault on the truth "extra-factual information," pointing to "distraction, threat conflation, normalization, and repetition" as among the methods he employs to make facts anything but what they used to be.

For Trump, lying is but the tip of the iceberg and in this he reflects far more than his own predilections. He reflects as well our moment, our age. George Orwell, that prescient twentieth-century observer, warned in his classic essay "Politics and the English Language" about one key aspect of such a lying mindset: the way "lack of precision" in language can pose a danger to society and to political stability.

When it comes to imprecision today, the dangers couldn't be more real. In fact, the strategies employed in Washington to confuse and mislead the public have subtly eaten away at the country's collective mindset, creating fertile ground for Trumpian-style lying to successfully take root. In many ways, the focus on Donald Trump's blatant and persistent lying only serves to obfuscate other no less destructive methods of deceiving the public that preceded him into the White House and helped create the conditions that make the president's lies so destabilizing.