World update: May 21 2020
Stories from China, Libya, Russia, and more
If you're looking for another excellent Substack newsletter on topics that are a little less perilous than the ones we usually cover around here, please consider "A Lonely Impulse of Delight" by my friend Connor Wroe Southard. His newsletter is dedicated to having fun with arts and culture and includes a weekly essay, a roundup of good content from elsewhere, and—best of all—regular Calvin and Hobbes-related content. Connor's still just getting started but he's already got a bunch of free content you'll dig, so check it out today and sign up for his mailing list!
This is the web version of Foreign Exchanges, but did you know you can get it delivered right to your inbox? Sign up today:
---
THESE DAYS IN HISTORY
May 20, 1498: Portuguese explorer Vasco da Gama arrives at the port of Calicut (modern Kozhikode), completing his expedition from Lisbon around the African coast to India. Da Gama, who was expecting to extract favorable trading concessions from the ruler of Calicut, found instead that his token gifts were too shabby to win him any goodwill and Muslim traders spread scandalous gossip about the Portuguese arrivals. He left with only a smattering of local trade goods, but needless to say the opening of the trade route had some very long-lasting repercussions.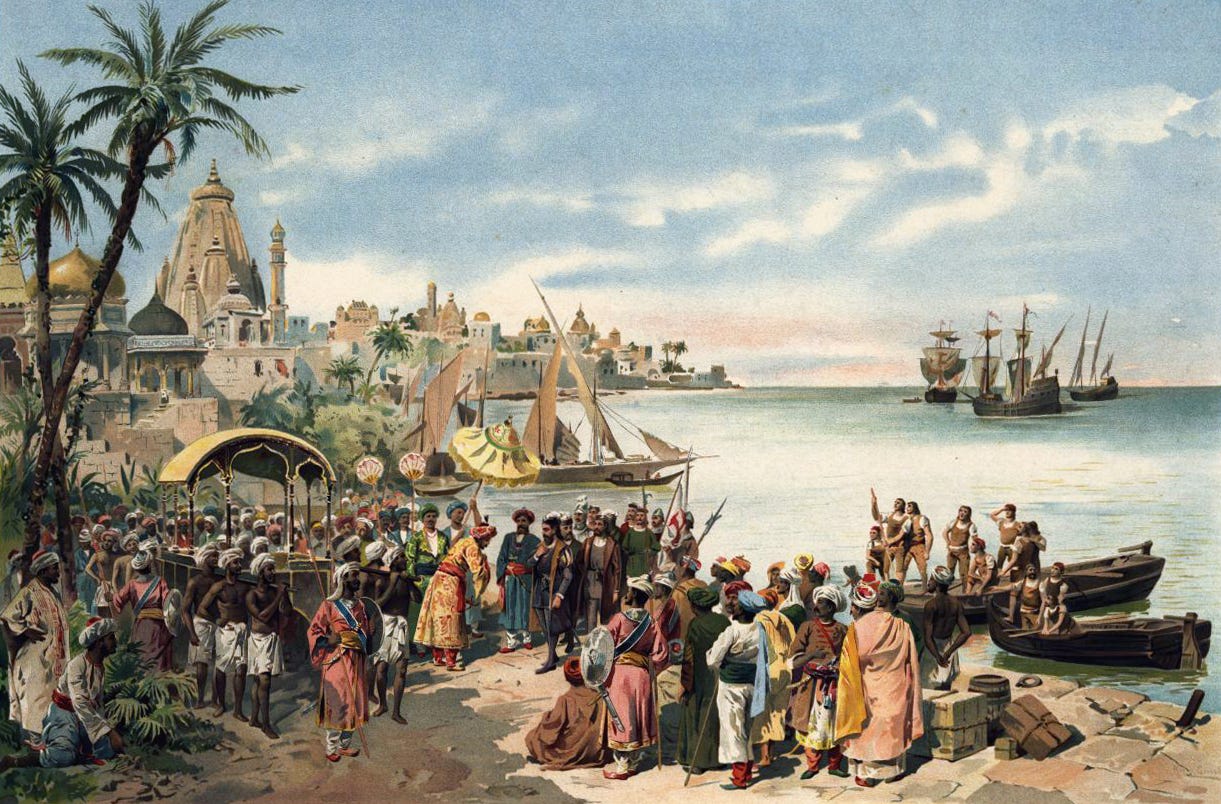 Vasco da Gama's Arrival in Calicut in 1498, by 19th-20th century Portuguese painter Alfredo Roque Gameiro (Wikimedia Commons)
May 20, 1927: Abdulaziz Al Saud, also known as Ibn Saud, concludes the Treaty of Jeddah with the United Kingdom. Under the terms of the treaty, the UK recognized both Ibn Saud's independence and his sovereignty over the kingdoms of the Nejd and the Hejaz, which he merged into Saudi Arabia in 1932.
May 21 878: The Aghlabid Emirate captures the Sicilian city of Syracuse after a roughly nine month siege.
May 21, 1799: Napoleon lifts his failed siege of Acre and withdraws to Egypt.
May 21, 2006: Montenegro holds a referendum on leaving what remained of Yugoslavia and becoming an independent state. Amid allegations of irregularities, 55.5 percent voted in favor of independence, which was just over the 55 percent needed to pass the referendum. May 21 is now annually commemorated as Independence Day in Montenegro.
INTERNATIONAL
Worldometer's coronavirus figures for May 21:
5,190,496 confirmed coronavirus cases worldwide (+107,085 since yesterday)

2,777,306 active cases

334,173 reported fatalities (+4934 since yesterday)
The Washington Post looks at the struggle to combat the pandemic in places where even washing one's hands is a challenge:
The most basic ingredient for mankind's survival is also a critical weapon against the novel coronavirus. Wash your hands with soap and water for 30 seconds, scientists say. Drink eight glasses of water a day. Stay hydrated and hygienic.

But access to clean water is dramatically uneven across the world. About a third of Nigeria's population — 60 million people — must leave home to find it, according to aid groups and government statistics.

In this pandemic, venturing out to the nearest pump has meant risking exposure to the virus or a clash with police. Officers and soldiers enforcing lockdowns killed 18 Nigerians over a two-week period this spring, the country's independent National Human Rights Commission reported in April.

As of Wednesday, 200 people had died of covid-19, the disease caused by the novel coronavirus, but doctors worry that the true number could be much higher. Some areas, such as Kano state, have recorded far more deaths than usual.
MIDDLE EAST
SYRIA
58 confirmed coronavirus cases (unchanged)

3 reported fatalities (unchanged)
According to the Israeli military, Iran is reducing its presence in Syria in response to domestic sentiment and Israel's repeated airstrikes against Iranian and Iranian-supported targets. Without knowing what evidence the Israelis have it's difficult to evaluate this claim. But the Syrian Observatory for Human Rights says Iran is busing militia fighters in to Syria from Iraq, which kind of undermines the Israeli claim. It's possible the Iranians are adjusting their situation in Syria, moving regular fighters out and bringing cheaper (and, from their perspective, more expendable) militia fighter in. On the other hand, it's possible that what the Israelis are seeing as a withdrawal is just a redeployment.
A Syrian court has barred billionaire Rami Makhlouf from leaving the country, at least temporarily, according to the Ministry of Justice's Facebook page. Makhlouf has gone public with details of a feud with his cousin, Bashar al-Assad, that seems to revolve around Assad's demand that Makhlouf surrender more assets to the state.
IRAQ
3877 confirmed cases (+153)

140 reported fatalities (+6)
After several Iraqi media reports the day before, Iraq's intelligence agency announced Thursday that it's arrested Abdulnasser al-Qirdash, the one-time deputy to Islamic State leader Abu Ibrahim al-Hashimi al-Qurashi. What's weird about this is that Qirdash surrendered himself to the Syrian Democratic Forces last year, and his "arrest" by Iraqi security forces this week seems to be little more than a prisoner transfer. Musings on Iraq's Joel Wing suggests that the mislabeling was deliberate and meant to manufacture a great triumph for new Iraqi Prime Minister Mustafa al-Kadhimi.
LEBANON
1024 confirmed cases (+63)

26 reported fatalities (unchanged)
Journalist Anchal Vohra says that Lebanon's compounding economic crises are beginning to fundamentally alter the makeup of the country:
Lebanon, historically a land of seafarers and traders on the Mediterranean, has maintained itself as a middle-income nation in modern times. But a country that hitherto sought international aid for almost 2 million Syrian and Palestinian refugees now finds that 75 percent of its own population is in need of assistance, most of whom previously hailed from the middle class. They have enough to buy bread, unlike income groups below them, but are running short of cash to pay phone bills and purchase fuel, detergent soap, and other such daily necessities.

Roy Badaro, a Lebanese economist, said that until recently 65 percent of Lebanon's population belonged to the middle classes. But the class structure in Lebanon was collapsing fast. "The middle class has lost approximately two-thirds of its purchasing power and moved to the low end of the spectrum," Badaro said. "When a middle class tends to almost disappear in any country, it brings a total imbalance of the whole system and a social disruption, which could lead to anywhere."
ISRAEL-PALESTINE
16,683 confirmed cases (+16) in Israel, 423 confirmed cases (+25) in Palestine

279 reported fatalities (unchanged) in Israel, 2 reported fatalities (unchanged) in Palestine
The Palestinian Authority says it has stopped sharing intelligence with the Central Intelligence Agency. It's the first tangible result of PA President Mahmoud Abbas's decision to void US-Israeli-PA security arrangements as Israel prepares to annex chunks of the West Bank. It suggests that, contrary to previous threats from Abbas to cut off security ties with Israel and the US, this time he's actually serious.
ASIA
CHINA
82,967 confirmed cases (+2) on the mainland, 1064 confirmed cases (+8) in Hong Kong

4634 reported fatalities (unchanged) on the mainland, 4 reported fatalities (unchanged) in Hong Kong
Even as the Chinese government insists that the "one country, two systems" model should form the basis of its relationship with Taiwan, it seems Beijing is moving to eliminate that model when it comes to Hong Kong:
China plans to push through sweeping national security laws for Hong Kong at its annual meeting of parliament, in a move that critics say will effectively end the territory's autonomy.

Beijing has been making it clear it wants new security legislation passed since huge pro-democracy protests last year plunged Hong Kong into its deepest turmoil since it returned to Chinese rule in 1997.

"National security is the bedrock underpinning the stability of the country," said Zhang Yesui, spokesman for the National People's Congress (NPC), the annual meeting of parliament that kicks off its full session on Friday.
At issue is Article 23 of Hong Kong's Basic Law, which says that "The Hong Kong Special Administrative Region shall enact laws on its own to prohibit any act of treason, secession, sedition, subversion against the Central People's Government, or theft of state secrets, to prohibit foreign political organizations or bodies from conducting political activities in the Region, and to prohibit political organizations or bodies of the Region from establishing ties with foreign political organizations or bodies."
Hong Kong authorities have never enacted the laws/regulations needed to implement Article 23, because of considerable public resistance. But the NPC has no particular reason to care about public resistance in Hong Kong, and it could categorize any dissent as an "act of treason." Which would mean no protests, no pro-democracy movements—no criticism at all, given a broad enough interpretation of the law. Which doesn't seem to be in keeping with the "two systems" rubric.
AFRICA
SUDAN
3138 confirmed cases (+410)

121 reported fatalities (+10)
US Assistant Secretary of State for African Affairs Tibor Nagy said Thursday that Washington and the interim Sudanese government have concluded agreement on the "contours" of an arrangement on handling claims related to al-Qaeda's 1998 bombings of the US embassies in Kenya and Tanzania. The Supreme Court ruled earlier this week that Sudan is liable for punitive damages awarded on behalf of the victims of those bombings. The agreement, which again is merely in the "contours" phase, would presumably commit to Sudan paying out those claims, perhaps on some kind of extended schedule. It could help the Sudanese government remain in America's good graces, which it sees as vital to rebuilding the country's economy.
LIBYA
71 confirmed cases (+2)

3 reported fatalities (unchanged)
With Khalifa Haftar's "Libyan National Army" retreating from its front line positions around Tripoli, forces aligned with Libya's Government of National Accord are continuing to target LNA fighters with airstrikes as they withdraw. GNA-allied forces captured the town of Alasaba, south of Tripoli, on Thursday. That's not very far west from the town of Tarhuna, which has been the LNA's main forward operating base during its Tripoli offensive. Its capture may cut LNA forces southwest of Tripoli off from the rest of Haftar's forces. In response to this GNA offensive, which has been largely supported by Turkey, the LNA is threatening to attack "all Turkish positions and interests" in Libya. That threat drew a vague counter-threat about "grave consequences" from Ankara on Thursday, highlighting the risk that Libya could escalate into a more regional/international conflict.
Speaking of which, the Israeli government is accusing Iran of providing aid to Haftar, though its evidence is pretty thin—four Iranian anti-tank missiles allegedly found in use by forces aligned with the LNA. Given that Haftar's strongest foreign backer is the the United Arab Emirates, an Iranian rival, this seems dubious. On the other hand, Haftar is also getting help from Russia, and from Syria, and Iran is allied with both of them. An indirect channel for Iranian arms to reach Haftar via Syria wouldn't be out of the question.
MALI
947 confirmed cases (+16)

60 reported fatalities (+5)
Mali's National Assembly elected Moussa Timbiné as its new speaker earlier this month, following the second round of its parliamentary election last month. Timbiné is a member of President Ibrahim Boubacar Keïta's Rally for Mali party and is close to the president, so in that sense he's not a surprise pick. But as Alex Thurston points out, his elevation highlights some general issues with the election itself:
Ironically, moreover, Timbiné had recently nearly lost his own seat. After the second round of voting, provisional results gave the barest of victories, 50.4% to 49.6%, to an opposition candidate, Boubou Diallo. Diallo belongs to the Union pour la République et la Démocratie (Union for the Republic and Democracy, URD), the country's foremost opposition party, whose leader Soumaïla Cissé was kidnapped on March 25 and is still in captivity. Indeed, the overall results from Bamako at first appeared to be a bloodbath for Keïta's RPM there, with the party losing all but one seat (Karim Keïta's) of the nine it held going into the elections. On April 30, however, Mali's Constitutional Court reversed the results from various constituencies; by the revised figures, RPM gained ten seats, including four in Bamako, of which one was Commune V. RPM came out with 51 seats total, giving it the largest bloc in the National Assembly but falling well short of a majority. In any case, for those who regard the election results as compromised, Timbiné's installation as president of the assembly is symbolic and symptomatic.
SOUTH SUDAN
481 confirmed cases (+191)

4 reported fatalities (unchanged)
The International Committee of the Red Cross says that "hundreds" of people were killed over the weekend in an outbreak of inter-communal violence in South Sudan's Jonglei state between the pastoral Murle and Lou Nuer peoples. This was the latest in a cycle of attacks and counter-attacks between the two groups going back to February. The violence has been exacerbated by the pandemic, which has made it even more difficult to reach the isolated communities and almost impossible to provide medical treatment for the wounded.
EUROPE
RUSSIA
317,554 confirmed cases (+8849)

3099 reported fatalities (+127)
The Trump administration, as expected, announced Thursday that it's pulling the United States out of the Open Skies Treaty. That accord, which includes 35 countries and went into effect in 2002, allows member states to make reconnaissance flights over other member states in order to prevent any concerns about secret military buildups or the like. Its primary participants are the US and Russia, and the administration is using alleged Russian noncompliance as its excuse for pulling out. Donald Trump even suggested Thursday that the US could reverse course (there's a six month withdrawal period so the US isn't out of the treaty yet) if Russia were to come into compliance. The Russian government has offered to negotiate over Washington's concerns but insists that it has not violated the treat.
The next major arms control agreement that the Trump administration will have to address is New START, which expires next year unless the US and Russia agree to extend it or negotiate a replacement. Neither of those seems likely if Trump wins reelection. His administration has taken every excuse it could find, and invented a few others, to extract the US from international treaties, and its position on New START is that it should apply to China—a position that China rejects.
AMERICAS
UNITED STATES
1,620,902 confirmed cases (+28,179)

96,354 reported fatalities (+1418)
A gunman attacked Naval Air Station Corpus Christi on Thursday morning, wounding one security guard before being shot and killed himself. He apparently attempted to drive his car on to the base but was stopped at the gate and began shooting. The FBI is treating the case as "terrorism-related" but so far have not explained their reasoning.
Finally, the Senate on Thursday barely confirmed, on a straight party line vote, John Ratcliffe as Donald Trump's new Director of National Intelligence, replacing interim DNI Richard Grenell. Ratcliffe has been a Trump loyalist in Congress, which is good for him because the last time Trump nominated him as DNI we learned that he had about the same qualifications for that job as I do, which is to say none. His second attempt at the job was more successful mostly because Grenell was such a horrid choice for the job that Republicans who opposed Ratcliffe last time were willing to confirm him just to get rid of Grenell.