World update: May 19 2020
Stories from Afghanistan, Nigeria, Germany, and more
This is the web version of Foreign Exchanges, but did you know you can get it delivered right to your inbox? Sign up today:
---
THESE DAYS IN HISTORY
May 18, 1291: Among several other notorious Crusades anniversaries, May 18 was the date on which the city of Acre, the last Crusader state in the Levant, fell to the besieging Mamluks. It would take several more days to clear out the city, whose fall marks the end of the main Crusading movement.
May 18, 1974: The Indian military successfully detonates the country's first nuclear weapon in a test ironically (I assume) code named "Smiling Buddha." The test made India the world's sixth acknowledged nuclear weapons state after the US, USSR, UK, France, and China. In reality it's widely believed that Israel already had nuclear weapons by this point as well, but since the Israelis refuse to acknowledge their nuclear weapons program its origins remain murky.
May 18, 2009: The nearly 26 year long Sri Lankan Civil War ends with the government's defeat of the Liberation Tigers of Tamil Eelam (AKA Tamil Tigers) rebel group. Sri Lankan authorities had declared victory on May 16 and the LTTE had acknowledged its defeat on May 17, but it was on the morning of May 18 when LTTE leader Velupillai Prabhakaran was caught and killed by government forces while attempting to flee the final LTTE-controlled enclave. The war is estimated to have killed upwards of 100,000 people in total and displaced hundreds of thousands more, and was marked by (alleged, I guess) atrocities on both sides. A government-formed "truth and reconciliation commission" has been widely accused to whitewashing government war crimes, and one of the alleged war criminals, then-defense minister Gotabaya Rajapaksa, is now president of Sri Lanka.
May 19, 1919: The Turkish War of Independence begins.
INTERNATIONAL
Worldometer's coronavirus figures for May 19:
4,982,937 confirmed coronavirus cases worldwide (+94,813 since yesterday)

2,702,022 active cases

324,554 reported fatalities (+4589 since yesterday)
In today's global news:
America's big beautiful president, Donald Trump, apparently wrote a big beautiful letter to World Health Organization boss Tedros Adhanom Ghebreyesus on Monday giving the WHO 30 days to undertake "substantive improvements" lest the US cancel its membership in the organization altogether. The letter is four pages long, which is at least three and a half pages longer than Trump himself would bother to write (or read, for that matter), which is plenty of space to lay out Trump's numerous (and frequently dishonest) grievances. Yet nowhere does it actually specify what improvements he'd like to see. The omission seems almost deliberate. In technical terms this letter is what scholars call a "temper tantrum," and it comes in the wake of the opening of the annual World Health Assembly on Monday, during which he was more or less shown up by Chinese President Xi Jinping and his offer of $2 billion to fund the WHO's pandemic response efforts for the next two years.

As I noted yesterday, at the core of Trump's anger toward the WHO is a kernel of legitimacy over the agency's handling of the early stages of the pandemic, when it seems to have been too deferential to Chinese self-reporting. Trump has chosen to turn that into a political issue to distract from his own mismanagement of the crisis, accusing the WHO of willfully toeing the Chinese line when the actual explanation is likely far less inflammatory—the WHO doesn't have the power to do anything but defer to national self-reporting, at least when it comes to a major world power like China. Ironically—or perhaps intentionally—this has had the effect of pushing the rest of the world toward a defense of the WHO, even as several other member states agree that its initial response was poor and should be investigated once the crisis has subsided.

Indeed, the WHA passed a resolution calling for such an investigation on Tuesday. The US allowed the resolution to pass by consensus but issued a separate objection to parts referring to reproductive rights (over abortion) and to waiving patent restrictions on any future coronavirus vaccine so that developing countries don't have to worry about being priced out of the market. Even when the Trump administration chooses not to disrupt international proceedings, it still likes to remind everybody that the United States is unquestionably the biggest prick in the world.
MIDDLE EAST
SYRIA
58 confirmed coronavirus cases (unchanged)

3 reported fatalities (unchanged)
Bashar al-Assad's government is reportedly attempting to seize the assets of his cousin, billionaire Rami Makhlouf. The two have been feuding for some time now—it's hard to know how long, exactly, but Makhlouf took their disagreements public in a series of videos he posted to Facebook starting last month. He's been alleging that the government is trying to, well, pretty much do what it's now apparently doing. Authorities have been after him to turn over profits from his most lucrative company, the mobile giant Syriatel, and to resign his role in the firm. Makhlouf has been Assad's main financial lifeline throughout Syria's civil war, and the breakdown in their relationship has been an interesting, if cryptic, development in that conflict.
ISRAEL-PALESTINE
16,659 confirmed cases (+16) in Israel, 391 confirmed cases (+3) in Palestine

278 reported fatalities (+2) in Israel, 2 reported fatalities (unchanged) in Palestine
Palestinian Authority President Mahmoud Abbas announced Tuesday that his government is no longer bound by its many peace and security agreements with Israel and the United States over the new Israeli "unity" government's upcoming West Bank annexation. The precise ramifications of this declaration are going to take some time to sort out but they could be massive. If Abbas fully removes the PA from those arrangements it would leave Israel holding the proverbial bag in terms of providing security in the West Bank. At the extreme end of the spectrum he could even dissolve the PA itself, which would overtly end the Oslo Accords charade and put all governing responsibility for the Occupied Territories in Israel's lap, which would once again make the fact of occupation, which the PA's existence helps obfuscate, apparent to everybody. It's unlikely he'll go that far, but at this point we don't know how far he is prepared to go.
SAUDI ARABIA
59,854 confirmed cases (+2509)

329 reported fatalities (+9)
The FBI has reportedly uncovered links between former Saudi air force pilot Mohammed Alshamrani and al-Qaeda. Alshamrani killed three US naval personnel in a mass shooting at Naval Air Station Pensacola back in December, which authorities have been investigating as a terrorist attack. Apparently Alshamrani communicated with al-Qaeda contacts the night before the attack. Al-Qaeda in the Arabian Peninsula had already claimed responsibility for the incident, though investigators still can't show anything more than a connection between Alshamrani and the organization. They haven't been able to demonstrate that AQAP was directly behind the shooting.
IRAN
124,603 confirmed cases (+2111)

7119 reported fatalities (+62)
The US Navy issued a blanket warning on Tuesday for vessels in the Persian Gulf region to stay at least 100 meters away from its ships lest they be treated as a threat. This is obviously intended for Iran and could (I stress could) signal that the Pentagon is getting ready to fire on the next Iranian speedboat that harasses a US ship in that area, though the Pentagon denied that the announcement signaled any change in policy.
The Trump administration penalized a Chinese company on Tuesday for violating US sanctions against Iran's Mahan Airlines. Mahan is alleged to have facilitated weapons shipments to Syria in support of Bashar al-Assad as well as shipments of supplies to Venezuela in support of the Maduro government.
ASIA
AFGHANISTAN
7653 confirmed cases (+581)

178 reported fatalities (+5)
Gunmen attacked a mosque in the city of Charekar, capital of Parwan province, on Tuesday evening, killing at least eight people and wounding five others. Afghan officials pinned the attack on the Taliban, who countered by accusing Afghan security forces. The Islamic State is presumably also a candidate, and that just about covers all the major players. Elsewhere, Afghan forces bombed a medical clinic in Kunduz on Tuesday while responding to a Taliban attack on that city. The Afghan government claims that eight of its personnel were killed in the fighting along with at least 50 Taliban fighters. There's no word as to civilian casualties, though there almost certainly were some at least as a result of the clinic bombing.
The Taliban have captured and briefly held Kunduz twice previously, but that was before promising to steer clear of major population centers in February's deescalation agreement with the United States. It would appear that agreement is out the window to some extent now that the Afghan government has decided to put its armed forces back on an offensive footing. This corresponds with a new report from the United Nations showing that civilian casualties are actually up this year despite the February deal. I'm no expert in complex negotiations but that seems like the opposite of what you'd hope to see happening after what was billed as a peace deal. The Taliban has been responsible for more civilian casualties than the Afghan government, though the government's escalation over 2019 has been steeper.
PAKISTAN
43,966 confirmed cases (+1841)

939 reported fatalities (+36)
In addition to the six Pakistani paramilitaries who were killed by a roadside bomb in Baluchistan province early Tuesday, one Pakistani soldier was killed in a gun battle also in Baluchistan, while another Pakistani soldier was killed, and three wounded, in a roadside bombing in North Waziristan. The separatist United Baluch Army claimed responsibility for the bombing, but the other two incidents have to my knowledge gone unclaimed so far.
INDIA
106,475 confirmed cases (+6147)

3302 reported fatalities (+146)
Indian security forces killed an alleged Hizbul Mujahideen commander named Junaid Ashraf Sehrai, along with another of the group's personnel, in a gun battle in the Kashmiri city of Srinagar on Tuesday. As frequently happens following such incidents, a crowd of protesters gathered to denounce the Indian forces' actions, which led to additional clashes though there's no word on casualties from those. Local residents accused the Indian personnel of deliberately setting fire to houses and looting them of their possessions during the battle, a charge Indian officials denied.
AFRICA
LIBYA
68 confirmed cases (+3)

3 reported fatalities (unchanged)
Khalifa Haftar's "Libyan National Army" withdrew 2-3 kilometers across the previous front line in its campaign to capture the city of Tripoli. The LNA framed this as a deescalatory gesture with Ramadan coming to an end this week, but the reality is that the retreat comes after it's suffered major setbacks over the past two days. Forces aligned with the Government of National Accord captured the LNA's main airbase at al-Watiyah on Monday, then captured two towns near the Tunisian border in western Libya early Tuesday. The LNA called on pro-government forces to reciprocate its withdrawal but that seems unlikely under the circumstances.
NIGERIA
6401 confirmed cases (+226)

192 reported fatalities (+1)
There's a growing sentiment that the "banditry" problems that have been increasingly plaguing northwestern Nigeria in recent months are not just the work of organized criminals, but may reflect the growth of the Islamic State's West African Province and/or the resurgence of a Boko Haram offshoot called Jamaʿatu Ansaril Muslimina fi Biladis Sudan, AKA "Ansaru," AKA al-Qaeda in the Lands Beyond the Sahel. There's little reliable reporting about what's happening in northwestern Nigeria so much of this is little more than speculation. But it's conceivable that ISWAP's branch in northeastern Nigeria—the Boko Haram offshoot—is expanding west, or that its branch in western Niger—the former Islamic State in the Greater Sahara—is expanding east (or both).
The Ansaru claim is both more intriguing and more dubious. Ansaru broke away from Boko Haram in 2012 in a disagreement over Boko Haram's targeting of Nigerian civilians—Ansaru leaders, in keeping with al-Qaeda's ideological thrust, wanted to concentrate on attacking Western targets. It made its base of operations in north-central and northwestern Nigeria, which is where these alleged bandit attacks have been happening. It was hit hard both by security forces and defections to the Islamic State and is believed to have gone mostly dormant by 2017. But it reemerged in January by claiming responsibility for an attack in Kaduna state in northwestern Nigeria.
As I say this Ansaru resurgence theory is intriguing, but the evidence for it is thin and contradictory. Alex Thurston points out at his blog that if Ansaru is making a big comeback, as evidenced by that public statement in January, then why isn't it claiming these "bandit" attacks? On the other hand, if it's been responsible for carrying out the dozens of attacks attributed to "bandits" and hasn't been claiming them, then maybe it never actually went away and isn't "resurging" at all. Several considerations go into whether a group claims responsibility for any given attack—IS has likely carried out numerous attacks in Iraq, Syria, and Turkey that it's left unclaimed because it prefers to leave open the possibility that a Kurdish group was responsible, for example. But in a competitive jihadi recruiting environment it's hard to understand why, if Ansaru really is making a big comeback, it would want to keep that comeback a secret.
DEMOCRATIC REPUBLIC OF THE CONGO
1629 confirmed cases (+91)

61 reported fatalities (unchanged)
Human Rights Watch says that Congolese police killed more than twice the number they acknowledged in two raids against the Bundu dia Kongo nationalist group. The DRC's interior ministry says its forces killed 22 people in those raids, but HRW says its own investigation shows the number was at least 55. It is accusing authorities of exceeding "international standards on the use of force."
LESOTHO
1 confirmed case (unchanged)

No reported fatalities
I'm pleased to say that Lesotho Prime Minister Thomas Thabane officially resigned on Tuesday after first resisting and then hinting at the prospect for the past few weeks. Current finance minister Moeketsi Majoro is expected to replace him as PM on Wednesday. I'm extremely hopeful that this is the last time I'll have to tell you that Thabane and his current wife allegedly murdered his former wife in 2017 and that he's been under increasing pressure to step down as the investigation into that murder has progressed.
EUROPE
GERMANY
177,827 confirmed cases (+538)

8193 reported fatalities (+70)
Given how things are going with respect to the World Health Organization (see above), it may come as no surprise that a new poll from Germany's Körber Foundation finds that Germans are not terribly thrilled with the United States these days:
The survey shows that Germans are now almost equally divided on whether Washington or Beijing is the more important partner, with 37 percent choosing the United States and 36 percent China. This represents a significant shift compared with Körber's last survey in September 2019, when Germans gave the United States a commanding 26 percentage-point edge over China.

This doesn't mean that Germans are giving China a free pass. As many as 71 percent agree that more transparency from the Chinese government would have reduced the impact or even prevented the pandemic from spreading. Yet only 36 percent say their opinion of China has worsened, compared with 73 percent whose view of the United States has deteriorated in the crisis.
Similar surveys in France, Italy, and the UK all find Europeans either beginning to favor China over the US or at least losing their respect for the US in general.
FRANCE
180,809 confirmed cases (+882)

28,022 reported fatalities (unchanged)
A group of 17 leftist members of the French National Assembly formed a new party on Tuesday calling itself "Ecology, Democracy, Solidarity." This is noteworthy because seven of them came from President Emmanuel Macron's La République En Marche party, which means it no longer holds an absolute majority in parliament's lower house. This development is unlikely to hamstring Macron too much, since he can probably rely on centrist factions in the legislature to support his agenda, but it does box him in a bit politically. After spending his first two years in office shredding the French welfare state, Macron is now trying to portray himself as the defender of that system as he gets ready to run for reelection. If leftists in his own party aren't buying that shift, it seems unlikely he'll be able to sell it to the French public.
AMERICAS
BRAZIL
271,885 confirmed cases (+16,517)

17,983 reported fatalities (+1130)
Donald Trump says he's considering a ban on travel from Brazil, due to the pandemic. Which, OK, Donald Trump considers a lot of things and many of them involve travel bans of some sort. But what makes this hilarious is that he may ban travel because of a coronavirus outbreak that his Brazilian acolyte, Jair Bolsonaro, has done everything in his power to downplay and exacerbate—mostly because he's been trying to mimic what Trump has been doing in the US. Even now, in what may be a last ditch attempt to appease Trump and avoid what will be an embarrassing travel ban, Bolsonaro is forcing his health ministry to "issue new guidelines on Wednesday expanding the recommended use of chloroquine for treating the novel coronavirus." There is no research recommending the use of chloroquine to treat the coronavirus, but Donald Trump keeps insisting there is and that's good enough for Bolsonaro.
VENEZUELA
618 confirmed cases (unchanged)

10 reported fatalities (unchanged)
According to Bloomberg News, Juan Guaidó's Venezuelan fan club is shrinking:
In the days since Venezuela easily halted a bollixed coup led by an American, a shadow has fallen over Juan Guaido, the Washington-backed opposition chief. Some of his colleagues are questioning not only their faith in him but in the Trump administration's approach to removing President Nicolas Maduro.

Opposition lawmakers have contacted the U.S. State Department to request a change of direction, even leadership, according to five people with direct knowledge of the matter. Several have suggested new negotiations with Maduro, while others want parliamentary elections. Guaido has rejected both.

Some say that the crisis spreading across the country from coronavirus quarantines and shortages presents an opportunity to win hearts and minds. They want subsidies for the poorest families to come from funds controlled by Guaido -- more social policy and less diplomatic grandstanding. One veteran opposition leader states flatly that Guaido's leadership is over, although he says so on condition of anonymity.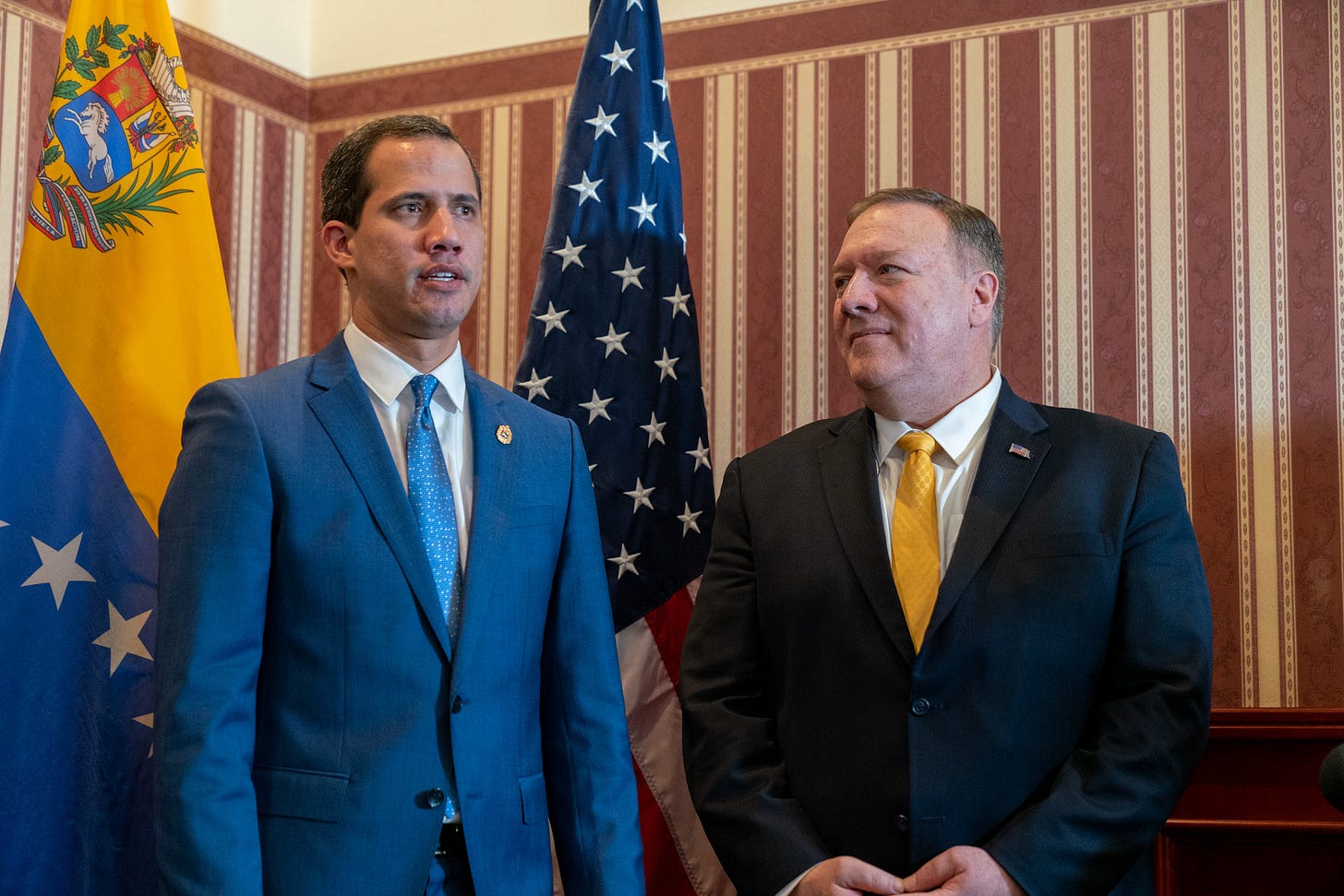 Luckily he's still got pals in the United States (State Department photo via Wikimedia Commons)
UNITED STATES
1,570,583 confirmed cases (+20,289)

93,533 reported fatalities (+1552)
Finally, World Politics Review's Stewart Patrick talks about how hard it's going to be for Very Serious national security types to come to grips with the things that are actually threatening the United States these days:
Adjusting to this new reality has not been easy for U.S. national security professionals. Most are self-styled realists, who equate security matters with people holding a gun and believe that world politics is governed by the enduring verities that Thucydides observed: The strong do what they can and the weak suffer what they must. In an anarchic, war-prone world, effective statecraft means amassing military might to dissuade others from aggression and ensure that if it comes, your side prevails.

National security officials and scholars with this worldview have a hard time acknowledging dangers that do not encompass violence. Part of this reflects an understandable aversion to woolly-minded thinking, which could dilute "security" of all meaning. During the mid-1990s, a coalition of progressive intellectuals, U.N. agencies and global leaders—most notably former Canadian Foreign Minister Lloyd Axworthy— promoted the catchall concept of "human security." It was intended to encompass all aspects of individual well-being beyond simply freedom from physical harm, including many forms of security—economic, political, environmental, food, health and community-related. Critics complained that this new concept conflated "hard" security with "softer" challenges like development, conservation, health and human rights.

The "human security" concept may have fallen flat, but a quarter century later, the traditionalist approach is also wearing thin. What good is a concept of security if it excludes the potentially catastrophic risks of pandemic disease and global warming?