World update: June 13-14 2020
Stories from Qatar, Nepal, Somalia, and more
This is the web version of Foreign Exchanges, but did you know you can get it delivered right to your inbox? Sign up today:
---
THESE DAYS IN HISTORY
June 12, 1898: Philippine rebel leader and dictator Emilio Aguinaldo proclaims Philippine independence with a declaration and a ceremony at his home south of Manila. This date is annually commemorated as Independence Day in the Philippines.
June 12, 1990: The Congress of People's Deputies of Russia adopts the Declaration of State Sovereignty of the Russian Soviet Federative Socialist Republic, basically proclaiming Russia's independence from the Soviet Union although "independence" may not exactly be the right term for this particular situation. This date is annually commemorated in Russia as "Russia Day."
June 12, 2018: US President Donald Trump and North Korean leader Kim Jong-un meet in Singapore in the first ever summit between the leaders of those two countries. The summit did ease tensions between the US and North Korea and it produced a joint statement that seemed to put Pyongyang and Washington on a diplomatic path, but two years later relations are worsening again and little appears to have been accomplished. Still, it seems like a reasonably momentous event.
June 13, 1983: The space probe Pioneer 10, launched in 1972, crosses the orbit of Neptune and becomes the first man-made object to pass the orbits of all the major planets of this solar system. It continued to transmit telemetry data until April 2002 and still sent weak signals back to Earth until January 23, 2003. It's believed to be further from the sun at this point than any spacecraft save Voyager 1, though it will be surpassed by Voyager 2 sometime in the next few years.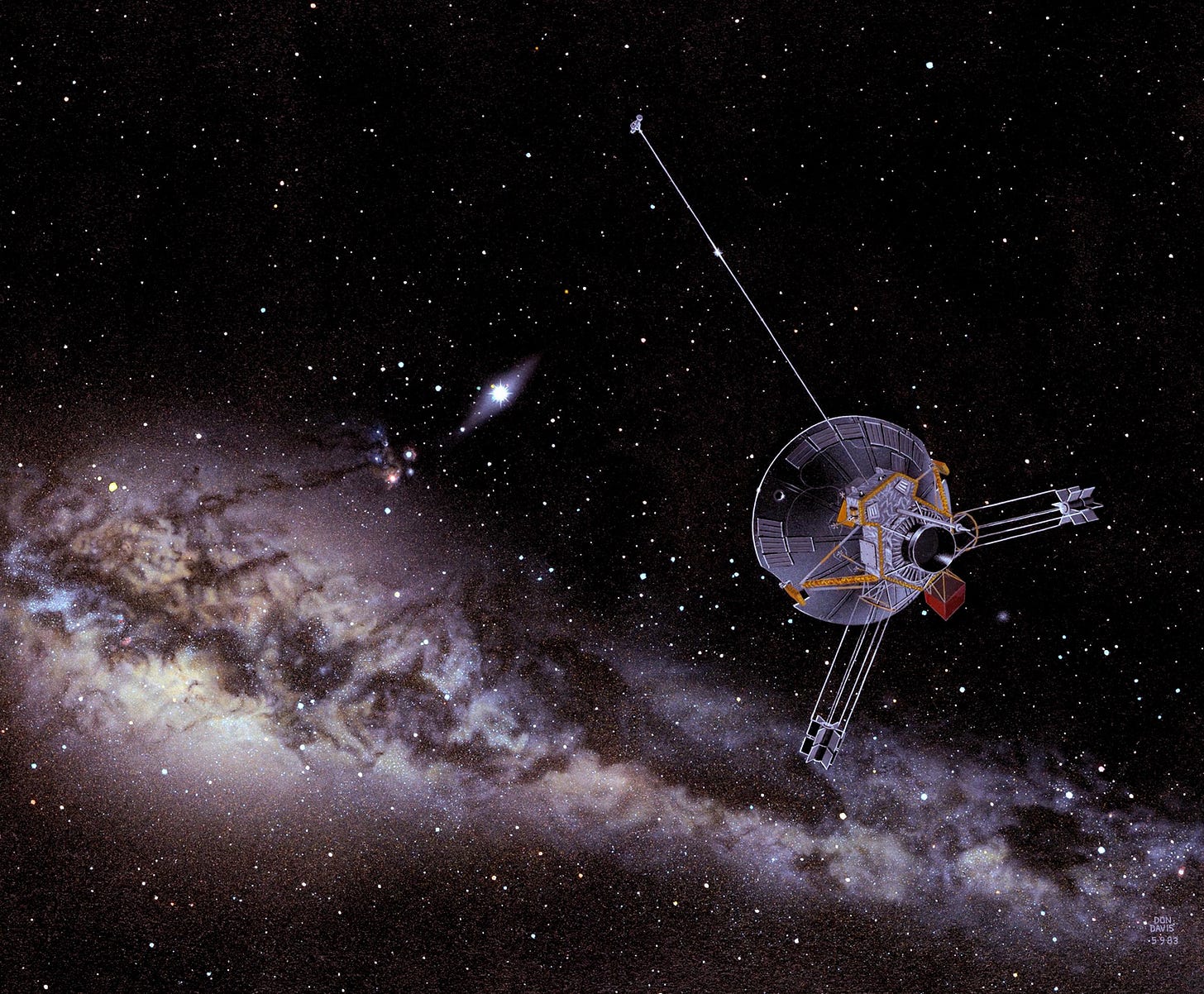 An artist's rendering of Pioneer 10 heading into interstellar space (NASA/Don Davis via Wikimedia Commons)
June 14, 1821: Badi VII surrenders the Sennar Sultanate to Egyptian forces under the command of Ismail Pasha. Sudan would remain Egyptian until it gained independence in 1956, though to be fair after 1899 it was really governed more as a separate British colony than as part of Egypt.
June 14, 1830: The French army lands at Sidi Fredj, beginning France's invasion of Ottoman Algeria. Algiers fell on July 7 and France formally annexed the country, though it would take decades for the French to colonize and pacify most of it. Algeria gained its independence in 1962.
INTERNATIONAL
Worldometer's coronavirus figures for June 14:
7,984,307 confirmed coronavirus cases worldwide (+123,783 since yesterday)

435,176 reported fatalities (+3258 since yesterday)
In this weekend's global news:
New climate research suggests that cloud cover plays less of a cooling and more of a warming role than previously thought, which means past estimates of climate sensitivity were too generous on the "salvaging human civilization" end. Models incorporating this cloud research are showing a greater prevalence of "incredibly alarming" outcomes of five degrees or greater warming.

At Jacobin, Quentin Deforge and Benjamin Lemoine argue that more than just debt relief, developing nations need a fundamental restructuring of the relationship between nations and financial markets:
While they may exert effective control over their own territories and people, if states at "the periphery" of the international financial system are to gain investors' confidence and sell their bonds on Wall Street or in the City of London, then they have no choice but to submit to the jurisdiction of these financial centers and renounce their own sovereign immunity. As of March 2009, 69 percent of outstanding emerging market bonds issued in international markets were governed by New York law.

By submitting to these jurisdictions, governments accept being considered like any other commercial entity — and thus concede the very thing that distinguishes them as states. Indeed, most states in the Global South cannot borrow from abroad even in their own currency. All these questions come to center stage when debts are not sustainable and creditors engage in restructuring or litigation.

Thus, states are meant to operate as economic agents subject to "free market" funding, depending on their specific economic resources and capacities. But this reading, advanced by liberal economists, hides the material foundation of debt markets. The latter are built on a global financial order entrenched in various national institutions and judicial systems at the global level. Indeed, it is far from the case that states have equal positions relative to the financial markets. Some are more "sovereign" than others making them more dominant in the world of finance.
MIDDLE EAST
YEMEN
728 confirmed coronavirus cases (+23)

164 reported fatalities (+4)
The Saudi-led coalition backing the Yemeni government said on Saturday that it had shot down a missile fired by the Houthi rebels toward the Saudi city of Najran. It reported some injuries from missile fragments but nothing that seems to be particularly serious. Also on Saturday, separatist Southern Transitional Council fighters reportedly seized a convoy carrying 64 billion riyals to Yemen's central bank in Aden. The currency had been minted in Russia on behalf of the Yemeni government. The STC has resumed its militant campaign against the Yemeni government though not at the same intensity or consistency as it had last year. This incident may be serious enough to escalate that conflict.
IRAQ
20,209 confirmed cases (+1259)

607 reported fatalities (+58)
The Turkish military says it undertook several airstrikes against Kurdistan Workers' Party position in northern Iraq late Sunday, in an operation apparently code named "Claw-Eagle." Details in terms of results aren't available, but presumably Ankara will release those at some point. Late Saturday, two rockets reportedly hit the Camp Taji military base north of Baghdad, where US forces frequently conduct training operations. The rockets, probably fired by Iraqi militia though the Islamic State can't be ruled out, apparently "caused minor damage but no injuries."
LEBANON
1446 confirmed cases (+4)

32 reported fatalities (unchanged)
Anti-government protests spurred on by Lebanon's crashing economy continued through the weekend, with violent clashes between demonstrators and police reported Friday and somewhat less violent clashes reported Saturday. The protesters Saturday called for the resignation of Lebanese Prime Minister Hassan Diab's government, which hasn't been in place very long but has shown no capacity for improving Lebanon's economic crisis and oversaw a sudden crash of the Lebanese pound this week. Diab gave a speech on Saturday in which he accused his political opponents of worsening the currency crisis, though he doesn't seem to have gone into much detail as to which opponents and/or how they've allegedly done that.
Lebanon's central bank says it plans to inject US dollars into the economy to try to shore up the pound, but its ability to do that is limited and likely won't lead to much relief. An International Monetary Fund bailout might be able to arrest the pound's slide, but the US government doesn't seem terribly inclined to green light such a bailout because Diab's government gets much of its support via Hezbollah. Not allowing the IMF to step in risks further destabilizing Lebanon and further immiserating the Lebanese people, but that's not really a major consideration from Washington's perspective.
QATAR
79,602 confirmed cases (+1186)

73 reported fatalities (+3)
At TomDispatch, Morgan Palumbo and Jessica Draper from the Center for International Policy look at the massive influx of Gulf lobbying money that's hit Washington since the start of the Saudi-Qatari diplomatic crisis in 2017 and conclude that the Qataris have gotten more bang for their bucks:
Though Qatar faced a near-existential threat to its survival when the blockade began, three years later it's not only surviving, but thriving thanks significantly to its influence operations in Washington. They have helped immeasurably to deepen economic, diplomatic, and military relations between the two countries.

Meanwhile, the emir's rivals in Riyadh not only failed to make their blockade a success, but saw their influence wane appreciably in the U.S. as they stumbled from one public relations fiasco to the next. Even their staunchest defender, Donald Trump, recently threatened to sever U.S. military support for the Kingdom if the Saudi royals didn't end their oil war with Russia (which they promptly did).

In truth, however, the real loser in this struggle for influence hasn't been Saudi Arabia or the Emiratis, it's been America. After all, the efforts of both sides to deepen their ties with the military-industrial complex (reinforcing the hyper-militarization of U.S. foreign policy) and increase their sway in Congress have ensured that the real interests of this country played second fiddle to those of Middle Eastern despots. Certainly, their acts helped ensure near historic levels of arms sales to the region, while prolonging the wars in Yemen and Syria, and so contributing to death and devastation on an almost unimaginable scale.
ASIA
AFGHANISTAN
24,766 confirmed cases (+664)

471 reported fatalities (+20)
At least seven Afghan police officers were killed late Friday when their checkpoint in Ghor province was attacked. No group has claimed responsibility but local officials have been blaming the Taliban. The Taliban has been particularly active over the past week, killing and wounding 422 Afghan security forces across 222 separate attacks according to the Afghan Interior Ministry. The reason for that uptick in activity seems to be the approaching start of peace talks with the Afghan government. The progress toward such talks has been slow, but the two sides did agree to hold the first round of negotiations in Doha. There's no date yet, but a location is something.
NEPAL
5760 confirmed cases (+425)

19 reported fatalities (+1)
An estimated 1000 people demonstrated in Kathmandu on Saturday for the third day in a row, over the Nepalese government's response to the COVID-19 pandemic. The protesters were demanding better conditions at Nepal's dilapidated quarantine facilities as well as investments in testing and other supplies.
Meanwhile, Nepal's parliament spent its Saturday approving a new national map, which seems benign enough but could cause problems with India due to the poorly defined nature of their shared border. The map was a response to a recent Indian road construction project passing through land that Nepal claims, but the Indian government has already rejected it as a unilateral Nepalese land grab.
CHINA
83,132 confirmed cases (+57) on the mainland, 1110 confirmed cases (unchanged) in Hong Kong

4634 reported fatalities (unchanged) on the mainland, 4 reported fatalities (unchanged) in Hong Kong
China has seen a minor spike in COVID-19 cases in recent days, all tied to a wholesale market in Beijing. These are the city's first infections in weeks, and the new outbreak has already spread to Liaoning province. The district in which the market is located has reportedly gone into "wartime emergency mode," whatever that means, and several nearby neighborhoods have raised their pandemic alert levels.
AFRICA
LIBYA
454 confirmed cases (+36)

10 reported fatalities (+2)
United Nations Secretary-General António Guterres is reportedly "shocked" at the discovery of mass graves in parts of Libya that were until recently under the control of Khalifa Haftar's "Libyan National Army." Why he would be shocked that a guy who wants to be the military dictator of Libya is acting like a military dictator is unclear. UN personnel are now investigating accounts of LNA war crimes in the town of Tarhouna, which had served as Haftar's forward operating base during his Tripoli offensive but is now in the hands of Libya's Government of National Accord. The discovery of the graves could potentially affect the course of Libya's war, if they cause some of Haftar's international supporters (France, for example) to reconsider their support. At the very least they undermine Haftar's claim that he's righteously standing against the dastardly Islamists backing the GNA. Righteous armies don't typically dig (and fill) mass graves.
MALI
1809 confirmed cases (+33)

104 reported fatalities (unchanged)
Unknown attackers struck a UN peacekeeping convoy in northern Mali on Saturday evening, killing at least two peacekeepers. Both al-Qaeda's Jamaʿat Nasr al-Islam wal Muslimin affiliate and the Islamic State in the Greater Sahara are active in the region but so far there's been no claim of responsibility.
NIGERIA
16,085 confirmed cases (+403)

420 reported fatalities (+13)
Dozens of people were killed in two Islamic State West Africa Province attacks in Nigeria's Borno state over the weekend. ISWAP fighters killed least 38 civilians on Saturday in an attack on a village called Goni Usmanti, while a second attack on the town of Monguno left at least 15 Nigerian soldiers dead. Higher counts have the death toll at more than 40 civilians in the former attack and more than 20 soldiers in the latter. ISWAP has also claimed Tuesday's attack on another village in the region, the death toll from which now reportedly stands at 81. ISWAP, which was borne partly out of opposition to Boko Haram leader Abubakar Shekau's indiscriminate killing of civilians, seems increasingly willing to slaughter civilians in its own right, which may have something to do with reported (and reportedly violent) leadership changes within the group. ISWAP's new leadership may be trying to make a statement.
SOMALIA
2618 confirmed cases (+39)

88 reported fatalities (+1)
It was an interesting weekend for Somalia's various separatists and autonomous states. For one thing, the Somali government recognized Ahmed Madobe as the legitimate president of autonomous Jubbaland. Somali officials had initially rejected Madobe's election in part because he's a bit too supportive of Jubbaland's autonomy (and too friendly with the Kenyan government) for Mogadishu's taste. For another thing, the Somali government on Sunday opened negotiations in Djibouti, mediated by Ethiopian Prime Minister Abiy Ahmed, with the leadership of its breakaway Somaliland region. Although its claims are unrecognized, Somaliland has considered itself independent since 1991, and given how things have gone in the rest of Somalia since then its leaders don't seem terribly inclined toward rejoining. There doesn't seem to be much common ground here, as the Somali government rejects Somaliland's claim of independence and Somaliland leaders are unwilling to give that claim up.
EUROPE
Fears that Islamic State fighters who returned to Europe would carry their violent struggle home with them are proving to be somewhat unfounded—at least for now:
"A number of signs point to disillusionment among returning fighters and released offenders," said Thomas Renard, a Belgian terrorism researcher and author of a forthcoming study on prison radicalization. "They don't seem to be reconnecting to their previous networks or returning to violent extremist activities. We are seeing reports from the security services that confirm this."

The trend, if it continues, is genuinely good news for a region that experienced a string of deadly bombings and shootings by Islamic State supporters beginning in 2015. Officials say there have been no Islamic State-directed attacks on European soil since 2017, and the number of overall incidents linked to Islamist groups, including "lone-wolf" attacks, has fallen sharply.

And yet, despite the relative quiet, European officials worry that the gains may be fragile. In other parts of the world, the momentum appears to be shifting in the Islamists' favor. The Islamic State is gaining strength in Iraq and Syria, as measured by the number and scale of terrorist attacks in recent months in its former strongholds. Across Africa, extremist militias are surging, with groups aligned with both al-Qaeda and the Islamic State vying for control over large swaths of rural territory from the Horn of Africa to the Sahel.
POLAND
29,392 confirmed cases (+375)

1247 reported fatalities (+10)
Reuters reported earlier this week that plans to boost the US military deployment in Poland, possibly at a base dubbed "Fort Trump," had fallen apart due to disputes over cost sharing and over where additional US soldiers should be housed. On Friday, both US and Polish officials insisted that report was bunk and that plans are still on for the deployment. But there's no indication that the original report, which said the Polish government was struggling to come up with the $2 billion it had already pledged for the project and that the US was insisting it pay more, was actually wrong, and it appears the two countries are still negotiating over that issue.
AMERICAS
COLOMBIA
50,939 confirmed cases (+2193)

1667 reported fatalities (+75)
Colombia's ELN rebels released six hostages in North Santander province on Sunday, after freeing two more of its hostages on Friday. It's unclear why ELN is suddenly freeing its captives, but Colombian President Iván Duque has made the release of the group's hostages one of his preconditions for peace talks.
UNITED STATES
2,162,144 confirmed cases (+19,920)

117,853 reported fatalities (+326)
Finally, UN special rapporteur on freedom of opinion and expression David Kaye argues that when it comes to human rights, it's long past time for the United States to start practicing what it preaches:
Despite its rhetoric and its occasional leadership, the United States has long had its foreign-policy foot inside the human rights system and its domestic one firmly outside. Treaties and other international obligations that it calls upon others to keep are not even enforceable within the United States itself.

If human rights are so important that the United States makes it an official feature of its diplomacy, why have Americans not applied it to their own government?

The answer is simple and well documented. Racism and white supremacy drove the American refusal to enforce human rights at home, and that legacy of hypocrisy shapes human rights policy today.

At the outset of the modern human rights movement, segregationist Southerners and their allies fought against U.S. engagement with the U.N. human rights system. They saw human rights as a threat to segregation, to its oppressive system of official racist violence, to the inequalities of Jim Crow. They worried, rightly, that the U.N. human rights bodies would, if they had the authority, put pressure on the United States to end its systemic racism.

As a result, when the United States ratified major human rights treaties on civil and political rights and racism, the Senate demanded that they not be applicable in U.S. courts absent further legislation, which senators knew would not be forthcoming. It's true that the United States comes under periodic evaluation at the U.N. Human Rights Council and in the few treaties it has ratified, but such reviews hardly receive attention or have much impact domestically.