World update: June 11 2020
Stories from Iraq, South Korea, Libya, and more
This is the web version of Foreign Exchanges, but did you know you can get it delivered right to your inbox? Sign up today:
---
THESE DAYS IN HISTORY
June 10, 1190: Holy Roman Emperor Frederick I drowns in southern Anatolia on his way to join what we now call the Third Crusade. His death contributed heavily to the breakup of the Crusader army and therefore to Richard the Lionheart's decision to abandon plans to besiege Jerusalem.
June 10, 1898: US Marines and Cuban forces capture Guantánamo Bay from Spain after a five day battle. The US quickly established a naval base there that proved critical in winning the decisive naval battle and siege of Santiago in July, which essentially ended the Spanish-American war in Cuba. The conflict continued on other fronts until August.
June 11, 786: The Battle of Fakhkh, near Mecca, results in the decisive defeat of a small Alid uprising. What makes this battle notable is that one of the rebel leaders, Idris b. Abdullah, survived and fled to northwestern Africa, where he established the Idrisid dynasty and is credited with founding the nation of Morocco.
INTERNATIONAL
Worldometer's coronavirus figures for June 11:
7,583,908 confirmed coronavirus cases worldwide (+136,757 since yesterday)

423,086 reported fatalities (+4951 since yesterday)
MIDDLE EAST
SYRIA
164 confirmed coronavirus cases (+12)

6 reported fatalities (unchanged)
In the face of a new and dogged (albeit relatively small) outbreak of anti-government protests over the imploding Syrian economy in the predominantly Druze city of Suwaydah, Bashar al-Assad fired his prime minister, Imad Khamis, on Thursday in hopes of appeasing the demonstrators. My guess is this is unlikely to work, because I would assume very few Syrians actually think Khamis, or any other PM, actually has much authority under Assad. Syria's water resources minister, Hussein Arnou, is taking Khamis's place both as PM and, presumably, as Assad's next scapegoat.
IRAQ
16,675 confirmed cases (+1261)

457 reported fatalities (+31)
Iraqi and US officials began a round of talks on Thursday aimed at figuring out their knotty relationship. As I noted yesterday, the US military would prefer to leave Iraq, or at least significantly reduce its troop presence there, because its soldiers are vulnerable to attack by the Islamic State or, more problematically, Iranian-aligned militias. That remains true despite the loss of Qasem Soleimani, despite an apparent breakdown in the cohesion of those militias, and despite the fact that the Iranian government doesn't have much lucre to spread around to its proxies these days. The Iraqi government would like to see the US reduce its presence because that presence remains unpopular. That remains true despite the accession of new US-friendly Prime Minister Mustafa al-Khadhimi, who may be friendly to the US but also understands how Iraqi politics work these days. So they're in agreement, at least in principle, as they apparently reaffirmed during their discussion. But the civilian leadership in Washington is hedging because the US military presence in Iraq isn't really about Iraq, it's about challenging Iran.
Outside of Baghdad, that same US vs. Iran tug of war is, according to Reuters, undermining governance in Nineveh province and thereby wrecking efforts to rebuild the city of Mosul:
Speaking to Reuters over the span of a year, around 20 Iraqi officials involved in the political tussle over Nineveh described how Iran and its allies developed the networks to influence local government, how pro-Western officials tried to hit back, and how this tug of war has crippled Mosul's recovery. If any side prevails, many of these insiders believe, it will ultimately be the side aligned with Iran. Iran helps its allies with money, political backing and sticks with them, explained Nineveh councilor Ali Khdeir. The United States, in contrast, "has left no real mark on Iraq."

Mosul, meanwhile, lies largely in ruins. Traffic snarls across battered bridges and disabled war victims sell tissues, cigarettes and tea at junctions — the kind of misery that Iraqi officials fear is the perfect breeding ground for Islamic State to reemerge.
I would dispute the notion that the US hasn't left a mark on Iraq, though to be fair it's not the kind of mark that wins any hearts and minds.
LEBANON
1402 confirmed cases (+14)

31 reported fatalities (+1)
Anti-government protests broke out across Lebanon again on Thursday, sparked by a fresh decline in the value of the Lebanese pound. The currency, which is pegged at 1507 per dollar, is reportedly trading on the black market at upwards of 5000 per dollar although Lebanese officials are denying that publicly. Prime Minister Hassan Diab has reportedly called an emergency cabinet meeting for Friday over the currency collapse.
ISRAEL-PALESTINE
18,569 confirmed cases (+214) in Israel, 487 confirmed cases (+2) in Palestine

300 reported fatalities (+1) in Israel, 3 reported fatalities (unchanged) in Palestine
The US and Israeli governments have apparently not managed to find common ground on the scope of the forthcoming annexation of the West Bank. While it's likely the Trump administration will back whatever Benjamin Netanyahu does, Netanyahu's new coalition partner, Benny Gantz, wants Washington's approval beforehand or else he may try to block the annexation or at least slow it down. The Trump administration would prefer Netanyahu not go too far with the annexation, because doing so might pull the curtain back entirely on the Kushner Accords and the administration would rather not have its aims exposed that much.
ASIA
AFGHANISTAN
22,890 confirmed cases (+748)

426 reported fatalities (+21)
Donald Trump issued an executive order on Thursday authorizing sanctions against personnel at the International Criminal Court who are investigation possible US war crimes in Afghanistan. Secretary of State Mike Pompeo referred to the ICC as a "kangaroo court," which is true but only inasmuch as the United States is able to intimidate and flaunt it with impunity. Attorney General William Barr, meanwhile, accused the court of "a long history of financial corruption and malfeasance"—without, of course, offering any evidence.
MALAYSIA
8369 confirmed cases (+31)

118 reported fatalities (+unchanged)
The Malaysian government has followed the Indonesian government's lead and decided to ban its citizens from performing the Hajj this year due to the coronavirus. Saudi officials still have not canceled the pilgrimage although they are discussing a much reduced quota of pilgrims this year. There are political reasons for the Saudis to maintain a Hajj this year, as canceling would inevitably lead to criticism about their role as stewards of Mecca. They may be hoping that more countries with large Muslim populations cancel of their own volition—if so, they're off to a pretty good start.
TAIWAN
443 confirmed cases (unchanged)

7 reported fatalities (unchanged)
The US Navy apparently flew a transport jet over Taiwan earlier this week, earning a rebuke from the Chinese government for violating its airspace. The Taiwanese government had naturally given permission for the overflight, but as China recognized Taiwan as part of its territory that permission was irrelevant from Beijing's perspective. Interestingly, the same day the US jet flew over Taiwan, several Chinese fighters entered Taiwan's air defense identification zone (the area just outside a country's airspace where its military takes notice of foreign aircraft), earning a warning from Taiwanese authorities.
CHINA
83,057 confirmed cases (+11) on the mainland, 1108 confirmed cases (unchanged) in Hong Kong

4634 reported fatalities (unchanged) on the mainland, 4 reported fatalities (unchanged) in Hong Kong
The US State Department issued its annual Report on International Religious Freedom on Wednesday, with ambassador for international religious freedom Sam Brownback harshly criticizing China as the country that "backslid" the most on that issue in 2019. China has been on the State Department's religious intolerance list for some time now with few/no consequences, though the criticism will undoubtedly irritate Beijing. The report also mentioned concerns about rising religious discrimination in India.
NORTH KOREA
The North Korean Foreign Ministry issued a statement on Thursday saying that Pyongyang sees no point in maintaining Kim Jong-un's relationship with Donald Trump, since it hasn't really led to any diplomatic progress. The North Korean government has been particularly squeaky over the past couple of weeks, culminating in this week's decision to cut off contact with South Korea and now, apparently, letting Donald Trump know that he won't be getting any more Beautiful Letters from his favorite pen pal.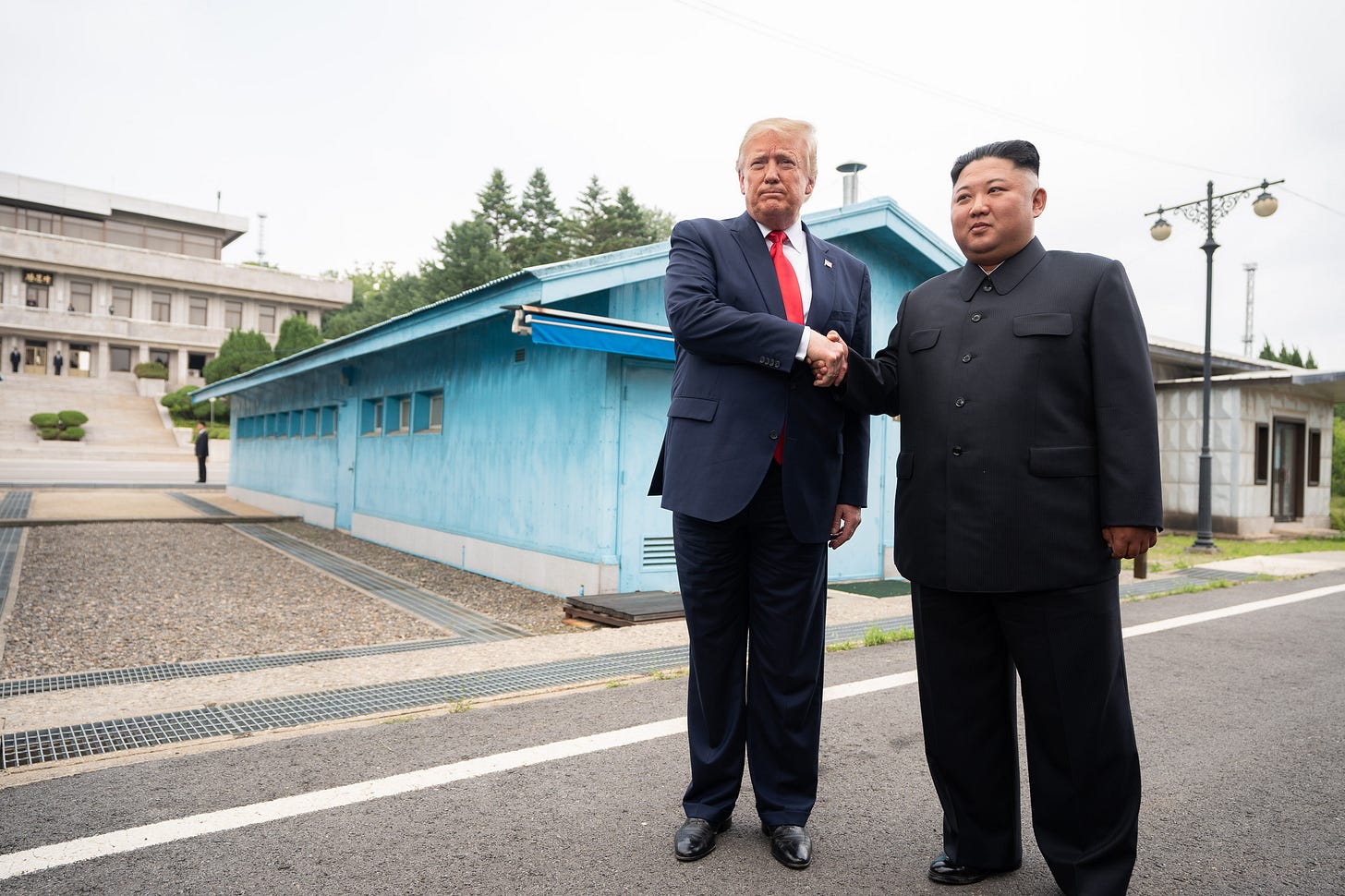 No more handshakes either (White House photo via Flickr)
The North Korean statement also suggested Pyongyang plans to prioritize military buildup over diplomacy moving forward. This week's flurry of tantrums may reflect a greater role for Kim's sister, Kim Yo-jong, who seems to have been prominently involved in the South Korea decision.
SOUTH KOREA
11,947 confirmed cases (+45)

276 reported fatalities (unchanged)
North Korea unfriended South Korea ostensibly over the ongoing practice of defector groups sending anti-government leaflets, food, and medical aid across the border. While it seems unlikely that Pyongyang took such a drastic step just over that one relatively minor issue, those leaflets are an issue that the South Korean government has tried to address. Seoul has accused those groups of "violating the Inter-Korean Exchange and Co-operation Act" and has even threatened legal action against them. Polling even shows that around half of South Koreans favor banning those groups from sending material north, compared with 41 percent who oppose doing that. Nevertheless, the defector groups show no inclination toward stopping.
AFRICA
LIBYA
393 confirmed cases (+15)

5 reported fatalities (unchanged)
The retreating "Libyan National Army" has reportedly been able to slow forces aligned with Libya's Government of National Accord in their advance on the city of Sirte. Having driven the LNA away from Tripoli, the GNA is attacking Sirte and the central Libyan al-Jufra airbase as the next phase of an advance it says will extend all the way into eastern Libya. It's not clear to me how much the LNA has been able to "slow" that advance or how it's done so, but the GNA may have slowed things down intentionally in order to build up its own air capabilities in central Libya.
The State Department on Thursday suggested that the Egyptian government's Libyan ceasefire proposal was inadequate, stressing Washington's preference for a United Nations-led Libyan peace process. I mention this only because Donald Trump apparently got behind the ceasefire idea on Wednesday in a phone call with Egyptian President Abdel Fattah el-Sisi. This is one of the perils of having a president who defaults to agreeing with the last right wing dictator to speak with him.
IVORY COAST
4404 confirmed cases (+223)

41 reported fatalities (unchanged)
Unknown attackers struck an Ivorian military outpost near the border with Burkina Faso on Thursday morning, killing at least ten soldiers. The attackers seem to have come from Burkina Faso but there's no indication as to their allegiance (if any). Burkinabé and Ivorian security forces are engaged in an ongoing joint operation against jihadist forces in their shared border region.
EUROPE
RUSSIA
502,436 confirmed cases (+8779)

6532 reported fatalities (+174)
A few hundred Russian election officials have started a petition urging Russian President Vladimir Putin to postpone a scheduled July 1 referendum on a package of constitutional amendments that would, among other things, allow Putin to remain in office until 2036. Russia's coronavirus outbreak has fallen from last months' peak, but it seems to have plateaued at levels that aren't particularly encouraging. The petition is unlikely to accomplish anything. But fearing low turnout, officials in Moscow are trying to entice people to the polls with—wait for it—a raffle. Some two million gift certificates are apparently on offer. Moscow's city government is characterizing the raffle as an economic stimulus program, which as spin jobs go has to be one of the worst I've ever heard.
BELARUS
51,816 confirmed cases (+750)

293 reported fatalities (+5)
Belarusian authorities raided the offices of the Belarusian branch of Russian financial firm Gazprombank on Thursday, ostensibly over allegations of tax evasion. What makes this noteworthy is that, until very recently, the Belarusian branch of Gazprombank was run by Viktor Babariko, who is running against President Alexander Lukashenko in August. Quite a coincidence. Also coincidental is the recent arrest of a blogger named Sergei Tikhanouski, who has been a leading figure in the anti-Lukashenko movement and whose wife is running in the August election. There has been a groundswell of popular opposition to Lukashenko fueled in large part by his callous and ineffective response to the pandemic, and while Lukashenko is a dictator, he's suddenly acting like a dictator who fears for his political future.
AMERICAS
UNITED STATES
2,089,701 confirmed cases (+23,300)

116,034 reported fatalities (+904)
Chairman of the Joint Chiefs of Staff Mark Milley apologized on Thursday for his participation in Donald Trump's church photo op—you know, the one where he gassed Lafayette Park ahead of time—last week. The New York Times is reporting that he considered resigning over the fallout from that whole escapade, though since that piece of information comes from unnamed Milley "associates" I think you may want to take it with a grain of salt. Still, he's been more forthright about his participation than any of the other Trump chuds who were there, so that's something. He'll probably be out of a job soon.
Finally, I think we can say that the Center for Nonproliferation Studies' Sarah Bidgood does not support the idea of the United States conducting a nuclear test:
The last 42 months have offered a sobering window into the Trump administration's philosophy on nuclear arms control. On display is its penchant for withdrawing from agreements rather than engaging in dispute resolution—be they the Joint Comprehensive Plan of Action, the Intermediate-Range Nuclear Forces Treaty, or, most recently, the Open Skies Treaty. While many experts see this approach as ill-conceived and damaging to U.S. national security interests, the administration often frames it as a form of brinkmanship designed to signal resolve in an era of strategic competition. The intended message appears to be that the United States will no longer play ball unless its rivals—Russia and China—agree to abide by Washington's rules.

The latest example of this tendency comes amid reports that the administration might conduct a "rapid" nuclear test to strengthen its hand in negotiations with China and Russia. Experts around the world have denounced this proposal as dangerous, foolhardy, and "catastrophically stupid." As they point out, were the United States to test for the first time in nearly three decades, it would open the door for the resumption of widespread explosive testing. At the same time, it would undermine the nuclear taboo, hurt the credibility of the nonproliferation regime, and diminish support for the Comprehensive Nuclear-Test-Ban Treaty (CTBT). While all true, these arguments are unlikely to sway this administration, which has shown little regard for existing norms or the disarmament machinery writ large.

What might give decision-makers pause, though, is the fact that a nuclear test is unlikely to be an effective signal in the current context. It would not help deliver President Donald Trump's goal of a trilateral arms control agreement, but it would provide ample opportunity for misinterpretation and a response in kind. In the process, it would likely put Washington in a worse negotiating position than when it started, making it not only risky but also pointless to boot.