World update: July 28-29 2019
Stories from Saudi Arabia, Afghanistan, Nigeria, and more
Hi everybody. Just to give you all a head's up, this is going to be a short week here at FX. I need to do some traveling on Thursday through the weekend. Wednesday's update will be the last before I leave and we'll be resuming normal activity next Tuesday.
THESE DAYS IN HISTORY
July 26, 657 (give or take): The Battle of Siffin
July 26, 1847: Liberian Independence Day
July 26, 1945: Harry Truman, Winston Churchill and Chiang Kai-shek issue the Potsdam Declaration, laying out the terms under which they expected Japan to surrender lest it face "prompt and utter destruction." The Japanese government's decision to either reject or at most refuse to comment on the proposal (there's some disagreement about how to translate their response) contributed to the US use of atomic bombs to destroy the cities of Hiroshima and Nagasaki. After those bombings the Japanese government accepted Potsdam's terms.
July 27, 1299: If we go by Edward Gibbon, Osman I leads a ragtag band of raiders into Nicomedia, marking the beginning of his career as a warlord and thus the foundation of the Ottoman Empire. Nobody really goes by Gibbon for much of anything anymore, nor does anybody really think the Ottoman Empire was founded in a single moment. But if you do want to put a firm date on the empire's origin I suppose this one is among the choices.
July 27, 1794: Challenged by Maximilien Robespierre to arrest all those he deemed "traitors" to the revolution, which could have included pretty much any or all of them (he didn't specify), France's National Convention decides it would just be easier to arrest Robespierre instead. In what is now known as the "Thermidorian Reaction" since it took place in the month of Thermidor on the revolutionary calendar, Robespierre and dozens of his associates were rounded up. A group of 22, including Robespierre himself, were executed the following day.
July 27, 1942: The First Battle of El Alamein ends in a tactical stalemate but a strategic victory for the Allies, since it keeps Axis forces out of Egypt.
July 27, 1953: The Korean Armistice Agreement freezes—but technically doesn't end—the Korean War.
July 28, 1821: Peruvian Independence Day
July 28, 1915: The US military occupies Haiti following a revolt that culminated in the assassination of pro-US Haitian President Vilbrun Guillaume Sam. Woodrow Wilson ordered the occupation out of concern that Germany could use the uprising to establish a foothold in the Western Hemisphere (and to make sure Haiti repaid the sizable loans it had received from several US financial institutions, but we don't like to talk about that part). The US didn't return control of Haiti to the Haitians until 1934.
MIDDLE EAST
SYRIA
At least nine people were killed in pro-government air and artillery strikes across rebel-held northwestern Syria on Sunday, according to the Syrian Observatory for Human Rights. Five reportedly died in an airstrike in the town of Ariha, in Idlib province, where a day earlier at least 11 were killed when another airstrike hit a marketplace. Ariha, which sits right on the vital M4 highway connecting Aleppo and Syria's Mediterranean coast, has become a main target for pro-government forces in recent days.
IRAQ
The Turkish military says it "neutralized" (Ankara's sanitized word for anything from capturing to killing) 34 Kurdistan Workers' Party fighters in airstrikes on northern Iraq over the past week. That means it's "neutralized" 255 alleged PKK fighters there since it began the ongoing "Operation Claw" campaign in late May.
ISRAEL-PALESTINE
Israeli Foreign Minister Yisrael Katz is reportedly about to unveil a new plan to bribe countries to relocate their embassies from Tel Aviv to Jerusalem:
In his upcoming presentation to the government, Katz will propose giving countries willing to move their embassies to Jerusalem an aid package worth NIS 50 million (around $14.2 million). Because Israel is preparing for another general election, scheduled for September 17, Katz's proposal pertains to the 2020 national budget. However, according to his proposal, he would have the authority to divert resources from the current budget to facilitate such an embassy move.

The funds would be earmarked to help finance the relocation or launch of a new embassy, or transfer the ambassador's residence to Jerusalem; locate and designate suitable real estate; help the Jerusalem Municipality, local authorities and relevant bodies make the proper accommodations; and provide cooperation and other aid to the relevant country in accordance with the circumstances. A steering committee headed by Foreign Ministry Director-General Yuval Rotem will decide how the aid packages are allocated among the countries.
The Israelis figured that when the United States moved its embassy it would kick off a wave of other countries following suit. It hasn't, though, and part of the reason seems to be that some countries are waiting for Israel to make it worth their while.
OMAN
Omani Foreign Minister Yousuf bin Alawi bin Abdullah was in Tehran on Sunday to meet with Iranian officials around the recent uptick in tensions in the Persian Gulf. He told reporters that Oman and Iran are "cooperating" on issues related to protecting ships in the Strait of Hormuz (Iran and Oman are two of the three countries surrounding the strait, along with the UAE), but seemed eager to note that Oman is not trying to mediate anybody's conflicts in the region.
SAUDI ARABIA
The Houthis say they've launched another drone attack on Abha Airport in Saudi Arabia. There's been no word yet from the Saudis.
The Wall Street Journal reported earlier this week on Saudi Crown Prince Mohammad bin Salman's big plans to build a brand new high tech city, called "Neom," along the Saudi-Jordanian-Egyptian border, and, well, they sure are something:
I think my favorite part here is that, amid the plans for flying taxis (MBS reportedly doesn't even want to put roads in the city because we'll all have flying cars by 2030), MMA robot dinosaur maids, genetic supermen, light up sand, a 4K fake drone moon, and all-encompassing surveillance, MBS is also making sure you can get drunk at lots of classy restaurants. What a guy. Anyway, while I support the effort to separate junior from some of his undeserved inheritance, there have to be some more deserving recipients than McKinsey and Boston Consulting. The Yemeni people should see at least a cut of whatever these guys are making on this fantasy.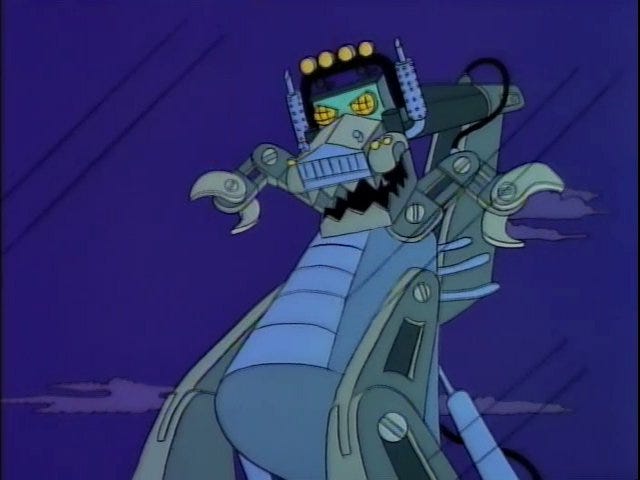 Artist's rendering of MBS's robot dinosaur/cage fighter
IRAN
The remaining parties to the 2015 Iran nuclear deal met in Vienna on Sunday for talks on salvaging the accord that were "constructive," according to Deputy Foreign Minister Abbas Araqchi. He didn't go into any details, however, and ultimately it sounds like the discussion was nice but not especially productive. The Iranians now appear to be treating the British seizure of their tanker, the Grace 1, in Gibraltar earlier this month as a violation of the nuclear deal, which doesn't bode well for the prospects of maintaining Iran's compliance with it. They're also warning that a putting a European naval force in the Persian Gulf to protect shipping, as the British government has proposed, would be "provocative." Make of that what you will.
Iranian media, meanwhile, is reporting that Ali Akbar Salehi, head of Iran's Atomic Energy Organization, is planning to "restart" work at Iran's nuclear reactor at Arak. This could be another step back from the nuclear deal on Iran's part, but it's not entirely clear what Salehi actually said. Arak is a "heavy water" reactor, which without going into details means that it produces plutonium that can be reprocessed into material for weapons. The nuclear deal provided for China and the United Kingdom to help convert the reactor to a design that generates less plutonium. We don't know if Salehi was referring to work on a redesigned reactor or on the older, plutonium generating reactor.
ASIA
AFGHANISTAN
Afghanistan's presidential campaign kicked off on Sunday with a literal bang, with an attack on President Ashraf Ghani's running mate, Amrullah Saleh, at his party's offices in Kabul. Saleh was wounded in an initial bombing, which killed two people, and was evacuated from the office before it was attacked by gunmen. No group has claimed responsibility as yet. The day before, a Taliban bombing killed three people in a police headquarters in eastern Ghazni province, while four police officers were killed in a gun battle with Taliban fighters in another part of that province.
As for the election, the violence, not to mention the government's inability to do anything to stop the violence, has a lot of voters thinking about staying home when it comes time to cast their vote in September:
"Why should I vote?" asked Fatima Hussaini, a resident of Kabul, the capital, expressing a widespread view among the electorate.

"The government hasn't done anything for us, and we're not stupid enough to vote again," declared Ms. Hussaini, who said her 2014 vote had been wasted.

Mohammad Ashraf, 41, a shopkeeper, said he, too, would not vote because he does not believe it would improve security. "I don't want to take the risk," he said.

Their fears were not without cause. In Afghanistan, running elections and going to the polls can be life-or-death decisions.
The Taliban reiterated on Sunday that they will not begin talks with the Afghan government until they strike a deal with the US that sets a withdrawal date for US forces. Afghan State Minister for Peace Affairs Abdul Salam Rahimi had said on Saturday that intra-Afghan talks were set to begin in the next two weeks, which came as a great surprise given the Taliban's stated position on holding talks with Kabul. It would appear that Rahimi got ahead of himself, but maybe not my too much—the US and the Taliban continue to hold talks in Doha focused on, among other things, setting a deadline for the US to vacate Afghanistan. It's not out of the question that they could achieve a breakthrough on that front relatively soon.
PAKISTAN
Two attacks in recent days have killed ten Pakistani security forces. Friday evening, four paramilitaries were killed in Baluchistan province in an attack that has yet to be claimed by any militant group. Then on Saturday, a Pakistani Taliban force ambushed a military vehicle in the North Waziristan region, killing six soldiers.
KASHMIR
Indian officials say that police killed a senior leader of the Jaish-e-Mohammad insurgent group along with an "associate" in southern Kashmir on Sunday.
INDONESIA
Now that he doesn't have to worry about reelection, Indonesian President Joko Widodo wants to focus his second term on building a wall around Jakarta to keep the city from sinking into the ocean. Jakarta's unchecked development has exhausted aquifers under the city, which is causing the whole place, already at a low altitude to begin with, to subside. Some estimates have as much as the third of the city sinking by 2050, if nothing is done. The wall project has been kicked around for some time now but political challenges have kept it from getting off the ground.
CHINA
Hong Kong protests continued in force over the weekend. On Saturday, thousands gathered in the town of Yuen Long to protest the events of last weekend, when people returning home from another protest were brutally attacked by a mob of suspected Triad members in a local train station. The protest turned violent, with demonstrators lobbing bottles and rocks at police, who responded with tear gas. Police then rushed the same train station and basically cosplayed as the (alleged) Triads who beat up protesters there last weekend. At least 23 people were injured.
On Sunday, tens of thousands of protesters hit downtown Hong Kong, close to the Liaison Office, which is Beijing's main headquarters in the autonomous region. The demonstration was permitted but the location was not, and again things got violent—police responded with tear gas and rubber bullets.
AFRICA
SUDAN
Khartoum saw fresh protests over the weekend, after the official investigator for the country's ruling military junta reported that 87 people were killed when government forces violently broke up a weeks long protest in the Sudanese capital. That figure, while higher than previous estimates released by the junta, is still about two-thirds of the real death toll according to Sudanese opposition groups. The new demonstrations come at a sensitive time, as opposition leaders and the junta's governing council are trying to put the finishing touches on a transition agreement to manage the country for the next three years until elections are held.
On Saturday, Sudanese and South Sudanese leaders extended their ceasefire with the Sudan People's Liberation Movement-North rebel group, which was to have expired at the end of the month. The SPLM-N is a branch of the larger Sudan People's Liberation Movement, which fought the Second Sudanese Civil War and is now the dominant political party in South Sudan. It's active in the regions of Blue Nile and South Kordofan regions, which remained part of Sudan in the breakup agreement, and Sudanese leaders have complained for years that it's been sheltered by South Sudan. It agreed to a ceasefire with Khartoum after the ouster of ex Sudanese President Omar al-Bashir back in April.
LIBYA
An airstrike south of Tripoli late Saturday reportedly hit a field hospital and killed five people, four of them doctors. The Libyan government has blamed the "Libyan National Army" for the strike but the LNA has so far said nothing, and the AP reported Saturday that both the LNA and the government had been engaged in a heavy air battle around the capital over the previous 24 hours. The LNA seems to have advanced on a couple of fronts after being stalemated for weeks. It reportedly seized a military camp south of Tripoli and was threatening to cut a main highway between Tripoli and Misrata. The latter would be a huge blow to the government, since its most capable defenders are Misratan militia fighters opposed to LNA commander Khalifa Haftar. The LNA struck an air base outside of Misrata during the fighting.
TUNISIA
Nothing major is happening in Tunisia. Which I think is worth noting, seeing as how Tunisian President Beji Caid Essebsi died on Thursday. Democratic institutions are supposed to be able to withstand the death of a head of state, but Tunisia's democratic institutions are less than ten years old—as recently as 2011 the country was under a dictatorship. So given that Essebsi was the first elected president in Tunisian history, and not only Tunisia but the Arab world as a whole doesn't have much precedent for something like this, the fact that Tunisia's institutions seem to be holding together as intended is a pretty big deal.
NIGERIA
Suspected Boko Haram fighters attacked a funeral party in a village outside the city of Maiduguri on Saturday, killing at least 65 people at last count. That count has steadily risen from an initial report of 23, so it may rise further. Fighters in the village reportedly killed 11 Boko Haram fighters in a clash two weeks ago, so this massacre was likely a retaliation.
Meanwhile, the Nigerian government has officially outlawed the Shiʿa Islamic Movement of Nigeria, after a week of protests in Abuja in which at least 20 IMN members were killed by Nigerian police. The IMN is demanding the release of its leader, Ibrahim Zakzaky, who was imprisoned back in 2015. Sunday's move came after a court ruling on Saturday allowing the Nigerian government to list the IMN as a terrorist organization.
SOMALIA
A US airstrike in northern Somalia on Saturday reportedly killed a "facilitator" for Somalia's ISIS affiliate. US Africa Command offered no other details about the strike.
EUROPE
RUSSIA
Russian authorities arrested at least 1373 people on Saturday during a demonstration in Moscow. An estimated 22,000 people turned out in opposition to the government's decision to disqualify several opposition politicians from running in local elections in September. Local offices are some of the only political outlets still available to Russian opposition parties since they've been systematically excluded from national elections, so these protests do have some anti-Putin undertones to them.
UNITED KINGDOM
New polling suggests the Conservative Party has seen a bump since Boris Johnson's takeover, mostly by swiping support from the far-right Brexit Party. Johnson's pledge to leave the European Union at the end of October no matter what—his cabinet is now preparing for a no-deal Brexit—clearly appeals to the Nigel Farage crowd. It doesn't appeal to many Tory MPs, however, and a group led by former Chancellor of the Exchequer Philip Hammond is reportedly conspiring with the opposition Labour Party to prevent a no-deal scenario from playing out. At the extreme that could mean voting no-confidence in a Tory-led government, which may be too far even for Hammond (who mostly seems to loathe Johnson). It's unclear how many pro-EU Tories would be willing to risk their party's parliamentary majority over Brexit.
AMERICAS
BRAZIL
In another fantastic development for Brazilian democracy, President Jair Bolsonaro is now publicly musing over the possibility of jailing meddling journalists:
Brazil's president renewed his attacks on journalist Glenn Greenwald on Saturday, raising the possibility of jail a few days after members of his party said the American's Brazil-based internet publication was "aligned with criminal hackers" for reporting the contents of hacked phone conversations involving the current justice minister.

The reports in The Intercept Brazil have led to questions about whether Justice Minister Sergio Moro improperly consulted with prosecutors when he was a judge overseeing the mammoth "Operation Car Wash" corruption investigation. Moro, whose work in that probe has made him a hero for many Brazilians, is a key member of President Jair Bolsonaro's Cabinet.
Bolsonaro's government has hastily rammed through new laws allowing expedited deportations of "dangerous" foreigners (I'm not sure how they're defining "dangerous" here), but as Greenwald is a legal resident he's protected from that to some degree. So Bolsonaro suggested to reporters on Saturday that "maybe he will be imprisoned here in Brazil." Nice.
UNITED STATES
Finally, Donald Trump ended weeks of speculation on Sunday by announcing the resignation of Director of National Intelligence Dan Coats. Trump and Coats have never really seemed to get along, and at one point Trump reportedly considered abolishing the DNI office altogether just to be rid of him. He backed off when advisers told him Congress would never go for it. He'll be replaced by Representative John Ratcliffe of Texas, who will probably be worse than Coats but who, to be fair, is probably not the worst person Trump reportedly considered for the job.