World update: July 23 2019
Stories from China, South Korea, Djibouti, and more
THESE DAYS IN HISTORY
July 22, 838: An outnumbered Abbasid army defeats the Byzantines under Emperor Theophilos at the Battle of Anzen/Dazimon, in eastern Anatolia. The victory allowed the Abbasids to proceed unimpeded to the major Byzantine city of Amorium, in central Anatolia, which they would eventually sack in one of the most devastating episodes of the Byzantine-Abbasid conflict.
July 22, 1456: The Siege of Belgrade ends
July 22, 1946: Members of the Irgun, a Zionist terrorist group that was one of the predecessors of the modern Likud party, bomb the King David Hotel in Jerusalem and kill 91 people in the process. Their target was the headquarters of the British mandatory authority and the attack was meant as a response to the British arrest of hundreds of Zionist militants in Operation Agatha in late June. Most Zionist leaders condemned Irgun, which in turn blamed British authorities for not evacuating the hotel despite telephoned warnings about the bomb.
July 23, 1952: Egypt's 23 July Revolution
July 23, 1970: With British assistance, Qaboos b. Said al-Said overthrows his father, Said b. Taymur, and becomes sultan of Oman. Qaboos, who still rules Oman today, ended his father's policy of isolationism and began investing Oman's oil wealth in development projects.
MIDDLE EAST
SYRIA
Syrian state media reported Wednesday morning on a possible Israeli strike on an area of southern Deraa province where Iranian militias are known to operate. No details on the strike have been forthcoming as yet.
YEMEN
There is an abandoned oil tanker anchored near the Yemeni port of Ras Issa that apparently poses an imminent environmental threat that cannot be resolved because of Houthi resistance. The tanker's hull is eroding, raising the possibility of a major oil spill, and to make matters worse gases have undoubtedly built up inside the vessel, raising the possibility of an explosion followed by a major oil spill. The Houthis are reportedly preventing a United Nations team from boarding the craft to assess the situation because they want assurances that they can sell the oil. The vessel holds over one million barrels of oil and is single-hulled.
IRAQ
Iraqi forces marched through farmland north of Baghdad on Tuesday as part of an extended operation to clear out any remaining ISIS presence near the Iraqi capital and in other areas like the Syrian border. The operation may be more symbolic than anything else, since ISIS cells will likely evade the patrols and simply return to remote areas once the Iraqi forces have gone through. The intent, then, might simply be to let Iraqis see their government Doing Something About The Problem.
LEBANON
Israel's United Nations ambassador, Danny Danon, told the Security Council on Tuesday that Iran has begun using the Port of Beirut (which he called the "Port of Hezbollah") to smuggle weapons to Hezbollah. The Lebanese government accused Danon of attempting to pre-justify an attack on Lebanon and of threatening Lebanese infrastructure.
SAUDI ARABIA
The Senate Foreign Relations Committee is looking at competing bills that would reshape the US/Saudi relationship, one from Republican committee chair James Risch and the other from Democratic ranking member Robert Menendez:
Risch put forward a bill, backed by Republican Sen. Marco Rubio and Democratic Sens. Jeanne Shaheen and Chris Coons, that would force the secretary of state to conduct a review of the U.S.-Saudi relationship and deny or revoke visas to some members of the Saudi royal family as reprisal for the kingdom's human rights violations. Republican Senate aides told Foreign Policy that Risch consulted with the White House and State Department on the bill.

Menendez and Republican Sen. Todd Young introduced a bill that takes a harsher line on Riyadh, backed by Republican Sens. Lindsey Graham and Susan Collins as well as several Democrats. Their bill halts some U.S. arms sales to Saudi Arabia, bars U.S. refueling of Saudi aircraft engaged in Yemen, and puts sanctions on people involved in the murder of Khashoggi. 

Critics of Risch's bill say it doesn't go far enough in punishing Saudi Arabia, while critics of the Menendez and Young-led bill say it is doomed to fail, as Trump is expected to veto it. "Risch isn't trying to be soft on the Saudis, he's trying to actually do something relevant, he's trying to reassess the relationship," one Republican Senate aide said. 
IRAN
It looks like several European nations are preparing to put together a joint mission to protect shipping in the Strait of Hormuz at the United Kingdom's request. Their response to the UK hasn't exactly been enthusiastic, but it's been far more positive than the response to a similar idea suggested by the Trump administration several weeks ago. The mission would involve France, Germany, Italy, and Spain in addition to the UK and would thereby sidestep issues around involving the US/NATO or the European Union (given the complications posed by Brexit). The Iranians, meanwhile, say they'll secure the strait, but for some reason I don't see European leaders being reassured by that.
ASIA
AFGHANISTAN
After his White House meeting with Donald Trump on Monday, Pakistani Prime Minister Imran Khan said Tuesday that he will try to encourage the Afghan Taliban to meet with the Afghan government. The Taliban's refusal to do so remains the single biggest impediment to a peaceful settlement of the Afghan war. Pakistan does wield some influence over the Taliban, it wielded considerably more a few years ago when the Taliban could only operate out of Pakistan. Now that the Taliban controls a large chunk of Afghanistan again it's unclear how much leverage Khan actually has. It's also unclear how much he's going to be prepared to test that leverage.
The aforementioned Afghan government, meanwhile, would like some "clarification" of comments Trump made to reporters before his meeting with Khan, in which he suggested that he could "win" the Afghan war "in a week" but he won't because he doesn't "want to kill 10 million people." Presumably this means the thought of nuking Afghanistan has crossed Trump's vestigial brain at some point, which for some reason seems to be alarming the Afghan government.
PAKISTAN
A bombing in a market in the suburbs outside of Quetta on Tuesday killed at least two people and wounded 29 more. No group claimed responsibility for the attack but given the location both Baluch separatists and Islamists are possible.
INDIA
The Indian government also has some questions about Trump's comments on Monday—specifically, they'd like to know why he offered to "mediate" the India-Pakistan dispute over Kashmir. They'd especially like to know why Trump suggested that Indian Prime Minister Narendra Modi had asked him to mediate that situation, when it's longstanding Indian policy to reject mediation. Given that the US wants to cultivate a relationship with India as an Asian counterweight to China, this is not an ideal situation. Trump's own State Department walked his remarks back after he made them by reiterating that US policy on the issue has been and continues to be support for a direct Indian-Pakistani dialogue.
CHINA
James Dorsey argues that China is taking a risk in basing so much of its Belt and Road initiative on deals with unpopular authoritarian governments:
China's infrastructure and energy driven US$1 trillion Belt and Road initiative involves risky bets across a swath of land populated by often illiberal or autocratic governments exercising power without independent checks and balances. 

Seeking to reduce risk, China is bumping up against the limits of its own long-standing foreign and defence policy principles, foremost among which its insistence on non-interference in the domestic affairs of others, the equivalent of the United States' preference for stability rather than political change.

If popular revolts in Algeria and Sudan as well as smaller, issues-oriented protests elsewhere in the Middle East and North Africa are anything to go by, China appears to be betting against the odds.
Beijing has a particular issue in the realm of corruption. It wants Belt and Road projects to minimize corruption as part of Xi Jinping's overall anti-corruption drive, but it has to be very careful about pushing corrupt regimes to open the books lest it spur broader anti-corruption movements that could threaten those regimes.
NORTH KOREA
Kim Jong-un inspected a swanky new submarine on Tuesday that could be Pyongyang's long-anticipated first ballistic missile sub. The North Koreans are being cagy, but it's believed they've been trying to develop that technology for some time now. The new sub's unveiling is probably intended as a message to Washington about what could happen if diplomacy doesn't pick up again soon. It doesn't violate Kim's moratorium on nuclear and missile testing, but it's close enough to get the point across.
SOUTH KOREA
The Russian and Chinese air forces conducted their first joint Indo-Pacific drill on Tuesday, and boy did it go well:
The Japan Air Self Defense Force (JASDF) scrambled fighter jets in response to the joint air patrol to intercept and escort the Chinese and Russian bombers as well as their accompanying support aircraft. According to the Japanese MoD, the two Tu-95MS bombers also flew through the Miyako Strait, situated between the Japanese islands of Okinawa and Miyako in the East China Sea.

The aircraft also reportedly entered South Korea's air defense identification zone (KADIZ). "The Russian aircraft stayed in KADIZ for about 93 minutes, and the Chinese warplanes stayed there for 85 minutes," according to Yonhap news agency citing information provided by country' MoD. Air defense identification zones are not considered sovereign or territorial airspace. South Korea's MoD said that the Chinese and Russian aircraft were "engaged in coordinated maneuvering" while flying in the KADIZ.
Outstanding! The South Koreans say they fired "hundreds" of warning shots at the patrol, even though their legal right to do so is questionable, given that the patrol never actually penetrated South Korean airspace. The Japanese government has filed protests with both Russia and South Korea, since part of this incident took place in airspace disputed by both Tokyo and Seoul. Really well done all the way around. Everybody gets a gold star.
OCEANIA
PAPUA NEW GUINEA
The massacre of 18 people in a village in PNG's Hela province earlier this month has brought attention to a deteriorating security situation brought on what appears to be a very badly managed gas project:
Today locals live in constant fear and Hela is a virtual no-go zone to outsiders despite the fact that the recent atrocities played out barely 30 kilometres, as the helicopter flies, from the fortified compounds that are the heart of the nation's largest resources project,⁠ the $US19 billion Exxon-Mobil led PNGLNG (Liquefied Natural Gas).

There is widespread distress in the highlands over unrealised promises around this enterprise and explosive anger at the failure of royalties to flow to landowners in the gas fields despite five years of operations.⁠ The Huli, famous for their elaborate wigs and face paint, are also fearsome fighters. Sharing, caring and loving, says Janet Koriama – just don't take what is ours.

The maelstrom of the LNG fallout, old enmities, new jealousies, deteriorating basic services and, last year, a devastating 7.5 magnitude earthquake, underwrites a spiralling social emergency⁠ in which tribal fighting has razed villages, closed schools, displaced communities and caused an unknown toll of casualties.
AFRICA
NIGERIA
Shiʿa protesters organized by the Islamic Movement of Nigeria clashed with Nigerian police in Abuja for the second day in a row on Tuesday. At least three people died in the violence on Monday but there's no word on any new casualties from Tuesday's incident—though witnesses did report hearing gunfire. The protesters want to force the Nigerian government to release IMN leader Ibrahim Zakzaky, imprisoned since 2015.
SOUTH SUDAN
South Sudan's National Salvation Front rebel group says its fighters killed eight South Sudanese soldiers in a confrontation in Central Equatoria state on Tuesday. The group contends that its forces were attacked by the soldiers. The NSF is one of many rebel groups that are supposed to be integrated into the South Sudanese military under a general peace deal reached last year, but the progress on that integration program has been very slow.
Meanwhile, South Sudanese President Salva Kiir has apparently banned the singing of the country's national anthem except when he's present and under a few very specific circumstances when he's not present. Which is…weird, let's be honest here. I think the point is to keep any random regional governors or military commanders from aggrandizing themselves at his expense, and given South Sudan's brief and civil war-wracked history I suppose that makes sense. But it's still weird.
DJIBOUTI
At Africa Is a Country, Lion Summerbell looks at the budding great power contest happening in the Horn of Africa:
But it is at Camp Lemonnier, a few minutes' drive from Djibouti City, that the scale of America's military investment in Africa is most viscerally and visibly felt. Lemonnier is for all intents and purposes detached from the country surrounding it: US personnel are forbidden to leave the base without special permission. 88 acres when it was first leased by Bush's administration in 2001, today it has swelled to over 600, hosting both the Combined Joint Task Force – Horn of Africa and Special Operations Command (Forward) – East Africa. With 4,000 military personnel and private contractors, it is the largest US military base in Africa and among the largest in the world. It has also spawned a second base at nearby Chabelley Airfield, with one of the world's biggest drone operations—deployed, most recently and most infamously, in support of the horrific Saudi-led invasion of Yemen.

All of this manpower and material is said to be part of an aggressive war against al-Shabaab, a radical religious militia whose aim is to reconstitute Somalia as an Islamic state. One wonders if Somalian instability really demands such expensive attention. Piracy is a persistent problem, and both Kenya and Ethiopia, staunch American allies with large Muslim populations and non-Muslim governments, have no interest in having a radical Islamic state across their borders. But these are important regional considerations, not supra-regional ones. It's been twenty years since Nairobi and Dar; even the war in Yemen will eventually end. The logic of Lemonnier lies elsewhere.
Specifically, it lies in countering China's growing interest in the region in general and Djibouti in particular. The US no longer engages in much soft power projection, so when China invests heavily in developing Djibouti's Doraleh port for its own uses, Washington responds by boosting its hard power presence in the country. It's not a particularly attractive look, but it's like they say—when all you've got is a hammer, everything starts to look like a nail.
DEMOCRATIC REPUBLIC OF THE CONGO
Congolese rebels, probably belonging to the Islamist and (allegedly) ISIS-backed Allied Democratic Forces, killed at least 12 people in attacks on two towns near the city of Beni on Monday. That's the epicenter of the DRC's ongoing ebola outbreak, highlighting the unrest that's made containing the outbreak such a tall order.
EUROPE
ITALY
Italian Prime Minister Giuseppe Conte on Tuesday backed plans to complete the Treno Alta Velocità, a high-speed rail project that would link Italy's rail network with France's. The project has been one of a number of disagreements between the two parties that comprise Italy's coalition government—the Five Star Movement, which opposes it, and the League, which supports it. Conte had previously been skeptical about the project, but apparently the European Union has coughed up more funding and there's a decent chance that the French government will do likewise, meaning that, as Conte put it, Italy would stand to lose more by canceling the project than it does by completing it.
SPAIN
After his coalition talks with the Podemos party broke down on Monday, Spanish Prime Minister Pedro Sánchez lost a confidence vote on Tuesday that would have locked his government in place. Spain may now be heading toward a snap election, but there are a lot of steps along the way. Sánchez does get a second bite at the apple on Thursday, and the terms are a bit less severe—instead of needing an absolute majority of the 350 members of the Spanish Congress of Deputies, in the second vote Sánchez only needs a simple majority of the votes cast. That's the good news, from his perspective. The bad news is that even under those conditions if the Thursday vote goes the way Tuesday's vote did he'll still lose. So he still needs to get Podemos on board by Thursday. If he can't, Spain will go into a two-month limbo wherein Sánchez will get a chance to regroup and try again, but if he fails then it's back to the polls.
UNITED KINGDOM
As expected, Boris Johnson has won the election to succeed Theresa May as leader of the Conservative Party and will therefore also succeed her as UK prime minister.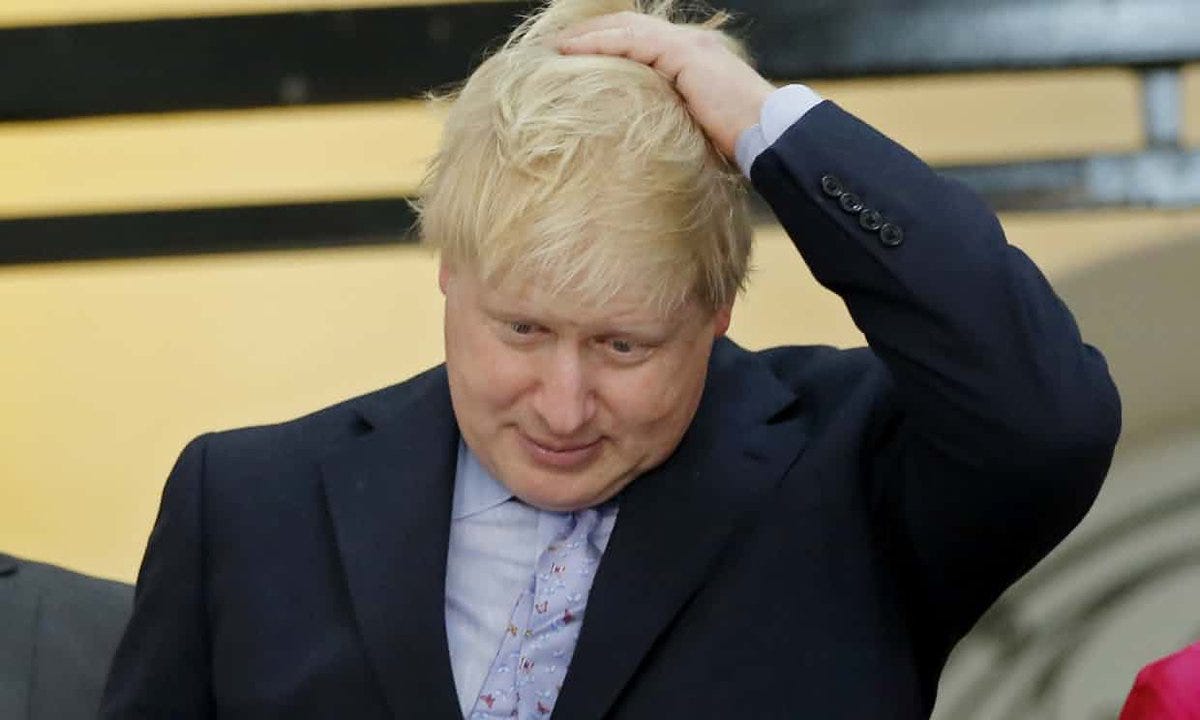 Really looking forward to it.
Now comes the slide toward a no-deal Brexit. Johnson has promised to take the UK out of the EU on October 31 one way or another. He insists he'll be able to negotiate a new Brexit deal by then, though EU leaders have repeatedly said they have no intention of reopening those talks. Conservative MPs opposed to a no-deal scenario have warned Johnson that if he attempts to take the UK out of the EU without a deal they will rebel, potentially scuttling his parliamentary majority and forcing a snap election. But there's a decent chance they're bluffing, as even Tory rebels probably don't want to risk a snap election that their party could easily lose.
AMERICAS
VENEZUELA
Venezuelan officials have managed to turn power back on in Caracas, but several states are still without electricity as well as services that depend on electricity, like water, gas, and phone service. Venezuelan officials are still claiming that the outage was caused by some sort of "electromagnetic attack," but the fact is that Venezuela's infrastructure is a wreck. Blame government mismanagement, blame the punishing effect of US sanctions, but either way these blackouts are going to continue unless and until Venezuela's power grid is rebuilt.
GUATEMALA
Donald Trump now apparently wants to punish Guatemala with tariffs and other economic penalties, after its government opted to pull out of a "safe third country" agreement it was negotiating with the US:
No, I don't know what "the 'BAN'" actually is.
Guatemalan President Jimmy Morales was keen to cut a deal, which would have allowed the US to send asylum seekers to Guatemala to await word on their cases, but he was stymied by the country's Constitutional Court, which ruled earlier this month that he couldn't negotiate such a deal without congressional approval. He's appealed the court ruling, presumably on grounds that the court doesn't have jurisdiction over foreign policy, but that seems like a long shot.
UNITED STATES
Finally, there's a new report recently issued by the Canadian Centre for Policy Alternatives, the Institute for Policy Studies, and the Rosa Luxemburg Foundation attempts to craft a more left-wing trade policy:
Progressives can and do seek to preserve the benefits of trade, but at the same time to embed trade agreements in a new legal ecosystem of rights and obligations that looks first to the rights and health of citizens, workers, communities, and the planet. In other words, progressives insist on trade rules that give priority to human rights and the rights of nature over corporate rights. 

A reformed international trading system must be inclusive, and tolerant of different ideas about how our economies and societies are organized. Through special and differential treatment, trade rules must accommodate the development aspirations of the Global South. A progressive trade model would also redress the long-ignored rights of excluded and disadvantaged groups everywhere to productively participate in the global economy. The harmful secrecy surrounding trade and investment treaty negotiations must be replaced by an open and transparent treaty-making process that no longer gives the upper hand to corporate lobbyists and other insiders. 

Another overarching theme in our report is the demand for a new trade treaty framework that supports core progressive policy priorities such as universal health care, strong public services; robust environmental protection and resolute action on climate change; full employment in meaningful work that provides a good standard of living; strengthened labor standards and trade union rights; the primacy of universal human rights, especially the rights of women, Indigenous Peoples, and all those seeking equity; and the greater democratization of economic decision-making.