World update: July 16 2019
Stories from Iran, North Korea, and more
THESE DAYS IN HISTORY
July 16, 1212: The Battle of Las Navas de Tolosa
July 16, 1661: A Swedish bank, the Stockholms Banco, issues the first European banknotes. Paper money had already been in use for centuries across Asia and the Knights Templar, among others, picked up the idea and applied it to pilgrims heading to the Holy Land. Also, the Stockholms Banco went bankrupt a few years after it started printing paper bills and the concept didn't really take hold for a couple of decades afterward. Still, I think we can agree that this is kind of an important development.
July 16, 1809: The La Paz Revolution sees the city of La Paz, now in Bolivia, briefly achieve independence from Spain. Like the paper banknote thing above this revolution didn't take at first, but it's part of a wave of local uprisings that eventually coalesced into the Spanish-American wars of independence.
July 16, 1945: The United States conducts the first successful detonation of an atomic weapon at Alamogordo Bombing and Gunnery Range in New Mexico. How lovely for them.
July 16, 1979: Saddam Hussein, already Iraq's de facto ruler, makes it official by replacing Ahmed Hassan al-Bakr as president. How lovely for him.
MIDDLE EAST
SYRIA
Local witnesses and the Syrian Observatory for Human Rights are reporting that at least 12 civilians were killed Tuesday in a Syrian airstrike on the village of Maar Shoreen in Idlib province. The Syrian military says it did carry out airstrikes in the vicinity of the village but insists it was targeting rebel combatants.
TURKEY
Donald Trump says it's "not really fair" that Turkey can't purchase the F-35 as a result of its decision to buy Russia's S-400 air defense system. I get the impression he's not so much upset at the effect on Turkey as he is over the loss of a big arms sale, but nevertheless he's not entirely wrong here. The Turkish government has done plenty of questionable things over the past several years, but the S-400 deal came about after a) the US refused to sell the Patriot missile system to Ankara and b) Turkey shot down a Russian aircraft along the Syria-Turkey border back in 2015. The US and the rest of NATO made it clear at the time that Turkey was on its own in any conflict with Russia. This was probably a sensible decision, but as a result a suitably weakened Ankara had to make the equally sensible decision to get back in Moscow's good graces. The S-400 deal is as much a gesture of friendship toward Russia as a response to Turkey's air defense needs. Now Turkey is going to be sanctioned over a decision that was in part forced upon it by the US.
IRAQ
A double suicide bombing in Baghdad late Monday killed at least five people. ISIS claimed responsibility.
JORDAN
The Jordanian government has named a new ambassador to Qatar. Which wouldn't be that big a deal except that it's been two years since Jordan withdrew its last ambassador from Qatar on account of the whole Saudi vs. Qatari Gulf fiasco. The Jordanians insist they're not trying to insult the Saudis by renormalizing their relations with Qatar, but they may be looking for support to help them resist the Kushner Accords if/when they're finally rolled out. The Saudis won't help and will likely try to strong-arm Jordan into supporting Kushner's "peace plan," but the Qataris most likely won't and they've got plenty of resources to help Jordan resist Saudi pressure.
UNITED ARAB EMIRATES
A Panamanian-flagged oil tanker owned by a Dubai-based firm called Prime Tankers has gone missing in Iranian waters in the Strait of Hormuz. The MT Riah vanished over the weekend after apparently turning off its tracking system. Its last known position was on the Iranian side of the strait. Obviously it's possible the Iranians have seized the vessel, but after its disappearance emerged on Tuesday Iranian media reported that a "foreign oil tanker" had become "disabled" and drifted into Iranian waters, where it was assisted by the Iranian navy. Which sounds simple and believable, I guess. I don't know enough about ships or tracking systems to say whether it's peculiar that the tracking system went offline as the result of some sort of malfunction on the tanker. The Iranians are continuing to demand that Britain release one of their tankers, seized earlier this month in Gibraltar en route (allegedly) to Syria.
SAUDI ARABIA
Saudi air defenses on Tuesday intercepted three drones launched by the Houthis at Saudi facilities in Asir and Jizan provinces. Houthi media had earlier reported that the Yemeni group had launched drone strikes against Jizan airport and the King Khalid air base outside the city of Khamis Mushait.
IRAN
In a major development, Iranian Foreign Minister Mohammad Javad Zarif has opened the door to negotiations on Iran's missile program—previously considered to be an Iranian red line. Except he really hasn't. Zarif argued that it was the flow of US weapons into the Persian Gulf, not Iran's missile program, that is destabilizing the region, and said that before Iran would consider talking about its missiles the US would have to stop selling weapons to Saudi Arabia and the UAE. If you think that's a real overture toward talks then you have a much different view of US foreign policy and its arms industry than I do. The Iranians later clarified, for good measure, that their missiles are still non-negotiable. Donald Trump, by the way, says that his administration has made "a lot of progress" when it comes to Iran, and no I have no idea what he's talking about.
United Nations officials are concerned over restrictions that the Trump administration has placed on Zarif's movements while he's visiting the UN in New York this week. Zarif is barred from going anywhere apart from the UN, the offices of Iran's UN mission, and Iran's diplomatic residence in the city. This is meant to prevent him from giving talks and going to think tank-sponsored events, as he often does while in the US. Zarif is still giving media interviews though, so the restrictions aren't really having the desired effect.
The Mojahedin-e Khalq (MEK) held its annual conference in Albania over the weekend. If you've ever thought about joining this totally legitimate Iranian opposition group that is not in any way a creepy cult whose only support is bought, probably with Saudi money, here's what you can expect:
Last month, the Guardian spoke with about a dozen men in Tirana who had fled the MEK compound over the past two years. With no passports or other documents, they remain in limbo, unable either to work or to leave the country. The picture they painted of life inside the compound was of a cult-like atmosphere in which mobile phones and contact with relatives were banned, all interactions between men and women were prohibited, and days were spent sitting at computers firing out tweets and other online messages in support of the MEK.

Each evening, the men had to gather in small groups with their commanders for "ideological training" as well as a confessional about any sexual thoughts they might have had that day.

"For example, you would have to say: 'I saw a girl on television and I got an erection,' or 'This morning I masturbated,'" said Hassan Heyrani, one of the defectors. He said there was no specific punishment for such admissions except scolding and embarrassment. "If you admit to it too often they will get angry and say: 'How do you want to create freedom for the Iranian people if you have an erection every day?'"
ASIA
PAKISTAN
Good news for frequent flyers: Pakistan has reopened its entire airspace to civilian flights. Islamabad closed its airspace back in February when it almost went to war with India over Kashmir. It reopened part of its airspace a few weeks later but it now appears that everything is back to normal.
MYANMAR
The State Department has imposed travel restrictions on several high-ranking Myanmar military officers over the Rohingya genocide:
The measures target the Myanmar government's commander in chief, Min Aung Hlaing, deputy commander in chief, Soe Win, and two brigadier generals, Than Oo and Aung Aung. U.S. officials said that no other government in the world has taken public action against military leaders in Myanmar, which is also known as Burma.

"We designated these individuals based on credible information of these commanders' involvement in gross violations of human rights," Secretary of State Mike Pompeo said in a statement. "We remain concerned that the Burmese government has taken no actions to hold accountable those responsible for human rights violations and abuses, and there are continued reports of the Burmese military committing human rights violations and abuses throughout the country."
Those generals won't be able to travel to the US, for whatever that's worth. The designation of Min Aung Hlaing, who still more or less controls Myanmar, is a relatively big deal. It would be a bigger deal if the Treasury Department were to sanction him, but Treasury is still considering the ramifications of taking that step.
THAILAND
Thailand's new civilian cabinet was sworn in by King Maha Vajiralongkorn on Tuesday, marking the end of over five years of military rule. At last, instead of the country being run by the military it will be run by civilians who all just happen to be many of the same people who were running it under the military government and whose authority depends on the military's support. You know, democracy.
NORTH KOREA
Trump also says his administration has made "tremendous progress" with North Korea, which is pretty wild because, well:
North Korea warned Tuesday that planned military exercises involving U.S. and South Korean forces would jeopardize proposed disarmament talks with Washington, and hinted it might respond by resuming nuclear and missile tests. 

In a statement, the North's Foreign Ministry accused the United States of violating the spirit of negotiations between President Trump and dictator Kim Jong Un by proceeding with military maneuvers scheduled for next month. At their first meeting, in Singapore last year, Trump said he was "stopping" major exercises with South Korea to avoid provoking Pyongyang.

The North said its moratorium on nuclear and missile tests was a commitment it made to improve bilateral relations, "not a legal document inscribed on paper."

"With the U.S. unilaterally reneging on its commitments, we are gradually losing our justification to follow through on the commitments we made with the U.S.," it said.
The truth is that Trump has made a lot of progress with North Korea, if you account for where he took that relationship for the first year of his presidency. We've certainly come a long way from the president tweeting threats to rain hellfire down on Pyongyang or whatever. But if you start with where things were before Trump came into office, other than a couple of photo ops not that much has really changed. The exercise freeze and nuclear/missile testing freeze were the only two major developments in US-North Korea relations, and it would appear that they're both about to go by the wayside (though there's some uncertainty about whether/when those US-South Korean exercises are actually going to happen).
AFRICA
SUDAN
Military and civilian leaders met in Khartoum on Tuesday to put the finishing touches on a power-sharing deal they reached earlier this month to create a transitional government to shepherd the country to democratic elections in three years. And already a potential deal-killer has emerged. Civilian leaders say they're opposed to any framework that would grant "absolute" immunity to military figures. Junta leaders want blanket immunity, for obvious reasons, and may not be willing to proceed without it.
MALI
The Treasury Department on Tuesday sanctioned two leaders of Mali's al-Qaeda franchise, Jamaʿat Nasr al-Islam wal Muslimin or JNIM—Ali Maychou and Bah Ag Moussa. The latter used to be a colonel in the Malian army and the former is a Moroccan national.
EUROPE
EUROPEAN UNION
Former German defense minister Ursula von der Leyen was indeed elected president of the European Commission on Tuesday with 383 votes, just nine more than she needed to secure a majority. Not the widest of margins, to be sure. Von der Leyen only won due to support from far right anti-EU parties—Poland's far-right Law and Justice Party in particular—which could put her in an awkward position given that she's promised to expand the EU's role in fiscal matters and doesn't seem to want to completely bar asylum seekers.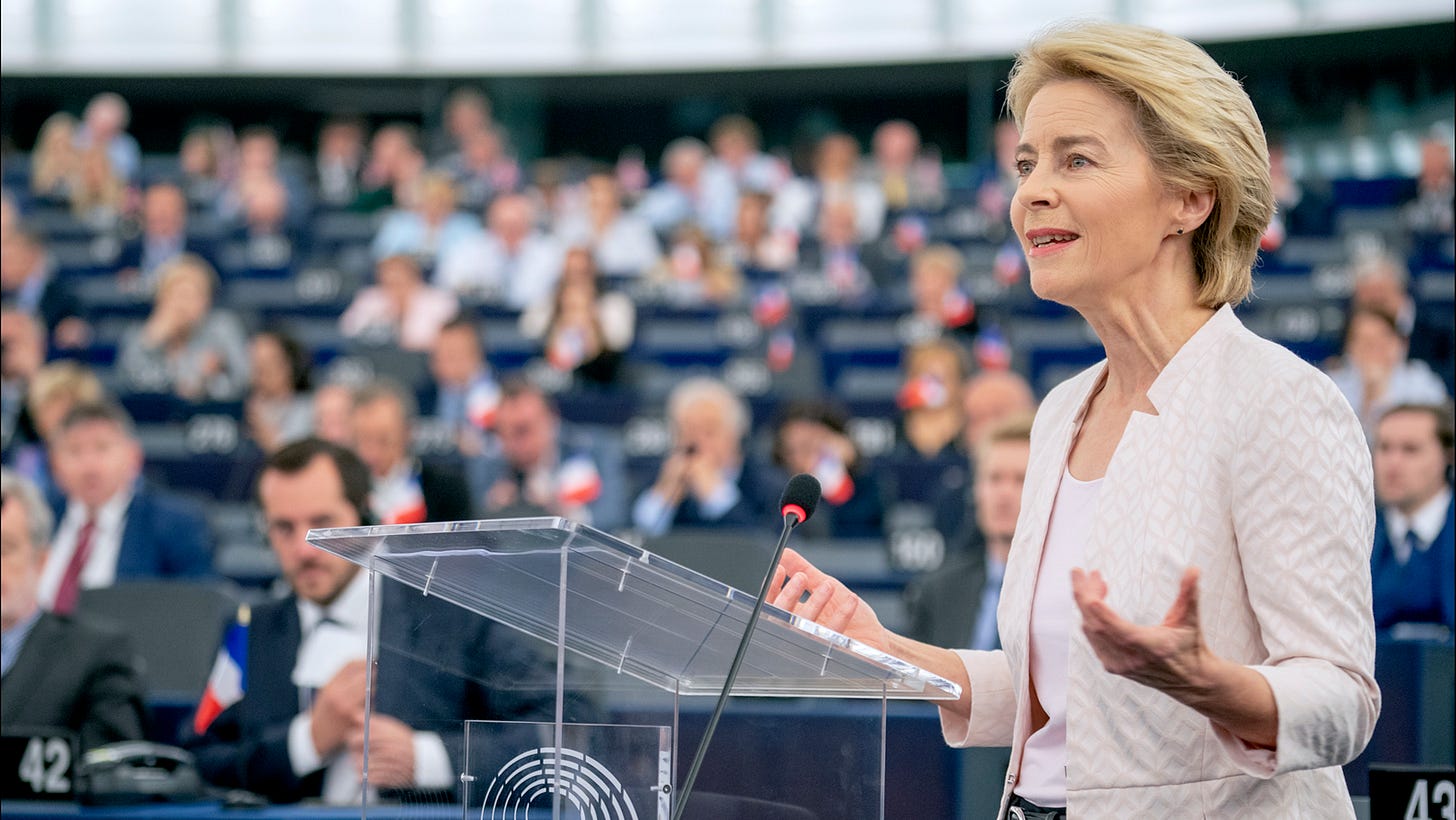 Von der Leyen speaking to the European Parliament on Tuesday (European Parliament via Wikimedia Commons)
Meanwhile, former International Monetary Fund boss Christine Lagarde is taking a new job as the head of the European Central Bank. She's a somewhat strange choice for the gig, given that she's not a banker and has no training in finance, but she's definitely austerity-obsessed enough for the position. And she presumably picked up something during her eight years running the IMF. She's also well-respected among European finance ministers, which is the only real qualification to run the ECB.
NATO
Soooo NATO wrote a thing:
A recently released — and subsequently deleted — document published by a NATO-affiliated body has sparked headlines in Europe with an apparent confirmation of a long-held open secret: U.S. nuclear weapons are being stored in Belgium, Germany, Italy, the Netherlands and Turkey.

A version of the document, titled "A new era for nuclear deterrence? Modernisation, arms control and allied nuclear forces," was published in April. Written by a Canadian senator for the Defense and Security Committee of the NATO Parliamentary Assembly, the report assessed the future of the organization's nuclear deterrence policy.

But what would make news months later is a passing reference that appeared to reveal the location of roughly 150 U.S. nuclear weapons being stored in Europe.
Whoops! As the excerpt here implies this really isn't a big deal, but I thought you'd enjoy hearing about it anyway.
CYPRUS
The Turkish government has been so cowed by European sanctions over its gas drilling operations in Cypriot waters that it's sending a fourth ship to the area to do more drilling. Ankara says EU sanctions will not deter its offshore plans, which makes sense in that Turkey likely stands to make more money from extracting Cyprus's gas than it could realistically lose to EU penalties.
UKRAINE
According to Ukraine's likely next foreign minister, Vadym Prystaiko, Kiev and the Russian government have agreed to a prisoner swap of captives taken during fighting in eastern Ukraine. It's unclear how many prisoners will be involved. That's the good news, from the perspective of reducing tensions in Eastern Europe. The bad news is that Ukrainian and Russian representatives duked it out at the UN Security Council on Tuesday over a Ukrainian language law that Moscow says will discriminate against Ukraine's many Russian speakers. The law passed earlier this year and requires Ukrainian to be used for media and government purposes. It's not the usual kind of thing that the UNSC handles, but the Russians apparently felt it warranted some scrutiny.
SPAIN
Only a day after Spanish Prime Minister Pedro Sánchez declared their talks "failed" and decided to push ahead with a confidence vote that he might lose, the left-wing Podemos Party offered Tuesday to make "concessions" to Sánchez's Socialist Party to try to make a deal. Podemos is still looking a coalition government, however, when what Sánchez wants is support for a single-party minority government. The party has asked its members whether it should continue pursuing a coalition deal or agree to back off and give Sánchez what he wants. The results should be in later this week and will dictate Podemos's next move.
UNITED KINGDOM
Von der Leyen says she's ready to support another Brexit extension, but if the next UK prime minister is Boris Johnson, as expected, then he's unlikely to request one. Both Johnson and Jeremy Hunt, his competition, insist that they're going to renegotiate the Brexit deal that Theresa May reached with Brussels, in particular by getting rid of that deal's Northern Ireland "backstop," but there hasn't been the slightest hint of any EU willingness to reopen those talks.
AMERICAS
VENEZUELA
Negotiators for the Venezuelan government and opposition are meeting again this week in Barbados. Norway is continuing to mediate the talks, which resumed last week and resulted in an agreement to "set up a platform for ongoing negotiations," which may not seem like much but…eh, it's probably not much.
UNITED STATES
Finally, Mike Pompeo is forming a new Commission on Unalienable Rights, which I guess are kind of like human rights but don't apply to people for whom Mike Pompeo doesn't have any fondness. Some combination of migrants, Muslims, women, and LGBT people, probably. The list of unalienable rights is also likely to be considerably shorter than most internationally accepted lists of human rights—the 1948 Universal Declaration of Human Rights, for example. You can forget about issues of economic injustice and probably shouldn't expect much in terms of racial injustice either. At LobeLog, Paul Pillar explains why this is an unfortunate turn of events:
How any foreign ministry, including the Department of State, should define human rights is related to the question of why human rights should be a major part of foreign policy. There are multiple reasons that it should. One is the moral imperative that all persons should be treated with the respect for human dignity and individual well-being that any other persons enjoy. Another is that the place human rights occupy in a nation's foreign policy is an expression of what that nation stands for and of the character of its citizens.

Too often a discussion of human rights in foreign policy stops there, as in misleading references to a false "values versus interests" dichotomy. But human rights are important in foreign policy for additional reasons. Deficiencies in observance of human rights are closely related to other foreign policy problems and U.S. interests, even when viewing those interests in a hard-boiled manner that might appear to give little attention to values. One facet of this connection is reflected in what political scientists call democratic peace theory, which is not just a theory but a historical pattern in which nations whose citizens enjoy the political rights of democracy do not wage war against each other. More broadly, denial of human rights is directly related to instances across the globe of political instability. It also is very much related to terrorism and other political violence that has harmed U.S. interests.