World update: January 25-26 2020
Stories from Iraq, Italy, Peru, and more
THESE DAYS IN HISTORY
January 24, 41: The Roman Praetorian Guard assassinates the emperor Caligula for…well, a bunch of reasons, including the regular ridicule he heaped upon the Guard's commander, his alleged plans to move the imperial capital to Alexandria, and his, shall we say, grandiose sense of self. With no real plan in place for succession, another Guard faction smuggled Caligula's uncle, Claudius, out of the city and he was subsequently proclaimed emperor.
January 24, 1984: Apple begins selling its Macintosh computer. As this very update is being written on a Mac, in 2020, I would have to say the product turned out to be fairly successful.
January 25, 750: The Battle of the Zab
January 25, 1971: A Ugandan military coup led by General Idi Amin overthrows the socialist regime of President Milton Obote. Amin would rule as a brutally authoritarian dictator until he was ousted during the Uganda-Tanzania War of 1979.
January 26, 1565: The Battle of Talikota
January 26, 1699: The Treaty of Karlowitz
January 26, 1788: The British First Fleet arrives at the future Port Jackson and plants a flag on Sydney Cove, marking the establishment of Britain's penal colony in Australia. Annually commemorated as Australia Day.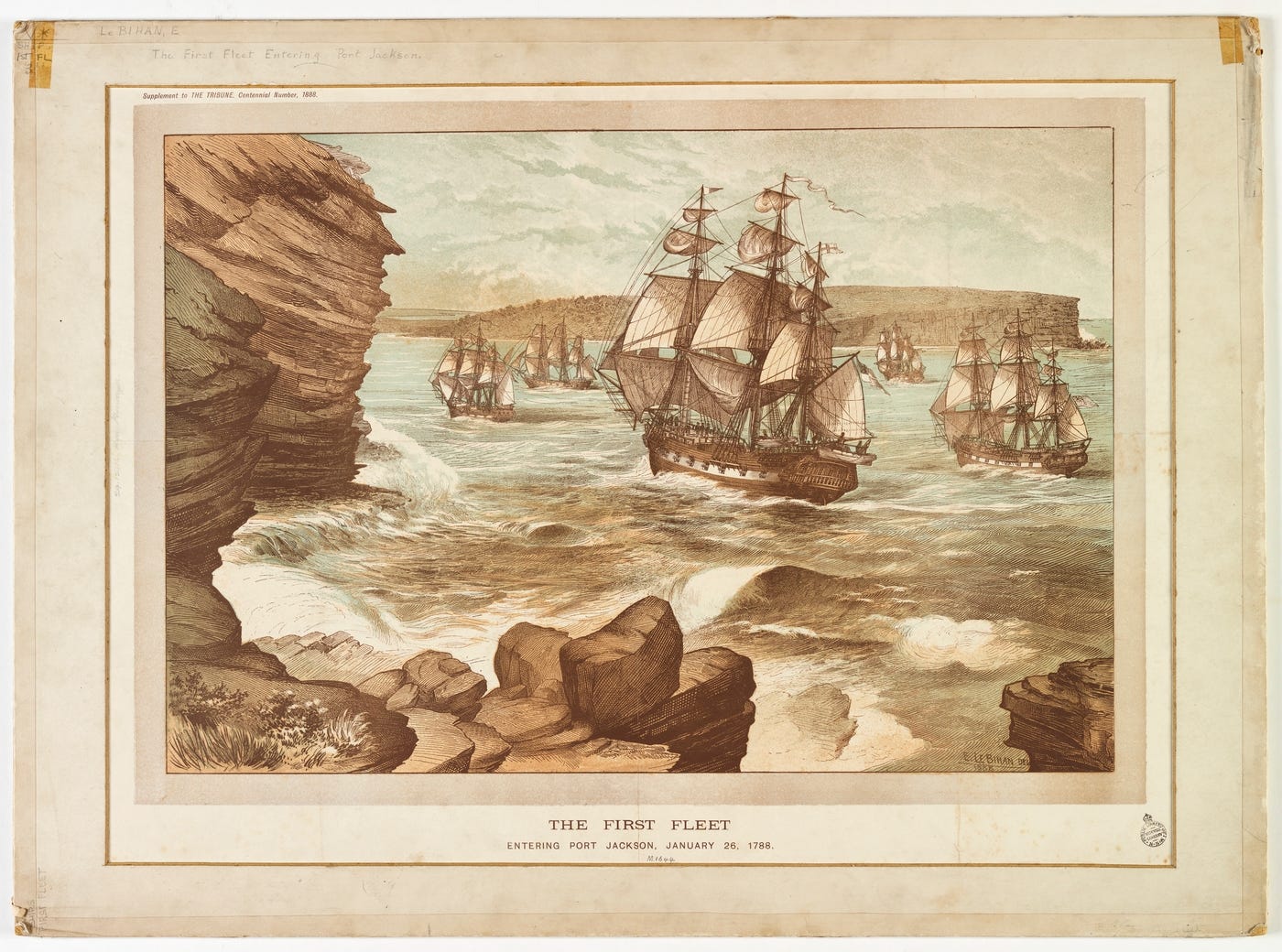 An 1888 lithograph titled The First Fleet Entering Port Jackson on 26 January 1788, by Edmund Le Bihan (Wikimedia Commons)
MIDDLE EAST
SYRIA
One person was killed and several more injured in a truck bombing in the northern Syrian city of Azaz on Sunday. Turkey and its rebel proxies control Azaz so it's probable that the Kurdish YPG militia was responsible, though so far no group has claimed the attack.
Pro-government forces in Idlib province have reportedly advanced to the outskirts of the city of Maarrat al-Numan amid reports of heavy airstrikes. The Syria livemap shows that those pro-government forces have also cut the M5 highway north of Maarrat al-Numan and have begun to encircle the city. It seems likely they'll take the city in relatively short order though there does appear to be a rebel counterattack ongoing. There are also reports of Russian airstrikes on the city of Saraqeb, which is the next major population center north of Maarrat al-Numan along the M5 and will probably be the next Syrian-Russian target. From Saraqeb they could continue north along the highway or turn west and head toward Idlib city.
IRAQ
There was a Katyusha rocket attack on the US embassy in Baghdad Sunday evening that may have caused damage and casualties though reports have been spotty:
Iraqi militias sometimes fire rockets into Baghdad's Green Zone and those sometimes land in the vicinity of the US embassy, but that's usually as far as it gets. There may be some US retaliation forthcoming if the embassy was actually hit, and that's especially true if there were any injuries.
At least one person was killed on Sunday in clashes between anti-government protesters and police in Baghdad. There were multiple additional reports of violence in cities across southern Iraq, in which more than 100 people were injured. These casualties happened one day after Iraqi security forces attacked the Baghdad protesters' main camp in Tahrir Square, killing at least four people and wounding several others. This weekend's activity can be taken as a rebuke of sorts to populist cleric and political leader Muqtada al-Sadr, who grandiosely declared on Friday that he was withdrawing his support for the anti-government movement and was throwing all his support behind efforts to force the US military to leave Iraq. Sadr's militia members had been protecting protesters but began withdrawing from the streets after his announcement, and he likely figured his announcement would discourage the demonstrators. Clearly that wasn't the case. Saturday's Tahrir Square raid might not have happened had Sadr's militia fighters still been doing security duty.
Sadr at this point is jockeying for position in an Iraqi political establishment that's been thrown into disarray since the US assassination of Popular Mobilization Forces leader Abu Mahdi al-Muhandis and Iranian Quds Force commander Qassem Soleimani. An opportunist above all, Sadr has in the past portrayed himself as an Iraqi nationalist opposed to Iranian influence in Baghdad in order to gain favor with the people out in the streets. But now it looks like he's intent on becoming Tehran's new Man in Baghdad. There seems to be some mutual interest on the Iranian side, but there's also some bad blood between Sadr and major pro-Iranian figures in Baghdad, and additionally it's an open question whether Iranian officials can really rely on the historically mercurial Sadr as a reliable agent.
ISRAEL-PALESTINE
Donald Trump will meet with Israeli Prime Minister Benjamin Netanyahu and opposition leader Benny Gantz on Monday in Washington to discuss the Kushner Accords. Gantz seems to have insisted on a separate meeting with Trump, which was probably a good idea since whatever Trump is offering is likely intended as an electoral favor to Netanyahu. At least this way Gantz won't look like the third wheel. The details of the "peace plan" are still mostly under wraps but I don't think you need to be Nostradamus to guess its contours, nor do you need special predictive powers to know that they'll be unacceptable to the Palestinians and to much of the rest of the world outside of the US and Israel.
OMAN
Oman's Minister Responsible for Foreign Affairs Yusuf bin Alawi bin Abdullah visited Tehran on Sunday for a meeting with Iranian Foreign Minister Mohammad Javad Zarif. No big deal, really…except that this is the third time bin Alawi and Zarif have chatted this month and the second time in less than a week. I have no idea what's going on here, but I see my own parents maybe three times a year, and no offense to these guys but I can't imagine wanting to see either of them that many times over such a short span. So presumably there's something happening, though it could be as simple as Oman trying to play peacemaker and defuse tensions in the Gulf.
By the way, if you're wondering about Yusuf's convoluted title up there it's because Oman's foreign minister—as well as its defense minister, finance minister, and prime minister—is new Sultan Haitham bin Tariq Al Said. He holds all those offices because his predecessor, Sultan Qaboos, grew increasingly unwilling to delegate authority as his reign went on and ultimately assumed all those jobs unto himself in addition to being sultan. Haitham may want to decentralize things, but he hasn't had enough time on the job yet to make those kinds of decisions. So for now, since he's foreign minister, his chief diplomat has to go by this different and longer-winded title.
IRAN
Iranian officials say they're now stockpiling some 1200 kilograms of low enriched uranium, far above the roughly 200 kilograms they're permitted to store under the 2015 nuclear deal. The Iranians have stopped complying with all of the deal's restrictions on uranium enrichment and storage in response to the Trump administration's 2018 decision to violate all US obligations under the accord. The larger stockpile does in theory lessen the amount of time it would take Iran to produce enough weapons grade uranium for one nuclear device.
ASIA
AFGHANISTAN
The Afghan military carried out a major offensive against the Taliban over the weekend, by its count killing at least 51 of the group's fighters in multiple ground and air operations affecting nine provinces across the country. There have been reports of civilian casualties, including one airstrike in Balkh province that killed at least seven people. The Taliban is also claiming to have killed 18 Afghan forces in two separate weekend attacks, one in Balkh and the other in Kunduz province. The Afghan offensive comes as the US and Taliban are circling around peace talks again, and may have been intended to send a message to the Taliban about taking Kabul seriously as the negotiating process moves forward.
INDIA
Hundreds of thousands of Indians took the occasion of Republic Day (the anniversary of the Indian constitution) to protest against the recently-enacted citizenship law that disadvantages Muslim immigrants in comparison with immigrants from other faith communities. The protests were particularly intense in the Indian states of Kerala and Uttar Pradesh and the city of Mumbai, which all have sizable Muslim minorities, and there were reports of explosions in Assam state, which also has a large Muslim minority and has been a focus for protests because of its large immigrant population. The blasts, which don't seem to have caused any casualties, have been claimed by a group called the United Liberation Front of Assam.
The Indian government has partially lifted its internet blackout in Kashmir, but only very partially. Communications in Kashmir were cut off altogether in August, just before the Indian government stripped the region of its constitutional autonomy, but landline and mobile phone service has since been restored. The internet blackout was eased on Saturday, allowing 2G mobile service as well as access to 301 websites, mostly entertainment and international news outlets. Needless to say it's still a pretty limited and restricted level of access.
CHINA
The Wuhan coronavirus has now infected at least 2744 patients in China and has killed 80 of them—76 of those in its province of origin, Hubei. Wuhan itself remains almost completely locked down, while Hong Kong authorities on Sunday imposed a ban on visitors from Hubei. Canadian authorities, meanwhile, have identified that country's first case of the disease.
NORTH KOREA
If you're a fan of intrigue within the North Korean ruling family, then here's something that should be be right up your alley:
The aunt of North Korea's leader Kim Jong-un has been seen in public for the first time since the execution of her husband in 2013.

Kim Kyong-hui is the daughter of North Korea's founder, Kim Il-sung, and sister to former leader Kim Jong-il.

She had not been seen since her husband, Chang Song-thaek, was executed by her nephew for "acts of treachery".

But on Sunday, state media released a photo of her enjoying new year celebrations.
It hasn't even been clear whether or not Kim Kyong-hui was still alive, so good for her on that front I guess. One photo isn't exactly a sign that she's back in royal favor, but for a government as stage managed as North Korea's it's also not just a random thing that she's reappeared in public.
AFRICA
LIBYA
Khalifa Haftar's "Libyan National Army" made two moves over the weekend that would seemingly violate the country's existing ceasefire, if that ceasefire were anything more than aspirational. The LNA on Sunday once again shelled (probably, they haven't claimed responsibility) Tripoli's Mitiga airport, damaging the tarmac and wounding two people. Its second, and potentially more consequential, move involved an advance on the city of Misrata, which has been the Libyan government's main source of military support. Misrata's seasoned militias are the most capable fighting force in Libya outside the LNA, and they are firmly opposed to Haftar. They've been the primary defenders of Tripoli since the LNA launched its offensive against the Libyan capital last April. The LNA lost at least two of its fighters in an initial clash around 120 kilometers east of Misrata.
MALI
At least 20 Malian soldiers were killed early Sunday when their military camp near the town of Sokolo in central Mali was attacked by unknown militants. Sokolo is a little out of the usual range for both Jamaʿat Nasr al-Islam wal Muslimin, which is most active in northern Mali, and for the Islamic State, which usually operates closer to the Nigerien border. But presumably one of them was responsible.
EUROPE
ITALY
In something of an electoral surprise, Matteo Salvini's far-right League party did not win Sunday's regional election in Emilia-Romagna. That region has been a reliable stronghold for Italy's Democratic Party, but the League is politically ascendant and the Democrats are, well, not, so Salvini's party was gunning for a victory and its defeat should probably be seen as a mild upset. The League did win the regional election in Calabria, though, so that's something. And ironically it might have gotten closer to its main goal, the snap national election that Salvini's been after since he walked out of the party's coalition government with the Five Star Movement back in August. That's because the politically floundering Five Star did so badly in both regional elections (and by badly I mean mid single digit badly) that its position relative to the Democrats in Italy's current governing coalition can't help but take a hit. The relationship between Five Star and the Democrats was already tenuous. Any disruption to their internal pecking order might be enough to wreck the whole operation.
AMERICAS
BOLIVIA
Bolivia's ruling junta, which to reiterate a common refrain here has absolutely no electoral or political mandate of any kind other than overseeing new elections, has nonetheless found the time and money to hire a lobbying firm in Washington. And not just any lobbying firm, but one that has experience in these sorts of cases:
As many critics have noted, the cycle bears a striking similarity to the coup d'etat that ousted Honduran President Manuel "Mel" Zelaya a decade ago. The left-wing leader was whisked out of office by the military, only to be replaced with an interim government led by right-wing opposition forces that swiftly consolidated power through a controversial election process.

The parallels were apparently not lost on the Bolivia's new rulers. The Áñez government has retained the services of the same Washington, D.C., consultants hired by the Honduran interim government to build American support.

In December, Bolivia inked an agreement with CLS Strategies to provide "strategic communications counsel" for new elections this year and other interactions with the U.S. government.The lobbying firm, previously known as Chlopak, Leonard, Schechter & Associates, provided remarkably similar work after Zelaya's ouster, helping the interim Honduran government earn backing from American policymakers and media outlets as the country held new elections.
PERU
Peruvian voters turned out on Sunday to elect a new congress to replace the one that President Martín Vizcarra dissolved over a corruption dispute last September. Or, well, at least some of them did. Pre-election polling suggested that turnout would not be particularly high despite Vizcarra's efforts to get out the vote. Full results won't be known until at least tomorrow, but the early picture looks extremely muddled with 10 parties represented and none winning more than 24 seats in the 130 seat legislature. The results might nevertheless be to Vizcarra's benefit. His main opposition, the Popular Force part, was a big loser, with its share of the vote falling below 10 percent, and the overall center-right positioning of the new congress should align with Vizcarra's political tendencies. Even if it doesn't, this new congress is only in place temporarily to serve out the term of the one Vizcarra dissolved. A new full term legislature will be elected next year.
UNITED STATES
Finally, Tom Englehardt argues that climate change may finally be moving from an issue that's mostly treated as a product of the distant future to one that is immediately relevant in the here and now:
The real question is: When will climate change truly enter human time — when, that is, will the two time scales intersect in a way that clicks? Perhaps (but just perhaps) we're finally seeing the beginning of an answer to that question for which you would, I suspect, have to thank two phenomena: Greta Thunberg and Australia's fires.

In August 2018, all alone, the 15-year-old Thunberg began a Friday school strike in front of the Swedish parliament in Stockholm to make a point: that however all-encompassing the present human moment might seem, she understood in a way that mattered how her future and that of her peers was being stolen by the adults in charge of this planet and the climate crisis they were continuing to feed. The movement of the young she sparked, one that's still sparking, was a living, breathing version of those two times intersecting. In other words, she somehow grasped and transmitted in a compelling way how a future crisis of staggering proportions was being nailed in place in human time, right at that very moment.

And then, of course, there was — there is — Australia. But one more thing before I get to the devastation of that country. I began writing this piece in New York City on a weekend in January when the temperature hit a record-breaking 65-69 degrees, depending on where in the metropolitan area you were measuring. (A couple of hundred miles north in Boston, it hit 74 degrees!) It was glorious, spring-like, idyllic, everything a human being in "winter" could want -- if, that is, you hadn't made it past Meghan and Harry or Suleimani and Trump, and so didn't have a sense of what such records might mean on a planet threatening to heat to the boiling point in the coming century. We're talking, of course, about a world in which Donald Trump and crew were responding to climate change by attempting to open the taps on every kind of fossil fuel and the greenhouse gas emissions that go with their burning. Meanwhile, despite the news that, by 2100, parts of the North China plain with its hundreds of millions of inhabitants could be too hot for habitation, China's leaders were still pushing a global Belt and Road Initiative that involves the building of at least 63 new coal-fired power plants in 23 countries. Huzzah! And remember that China and the United States are already the top two emitters of greenhouses gases.