World update: January 23 2020
Stories from Israel-Palestine, China, Libya, and more
THESE DAYS IN HISTORY
January 22, 1517: The Ottomans defeat the remnants of the Mamluk army at the Battle of Ridaniyah, one of the more consequential anticlimaxes in history. The Ottomans had all but ensured their conquest of the Mamluk Sultanate at the Battle of Marj Dabiq the previous August, but Ridaniyah technically marks the end of the sultanate and the point at which Egypt (along with Syria and the Hejaz) became an Ottoman possession.
January 22, 1905: The Russian Imperial Guard's massacre of dozens of protesters (demanding better treatment for workers) in St. Petersburg, also known as "Bloody Sunday," marks the start of the 1905 Russian Revolution. As reports of the massacre reached other cities, mass strikes began that sparked more violent reprisals from authorities, and the situation spiraled. The revolution ended in June 1907 with the institution of limited constitutional reforms and the creation of a parliament (the Duma). It also reshaped popular feelings about the Russian monarchy and served as a sort of prelude to the 1917 Russian Revolution.
January 22, 1946: The Republic of Mahabad is born.
January 23, 1368: Chinese rebel leader Zhu Yuanzhang is crowned Hongwu Emperor. Zhu emerged as the leading figure in the very multi-factional Red Turban Rebellion against the Mongolian Yuan Dynasty that began in the 1350s, and his enthronement marks the foundation of the Ming Dynasty that would rule China until its mid-17th century overthrow and replacement by the Qing Dynasty.
January 23, 1963: Fighters with the African Party for the Independence of Guinea and Cape Verde (PAIGC) attack Portuguese forces in the Tite region, kicking off the almost 12 year Guinea-Bissau War of Independence. Badly outgunned, PAIGC fighters were able to use the terrain to their advantage and armed themselves with weapons taken from defeated colonial soldiers. They won the war simply by outlasting the Portuguese, and when the National Salvation Junta came to power in Lisbon after the 1974 Carnation Revolution, it began negotiations with PAIGC that ultimately led to Guinea-Bissau's independence in September of that year. PAIGC also negotiated the independence of Cape Verde from Portugal the following year.
MIDDLE EAST
SYRIA
The Russian military says that Syrian rebels have launched a major counterattack in Idlib province that began on Wednesday, killing upwards of 40 government soldiers and driving their lines back far enough to recapture two villages. It sounds dramatic, but it might also be made up. The rebel National Liberation Front umbrella group says there's been no such attack in the past 24 hours and the Syrian Observatory for Human Rights concurs. The SOHR is suggesting that the rebel attack story is being used as cover for additional Russian and Syrian airstrikes on the province. I haven't seen any reports on the Syria live map to suggest where these alleged attacks are taking place and I wouldn't suggest that either party here should get the benefit of the doubt.
It probably doesn't come as a surprise to learn that the war-torn and sanctions-hit Syrian economy is in lousy shape. But the political and economic crisis in neighboring Lebanon is proving to be the last straw, and as the value of the Syrian pound drops and food prices go up, people are beginning to let the government hear their unhappiness:
The crisis has provoked small signs of dissent, a rarity in the Syrian police state.

Even the al-Watan newspaper, effectively a government mouthpiece, weighed in, reporting the fall of the currency with the headline: "Amid governmental silence . . . the black-market dollar surpasses 1,000 pounds."

On a cold day last week in the Syrian city of Sweida, dozens of people gathered outside a municipal building and chanted: "We want to live! We want to live!"
IRAQ
In addition to the violence Iraqi security forces are visiting upon protesters in the streets—another eight people were wounded in a demonstration in Baghdad on Thursday, for example—activists say that protest leaders are being targeted for assassination. Four such people have been gunned down in separate incidents across southern Iraq over the past two weeks. It's unclear who's targeting these people but suspicion must undoubtedly fall on Iraqi militias, who have been responsible for a large portion of the death toll since Iraq's protests began back in October. The Iraqi Interior Ministry is supposedly investigating the killings.
It sounds like Donald Trump had a nice talk with two of Iraq's most prominent Kurdish leaders—Iraqi President Barham Salih and Kurdistan Regional Government President Nechirvan Barzani—in Davos on Wednesday. Salih urged Trump not to let Iraq become the battleground for the US-Iran conflict, while Trump dodged uncomfortable questions about the US troop presence in Iraq. Later he thanked Barzani for everything he's done to stabilize the safe zone in northeastern Syria, even though Barzani is the president of Iraqi Kurdistan and hasn't had anything to do with the situation in northeastern Syria. He doesn't even really get along with the Syrian YPG militia very well. Of course he is a Kurd, so at least Trump was sort of vaguely aware of some very tenuous connection. Oh, and the White House also initially identified Salih as the President of Iran on YouTube for some reason. Look, these guys are only three years into this stuff. I'm sure in another 10, maybe 12 years they'll have figured out how to find the Middle East on a map and then it's all downhill from there.
ISRAEL-PALESTINE
The Trump administration may have decided to stop waiting for Israel to sort out its political situation before releasing its big Israel-Palestine peace plan. It's reportedly inviting both current Israeli Prime Minister Benjamin Netanyahu and the man who might succeed him after March's snap vote, Benny Gantz, to Washington next week for discussions. The plan is expected to call for the Israeli annexation of all of the unlawful Israeli settlements in the West Bank as well as the Jordan Valley and indeed of the entirety of the West Bank's "Area C," which would encompass 60 percent of the territory and leave Palestinians confined to a series of "Bantustan"-like pockets of territory. In return, the Palestinians would get a hearty handshake, some offers of business deals, and the promise of being dehumanized in perpetuity.
It's important to note, however, that the White House has promised to roll the Kushner Accords out before only to get cold feet over their inevitably poor reception, and that may happen again here.
There is an argument that even a deal along these lines would be better for the Palestinians than the status quo. Israeli journalist Meron Rapoport explains:
Annexation may remove some of the barriers currently imposed on settlers, but it may also make life difficult for them. When the Jordan Valley becomes subject to official Israeli law — rather than to military orders — it may be much more difficult to confiscate land, evict Palestinians, and establish Jewish-only settlements.

Even if Israel decides to grant residency status to the Palestinians it annexes instead of full citizenship (as in East Jerusalem), that status will allow them to move freely and work inside Israel, which will certainly improve their current situation. Yet there is little reason to believe that annexed Palestinians will give up their national aspirations: this did not happen in East Jerusalem after 52 years of occupation, nor has it happened with Palestinian citizens of Israel.

But there is a chance that annexation could boost not only the Palestinians who find themselves under Israeli sovereignty, but the Palestinian struggle writ large. Annexation would force the Palestinian Authority to emerge from its coma; it would make it easier to dismantle the PA, force Israel to regain direct control over the West Bank, and return to a struggle for civil rights in one democratic state between the river and the sea, akin to the PLO's original political program.
The suppression of that civil rights movement could draw international attention that Israeli leaders don't want. Rapoport argues that Netanyahu has dangled annexation as a carrot to gain political support on the Israeli right, but never seriously pursued the idea because he realizes it may not work to Israel's benefit. But now that his political stature is eroding, he's no longer able to hold off the right-wing forces he's been manipulating.
SAUDI ARABIA
The Trump administration says it takes the alleged hacking of Amazon.com billionaire Jeff Bezos's phone by Saudi Crown Prince Mohammad bin Salman "seriously," which to be honest is more than I can say for myself. But it's still advising the Titans of Business to keep doing business with Saudi Arabia anyway, so it can't be taking the (alleged) hack that seriously.
For those of us who aren't billionaires with interesting personal details on our phones, I would suggest that if you're looking for a reason to be upset with the Saudis then the 9/11 attacks still work. In most ways I'm of the "time to move on" school when it comes to 9/11, but in terms of the role the Saudi government played I make an exception, since that part of the story has never even been openly acknowledged, much less addressed. A new investigation from ProPublica looks at the FBI investigation into official Saudi involvement in the attacks, as well as the intense effort by FBI leadership to stifle that same investigation:
The full story of the FBI's investigation into Saudi links to the 9/11 attacks has remained largely untold. Even the code name of the case — Operation Encore — has never been published before. This account is based on interviews with more than 50 current and former investigators, intelligence officials and witnesses in the case. It also draws on some previously secret documents as well as on the voluminous public files of the bipartisan 9/11 Commission.

The Encore investigation exposed a bitter rift within the bureau over the Saudi connection. It illuminated a series of missed opportunities to resolve questions about links between one of Washington's closest allies and the deadliest attack in the nation's history. Richard Lambert, who led the FBI's initial 9/11 investigation in San Diego, as the assistant special agent in charge there, says he believes that even if the FBI's evidence of possible Saudi involvement in the case is not conclusive, it is significant enough that it should be fully disclosed. "The circumstantial evidence has mounted," he says. "Given the lapse of time, I don't know any reason why the truth should be kept from the American people."
The investigation revolved around a Saudi diplomat named Fahad al-Thumairy and a businessman named Omar al-Bayoumi, who appear to have had ties to the 9/11 hijackers and may have been working on behalf of the Saudi government. No summary of mine could possibly do the piece justice so I would urge you to click through and read it yourselves.
IRAN
The Trump administration levied sanctions on Thursday against four companies accused of helping Iran sell oil in defiance of a US-imposed ban. Two of the companies are based in Hong Kong while the others are in Dubai and Shanghai respectively.
ASIA
AFGHANISTAN
Afghan President Ashraf Ghani said Thursday that he'd told Donald Trump—presumably on the sidelines of the World Economic Forum in Davos—that his government is ready for the US to withdraw as much as a third of its forces from Afghanistan. Ghani is trying to appeal to Trump's desire to get out of Afghanistan while potentially fending off a steeper cut that could result from US negotiations with the Taliban. He also wants to ensure that any deal the US cuts with the Taliban fulfills Kabul's priorities for a general ceasefire and direct talks between the Taliban and the Afghan government. So far the Taliban is only offering an unspecified reduction in violence, and if Trump feels like he's under political pressure to make a dramatic troop withdrawal he could accept that offer. On the other hand, if he can make a dramatic troop withdrawal without cutting a deal with the Taliban, he might take a harder line when it comes to issues that matter to Kabul.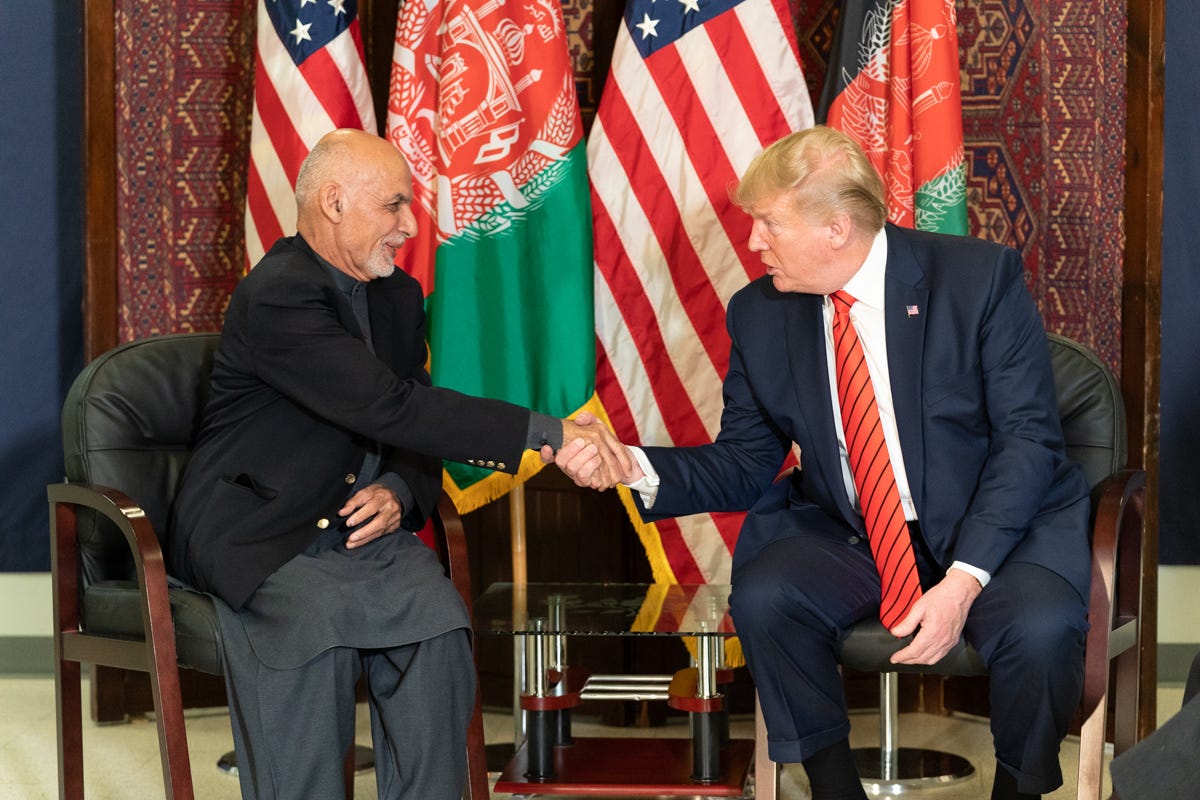 Ghani and Trump meeting in Kabul last Thanksgiving (White House photo via Wikimedia Commons)
MYANMAR
The United Nations' International Court of Justice issued a preliminary ruling on Thursday in the Rohingya genocide case, ordering the Myanmar government to ensure the protection of the Rohingya people and requiring it to report on its progress in four months. The court will likely take years to make a final ruling on the case brought by The Gambia against Myanmar, but in theory this ruling should force Myanmar authorities to stop persecuting the Rohingya and to put in place safeguards against further persecution. In practice, of course, there's no way to enforce an ICJ ruling unless some outside power were willing to do so, and given that Myanmar is increasingly under Chinese protection no outside power is going to step in to make sure this ruling is actually implemented.
PHILIPPINES
Philippine President Rodrigo Duterte says he's giving the US government one month to reverse its decision to deny a travel visa to senator Ronaldo dela Rosa, or else he's going to "terminate" the Visiting Forces Agreement that allows the US military to station personnel in the Philippines. Oh no, not that. It's unclear why Dela Rosa couldn't get a visa but it probably has something to do with his previous gig as a police chief and therefore his involvement in Duterte's mass murder campaign targeting drug users and low level dealers.
CHINA
The World Health Organization said Thursday that it's monitoring the spread of the Wuhan coronavirus but does not believe the situation calls for a global emergency declaration as yet. The situation seems increasingly dire inside China, where over 634 cases of the virus have now been publicly declared and 18 people have died, most of them in Hubei province. Chinese authorities on Thursday announced the first death from the virus outside of Hubei, an elderly man in Hebei province. Entire cities are being locked down, theoretically locking millions of people in place to the extent that such a large quarantine can actually be enforced. Research teams are working on potential vaccines, while one drug company, Gilead Sciences, has begun testing its experimental Ebola drug against this virus.
Globally, however, the WHO has a point. The disease is continuing to spread, with confirmed cases now in Singapore and Vietnam (and possibly Saudi Arabia, though Saudi authorities are denying it). But so far, at least, there have only been a handful of total cases diagnosed outside of China. Until that starts to change there's no reason for any drastic WHO action.
NORTH KOREA
Both Russia and China apparently missed the UN's December 22 deadline to repatriate all North Korean workers. The UN imposed that deadline in 2017 in order to deprive Pyongyang of one of its largest sources of revenue, remittances from expats. The Russian government says it was unable to repatriate its final 1000 North Korean workers by the deadline due to limited transportation, but that none are still working and all will eventually be returned to North Korea. However, Moscow has been issuing a lot of tourist and student visas to North Korean nationals who may be working surreptitiously. The Chinese government, meanwhile, hasn't said anything—on Wednesday, the US government accused it of missing the deadline.
AFRICA
LIBYA
Khalifa Haftar's "Libyan National Army" has declared Tripoli's airspace a no-fly zone and is threatening to target civilian aircraft in the vicinity of the Libyan capital. Haftar's forces attacked Tripoli's Mitiga airport on Wednesday but operations there seem to have resumed by Thursday. The Libyan government has been using Turkish-made drones against the LNA, and according to the LNA it has been flying those drones out of Mitiga. Haftar would seemingly have a lot to lose in making this threat, given the degree to which his LNA has come to depend on foreign assistance and the amount of scrutiny that assistance would come under if the LNA were to actually shoot down an airliner full of civilians. Even if the Libyan government's use of Mitiga to launch military drones has made the otherwise civilian airport a legitimate military target, which is debatable, deliberately shooting down a civilian aircraft can't be justified. Haftar may be bluffing or he may figure that none of his key backers—Egypt, Russia, and the UAE—would feel compelled to stop supporting him in the wake of such an atrocity.
MALI
At least six Malian soldiers were killed overnight when their unit was attacked by an unknown armed group near a village in the Mopti region of central Mali. It's presumed that one of Mali's active Islamist groups carried out the attack but no group has claimed responsibility as yet.
ANGOLA
The Angolan government is asking for international assistance in recovering more than $1 billion that authorities say was looted from state firms to businesses linked to Isabel dos Santos, Africa's "richest woman" (you don't say) and daughter of former president/dictator José Eduardo dos Santos. Much of the investigation into the corruption involves Portuguese bank EuroBic, which apparently had a longstanding relationship with dos Santos and her businesses. The EuroBic banker who managed the account for Angola's state-run Sonangol oil company, which dos Santos briefly ran in 2016, was found dead on Wednesday shortly after the Angolan government named both dos Santos and EuroBic as suspects in its investigation. I'm sure it's just a coincidence. Anyway, dos Santos denies the Angolan accusations and claims she's been the subject of a "witch hunt."
EUROPE
UNITED KINGDOM
Brexit is now the law of the land in the UK, after Boris Johnson's Brexit deal with the European Union passed parliament on Wednesday. The vote was a mere formality in the wake of the Conservative Party's big win in last month's snap election, but it clears the hurdle that Theresa May never cleared and ensures that the UK will leave the EU at the end of the month as scheduled.
AMERICAS
BOLIVIA
The Trump administration has decided to send an ambassador to Bolivia, something the US hasn't had since former Bolivian President Evo Morales kicked the last US ambassador out of the country in 2008. The right-wing junta that replaced Morales in November has been trying to strengthen ties with the United States despite having no electoral mandate to pursue such a policy.
BRAZIL
Jair Bolsonaro's polling numbers are rising, in part apparently because he's tough on crime. And when I say "tough on crime," I mean "he condones police vigilantism." Cops in Rio killed a whopping 1810 people last year, an average of about five people per day and the most they've ever killed in a year since people began tracking that sort of thing. Of course Bolsonaro hasn't been tough on what looks like an epidemic of extrajudicial executions, even though those are also crimes. City officials tout their ultra-violent approach, arguing that it's reduced violent crime in the city. Seems more like they've just shifted the perpetrators of the violent crime from the outlaws to the cops, but that's just me.
UNITED STATES
Finally, the Project on Government Oversight's Mandy Smithberger looks at our ever growing, increasingly untethered to reality military budget:
Call it a colossal victory for a Pentagon that hasn't won a war in this century, but not for the rest of us. Congress only recently passed and the president approved one of the largest Pentagon budgets ever. It will surpass spending at the peaks of both the Korean and Vietnam wars. As last year ended, as if to highlight the strangeness of all this, the Washington Post broke a story about a "confidential trove of government documents" — interviews with key figures involved in the Afghan War by the Office of the Special Inspector General for Afghanistan Reconstruction — revealing the degree to which senior Pentagon leaders and military commanders understood that the war was failing. Yet, year after year, they provided "rosy pronouncements they knew to be false," while "hiding unmistakable evidence that the war had become unwinnable."

However, as the latest Pentagon budget shows, no matter the revelations, there will be no reckoning when it comes to this country's endless wars or its military establishment — not at a moment when President Donald Trump is sending yet more U.S. military personnel into the Middle East and has picked a new fight with Iran. No less troubling: how few in either party in Congress are willing to hold the president and the Pentagon accountable for runaway defense spending or the poor performance that has gone with it.
Of course, a cynic might say the poor performance is part of the package. You can't keep justifying higher military spending if the public thinks there's no longer a threat. Only by maintaining the Forever War can you convince people to keep throwing more and more money your way.