World update: January 18-20 2020
Stories from Iraq, Libya, Russia, and more
Happy MLK Day to US readers and thanks for indulging me as I took an extra day off over the long weekend!
THESE DAYS IN HISTORY
January 17, 1915: The Battle of Sarikamish ends with a very decisive Russian victory over the decimated Ottomans.
January 17, 1991: Operation Desert Storm begins.
January 18, 1976: Christian militias linked to Lebanon's Kataeb Party rampage through the poor and predominantly Palestinian Karantina neighborhood in east Beirut. They're estimated to have killed somewhere in the neighborhood of 1500 people, making the Karantina Massacre one of the first major atrocities of the Lebanese Civil War.
January 18, 2002: The Sierra Leone civil war, which had begun in 1991, ends with the victory of the British-backed Sierra Leone government over the Revolutionary United Front rebels backed by Liberian President Charles Taylor. The conflict was known largely for its atrocities, from the copious use of child soldiers to the mass killing and rape of civilians. For his involvement in the conflict, the International Criminal Court convicted Taylor of war crimes in 2012 and he's currently serving a 50 year prison term.
January 19, 1817: Argentine rebel leader José de San Martín leads his army, along with a group of Chilean rebels led by Bernardo O'Higgins, across the Andes Mountains into royalist-controlled Chile. Although San Martín lost by some counts as much as a third of his army in the crossing, the combined force emerged in Chile and won the decisive Battle of Chacabuco on February 12, forcing royalist forces to withdraw north into Peru. The crossing is considered a milestone in the growth of the Spanish-American independence movement.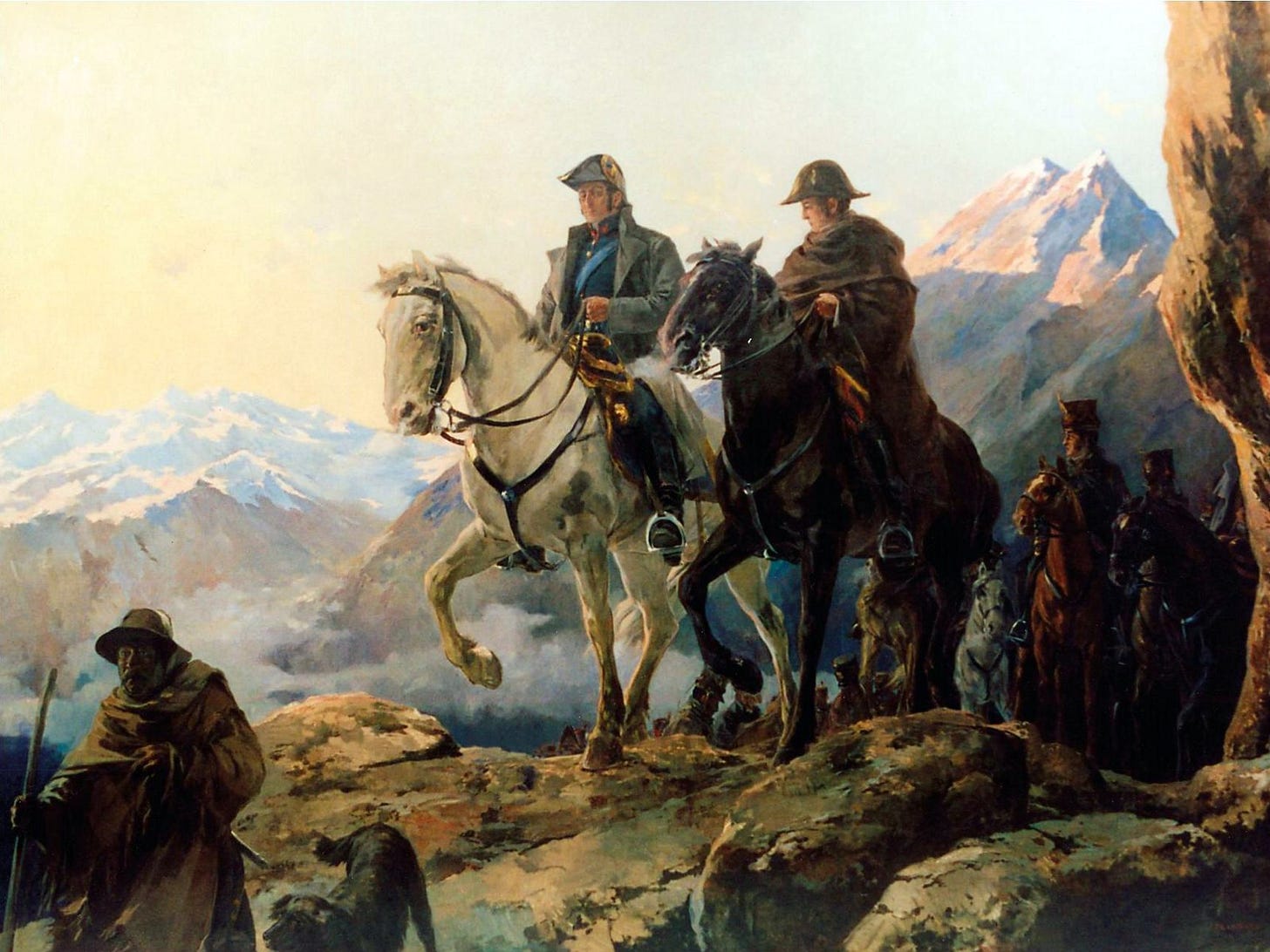 A 1909 painting showing San Martín (left) and O'Higgins on the crossing, by Spanish painter Julio Vila y Prades (Wikimedia Commons)
January 19, 1883: The borough of Roselle in New Jersey becomes the first community lit entirely with electric lighting via overhead wires. The wiring system was designed by Thomas Edison as proof that an entire town could be electrified in this way. Needless to say the concept caught on.
January 20, 1981: The Iranian government celebrates Ronald Reagan's inauguration by ending the 444 day Iran Hostage Crisis with the release of 52 US hostages. The release was the result of months of negotiations between the Iranians and the Carter administration, which produced the Algiers Accords that among other things established an international tribunal to adjudicate claims by US citizens against the new Iranian government and by Iranian citizens against the US. The timing of the release has fed "October Surprise" conspiracy theories about secret talks between the Iranians and the Reagan campaign, but may have simply been a way for the Iranians to twist the knife into the hated Carter.
MIDDLE EAST
SYRIA
Russian and Syrian airstrikes in Idlib resumed on Sunday after a short lull due to inclement conditions that allowed the Islamist insurgent group Hayat Tahrir al-Sham to capture a village in the eastern part of the province. HTS was reportedly able to seize weapons and ammunition in its brief offensive but it's unclear whether they've been able to hold on to the town now that the air campaign has resumed.
According to Al-Monitor's Metin Gurcan, the head of Syria's National Security Bureau, Ali Mamlouk, met in Russia earlier this month with the head of Turkey's National Intelligence Organization, Hakan Fidan. This was the first high level contact between the Turkish and Syrian governments since 2011. Ostensibly they got together to talk over the situation in Idlib and the end of Turkey's military presence in Syria, but according to Gurcan the meeting also touched on their mutual need for "a joint strategy against the YPG." With the US remaining in Syria after all, it would appear the Kurdish militia hasn't been willing to make the concessions Damascus wants, which could lead to a shift in alliances in northeastern Syria. The YPG would be well advised not to count on US protection, but then if they haven't learned that lesson by now they probably aren't going to learn it.
YEMEN
It would appear that Yemen's Houthi rebels attacked a military encampment in Marib province via missile on Saturday, striking a mosque in the facility and killing at least 116 people as of Monday. That death toll has risen precipitously since Saturday and is likely to rise still further, and makes this strike one of the deadliest single incidents in the entire Yemen war. I say "it would appear" the Houthis undertook this attack because I'm not sure who else it could have been, assuming that the camp really was hit by missiles and not something less sophisticated. But the Houthis haven't claimed responsibility for the strike and it comes at a time when it looked like the rebels and the Saudi-backed Yemeni government were at least easing up on the conflict, if not moving (slowly) toward negotiations. If I were inclined to speculate, I might think the Houthis were just looking to send a little message and the high casualty count was unintentional, which is why they haven't said anything about the strike. Regardless, this is the sort of thing that could derail whatever progress has been made toward a peace process in recent weeks.
IRAQ
Protests in Iraq have turned quite violent again, with four protesters and two Iraqi police officers having been killed just on Monday alone. Three of the protesters were killed in Baghdad, two by live ammunition and the third by a tear gas canister, while one was killed in Karbala. The two police officers were killed when they were hit by a car in Basra in what appears to have been an unintentional act by a panicked driver. The casualties came a day after over 30 people were wounded in Baghdad, with the heaviest clashes focused on the city's bridges, where protesters are trying to get across the Tigris River and into the city's fortified Green Zone. Protesters have been setting roadblocks and fires on major roads in and around Baghdad as well as cities across southern Iraq.
Speaking of the Green Zone, somebody fired three Katyusha rockets into the area on Tuesday morning, to no reported casualties or damage. An Iraqi militia was presumably responsible.
The Guardian has identified "Abu Ibrahim al-Hashimi al-Qurayshi," the previously unknown person the Islamic State named as Abu Bakr al-Baghdadi's successor following the would-be caliph's death in October, as Amir Mohammed Abdul Rahman al-Mawli al-Salbi, one of the group's founding members. Salbi has been involved in some of IS's most heartwarming projects, like its enslavement of Yazidi captives in Iraq, so he seems nice. He's an Iraqi Turkmen, which suggests (though it doesn't prove) that the "al-Qurayshi" in his nom de guerre—implying descent from the tribe of the Prophet Muhammad—is more aspirational than genuine. While Baghdadi chose to hide out in Syria it's believed Salbi is somewhere in Iraq, probably in the Mosul area, and his consolidation of control may help explain an increase in IS attacks in that country (though it's also likely that IS reduced the frequency of its attacks so as not to interfere with the Iraqi protests and the violent crackdown by security forces).
LEBANON
Protests have also escalated in Lebanon, where over 370 people were wounded just on Saturday in what was the most violent single day since these demonstrations began. Human Rights Watch has called on Lebanese police to stop doing things like, say, firing tear gas canisters right at people's heads, which seems reasonable. Most of the heaviest fighting has revolved around central Beirut, where protesters are attempting to get closer to official government buildings.
IRAN
There continues to be turmoil surrounding the investigation into the shooting down of Ukraine International Airlines Flight 752 even now that Iran's Islamic Revolutionary Guard Corps has admitted to the deed. The Ukrainian government, which obviously has a major stake in the inquiry, as well as the Canadian government, which lost dozens of citizens in the incident, are both insisting that Iran send the aircraft's black boxes abroad for study. There were suggestions late last week that the Iranians would send them to Ukraine, but on Sunday the Iranians said they would be examining the devices themselves. It's unclear whether they'd be amenable to sending them abroad—either to Ukraine or France, where the Canadians want them to go—after that.
ASIA
AFGHANISTAN
The Afghan government has accused the Taliban of executing six members of one family in Afghanistan's Faryab province on Saturday, but the Taliban is claiming the murders were the result of a local dispute. Local officials claim that the Taliban attacked the family for alleged involvement in prostitution, and that when Afghan police moved in to evacuate the two members of the family who survived they engaged in a gun battle in which three Taliban fighters were killed. The area where the killings happened is under Taliban control.
Kabul wants a full ceasefire as part of any US-Taliban peace deal. That's the Afghan government's response to the Taliban's latest offer of a ten-day ceasefire to take effect once they reach an agreement with US negotiators. The Taliban also offered an unspecified reduction in attacks on Afghan forces to go along with the brief ceasefire, but somewhat understandably the ambiguity isn't doing it for Afghan officials. Given that they already negotiated an agreement only to have Donald Trump step in and quash it when Taliban leaders wouldn't give him the photo op he wanted, it's likely the US and Taliban could reach a new deal pretty quickly if negotiations resume in earnest, though that might require the US to ignore Afghan demands.
KASHMIR
Indian soldiers killed three Kashmiri militants in a gun battle in central Kashmir's Shopian region on Monday. One of the militants was apparently a former Indian police officer who joined Hizbul Mujahideen back in 2018.
MYANMAR
In a shocking turn of events, the panel appointed by the Myanmar government to investigate whether or not the Myanmar government engaged in acts of genocide against the Rohingya community in 2017 has determined that the Myanmar government did nothing wrong. Wow, nobody could've seen this coming. I'm exaggerating a bit, as the panel did allow as to how some war crimes may have been committed here and there during the military campaign against the Rohingya. But ultimately it blamed the whole affair on the Rohingya, arguing that militants precipitated the campaign by attacking several police outposts in Rakhine state. Of course, those attacks themselves were a product of the years of brutal treatment the Rohingya had received at the hands either of the government itself or of Buddhist mobs whose atrocities were ignored by the government. But the report doesn't seem to have gotten into that part of the story.
CHINA
Hong Kong police on Sunday evening arrested activist Ventus Lau after a protest he'd organized earlier in the day led to violent clashes with police. Officials are claiming that Lau obtained a permit for a rally only, but that the demonstration turned into a march and that in turn led to acts of vandalism and a heavy police response.
Meanwhile, there are some troubling signs related to the recent outbreak of a coronavirus in the Chinese city of Wuhan that is believed to have killed at least three people (UPDATE: correction, four) and is starting to raise fears of a new SARS-like outbreak. Chinese researchers confirmed on Monday that people who were never in Wuhan are contracting the virus, meaning it's likely being transmitted from person to person though animal to human still seems to be the most common method of transmission. The outbreak has reached Beijing and Shanghai, and there are now four reported cases of the virus outside of China altogether (one in Japan, one in South Korea, and two in Thailand) amid some 222 cases overall. The World Health Organization has called an emergency meeting for Wednesday to discuss the outbreak and potential steps to contain it.
AFRICA
SUDAN
Somebody tossed a live grenade into a wedding party in Khartoum on Monday, killing at least seven people. I can't even begin to hazard a guess as to who might have been responsible for this or why. Khartoum has certainly seen its share of unrest in recent days but that unrest was directed against the Sudanese government, not random civilians having a party.
LIBYA
The German government's big Libya summit on Sunday produced little more than an indeterminate agreement by all present to Do Better when it comes to halting the Libyan civil war. German Chancellor Angela Merkel expressed attendees' intent that a recently agreed temporary ceasefire between Khalifa Haftar's "Libyan National Army" and Tripoli's Government of National Accord should be made permanent. But before it can be made permanent it probably needs to be implemented, and between reports of renewed fighting south of the Libyan capital and Haftar's decision to shut down Libyan oil exports, it sure doesn't seem like there's any kind of ceasefire, permanent or otherwise, in place at the moment. Haftar refused to sign the document produced in Berlin and reportedly even left the conference early. European leaders did apparently agree to redouble their efforts to enforce an arms embargo on Libya, but that embargo hasn't worked yet and there's no particular reason to expect it to work now.
James Dorsey suggests that the newfound Turkish-Russian interest in settling the Libyan war may be about securing leverage over future energy development plans in the eastern Mediterranean:
The inauguration [of a new Egyptian military base on the Red Sea] took on added significance as rebel Libyan Field Marshall Khalifa Haftar, backed by United Arab Emirates crown prince Mohammed bin Zayed and Egyptian general-turned-president Abdul Fattah al-Sisi, snubbed Russian president Vladimir Putin by refusing to agree to a ceasefire in the Libyan war.

Mr. Haftar's refusal thwarted, at least temporarily, an effort by Mr. Putin and Turkish president Recep Tayyip Erdogan to structure the ceasefire so that it would align opposing Russian and Turkish interests, allow the two parties to cooperate in the exploitation of Libya's energy resources, and protect a Turkish-Libyan maritime agreement creating an Exclusive Economic Zone that strengthens Russian-backed Turkish manoeuvres in the eastern Mediterranean.

The manoeuvres are designed to thwart a Greek-Cypriot-Israeli agreement to build a pipeline that would supply gas to Europe, reducing European dependence on Russian gas in the process.

Critics charge that the maritime agreement that would limit Greek-Cypriot Israeli access to hydrocarbons in the Eastern Mediterranean violates the Law of the Sea.
The pipeline wouldn't just undercut Russia's role as Europe's main gas provider, it would undercut Turkey's role as the main hub for transiting Middle Eastern energy resources to European markets. If the maritime deal between Turkey and Libya holds it would block that pipeline unless Turkey acquiesced to it. Turkey is already at loggerheads with the European Union over its decision to drill for gas in Cypriot waters, which it justifies as protection both of the maritime rights of Cyprus's separatist Turkish population and of Turkey's own rights to its "continental shelf."
TUNISIA
With his first choice as prime minister having failed to form a government, Tunisian President Kais Saied on Monday tapped former finance minister Elyes Fakhfakh for the job. He'll now have a month to cobble together a coalition that can win parliamentary approval, and if he fails then Tunisians can look forward to another parliamentary election in their near future. Lucky duckies!
NIGERIA
Militants attacked a facility used by multiple international aid groups in the village of Ngala near the Nigerian-Cameroonian border on Saturday, killing at least 20 displaced persons who were staying there while awaiting assistance. It's likely that one of the several Boko Haram-related groups that operate in Nigeria was responsible though it's unclear which one. Sometimes location can suggest whether Boko Haram itself or the Islamic State in West Africa is the likely culprit. In this case I'm not sure how helpful it is. Boko Haram has been active near the Cameroonian border—it attacked the nearby town of Rann last January, for example. But Ngala is also relatively close to Lake Chad, which is IS-WA's base of operations.
Ansaru, Nigeria's al-Qaeda affiliate and another Boko Haram splinter group, made a splashy come back last week after years of minimal activity, claiming responsibility for an attack in Kaduna state on Tuesday in which at least six and perhaps as many as 30 Nigerian soldiers were killed. But Kaduna is in central Nigeria, far to the west of Boko Haram's traditional turf, and if that's where Ansaru is operating these days then it probably wasn't involved in the Saturday attack.
SOMALIA
At least four people were killed and 15 more wounded in an al-Shabab car bombing outside of Mogadishu on Saturday. The bombing targeted a group of Turkish engineers and Somali workers involved in a nearby road project. Turkey has a very active role in Somali infrastructure projects and it may be getting more active, as Turkish President Recep Tayyip Erdoğan says the Somali government has asked Turkey to begin drilling for offshore energy deposits in Somali waters.
CHAD
A suicide bomber killed at least nine people in the western Chadian village of Kaiga-Kindjiria late Sunday. The attack was likely carried out by the Islamic State's West Africa affiliate, which does most of its work in the area around Lake Chad.
EUROPE
RUSSIA
The shape of Vladimir Putin's post-presidential plans appears to be taking shape. Putin unveiled his plans to amend the Russian constitution on Monday, and in addition to weakening the powers of the presidency they also enshrine, for the first time, the role of Russia's State Council into law. Hitherto a sort of ad hoc body tasked with advising and assisting the president in his duties, under these proposed changes the council would now "determine the main directions of domestic and foreign policy." Putin is the chair of the state council in his role as president. Once his term as president is up in 2024 he could separate those two roles and continue on as chair of a substantially empowered council, a post from which he could theoretically control Russia for the rest of his life if he wants.
The promotion of new Russian Prime Minister Mikhail Mishustin, who made a name for himself using high tech means to track down Russians trying to skimp on their taxes, could herald a cool new era for Putin's government:
If the direction in which Mishustin's appointment signals Putin's Russia is about to head has any contemporary analogue, it lies in a country that is increasingly its ally and also the world's epicenter of techno-authoritarianism: Xi Jinping's China. Like Xi, for Putin, economic growth is likely only part of an overall strategic vision. By his own admission, in spite of his Ph.D. in economics, Mishustin's role as tax czar was more technologist than economist. And so he is poised to fill the prime minister slot within Putin's authoritarian regime, in effect, having thrived in a government post as a self-identified technologist who developed new and impressive ways of extending the state's surveillance of the economy. 

As taxman, Mishustin developed a set of futuristic technologies that allowed Russia's government to raise revenues. But these technologies also enhanced surveillance capabilities of Putin's authoritarian state. For it's not as if Russia's tax authorities simply set an algorithm on heaps of data to do the impersonal bidding of state administration. Putin's political appointees, like Mishustin, also maintain the ability to identify subjects and dredge up transaction-level data at their own discretion. 
UKRAINE
There was an uptick in fighting in eastern Ukraine over the weekend that killed at least two Ukrainian soldiers and left another 10 wounded. Russian-backed separatist fighters have not commented on what caused the violence. The Ukrainian government has lodged complaints with the Organization for Security and Cooperation in Europe as well as the governments of France and Germany, which are trying to broker a settlement to the Ukrainian civil war between Kyiv and Moscow.
SERBIA
The governments of Kosovo and Serbia agreed on Monday to resume direct flights between Pristina and Belgrade for the first time since the 1998 Kosovo War. The deal was mediated by the US, which has been trying to encourage Kosovo and Serbia to normalize relations. Both countries want membership in the European Union, which they won't be able to obtain unless they settle their disputes. Negotiations seemed to be progressing, albeit slowly and fitfully, until November 2018 when the Kosovo government imposed 100 percent tariffs on all Serbian imports. That tariff will have to be lifted to get talks back on track, but Kosovo needs to settle its own political crisis before it can deal with anything else.
NORWAY
Speaking of political crises, Norway's coalition government has fallen apart over a decision by Prime Minister Erna Solberg's government to repatriate a Norwegian national believed to have gone to Syria to join the Islamic State. The woman in question was arrested upon her return to Norway but she denies joining IS and it's unclear whether Norwegian prosecutors will be able to prove that she broke any Norwegian laws that were in effect when she left the country. If they can't, Solberg will be blamed for allowing a potential IS member to go free inside Norway. In response to the repatriation, the right-wing Progress Party pulled out of the four party conservative coalition, leaving Solberg at the head of a precarious minority government.
ITALY
Perhaps unsurprisingly, being the establishment hasn't worked out so well for Italy's anti-establishment Five Star Movement:
Its poll numbers are plummeting. Its members of Parliament are defecting. Its leaders complain about back-stabbing while supporters flee to the left and the right.

And it runs the Italian government.

Italy's Five Star Movement, the anti-establishment party born on the internet that was supposed to revolutionize Italian politics, increasingly looks to be on the verge of cratering, only two years after winning the largest vote in national elections.

With Italy's economy essentially stuck and its power waning, there is rising clamor that the party's dysfunction and identity crisis may not just bring down the government but drag Italy down with it.
FRANCE
Donald Trump and French President Emmanuel Macron may have managed to cut a deal on Monday to continue talks on establishing a digital services tax through the end of the year, fending off potential tariff increases over the issue. I say "may have" because in recapping their discussion Macron seemed more pleased with the outcome than the White House, which was noncommittal about any agreement. The Trump administration has been threatening tariffs on French imports if Paris goes ahead with a proposed tax on digital services that would hit US companies like Facebook and Google hardest. Other European countries are considering similar measures in an effort to extract some revenue from multinational tech firms. US and French negotiators have been in talks for weeks to try to avoid a move that would have potentially escalated into a full blown US-EU trade war.
AMERICAS
BOLIVIA
From his perch in exile in Argentina, former Bolivian President Evo Morales on Sunday announced his Movement for Socialism party's ticket ahead of May's Bolivian presidential election: former finance minister Luis Arce for president and former foreign minister David Choquehuanca for vice president. This ticket differs from the one party officials were talking about last week, which had Choquehuanca as the party's presidential candidate. Polling indicates that a generic MAS candidate leads the field heading into the vote but that the race is still pretty wide open.
VENEZUELA
Would-be Venezuelan president Juan Guaidó defied a travel ban and slipped away to Colombia on Monday for meetings with Colombian President Iván Duque and US Secretary of State Mike Pompeo. After their meeting Pompeo promised more US assistance to Guaidó's nearly defunct opposition movement. After warning of Venezuelan President Nicolás Maduro's alleged links to terrorism, because he knows the audience to whom he's pandering, Guaidó then headed for Europe where he'll tour the continent to drum up additional backing. It's unlikely Guaidó will achieve anything decisive on his world tour, so the most interesting part of this exercise will be whether Maduro tries to arrest him upon his return for violating the aforementioned travel ban. That could galvanize international support behind the opposition.
MEXICO
The Mexican government is attempting to block some 4000 Central American migrants from crossing the border from Guatemala and journeying north to the US border. Mexico is under substantial pressure from the Trump administration to interdict migrants and has substantially beefed up its armed presence at the Guatemalan border. But tensions are rising, and if the crowd attempts to breach the border in one swoop it's unclear whether Mexican authorities could stop them.
UNITED STATES
Paul Pillar discusses a new movement among the Bomb Bomb Iran Caucus to investigate the National Iranian American Council (NIAC) for supposed links to the Iranian government:
That is exactly what Senator Tom Cotton of Arkansas and two other Republican senators, Ted Cruz of Texas and Mike Braun of Indiana, have done with a letter calling on the Department of Justice to investigate the National Iranian American Council (NIAC) for possible violation of the Foreign Agents Registration Act, accusing NIAC of acting on behalf of the Iranian regime. This call is baseless, in addition to trying to make the Justice Department even more of a partisan political weapon than it already has become under William Barr. There is no indication, and the senators provide none, that NIAC works on behalf of the Iranian government or any other foreign government. NIAC's prime constituency consists of Americans of Iranian ethnicity, and its foreign policy line is one of supporting diplomacy and the peaceful resolution of disputes, all from the perspective of what is best for U.S. interests. People familiar with the organization know this, as reflected in a statement of support from scores of signatories. The senators' suggestion of working on behalf of the Iranian regime is especially bizarre given that NIAC often has criticized that regime for its human rights abuses, such as during its harsh crackdown on citizens protesting fuel price increases in November.
As Pillar rightly notes in that piece, this is just 21st century McCarthyism, and it's part of an overall effort to silence criticism by casting any opposition to—or even mild questioning of—the Trump administration's militaristic Iran policy as providing aid and comfort to The Enemy. But what of Cotton? At his Nonzero Newsletter, here at Substack, Robert Wright discusses the Patrick Bateman of the US Senate:
Cotton, a Republican from Arkansas, is a protégé of famous neoconservative Bill Kristol, who played a big role in getting the US to invade Iraq and has since championed various other forms of American belligerence, many of them aimed at Iran. Cotton got elected to the Senate with the help of a million dollars from Kristol's Emergency Committee for Israel, subsequently hired Kristol's son Joseph as his legislative director, and has in various other ways settled into a cozy symbiosis with Kristol's network. The Washington Free Beacon—whose founding editor is Matthew Continetti, Kristol's son-in-law—highlights Cotton's exploits so regularly that any given page of its Tom Cotton archives (say, this year's July-September page) will feature an array of headlines that speak to the vast range of the senator's expertise. (August 26: "Cotton: Greenland Purchase Would Secure 'Vital Strategic Interests'.")

You may, like me, find Cotton hard to take, but there's virtue in persevering and paying attention to his recent doings. They nicely illustrate some key components of America's war-starting and war-sustaining machinery—the powerfully primitive worldview that drives it, the dubious logic employed to justify it, and the sleazy tactics that are sometimes used to silence its critics.