World update: February 6 2020
Stories from Iraq, Afghanistan, Germany, and more
THESE DAYS IN HISTORY
February 5, 1810: A French army begins the two and a half year Siege of Cádiz, which had by this point become the capital of whatever remained of independent Spain. The defenders managed to hold out, even taking time to write a new Spanish Constitution (which was later discarded), until the Duke of Wellington led a Coalition army to victory at the Battle of Salamanca in July 1812. Suddenly facing the possibility that his besieging army could be cut off and surrounded, French general Jean-de-Dieu Soult lifted the siege and retreated.
February 5, 1859: Prince Alexandru Ioan Cuza of Moldavia is elected prince of Wallachia, uniting the two principalities in a personal union called the "United Principalities of Moldavia and Wallachia." In 1862 they joined in a formal union called the "Romanian United Principalities," and in 1866 that was shortened to simply "Romania." The state then declared its independence from the Ottomans in 1877. Modern Romania gained additional territory after World War I, including Transylvania and parts of Banat, Bessarabia, and Bukovina.
February 6, 1840: British and Māori representatives sign the Treaty of Waitangi, officially making New Zealand a British colony. The Māori were looking for British protection from France. However, owing to differences between the English and Māori versions of the treaty it seems Māori leaders may not have fully understood just how much they were giving up for that protection. Under the terms of the treaty all Māori property and rights were to be protected, though it only took British colonial authorities a couple of decades to thoroughly breach that part of the arrangement.
February 6, 1981: Uganda's National Resistance Army rebels against the government of Milton Obote following a disputed election in December. This marked the start of the most important phase of the Ugandan civil war, or Ugandan Bush War, though the conflict had begun in October 1980 with an uprising in Uganda's West Nile region. The rebels captured Kampala in January 1986, overthrowing the military government that had ousted Obote in a coup the year before. The NRA set up a new government under its leader, Yoweri Museveni, who has been president of Uganda ever since.
MIDDLE EAST
SYRIA
Israeli missile strikes around Damascus and in southern Syria early Thursday morning killed at least 23 people, according to the Syrian Observatory for Human Rights. Unsurprisingly these strikes targeted pro-government, Iran-supported militias, and so 15 of those killed were militia fighters while another eight were Syrian soldiers. The Syrian government accused Israel of launching this attack in order to protect rebels, like the extremist Hayat Tahrir al-Sham group, from the ongoing Syrian offensive in Idlib province. The Israelis rarely discuss or even acknowledge their strikes so they likely won't be explaining their rationale in this case.
The fighting in Idlib is centered on the town of Saraqib, the implications of which we discussed in yesterday's update. Rebel forces are reportedly putting up a fight and at one point at least may have pushed pro-government forces out of the town. There have been reports of Turkish forces stationed at observation posts around the town firing on Syrian forces but those are unconfirmed. At this point it seems the town is still being contested, though I think you have to assume that the pro-government side will eventually capture it.
At +972 Magazine, journalist Ellie Stern reports that Druze communities are pushing back against an Israeli effort to greenwash its illegal annexation of the Golan:
On Thursday last week, the Israeli government approved plans for a commercial wind farm that would see at least 25 turbines built in the occupied Golan Heights. The decision came less than a week after thousands of Golan Heights residents protested the project in Majdal Shams.

In response, a popular committee representing Majdal Shams, Mas'ade, Ein Qinyye, and Buq'ata — the four Syrian-Druze communities in the Golan Heights — announced it would exhaust "all available means" to resist the project, beginning with a general strike on Sunday.

The protest is not against green energy, which residents told +972 Magazine they fully support. Rather, the objections are arising in the context of a long history of division between Israeli policies in the Golan Heights, which Israel has occupied since the 1967 Six-Day War, and an enduring local resistance to "Israelization."
YEMEN
Donald Trump announced in a rambling speech on Thursday that the United States did indeed kill al-Qaeda in the Arabian Peninsula leader Qasim al-Raymi in an airstrike last month. At least as far as he knows. AQAP still hasn't acknowledged Raymi's alleged death and Trump didn't explain whether or how the US can prove it.
The United Nations World Food Program is threatening to restrict the distribution of food aid in Houthi-controlled parts of Yemen. The WFP has raised this threat in the past, claiming that Houthi authorities are obstructing and redirecting aid. Those accusations have been amplified by the US Agency for International Development, which is one of the largest contributors to the WFP and may be pushing for this restriction in aid as part of the Trump administration's anti-Houthi/anti-Iran agenda. Some 80 percent of the estimated 12 million Yemenis who depend on WFP aid live in those Houthi-controlled areas, so the ramifications of a step like this could be catastrophic.
IRAQ
According to the AP, although joint US-Iraqi operations against the Islamic State have resumed, the Qassem Soleimani assassination and its aftermath have "poisoned" relations between the two militaries:
Instead of directly pushing for U.S. withdrawal, Iraq's government appears to be quietly distancing itself on the ground. Though the U.S. announced joint operations against IS had resumed, Iraq has been unclear. The Iraqi military announced the end of the pause on Jan. 30, but a military spokesman rescinded the claim in remarks to state television. It was not followed up with a clarification. On at least two occasions in January, U.S. officials said they expected the pause would be lifted imminently.

Two Iraqi military officials and a militia commander said this week that the government told its military not to seek assistance from the U.S.-led coalition in anti-IS operations and to minimize cooperation. The three spoke on condition of anonymity because they were not authorized to talk to the press.

"Until now, we have not asked the Americans to provide assistance, we rely on our capabilities to pursue IS elements. The presence of the Americans in the joint operations is only formal," a senior military intelligence official told The Associated Press.
Here's the chaser to that shot. The Soleimani assassination was supposedly a preemptive strike because Soleimani was planning imminent attacks on US targets in Iraq. The basis for that claim was a rocket strike against an Iraqi military base in Kirkuk province on December 27 in which an American contractor was killed, which the US attributed to the Iraqi militia Kataʾib Hezbollah. The US then carried out airstrikes against Kataʾib Hezbollah and the rest is history. The thing is, there are several Iraqi officials who believe that initial rocket attack was carried out by IS, not Kataʾib Hezbollah.
What's the evidence for this claim? For one thing, the rockets were fired from an area of Kirkuk where IS is known to have a substantial presence. Kataʾib Hezbollah, on the other hand, doesn't have a presence in Kirkuk province at all. IS had been active in the area in the days before the rocket attack and the Iraqis had intelligence that it was planning to carry out an attack on the same airbase that was struck. This is all circumstantial, and certainly Kataʾib Hezbollah fighters could have driven into Kirkuk, carried out the attack, and driven out. But at this point the "evidence" for Kataʾib Hezbollah's involvement amounts to the US military saying "they did it, trust us." Which isn't any evidence at all. It's possible these Iraqi officials are trying to cover for Kataʾib Hezbollah, but it's also possible that the US decided to blame the rocket attack on an Iranian proxy because doing so advanced other US interests in the region.
LEBANON
The Lebanese cabinet on Thursday voted to approve a financial bailout package intended to get its national finances in order. It will now be sent to parliament as a confidence vote in Prime Minister Hassan Diab's new government. Lebanon is facing a $1.2 billion Eurobond repayment in March and may not have the money to avoid a default at this point. It will need to show foreign creditors that it's Doing Something to address its fiscal situation to negotiate new aid and perhaps some debt restructuring, a task that's been made more difficult because of the (US-driven and not really fair) perception that Diab's government is a Hezbollah proxy. But this bailout plan does talk about "painful steps," which is the kind of thing austerity-obsessed European creditors love to hear, so maybe it will have the desired effect.
ISRAEL-PALESTINE
It's taken a little while, but the Kushner Accords do seem to have caused an uptick in violence in the Palestinian territories. Naturally it's mostly Palestinians who are dying. A Palestinian attacker on Thursday drove his car into a crowd of Israeli soldiers in Jerusalem, injuring 12 of them along with two other people. The driver managed to get away and the attack was later praised, though not claimed, by Hamas. In subsequent incidents, Israeli soldiers shot and killed a 19 year old Palestinian in the West Bank city of Jenin who was throwing rocks at them, along with a Palestinian police officer who may have been a bystander of sorts. And another Palestinian attacker in Jerusalem opened fire on Israeli police, wounding one officer, before being shot and killed by police officers in response. There's nothing widespread yet but this seems to be a slowly deteriorating situation.
SAUDI ARABIA
The International Monetary Fund is trying to bring its austerity agenda to the Persian Gulf, warning on Thursday that the Gulf states need to tighten their belts lest they blow through their considerable savings in the next 15 years or so. Bahrain, the poorest or second-poorest of the Gulf Arab states depending on which measure you use, is already facing a high debt load and the risk of default. But with oil prices still relatively low and likely to get lower as the rest of the world moves (slowly) toward alternative fuels, the revenue needed to maintain the region's substantial welfare networks (the ones that keep those authoritarian Gulf states mostly free from serious political unrest) is going to dry up.
Qatar, which has most of its resource wealth in natural gas, and the UAE, which has already diversified some of its economy with respect to Dubai's status as a business hub, may be in better shape than the other Gulf states to weather this story. But people are going to have to stop burning natural gas at some point too, and if the other states in the region truly fall on economic hard times it's unclear whether Dubai could maintain that business hub status. This immutable fact is the main impetus behind Saudi Crown Prince Mohammad bin Salman's Vision 2030 plan to diversify the Saudi economy away from oil. But he needs oil revenue to finance that project, which he may not get if prices decline further.
ASIA
AFGHANISTAN
When the day finally does come that the United States leaves Afghanistan, there's mounting evidence that it will be leaving behind a well-built police state, led by Afghanistan's National Directorate of Security, that may not be able to fight the Taliban but will definitely be able to brutalize civilians:
In Afghanistan, both intelligence services have become notorious for their hunt-and-kill tactics, which often result in civilian casualties. It is well documented that CIA units like the Khost Protection Force (KPF), which is mainly present in the southeastern provinces, abduct, torture, and kill Afghan civilians deliberately—a fact that was underlined by a Human Rights Watch (HRW) report in late 2019. The 53-page report documents 14 cases across nine provinces from late 2017 to mid-2019. According to HRW, the cases clearly illustrate that the Afghan forces trained and funded by the CIA have shown little concern for civilian life or accountability to international law. The militias are active all over the country, most recently in the provinces of Khost, Paktia, Paktika, Nangarhar, and Maidan Wardak.

"These abusive forces, which are backed by the CIA, have routinely disregarded protections to which civilians and detainees are entitled," Patricia Gossman, HRW's associate Asia director and the report's author, told Foreign Policy. "These are not isolated cases but illustrative of a larger pattern of serious laws-of-war violations—even war crimes—by these paramilitary forces. In case after case, the NDS strike forces and KPF have simply shot people in their custody and consigned entire communities to the terror of abusive night raids and indiscriminate airstrikes. The U.S. and Afghan governments should end this pathology and disband all irregular forces."
MALDIVES
Attackers stabbed three people—two Chinese nationals and an Australian—on the Maldivian island of Hulhumale on Tuesday, in what may have been an act of terrorism. Authorities have arrested three men in connection with the incident and are probing their possible ties to the Islamic State.
CHINA
BNO News' latest Wuhan coronavirus figures show that the number of confirmed cases worldwide has climbed to 30,812 and the death toll to 635. There have still only been two fatalities outside of mainland China—one in Hong Kong and one in the Philippines. The disease is reaching a level where some historical analogues may be in order, though it remains substantially less lethal (yet far more widespread) than its most recent analogue, the early 2000s SARS outbreak. SARS was something of an outlier though, and the Wuhan virus's lethality rate is roughly in the same ballpark as the 1918 "Spanish flu," and if it continues to spread at its current rate it's going to be essential for researchers to find some way to treat it to avoid mass casualties.
AFRICA
LIBYA
The UN's military-to-military talks between forces loyal to Libya's Government of National Accord and the "Libyan National Army" may be bearing some fruit. UN Libya envoy Ghassan Salame is expecting the LNA negotiators to submit a list of demands for lifting its current blockade on oil exports. Assuming it does actually provide a list, it will probably include something about the GNA not using national oil revenue to pay the Syrian fighters Turkey has sent to Libya.
EUROPE
UKRAINE
I don't know if you've been mostly avoiding Donald Trump's impeachment saga as I have, but regardless you're probably aware that he's been acquitted despite a fair amount of evidence to show that he tried to withhold military aid to Ukraine in exchange for political favors. Although that aid was eventually released to Kyiv, the US is still apparently withholding some $30 million in Ukrainian arms and ammunition purchases for reasons nobody in the Trump administration is willing to reveal. You'll note I said "purchases," because this isn't aid it's money that the Ukrainians have already spent to buy the goods in question. They'd like either to get what they purchased or to get their money back. One theory has it that the administration is blocking this sale over the pending sale of a Ukrainian aircraft engine manufacturer to Chinese buyers, a transaction that has been frozen by Ukrainian authorities and that Washington would like to block altogether, somehow.
ROMANIA
To replace outgoing Prime Minister Ludovic Orban, whose government lost a parliamentary no-confidence vote on Wednesday, Romanian President Klaus Iohannis has decided to name…outgoing Prime Minister Ludovic Orban. Yes, that's right. The thing is, Iohannis doesn't want a new government, he wants a snap election, in which his (and Orban's) Liberal Party is expected to do well (at least if polling is accurate). The threshold for calling a snap election is that the Romanian parliament must reject two governments within 60 days. Reappointing Orban is probably the best way to ensure that happens—I mean, if he could win a no-confidence vote he would've won Wednesday's, right? That said, Romanian politics are in uncharted waters here (the country has never held a snap election), so anything is possible.
GERMANY
The brand new premier of Germany's Thuringia state had to abruptly resign on Thursday, one day into his term, due to public outcry over the way he got the job. State elections aren't really our thing here but this one offers some troubling implications about where German politics—and, really, Western politics in general—is heading:
After months of political gridlock, on February 5, Die Linke's only minister president, Bodo Ramelow, was ousted as head of Thuringia's state government. He was replaced — for all of twenty-four hours — by Thomas Kemmerich of the liberal Free Democratic Party (FDP). That Kemmerich's party received 5 percent of the vote in October's election and he nonetheless managed to weasel his way into this role itself raised eyebrows — surely going against the spirit, if not the law, of parliamentary democracy.

Cause for much more alarm, however, is the way that the FDP pulled off this parliamentary coup. It was engineered with the tacit support of not just its traditional allies, the Christian Democrats (CDU), but the right-populist and increasingly far-right Alternative für Deutschland (AfD). In Thuringia, the party is led by Björn Höcke, the closest thing German politics has to an open neo-Nazi.

Kemmerich managed to stay in office for only twenty-four hours before public outrage forced him to resign. But regardless of how things play out, his election — and the fact that both the FDP and CDU initially went along with the plan — represents a new degree of normalization of the far right in Germany, and it says a lot about the neoliberal center in the country. Faced with a choice between a moderate center-left administration and a return to conservatism on the backs of far-right nationalists, it appears that a large chunk of the center preferred this latter option.
UNITED KINGDOM
According to the Financial Times, Donald Trump and UK Prime Minister Boris Johnson had a particularly difficult phone conversation last week after Johnson announced that he would allow components from China's Huawei telecommunications firm to be used in the UK's 5G network. The word the FT used to describe Trump's demeanor was "apoplectic," which sounds not great. The United States considers Huawei to be little more than an extension of the Chinese security establishment, a charge Huawei denies, and the Trump administration has been leaning on US allies not to use its components in their 5G infrastructure. But not using Huawei makes building that infrastructure more costly. Johnson's office is contending that Trump's alleged blow up was not as serious as reported.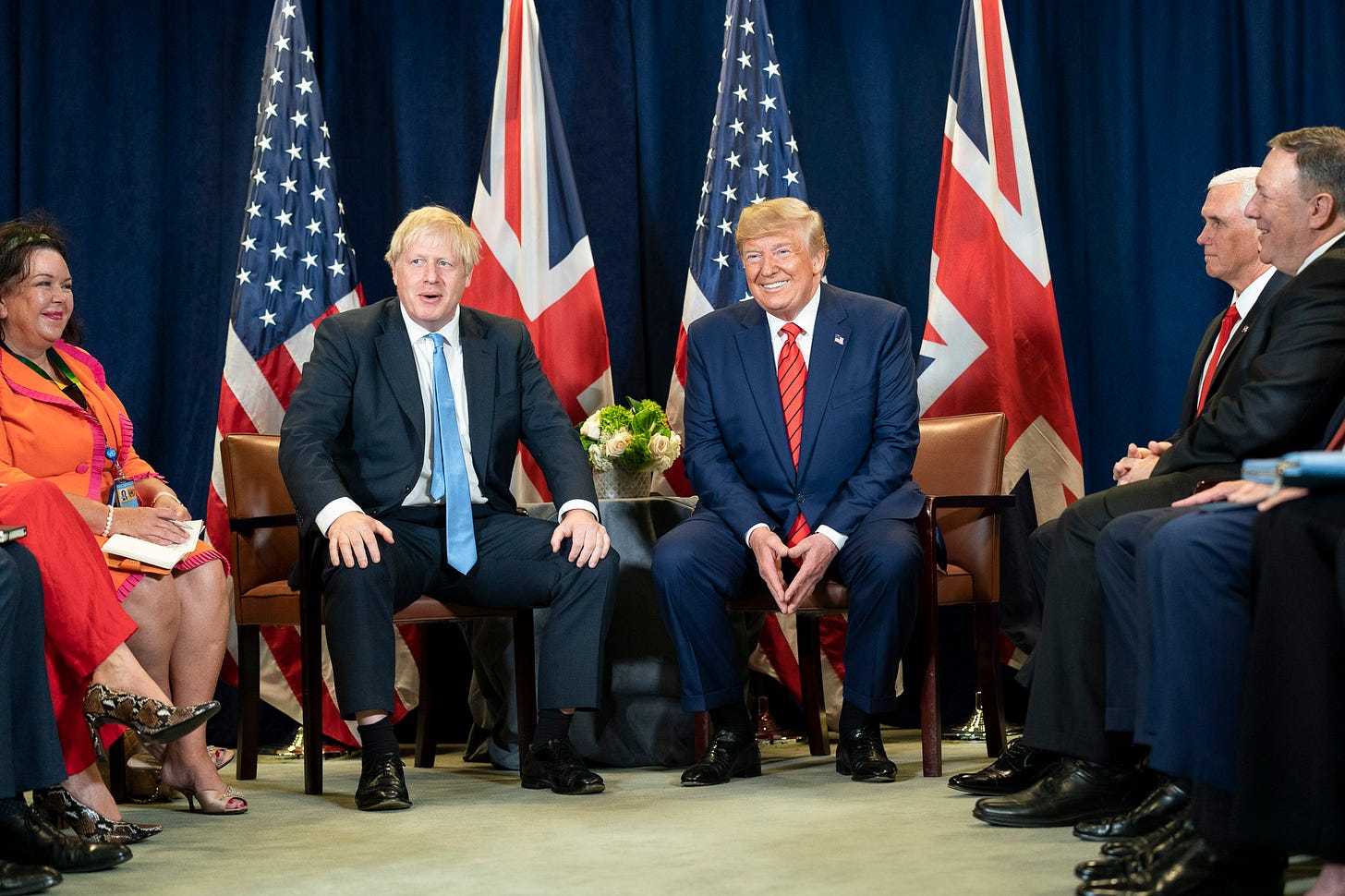 Johnson and Trump in happier times back in September (White House photo via Flickr)
AMERICAS
BRAZIL
Brazilian judge Ricardo Soares Leite opted not to indict journalist Glenn Greenwald on hacking charges related to The Intercept's "Operation Car Wash" coverage, even as he indicted six other people in the same case. But this wasn't exactly a victory for press freedom. Greenwald is under an injunction preventing him from being prosecuted for crimes related to his journalism by the Brazilian Supreme Court, but there's some gray area in terms of whether that injunction applies in this case. The Supreme Court will have to rule one way or the other on that question before the final outcome of this indictment can be determined.
UNITED STATES
Finally, I'll leave you with a piece at The Intercept by Israeli writer David Sheen, a fascinating investigation into the murder of Palestinian-American activist Alex Odeh:
On October 11, 1985, Odeh was scheduled to speak at Congregation B'nai Tzedek, a Reform synagogue. As he entered the Santa Ana, California, office of the ADC that morning, however, a bomb exploded. He died on the operating table two hours later. It was the second bomb attack in just as many months against the ADC.

Hours after Odeh was killed, his slaying was justified by the Jewish Defense League. "I have no tears for Mr. Odeh," said Irv Rubin, then the national chair of the JDL. "He got exactly what he deserved."

No arrests were made. In April 1994, when Odeh would have celebrated his 50th birthday, the city of Santa Ana erected a statue of him to commemorate his life and his work. Two years later, the statue was defaced, and a few months later, it was again desecrated by vandals who doused it in buckets of blood-red paint.

That same year, the FBI announced a $1 million reward for information leading to the arrest and conviction of Odeh's killers. It has so far gone unclaimed.
As it happens, two of the prime suspects in Odeh's murder are living free and clear in Israel, whose government has apparently refused to cooperate with the FBI investigation. Sheen's story has the details.