World update: December 5, 2019
Stories from Afghanistan, Libya, France, and more
THESE DAYS IN HISTORY
December 4, 1676: An invading Danish army attempting to recapture formerly Danish territory in southern Sweden is instead handed a decisive defeat by the Swedish army under King Charles XI at the Battle of Lund. Though a relatively small battle in terms of the number of soldiers involved, in percentage terms this is one of the bloodiest battles in European history, as of the roughly 21,000 soldiers involved on both sides roughly two-thirds were killed or wounded. The Swedish victory blunted the Danish invasion and is therefore considered a key point in the 1675-1679 Scanian War.
December 4, 1976: Jean-Bédel Bokassa, the president/dictator of the Central African Republic, proclaims himself Emperor Bokassa I of the new Central African Empire. The practical difference between Bokassa's heavily authoritarian dictatorship and his imperial rule was pretty negligible. The French government engineered Bokassa's ouster in 1979 in favor of his predecessor as president, David Dacko, and the empire went out the door with him.
December 5, 1941: The Red Army under Georgy Zhukov begins a major counteroffensive against the Nazi Wehrmacht in the Battle of Moscow. The combination of the Soviet military and a brutally cold Russian winter crippled the German forces, and the offensive ended on January 7, 1942 with the exhausted Red Army having driven the Nazi line back some 150 miles from the Soviet capital.
December 5, 1945: Flight 19, a group of five US Navy Grumman TBM Avenger planes on a training flight, disappears off the east coast of Florida along with all 14 crew members. Subsequently a Martin PBM Mariner sent out to search for the planes was lost along with all 13 crew members. No wreckage has ever been found and there's only speculation as to what caused the disappearances, but the incidents became arguably the most famous stories in the popular legend of the "Bermuda Triangle."
MIDDLE EAST
SYRIA
At least two people were killed in a car bombing on Thursday in the Syrian border town of Ras al-Ayn. That's one of the towns that's come under Turkish control since Ankara's invasion of northeastern Syria, and Turkish officials have blamed the Kurdish YPG militia for the bombing. It is also possible that the Islamic State was the culprit.
Speaking of Turkey's invasion, the Pentagon says it has completed its withdrawal from the border area in northeastern Syria and has decided to leave around 600 soldiers in Syria to do…whatever it is they're doing. The Pentagon says they're preventing a resurgence of IS, Donald Trump says they're taking Syria's oil, they might be there to interfere with the Syrian government's efforts to bring that part of the country back under its control, or some combination of the above.
YEMEN
There have been reports of fighting between the Yemeni military and southern separatist forces in Abyan province in which one separatist commander was killed and several separatist fighters wounded. The separatists and the Yemeni government signed a deal last month that's supposed to have ended (at least temporarily) the military uprising in southern Yemen, so it's unclear what caused this clash.
Meanwhile, the US military declared on Wednesday that its naval forces interdicted a ship last week in the Arabian Sea that appeared to be carrying Iranian munitions bound for Yemen's Houthi rebels. The shipment apparently included "advanced missile components" that were "of Iranian origin." It's difficult to prove where these kinds of shipments originate because it's conceivable that the Houthis could purchase Iranian-made weapons illicitly, but obviously the simpler explanation is that the Iranians are continuing to supply weapons to the Houthis.
TURKEY
Although he decided not to block NATO's defense plan for Eastern Europe as he'd threatened to do, Turkish President Recep Tayyip Erdoğan says he's still expecting the alliance's support for his military campaign in northeastern Syria. As it would be impossible for the United States to agree to any tangible NATO support, since it would require agreeing with Turkey's position that the YPG—the main US proxy in Syria—is a terrorist organization, Erdoğan will probably have to settle for alliance members toning down their criticisms of the invasion.
IRAQ
Somebody fired two mortar shells into the Balad air base north of Baghdad on Thursday. There were no reports of casualties. The Islamic State may have been responsible, but as Balad hosts US forces there is a possibility that the attack was carried out by some pro-Iran militia. In Baghdad, meanwhile, at least 13 protesters were stabbed on Thursday in the city's Tahrir Square, which has been serving as the base camp for anti-government demonstrators. Nobody was killed but there are fears that the protest movement is being infiltrated, possibly by Popular Mobilization militia members, as demonstrators increasingly display anti-Iran sentiment.
ISRAEL-PALESTINE
Hamas is planning to revive its weekly protests at the Gaza fence on Friday, after having put them on ice in the wake of the military clash between Israel and Palestinian Islamic Jihad last month. They're apparently doing it to regain some of the militant credibility they lost in sitting out that conflict and to make it clear that any peace deal the group negotiates with Israel will be done from a position of strength. It's also hoping to shake Israeli authorities up and force them to refocus on talks over the Gaza blockade, which have fallen by the wayside as Israeli leaders sort out their ongoing political crisis. That situation, while we're on the subject, is still very much in limbo, but there are growing calls on the Israeli far right for Prime Minister Benjamin Netanyahu to resign and thereby pave the way for a unity government probably headed by Blue and White Party leader Benny Gantz.
QATAR
Is the Qatari government about to drop its support for the Muslim Brotherhood? There's considerable speculation that it is, most of it related to Qatari Foreign Minister Sheikh Mohammed bin Abdulrahman Al Thani's visit to Riyadh back in October, details of which are only just emerging. Sheikh Mohammed reportedly made some sort of offer to the Saudis to end the political dispute that began when the Saudis and a group of other countries blockaded Qatar in 2017. This would be a big step for the Qataris, who have used the Brotherhood as an important tool of their foreign policy for some time now and who have built a close relationship with Turkey, whose government is very close with the Brotherhood. It's also unclear exactly what the Qataris offered (assuming they offered anything at all) in terms of scaling back their support for the group. That could mean anything from completely expelling Brotherhood members from Qatar to simply kicking them off of Al Jazeera.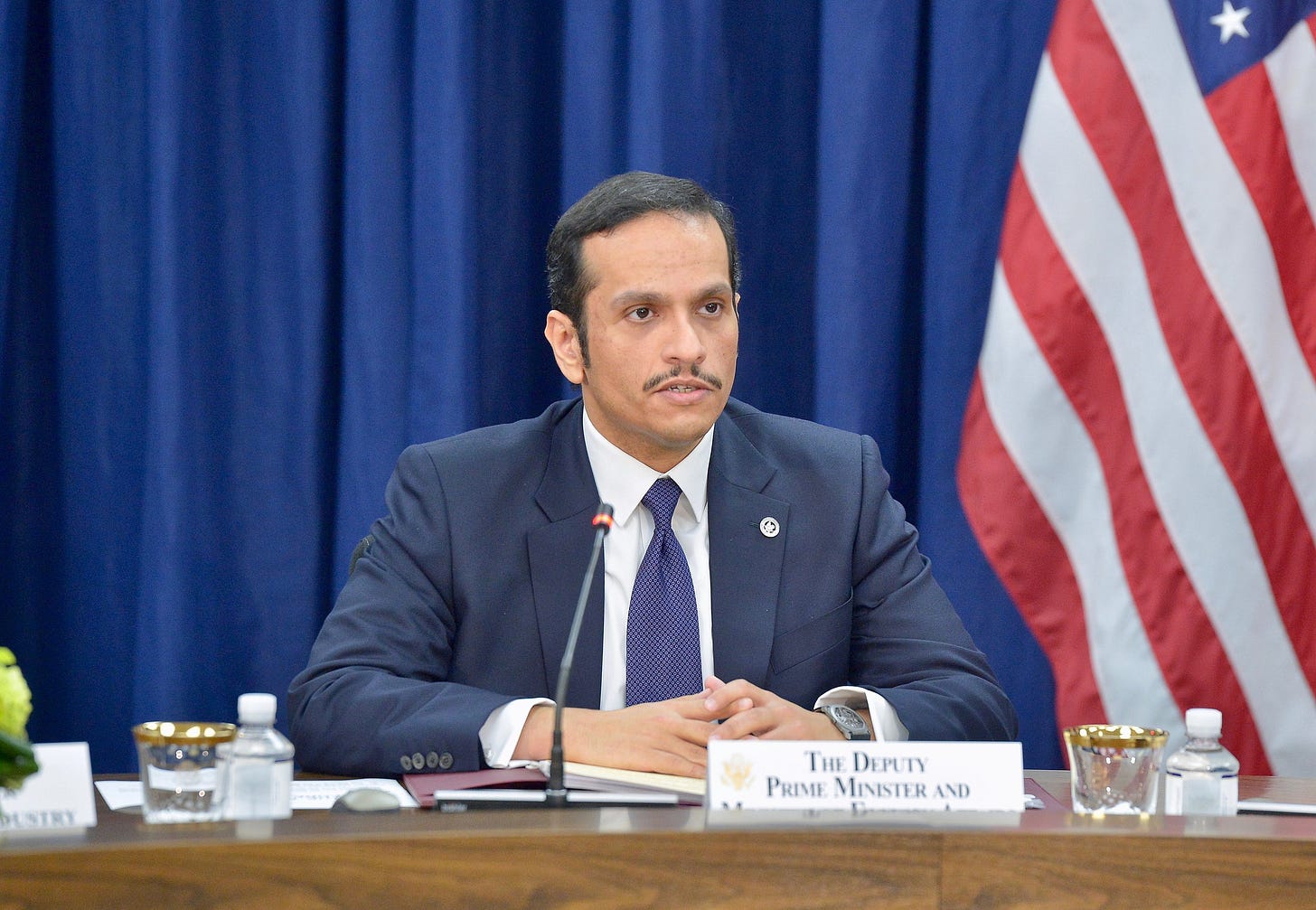 Sheikh Mohammed bin Abdulrahman Al Thani in 2018 (State Department via Wikimedia Commons)
SAUDI ARABIA
Saudi Aramco has announced the details of its IPO, which values the company at a whopping $1.7 trillion. The Saudis sold some three billion shares of Aramco stock, amounting to a 1.5 percent ownership stake in the company, at roughly $8.53 per share. That works out to a total offering of around $25.6 billion, which makes it the largest IPO in history in current dollar terms, beating the $25 billion Alibaba IPO in 2014. They may release additional shares that could push the total IPO to around $29.4 billion. The Saudis were initially hoping to value the company at $2 trillion but the combination of declining profits, questions about long term fossil fuel use, and Gulf instability caused them to drop their asking price.
IRAN
The governments of France, Germany, and the United Kingdom have sent a letter to United Nations Secretary-General António Guterres warning that Iran has tested a new version of its Shihab-3 medium-range ballistic missile that "is technically capable of delivering a nuclear weapon." This was one of four examples they cited of Iranian ballistic missile activities which the E3 say violate the spirit, at least, of the 2015 UN Security Council resolution that endorsed the Iran nuclear deal. Of course, the United States has already thoroughly violated that resolution by abandoning the deal, but the Europeans are always looking for any justification to ding Iran in an effort to convince Donald Trump that they're honest brokers as they try to bring the US and Iran together to salvage that agreement and/or negotiate a new one. In response, the Iranians have reiterated their longstanding argument that their missile program has nothing to do with building nuclear weapons and is entirely defensive. Foreign Minister Mohammad Javad Zarif criticized the letter as the E3's attempt to cover up its failure to uphold its obligations under the nuclear deal.
The Russian government announced on Thursday that it's suspended its work under the nuclear deal to convert Iran's uranium enrichment facility at Fordow into a facility to produce medical isotopes. The reason is that the Iranians have now resumed uranium enrichment at Fordow, which makes it both politically pointless and practically impossible to continue the Russian program. Now that the Iranians have started enriching uranium there again, the centrifuges they're using would have to be dismantled and the whole facility decontaminated before it would be possible to produce medical isotopes there.
The Pentagon has vigorously rejected a Wall Street Journal report that it may send as many as 14,000 additional soldiers to the Persian Gulf, but it won't rule out some level of troop increase in the region. Pentagon officials keep talking about a vague possibility that Iran could commit some kind of act of aggression in the Gulf—bolstered by reports of Iranian activities like allegedly stockpiling missiles in Iraq—even as the Defense Intelligence Agency has apparently produced a report concluding that most of Iran's military activities are defensive and motivated by concerns of a potential US attack. It doesn't do much for the Trump administration's attempts to paint Iran as a budding regional hegemon when its own military undermines that narrative.
State Department Iran envoy Brian Hook told reporters on Thursday that Iranian security forces may have killed over 1000 demonstrators during recent protests against a cut in gas subsidies. The highest credible figure offered so far has come from Amnesty International, which says it can verify the deaths of 208 Iranians but admits that the figure could be substantially higher than that. Iranian officials have, in a fairly surprising move, acknowledged that security forces did kill some protesters, with Supreme Leader Ayatollah Ali Khamenei going so far as to call some of those killed—basically any bystanders killed as police fired on the protesters—"martyrs." Legally that means their families can collect death benefits.
Hook, incidentally, also said that "Iran clearly does not speak for the Houthis." Which is and always has been true. Hook's comment is morbidly hilarious because he and the rest of the Trump administration have spent almost three years insisting that the Houthis were little more than an arm of the Islamic Revolutionary Guard Corps. What's changed is that the Saudis are now acknowledging that they're in negotiations with the Houthis on ending the war in Yemen, so suddenly the administration needs to spin up a new narrative.
ASIA
AZERBAIJAN
The Azerbaijani government will hold its next parliamentary election on February 9, so please adjust your calendars accordingly. Parliament voted to dissolve itself earlier this week in what could be part of a larger political reorganization.
AFGHANISTAN
A new survey from the Asia Foundation finds that 89 percent of Afghans either strongly or somewhat support peace talks with the Taliban. However, the findings indicate much less enthusiasm for making major concessions to the Taliban—except on one issue that will likely not surprise you:
A slight majority of the Afghan people, nearly 52 percent, view the presence of foreign military forces as not important for successful conclusion of these negotiations. Of those issues that the survey covered, the presence of foreign forces was the least important when considering what should be compromised during negotiations. Afghans are more willing to give up the presence of foreign forces than almost everything else. Over 80 percent of Afghans said they would be unwilling to give up the current constitution during any negotiations with the Taliban. Similarly, over 70 percent were unwilling to give up democracy, about 78 percent said they were unwilling to give up freedom of speech and freedom of the press, 82 percent were unwilling to give up a strong central government, and 77 percent were unwilling to compromise on women's rights. However, when asked how important foreign military forces were, only 17.5 percent said it was very important.
Although the United States and the Afghan government see a sustained US military presence as the only thing preventing a full Taliban takeover of the country, there is an argument to be made that the US military presence is the only thing sustaining the Taliban's existence. While it's almost undeniable that in a head-to-head battle against the Afghan military the Taliban would come away victorious, this survey shows that only about 13 percent of Afghans have any sympathy toward the Taliban. What seems to be sustaining the group is that it can credibly claim to be fighting a foreign occupier. If that occupier were to remove itself from the equation it could actually work to the Taliban's detriment.
PAKISTAN
Pakistani soldiers raided a Pakistani Taliban hideout in the North Waziristan region on Thursday, killing two militants while losing two of their own number.
NORTH KOREA
In a real blast from the not-too-distant past, North Korean vice-minister for foreign affairs Choe Son-hui on Thursday called Donald Trump a "dotard," albeit via a technical loophole. The North Koreans famously referred to Trump as a dotard back in 2017, when he was calling Kim Jong-un "Rocket Man" and threatening to rain fire down on North Korea. Trump brought "Rocket Man" back earlier this week when discussing North Korea while he was in London for the NATO summit, and so on Thursday Choe sort of threatened to start calling Trump a "dotard" again in retaliation (specifically he suggested that if Trump is calling Kim names again then that must mean he's acting like a dotard again). Which is technically not the same thing as actually calling him a dotard, though whether Trump will see the distinction is unclear.
SOUTH KOREA
The Quincy Institute's Jessica Lee argues that if Donald Trump really wants to reduce the US military commitment in South Korea, he's going about it the wrong way:
It is in the United States' long-term interest for countries like South Korea that have relied upon American security to manage their own affairs, without external security assistance. A perpetual stationing of U.S. troops on the Korean Peninsula serves the interests of neither Washington nor Seoul. Rather than undermining the South Korean president by pushing for an unrealistic increase in burden-sharing, the United States should recognize that a strong and independent South Korea will ultimately reduce U.S. military costs on the Korean Peninsula and pave the way for an eventual troop withdrawal. Unnecessarily antagonizing South Korea at a time of high-stakes talks with North Korea will weaken our democratic ally at a time when we need it to serve as a genuine partner rather than a quasi-client.

A paradigm shift is needed in U.S.–ROK relations, one that envisions a collaborative reorientation towards a more independent South Korea that is less reliant on American security. Trump's approach, on the other hand, appears to be aimed at increasing South Korean psychological insecurity only to charge it a higher price to protect it, thereby perpetuating a de facto protectorate relationship.
AFRICA
LIBYA
The Carnegie Endowment's Frederic Wehrey argues that with increased Russian support, Khalifa Haftar's "Libyan National Army" may finally be able to break the Libyan civil war's stalemate and capture Tripoli. This would presumably mean a return to military dictatorship, so not the greatest of outcomes. He suggests that the US approach another of Haftar's foreign backers in an effort to pressure him into standing down:
If ever there were a moment for more resolute U.S. diplomacy on Libya, it is now. A modestly positive sign of that happening occurred last week, when a high-level U.S. delegation, including a senior White House official, met with Haftar at an undisclosed location to reportedly urge a halt to the fighting. But it's far from enough. The Libyan general has a history of using such meetings with diplomats to bide for time while he advances on the ground—and of interpreting anodyne U.S. utterances as a "yellow light." And right now, with battlefield momentum in his favor, he has little incentive to stand down, especially if his foreign patrons continue to egg him on. Beyond applying stronger, unequivocal pressure on Haftar, then, and in addition to opposing Russian interference, the United States must convince the United Arab Emirates, Haftar's most powerful Arab ally, to stop its direct military intervention and return to dialogue. Doing so doesn't mean taking sides or giving unconditional endorsement to the problematic GNA—which, tragically, a U.N.-brokered process prior to Haftar's April 4 attack was intended to replace. Rather, it is about averting an imminent humanitarian catastrophe and a longer-term conflict—both of which could be exploited by Russia, which may position itself as a fresh power broker.
NIGERIA
Pirates attacked a Greek-owned and Hong Kong-flagged oil tanker off the coast of Nigeria on Tuesday, kidnapping 18 crew members. The Gulf of Guinea has become the world's piracy hot spot in recent years, with most of the attacks focused around kidnapping crew for ransom.
ETHIOPIA
Will Abiy Ahmed's decision to convert his nationalist Ethiopian People's Revolutionary Democratic Front coalition into the single, non-nationalist Prosperity Party have a positive impact on Ethiopian politics? Keene University's Awol K Allo has his doubts:
[The Prosperity Party] will be vulnerable to attacks by nationalist parties that claim to represent the exclusive and authentic voice of a people and examine everything from the vantage point of that group. Whatever its normative appeal, the promise of a pan-Ethiopian party will not be politically intelligible and is not going to carry a significant political weight in today's Ethiopia.Ultimately, in a democratic and competitive election, ethnic groups are highly likely to support the party that speaks in their name.

In other words, the likelihood of the Prosperity Party winning a free and democratic election in the near future is very slim, and this poses a significant threat to the transition.

If the Prosperity Party loses the election and agrees to hand over power to the opposition, that would throw the country into uncharted territories as there is no single political party or a coalition of political parties that have the ideological platform and the program that allows them to steer the country through these turbulent times. If the government wins the election unfairly or decides to stay on power after losing the election, that will automatically eliminate any prospect of a democratic transition and mark the beginning of a new form of authoritarianism.
EUROPE
RUSSIA
Vladimir Putin said on Thursday that he's prepared to extend New START right now, without any further negotiation. The 2010 arms control treaty expires in 2021, unless the US and Russia agree to extend it. The Trump administration seems unwilling to extend it without substantial changes, like bringing China into the agreement, and Putin's declaration was probably intended more to embarrass Washington than as a substantive offer.
The Russian government has expelled a Bulgarian embassy worker in retaliation for the Bulgarian government's expulsion of a Russian diplomat and its decision to deny a visa to a Russian military attache back in October. Those moves were related to allegations of spying on the part of the Russian diplomat.
The Trump administration on Thursday sanctioned two members of the "Evil Corp" hacking group, which is based in Russia, after they were charged by US prosecutors in connection with a $100 million bank fraud scheme. The US government has asserted links between "Evil Corp" and the Russian government but has not proven anything.
BOSNIA AND HERZEGOVINA
The Bosnian parliament on Thursday approved the nomination of former Republika Srpska finance minister Zoran Tegeltija as the country's new prime minister. So it's only taken 13 months for Bosnia to put together a government in the wake of last year's election, which is very efficient. Tegeltija told legislators that he expects to have his cabinet in place by the end of the year and that his priorities will be negotiating an aid package with the International Monetary Fund and advancing Bosnia's candidacy for membership in the European Union. An EU-commissioned report has recommended that Bosnian leaders take steps to increase the independence of their judiciary and harmonize the legal systems of the country's multiple autonomous jurisdictions in order to improve their chances of EU admission.
FRANCE
At least 806,000 people demonstrated across France on Thursday in opposition to Emmanuel Macron's proposed pension "reform" (i.e., cutting benefits and raising the retirement age). That's the official government figure—union leaders estimated the turnout at 1.5 million. The protests were accompanied by a general strike involving transit workers, postal workers, and teachers, at least some of which will continue past Thursday. There were scattered reports of vandalism and police use of tear gas, but overall the protests seem to have gone peacefully.
AMERICAS
BOLIVIA
The Organization of American States has issued a new report purportedly demonstrating "overwhelming evidence" by former President Evo Morales in Bolivia's October 20 presidential election. The OAS of course accused Morales of fraud almost immediately after the polls closed, without evidence, which helped trigger the right wing coup that removed Morales from office. Which is presumably the outcome the OAS was after. A cynical person might argue that the OAS started with the conclusion and is now working its way back from there.
PERU
The Peruvian and US governments are circling a deal that would bring Peru into Washington's "Growth in the Americas" program and bolster US investment in the Peruvian economy. "Growth in the Americas" is the Trump administration's attempt to counter China's Belt and Road Initiative and so far it's concluded deals with Argentina, Chile, Jamaica, and Panama. Of those, all but Argentina also have concluded agreements with China under the BRI program, as has Peru.
COLOMBIA
The Colombian government has been meeting with union leaders in an effort to end the national strikes and protests that have been rocking the country for the past couple of weeks, but so far to no avail. Protesters have apparently submitted a list of 13 demands to Iván Duque's government but the government is asking for "clarification" rather than engaging on those points directly.
CANADA
Justin Trudeau's minority government got a key boost on Thursday when the separatist Bloc Quebecois party said that it would offer the government legislative support for the time being. That will give Trudeau enough votes to survive an initial confidence motion on his government's agenda. This doesn't mean Trudeau, whose Liberal Party lost its majority in Canada's federal election in October, will have the votes to actually accomplish anything, but it does at least mean his government can take office so that's something.
UNITED STATES
Finally, the New Yorker's Robin Wright argues that Donald Trump's foreign policy routine is wearing thin, and that's leaving him short of time to accomplish anything substantive before next year's presidential election:
In the three years since his election, Trump has certainly redefined diplomacy. Quick-hit photo ops have replaced long-term engagement; snarky tweets have replaced the steady slog of negotiations. Decisions often seem based more on personal impulses than on historic practices. But the President's unconventional tactics are taking a toll. His imperious rants no longer intimidate adversaries; his bullying no longer gets them to cede diplomatic turf.

"Even when Trump says he's going to get something back on track—Afghan peace talks, last week—it turns out no one knows what he's talking about, and nothing happens," John McLaughlin, a former deputy director of the C.I.A. who's now at the Johns Hopkins School of Advanced International Studies, told me.