World update: August 20 2019
Stories from Israel, Italy, and more
THESE DAYS IN HISTORY
August 19, 1745: An Iranian army under Nader Shah decisively defeats a much larger Ottoman army at the Battle of Kars. This, combined with the destruction of a second Ottoman army near Mosul by an Iranian army under Nader's son, effectively brought the Ottoman-Persian war of 1743-1746 to an end by wiping out the Ottoman offensive. Although he began the war with big goals for defeating the Ottomans, Nader—ill and seemingly growing more paranoid about internal threats by the day—opted to settle the conflict with a restoration of Ottoman-Iranian borders as they had been at the end of the Safavid dynasty.
August 19, 1953: Iranian Prime Minister Mohammad Mosaddegh is removed from office in a UK/US-assisted coup.
August 19, 1991: A group of Soviet leaders undertakes a coup and arrests President Mikhail Gorbachev. The whole thing fell apart three days later under pressure from the Soviet public, led by Russian President Boris Yeltsin who became effectively the most powerful person in the USSR. This was such a cataclysmic failure that it led to the collapse of the entire Soviet Union.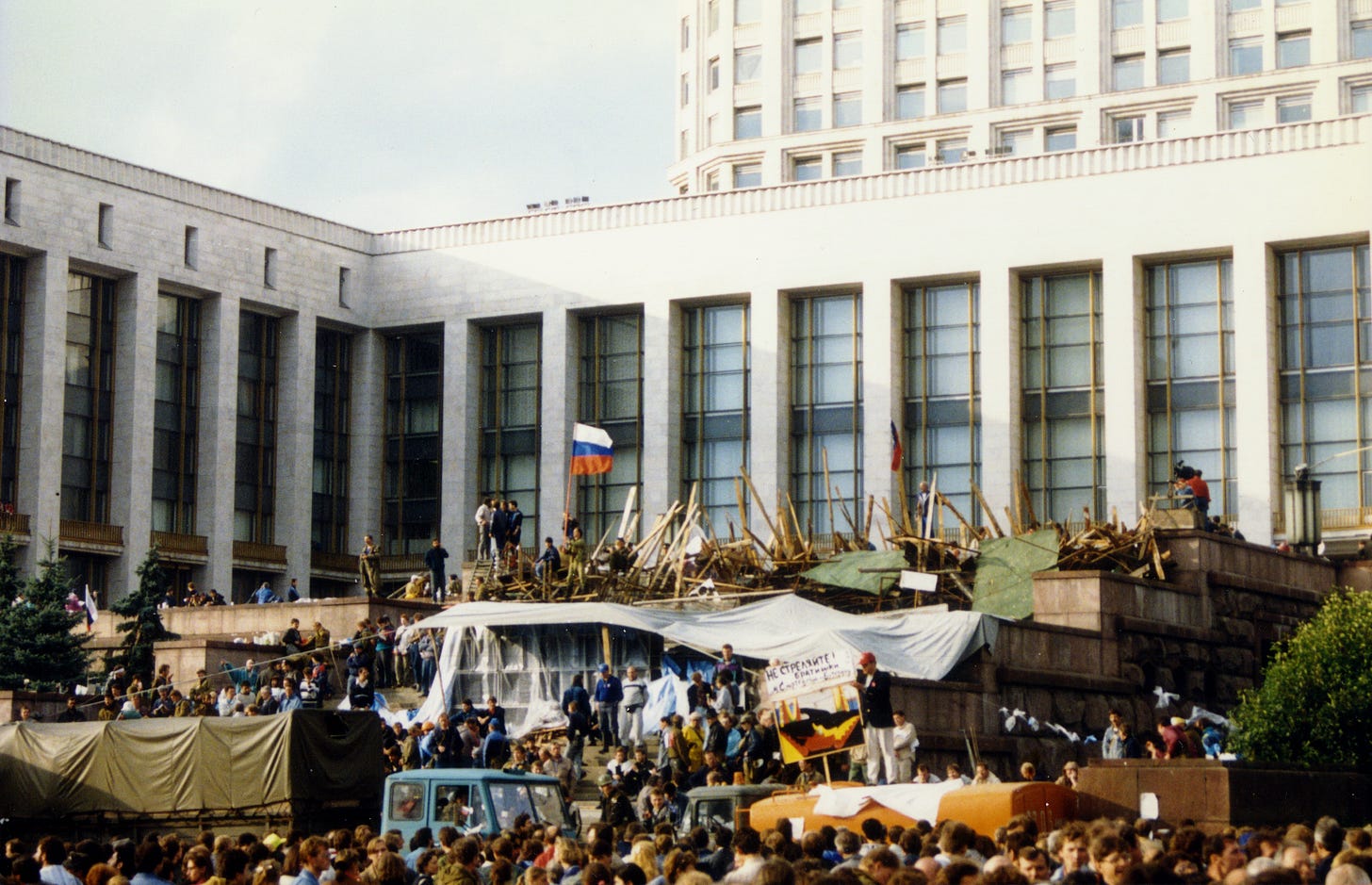 One of many scenes of Russian resistance to the coup (Wikimedia Commons)
August 20 (give or take), 636: The Battle of Yarmouk
August 20, 1988: A ceasefire brings the nearly eight year long Iran-Iraq War to an end. The war cost hundreds of thousands of lives and included some of the most appalling war crimes of the 20th century, and the outcome was the restoration of the "status quo ante bellum." That wholly inadequate phrase uses Latin to hide its deception—there's no restoring any pre-war status quo, because a whole bunch of people who were alive before the war started will no longer be alive when it ends.
MIDDLE EAST
SYRIA
Rebel forces reportedly withdrew from the town of Khan Shaykhun on Tuesday, leaving it to be seized by the Syrian military. This is the first time Khan Shaykhun has been in government hands since 2014. The Syrian Observatory for Human Rights says that rebels also withdrew from their remaining territory in Hama province, which would have been encircled once Khan Shaykhun fell. The main rebel group in the area, Hayat Tahrir al-Sham, is disputing all of this and claims it's simply "redeployed" its forces. Meanwhile, the Turkish military says it will not abandon the observation post that its forces were attempting to reach when they were shelled by the Syrian military on Monday. Apart from the shelling, that post is at risk of being cut off by recent government advances in southern Idlib province.
YEMEN
There was some backsliding in Aden on Tuesday, as forces from the Southern Transitional Council seized military facilities and government buildings in the nearby town of Zinjibar, capital of Yemen's Abyan province. The STC had seemingly been relaxing its position in Aden and looking ahead to a conference in Saudi Arabia on reshaping the Yemeni government to address some of the separatist group's demands. But this move definitely represents an escalation in the conflict between the STC and the government.
The Saudis, meanwhile, bombed Houthi targets in and around Sanaa overnight, mostly—so they say—of caves where the Houthis are storing drones and munitions. And speaking of drones, the Houthis are claiming that they've shot down a US MQ-9 Reaper drone over Yemen's Dhamar province. The Pentagon so far will only say that it's "aware" of the claim.
TURKEY
Kurdish protesters hit the streets in the city of Diyarbakır and in other parts of southeastern Turkey on Tuesday to protest Ankara's decision to remove the mayors of three major regional cities—Diyarbakır, Mardin and Van—because they're members of the People's Democratic Party and thus, as far as the Turkish government is concerned, of the Kurdistan Workers' Party. Riot police responded with the usual level of Turkish restraint, beating protesters with clubs, blasting them with water cannons, and arresting at least 400 people.
IRAQ
Another Popular Mobilization militia facility was hit on Tuesday in what was probably another Israeli airstrike. This time the target was a PMU weapons depot near the Balad Air Base, located around 50 miles north of Baghdad and home to some US personnel. The strikes didn't threaten the air base, but they did apparently cause rockets in the depot to fire and some of those did hit the air base. Iraqi officials are saying the attack caused some injuries but haven't been more specific than that.
ISRAEL-PALESTINE
The Israeli military has apparently developed an app that gamifies spreading Israeli propaganda:
As with previous conflicts, the fight between Hamas and the IDF was mirrored by a global information war. Hamas sought to entangle itself with more general pro-Palestinian sentiment, relying on a loosely organized network of supporters. By contrast, Israel used a more centralized model, built around amplification of the communications of both the IDF and Israeli Ministry of Foreign Affairs. Israel also turned to friendly civil society groups among the Jewish diaspora.

One such online proxy was Act.IL, which describes itself as an "Online Community for Israel." Act.IL administers a smartphone app that assigns users a series of "missions" — typically a comment, retweet, or "like" — intended to boost pro-Israel content across multiple platforms. Through these missions, Act.IL claims to have reached millions of people. Although there has been significant media coverage of Act.IL (critics describe it as "digital political astroturfing"), no independent empirical examination of its impact has yet been conducted.

The DFRLab monitored Act.IL missions during May 4–5 and captured corresponding Facebook, Twitter, and web activity. The results of this investigation illustrate the manner in which Act.IL orchestrates coordinated, centrally planned influence operations in order to promote Israeli public diplomacy goals online.
EGYPT
Egyptian officials are claiming that their security forces killed 11 Sinai militants in a raid on a hideout in the city of Arish. It's unclear when the raid took place, and as always these claims need to be treated with skepticism. Investigations have shown that Egyptian security forces sometimes say "raid" when what actually happened was more "extrajudicial execution."
SAUDI ARABIA
The Saudi government has reportedly begun to implement its plan to relax the country's repressive male guardianship laws. It's issued several royal decrees that, among other things, allow women over 21 to to travel without a male guardian's permission, allow women to register for marriage and divorce, and permit women to serve as guardians for minor children.
IRAN
The Trump administration is threatening to slap sanctions on any country or entity that has anything to do with Iran's Adrian Darya-1 oil tanker, which was released from its detention in Gibraltar over the weekend. The vessel is reportedly approaching Greece, but there's no indication it plans to stop there. That also means it's headed in the direction of Syria, which Iranian authorities reportedly promised the folks in Gibraltar that it wouldn't do. The administration says it will "act" if the vessel looks like it's going to Syria, though it hasn't been more specific than that.
The Australian government says it will contribute military assets to a US-led mission to protect shipping in the Strait of Hormuz. The UK has already agreed to join the mission. A separate, European Union-led mission has been under discussion but those discussions haven't really gone anywhere.
ASIA
AFGHANISTAN
Trump administration Afghanistan envoy Zalmay Khalilzad is heading back to Doha for more negotiations with the Taliban. The US and Taliban are thought to be circling a deal that would see the US withdraw its forces from Afghanistan in return for the Taliban's commitment to sever links to al-Qaeda and other jihadi groups. But many of the details, like the pace of that withdrawal and the mechanisms for ensuring the Taliban abides by its commitments, still need to be sorted out, as do issues about a ceasefire and if/when the Taliban plans on negotiating with the Afghan government.
MYANMAR
Rohingya refugees are mostly refusing to return to Myanmar from Bangladesh, interrupting plans for their repatriation. Of over 1000 families reportedly cleared to return by Myanmar authorities, it's believed only about 20 are willing to even entertain the possibility. This is not surprising, given that Myanmar hasn't offered any protection for returnees and there's little reason for them to believe they'll be safe from the genocidal violence that drove them into Bangladesh in the first place.
INDONESIA
Monday's protests in West Papua appear to be intensifying and spreading, and Indonesian authorities have begun moving military forces into the province to try to quell them. Protesters clashed with police in several parts of West Papua province on Tuesday, with injuries reported on both sides, and larger demonstrations are expected on Wednesday. The protests, which began in response to police mistreatment of a group of Papuan students, could be taking on a life of their own—there's a significant West Papuan independence movement that can certainly feed on grievances like the situation with those students.
CHINA
This past weekend's peaceful mass protests in Hong Kong seem to have made an impression on Hong Kong leader Carrie Lam. The embattled Lam on Tuesday said she will "immediately start the work to establish a platform for dialogue" in hopes of finding "a way out for today's Hong Kong." There have been fears that the Chinese government might get involved in suppressing the protests, though Beijing appears reluctant to risk the international condemnation that would likely ensue. Opening negotiations would further reduce the chances of such an intervention.
AFRICA
SUDAN
The transitional Sudanese government unveiled the membership of its new, 11 member Sovereign Council on Tuesday, disbanding the military council that's been running the country since a coup ousted former President Omar al-Bashir in April. In addition to five members chosen from the junta, including junta leader Abdel Fattah al-Burhan who will run the council for its first 21 months, and five members chosen from among the civilian opposition, the two sides jointly selected the eleventh member, a "Coptic Christian judge" named Raja Nicholas Issa.
LIBYA
According to the United Nations Office for the Coordination of Humanitarian Affairs, at least 90 people have been killed in clashes near the town of Murzuq in southern Libya so far this month. The UN is blaming the deaths on fighting between a local Arab tribe and the Toubou people that are spread out across the middle Sahel region, but at least 45 of those people were killed in a "Libyan National Army" airstrike on Murzuq on August 4.
SOMALIA
The region of Jubbaland, in southern Somalia, plans to elect a new regional president on Thursday, and in an effort to prevent the Somali government from interfering in that vote the regional government is blocking access to the city of Kismayo and its airport. The Somali government says it will not recognize the results of the vote. Jubbaland is a troubled region—it has a large al-Shabab presence and is a source of tension between the Somali and Kenyan governments over possible offshore energy deposits and the delineation of the two countries' maritime border. Incumbent regional president Ahmed Mohamed Madobe is well-liked in Kenya, which doesn't necessarily sit well with the folks in Mogadishu.
EUROPE
RUSSIA
Donald Trump would like to let Russia back into the G7, which would of course make it the G8 again. His argument for doing so, that any major issues the G7 would like to discuss are invariably going to involve Russia somehow, is actually not unreasonable. That said, Russia was booted from the G8, making it the G7, for annexing Crimea, and as we know it's still annexing Crimea. Ratifying that move may not send the greatest message.
BOSNIA AND HERZEGOVINA
Ten months after Bosnia's general election last October, the country doesn't have a government. And that's not likely to change anytime soon. Bosnia's three-member presidency has failed to coalesce, with Bosnian Serb representative and Russian client Milorad Dodik refusing to support any plan to put the country on a path toward NATO membership and the Bosniak and Croat representatives refusing to agree not to pursue NATO membership. The parties will in theory continue to discuss the issue but there's no reason to expect any progress, and the concern is that any extended political stalemate could impact Bosnia's always tenuous ethnic balance.
DENMARK
Oh come on:
Well at least this story can't get any dumber than tha-
Never mind.
ITALY
Italian Prime Minister Giuseppe Conte beat parliament to the punch on Tuesday, resigning before it could oust his government in a confidence vote. Conte will remain in office in a caretaker capacity while President Sergio Mattarella consults with party leaders to see if there's any other potential coalition out there to be formed. The only one that seems remotely plausible is a coalition between the Five Star Movement and the Democratic Party, but I wouldn't say that's likely to come together. The more likely outcome is an early election, but whether Mattarella goes straight to a vote or tries to stall while the government works out next year's budget is anybody's guess.
Meanwhile, an Italian prosecutor on Tuesday ordered that the remaining migrants on the Open Arms rescue vessel stuck at Lampedusa be allowed to disembark. The migrants spent almost three weeks under increasingly dire conditions as Interior Minister Matteo Salvini refused to allow it to dock at any Italian port. The Spanish government says it sent a naval vessel to Lampedusa to pick up the migrants and bring them to Spain, but it's unclear whether that mission will continue now that they've been allowed to go ashore.
SPAIN
Spanish Prime Minister Pedro Sánchez and his Socialist Party rejected for the second time the idea of forming a coalition with the leftist Podemos Party on Tuesday. Sánchez, who prefers a single party minority government, has since April's election been trying and failing to get enough parliamentary support behind him to make that happen. Podemos has been holding out for a role in the government, but its current ask—one deputy prime minister and three cabinet posts—is apparently too rich for Sánchez's blood. If Sánchez can't form a government by the end of next month, Spain will have to hold a snap election.
AMERICAS
VENEZUELA
Parts of Caracas and several Venezuelan states suffered yet another major blackout on Tuesday. The Venezuelan government says that power was restored shortly after, but opposition leader Juan Guaidó is claiming that the outage is both ongoing and more widespread than the government has admitted.
Venezuelan President Nicolás Maduro acknowledged on Tuesday that "senior officials" from both his government and the Trump administration have had "contacts" for several months, but only with his "express and direct permission." The AP reported on Sunday that Constituent Assembly leader Diosdado Cabello had been holding backchannel talks with the Trump administration, though the nature of those talks was unclear. The administration seemed to think the talks were about undermining Maduro's inner circle. Either Maduro is telling the truth and he knew about them, which means the administration was wrong, or he's lying, which means he's now trying to pretend he knew all along in order to avoid the appearance of weakness.
UNITED STATES
The Trump administration is refusing to distribute flu vaccines to the migrants imprisoned in its border camps. That way when a flu epidemic races through the camps Steve Miller can claim vindication that those migrants were bringing diseases with them. At least three children have reportedly died of the flu in the camps so far, and while I suppose it would be hyperbole to say that Donald Trump straight-up murdered those children, he sure did contribute to their deaths.
Trump is now reportedly willing to consider rolling back some of the $4 billion in foreign aid cuts he's been trying to get through Congress. That plan has met considerable bipartisan resistance in Congress, both due to concerns about the cuts and concerns that Trump is usurping the legislature's role in appropriating funds. Trump may even be getting a little pushback from Secretary of State Mike Pompeo, whose department would be the target of most of the cuts, though as that would require Pompeo to remove his head from Trump's ass it seems unlikely.
Finally, in a sign that we're really in uncharted territory, I give you the New York Times editorial board arguing for less US military interventionism:
The president, who advocates bigger military budgets, has in the meantime been more supportive of a nuclear arms race than of arms control agreements. He has pushed for foreign arms sales and denigrated the United Nations, the World Bank and other international institutions that, however much they need reform, help manage disputes and regulate global relations.

While the United States needs a strong defense, it also needs to develop a national security strategy that doesn't rely on limitless, sometimes wanton, military spending — the Pentagon failed its first audit last year — and that calls for restraint in deploying forces overseas. Such a strategy would also invest far more in diplomacy, development, economic justice, free and fair trade, nuclear nonproliferation and a reversal of climate change.
Don't worry—I'm sure they'll get back to cheerleading an Iran war in a few days.