World update: August 15 2019
Stories from Iraq, Tuvalu, and more
Don't forget about FX's Back to School sale! Get 25% off your first year with either an annual or monthly subscription if you sign up by August 25!
The discount also applies on donated subscriptions! All of our donated subscriptions go to students:
THESE DAYS IN HISTORY
August 14, 1480: The Martyrs of Otranto
August 14, 1947: Pakistani Independence Day
August 15, 718: The Siege of Constantinople ends
August 15, 747: Carloman, Mayor of the Palace of Austrasia, resigns in favor of his brother, Pepin the Short, who was already Mayor of the Palace of Neustria. Pepin, now indisputably the most powerful man in Francia, would usurp formal power from the Merovingians in 751 and inaugurate the Carolingian Dynasty.
August 15, 1237: The Kingdom of Aragon conquers the petty Muslim kingdom of Valencia at the Battle of the Puig.
August 15, 1281: At the Battle of Kōan, the Mongols attempt for the second time to invade Japan and, for the second time, a large portion of their army is lost when much of their fleet sinks due to a heavy storm. The Japanese defenders refer to the storm, and the one that saved them in 1274, as kamikaze ("divine wind").
August 15, 1461: The Ottoman siege of Trebizond ends with the city's surrender and, therefore, the fall of the Empire of Trebizond. Formed as one of several rump Byzantine states after the Fourth Crusade captured Constantinople, Trebizond was the last remnant of the Byzantine Empire still in existence when the Ottomans took Constantinople in 1453.
August 15, 1914: The Panama Canal formally opens.
August 15, 1947: Indian Independence Day
August 15, 1960: Republic of the Congo Independence Day
MIDDLE EAST
SYRIA
Syrian media is reporting that the country's air defenses intercepted a missile that was heading toward the city of Masyaf on Thursday. They claim the missile was fired from northern Lebanon, which doesn't preclude it having been an Israeli strike since Israel sometimes borrows Lebanese airspace. There are reports of at least one explosion around Masyaf but no casualty reports. Syrian media usually overestimates the success of the military's missile defenses in its initial reporting on these kinds of incidents.
In a move that's likely to exacerbate the conflict in northwestern Syria, Turkey has apparently given its rebel proxies in the "Syrian National Army" (the former "Free Syrian Army") and the National Liberation Front permission to join Hayat Tahrir al-Sham and other rebel factions in resisting the Syrian military's advance toward Khan Shaykhun in southern Idlib province. The rebels launched a counterattack against the Syrian military on Thursday, with "dozens" being killed in the fighting according to the Syrian Observatory. It doesn't appear they had much success, because the Syrian army reportedly continued rolling toward Khan Shaykhun from both the east and the west. If it succeeds in capturing the town, it will be able to isolate the remaining rebel-held parts of Hama province. The SNA, which operates to the north in areas directly controlled by Turkey, will probably join the fight in earnest on Friday.
YEMEN
"Thousands" of people gathered in Aden on Thursday to rally in support of the Southern Transitional Council, which has effectively seized control of the city. Lest you think this was a spontaneous outpouring of support, the STC purposefully bused in supporters from across southern Yemen in what very much seems to have been an astroturfed event. The STC says it's ready to participate in a Saudi-led negotiation over the Aden conflict, and perhaps as a show of good faith it appears that it began to withdraw its forces from Aden's presidential palace and its central bank offices on Thursday. So far it's not giving up the military sites it seized earlier this week, however. The STC wants to reestablish an independent South Yemen and is backed by the UAE, though it's unclear if even the UAE supports full southern independence.
IRAQ
The Iraqi government doesn't seem to be investigating the spate of fires that keep destroying acres of cropland across central and northern Iraq. In fact Baghdad seems intent on both drastically underreporting the extent of the problem and on chalking it all up to accidents or natural causes. But that explanation isn't sitting well with Iraqi farmers:
The fires have particularly affected Sunni and Yazidi communities that have struggled to recover from years of war and displacement. Near Hawija, one of the last towns to be freed from Isis – and a place where militants retain a presence – farmers braved the threat of guerrilla-style attacks, only to see their harvest go up in flames. In Sinjar, the fires have torched the livelihoods of Yazidis who had begun to return after Isis drove them from their ancestral land in 2014.

"There's economic warfare between countries so as to force Iraq to import," says Hikmat. Unverified, shaky videos purportedly showing Iranian-backed armed groups setting fields ablaze have circulated on social media, fuelling conspiracy theories among Sunnis that Shia Iran wants to hamper Iraq's progress towards self-sufficiency.
It's likely that some of the fires have been accidental or natural but some have also been deliberately set, whether by ISIS, other organized groups, or as a result of purely localized disputes. Ignoring the issue is probably not in the Iraqi government's best interests, especially if this "Shiʿa militias are trying to burn out Sunni farmers" narrative really starts to take hold. The last thing Iraq needs is more sectarian hostility.
ISRAEL-PALESTINE
Israeli police shot two Palestinians in Jerusalem's Old City on Thursday, killing one of them, after they stabbed an Israeli police officer.
Meanwhile, the Israeli government, at Donald Trump's urging, has barred US Congresspersons Ilhan Omar and Rashida Tlaib from entering Israel over their support for the Boycott, Divestment, and Sanctions program and their general criticism of Israeli policy toward the Palestinians. On the one hand this is a disgraceful new low in the Israel-US relationship, on the other it's exactly where that relationship has been heading for the past decade. We're supposed to believe that Benjamin Netanyahu was all set to allow Omar and Tlaib into the country until mean old Trump forced him to do this, but that's a load of crap—Trump definitely got what he wanted, but nobody forces Netanyahu to do anything he doesn't want to do. We're also supposed to believe that the leadership of the Democratic Party—which has repeatedly made clear its contempt for both Omar and Tlaib—is outraged over this slight, but that's also a load of crap.
QATAR
It would appear that expat laborers in Qatar, clearly unsatisfied despite multiple Qatari promises to dismantle the country's exploitative labor system, have started making their displeasure public:
One migrant worker at a Qatari company that provides maintenance, cleaning, plumbing, and other services, told Human Rights Watch that he and between 800 and 1,000 other employees refused to report to work on August 5, 2019. The employee said there had been repeated threats from management to deport the workers if they refused to sign new contracts substantially reducing their wages.

The worker said that he had already been forced to sign a contract when he arrived in Doha in 2018, under threat of deportation, for lower wages than he had been promised by a recruitment agent in his country. "The sponsor blamed it on the agent," said the worker. "He said to me, 'sign it or go back home.'" Hamad International Airport, Qatar's main airport, is among the company's clients.

Despite the ban on migrant workers striking, and burdensome conditions even for Qatari workers' right to strike, the migrant worker said that he and his colleagues were allowed to continue protesting in Doha's Asian Town district until midnight. He said that five police vehicles, three of them riot police vehicles, arrived on site at about 7 p.m., over three hours after workers had started congregating, but that they did not try to disperse the protesters. Human Rights Watch reviewed a video corroborating this information.
Another group of workers reportedly walked off the job the day before in Shahniyah. The Qataris declared very grandly back in 2017 that they were going to bring their labor standards up to international norms, but it's taking them an awfully long time to get there. And in many ways, domestic workers are in an even worse position than laborers.
IRAN
Authorities in Gibraltar have released the Iranian oil tanker Grace 1, which they seized last month on suspicion of shipping oil to Syria, but it's not free to go just yet. The US government has apparently made a new legal challenge to keep the ship in detention, though it's not clear what that challenge is or how the US could have the standing to make it. If/when the ship is finally cleared to sail, British authorities have insisted that it adhere to "assurances" made by the Iranian government that the vessel will not head to Syria. The Iranians say instead that the ship will visit "Mediterranean ports," whatever that means. They're remaining mum on the question of whether they'll reciprocate by releasing the Stena Impero, the British oil tanker that the Iranians seized in retaliation for the Grace 1.
ASIA
KASHMIR
The Pakistani military says that an exchange of artillery fire across Kashmir's Line of Control on Thursday left three Pakistani soldiers and five Indian soldiers dead. The Indian government is denying that its forces suffered any casualties and blamed the firing on Pakistan.
MYANMAR
Myanmar's rebel Northern Alliance attacked several government targets, including a military academy, in Shan state on Thursday, killing at least 15 people. The Northern Alliance is an umbrella group including four regional/ethnic militant groups: the Arakan Army, the Kachin Independence Army, the Myanmar National Democratic Alliance Army, and the Ta'ang National Liberation Army.
Meanwhile, Reuters is reporting that Myanmar and Bangladesh are going to try next week to repatriate some of the 730,000 Rohingya refugees still in Bangladesh. The Myanmar government has cleared a first batch of around 3500 people to come back, but as it's made no effort to ensure that the Rohingya who return won't be subject to the same state-sanctioned genocidal violence that caused them to flee in the first place, it's unlikely that any will be willing to go. Previous attempts at repatriation have failed for the same reason.
NORTH KOREA
The South Korean says that North Korean conducted yet another weapons test off of its east cost on Friday morning. The North Koreans reportedly launched two projectiles—details are still sketchy beyond that. This would be North Korea's sixth weapons test in under a month. Earlier in the day, a spokesman for North Korea's Committee for the Peaceful Reunification of the Country, which handles Pyongyang's interactions with South Korea, said that "we have nothing more to talk about with South Korean authorities and we have no desire to sit down with them again." South Korean President Moon Jae-in has pledged to continue diplomacy with North Korea but at this point it seems Pyongyang is only interested in speaking with the US.
OCEANIA
TUVALU
It sounds like this year's Pacific Islands Forum summit went really, really well:
Critical talks at the Pacific Islands Forum almost collapsed twice amid "fierce" clashes between the Australian prime minister, Scott Morrison, and Tuvalu's prime minister, Enele Sopoaga, over Australia's "red lines" on climate change.

Ralph Regenvanu, Vanuatu's foreign minister, who was part of the drafting committee of the forum communique and observed the leaders' retreat, said there was heated discussion over the Australian delegation's insistence on the removal of references to coal, setting a target of limiting global warming to below 1.5C and announcing a strategy for zero emissions by 2050.

He described the discussions as "frank, fierce at times, [with] very strong positions being held".
The disagreements almost quashed the summit's group statement, but Morrison finally relented when the other leaders agreed to declare that there's a climate crisis only in the Pacific Islands, not in Australia. Oh for sure, man.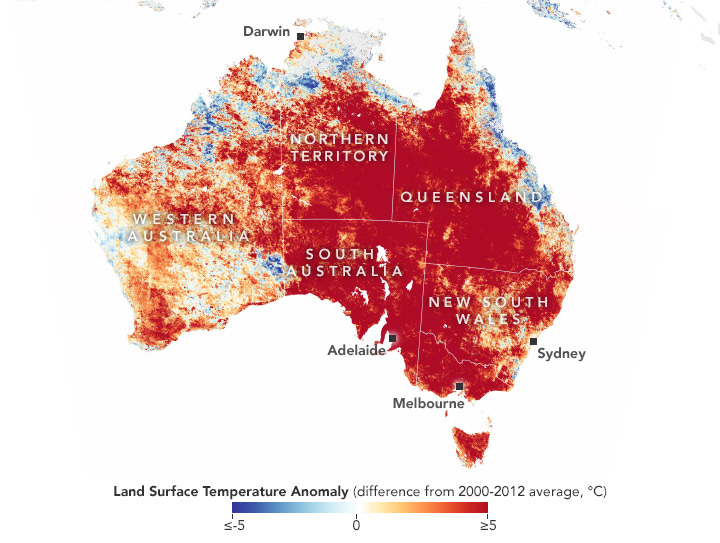 Map: Australia not experiencing a climate crisis in January of this year (NASA)
AFRICA
LIBYA
Tripoli's Mitiga Airport had to shut down operations on Thursday when a missile strike on the facility killed one worker. Khalifa Haftar's "Libyan National Army" was undoubtedly responsible.
EUROPE
DENMARK (?)
Donald Trump wants to buy Greenland. No, really. It's unclear why and nobody knows if this is one of those things he'll forget about in a week or one of those things onto which his rapidly deteriorating brain has latched permanently. He doesn't seem to have made a serious approach to the Danish government about buying the island—certainly he hasn't gotten as far as Harry Truman did in 1946, when the idea was only slightly less stupid. Presumably he likes the idea both to bolster the US presence in the now practically balmy Arctic Ocean and because, once we've finally cooked off all of Greenland's ice and sunk most of the world's coastlines permanently into the ocean, that extra land will come in handy. But I can't really say for sure.
UNITED KINGDOM
Labour Party leader Jeremy Corbyn is cooking up a plan to thwart a no-deal Brexit by holding a no-confidence vote in Boris Johnson's government and then bringing together all of parliament's no-deal opponents—Labour, the Liberal Democrats, and some number of Tories who oppose Johnson's plans—behind an interim, caretaker government with him at the helm. It's an interesting idea that would temporarily avoid the need for a new election, but it's unclear whether he can pull it off. Owing to a mix of criticisms ranging from reasonable (his wishy-washy handling of the Brexit debate) to total BS (the usual demonization of anybody to the left of Margaret Thatcher as Stalin reborn), Corbyn may just not be the guy to unite some very disparate groups in this common cause. It's not even clear that Labour itself is internally united in opposition to a no-deal scenario.
AMERICAS
ARGENTINA
Argentine President Mauricio Macri is just giving things away now in an effort to buy his way out of the political hole in which he finds himself, the one that may cost him his chance at reelection in October. On Thursday he announced that he's doing away with the country's 21 percent sales tax on basic foods like bread, eggs, milk, and oil. I'm not sure I fully understand the political logic of instituting a harsh, immiserating austerity program, sticking by that program for over three years even as the economy and your own approval rating both tank, and then jettisoning the whole thing in a panic two months before the next election. But that's probably why I'm not a successful political genius.
BRAZIL
Jair Bolsonaro had another highly normal day on Thursday. In this case he decided to respond to decisions by both the Norwegian and German governments to cut funding for sustainability programs in the Amazon Rainforest on account of how Bolsonaro wants to pretty much cut the whole thing down. Brazil's extremely level-headed president suggested that both countries take their money and go "reforest Germany." Which I grant you would be a good idea, but still wouldn't make up for Bolsonaro clear-cutting the Amazon.
UNITED STATES
Finally, University of Massachusetts Amherst professor Paul Musgrave wonders why we're still so convinced that America is exceptional:
By many measures, the United States looks like a decidedly middle-of-the pack country or even one at the bottom of the set of rich countries. Consider the classic three American goals: "life, liberty, and the pursuit of happiness." On measures indicating the quality of life, the United States often ranks poorly. The U.N. Human Development Index, which counts not just economic performance but life expectancy and schooling, ranks the United States at 13th, lagging other industrialized democracies like Australia, Germany, and Canada. The United States ranks 45th in infant mortality, 46th in maternal mortality, and 36th in life expectancy.

What about liberty? Reporters Without Borders places the United States at 48th for protecting press freedom. Transparency International's Corruption Perceptions Index ranks the United States as only the 22nd least corrupt country in the world, behind Canada, Germany, and France. Freedom House's experts score the United States 33rd for political freedom, while the Varieties of Democracy project puts the quality of U.S. democracy higher—at 27th.

As for happiness: The World Happiness Report places America at 19th, just below Belgium. Belgium!

Less formal impressions reinforce the conclusion that Americans' view of their own exceptional accomplishments aren't shared quite as widely as they believe. On Twitter, I asked people who have spent time in both the United States and other countries to tell me about everyday ways in which they found the United States to be less advanced than other countries.

I received more than 2,000 replies in a day.