World roundup: September 15 2020
Stories from China, Mali, Greece, and more
This is the web version of Foreign Exchanges, but did you know you can get it delivered right to your inbox? Sign up today:
---
THESE DAYS IN HISTORY
September 14, 1829: The Treaty of Adrianople ends the Ottoman-Russian War of 1828-1829. The Ottomans ceded control over the eastern shore of the Black Sea and the mouth of the Danube River, re-guaranteed Serbia's autonomy, allowed Moldavia and Wallachia to become Russian protectorates, and paid a large settlement to the Russians.
September 14, 1960: At a meeting in Baghdad, the governments of Iran, Iraq, Kuwait, Saudi Arabia, and Venezuela agree to form the Organization of Petroleum Exporting Countries. Everything has gone really well ever since. Also on this date, with CIA help, Congolese Army Colonel Mobutu Sese Seko seized power in a bloodless coup in Kinshasa. That worked out really well too.
September 15, 1821: The Captaincy-General of Guatemala—encompassing the modern states of Costa Rica, El Salvador, Guatemala, Honduras, and Nicaragua—declares its independence from Spain. The date is commemorated as independence day in all five of those countries.
September 15, 1894: The Imperial Japanese Army captures the city of Pyongyang from Qing Dynasty China in one of the first engagements of the First Sino-Japanese War. China opted to abandon Korea to the Japanese, and when the war ended with a Japanese victory the Korean peninsula came under Japan's regional sphere of influence.
INTERNATIONAL
Worldometer's coronavirus figures for September 15:
29,716,845 confirmed coronavirus cases worldwide (7,248,197 active, +277,887 since yesterday)

938,438 reported fatalities (+5992 since yesterday)
In today's global news:
The United Nations General Assembly opened Tuesday, though if you weren't paying attention I don't blame you. This year's assembly is being held virtually, meaning it's going to be even less impactful than usual and that's saying a lot.
MIDDLE EAST
SYRIA
3614 confirmed coronavirus cases (+38)

160 reported fatalities (+3)
According to the Syrian Observatory for Human Rights, a drone strike in northwestern Syria on Tuesday killed a "prominent leader" (as AFP put it) of Hurras al-Din, who apparently goes by the name Sayyaf al-Tunisi. Indications are that this was a US drone strike, which would make sense given that Hurras al-Din, al-Qaeda's remaining Syrian affiliate, is of particular concern to Washington.
On a somewhat related note, a panel of United Nations investigators has accused the Turkish government of turning a blind eye as the rebels it supports in northern Syria engage in, as Reuters reports, "kidnappings, torture and looting of civilian property." The panel, which also accused the rebels of rape and other potential war crimes, called on the Turks to do more to protect civilians in those parts of Syria that are currently under Ankara's control.
IRAQ
298,702 confirmed cases (+4224)

8166 reported fatalities (+80)
Iraqi authorities are reporting three attacks against Western targets in Iraq over the past two days, including one targeting a British military vehicle near Baghdad's airport. British forces aren't usually targeted by Iraqi militias so this is an interesting development. The other two attacks involved a rocket strike targeting the US embassy in Baghdad, which was apparently foiled by the embassy's defense systems, and an attack on a US convoy. There were no casualties in any of the incidents, but the number of attacks in such a short window shows pretty clearly that Iraqi militias are not ratcheting down their activities.
ISRAEL-PALESTINE
164,402 confirmed cases (+4034) in Israel, 32,250 confirmed cases (+888) in Palestine

1147 reported fatalities (+11) in Israel, 229 reported fatalities (+3) in Palestine
Donald Trump's big signing ceremony went off without a hitch at the White House on Thursday, with Israeli Prime Minister Benjamin Netanyahu, UAE Foreign Minister Abdullah bin Zayed Al Nahyan, and Bahraini Foreign Minister Khalid bin Ahmed Al Khalifa all putting their signatures on what the Trump administration has dubbed "The Abraham Accord," and yes I am rolling my eyes so hard right now that I'm a little afraid they're going to detach from my optic nerves. Israel and the UAE have agreed to normalize their diplomatic relations, as have Israel and Bahrain, though I believe their agreement is a bit more preliminary than the Israel-UAE agreement.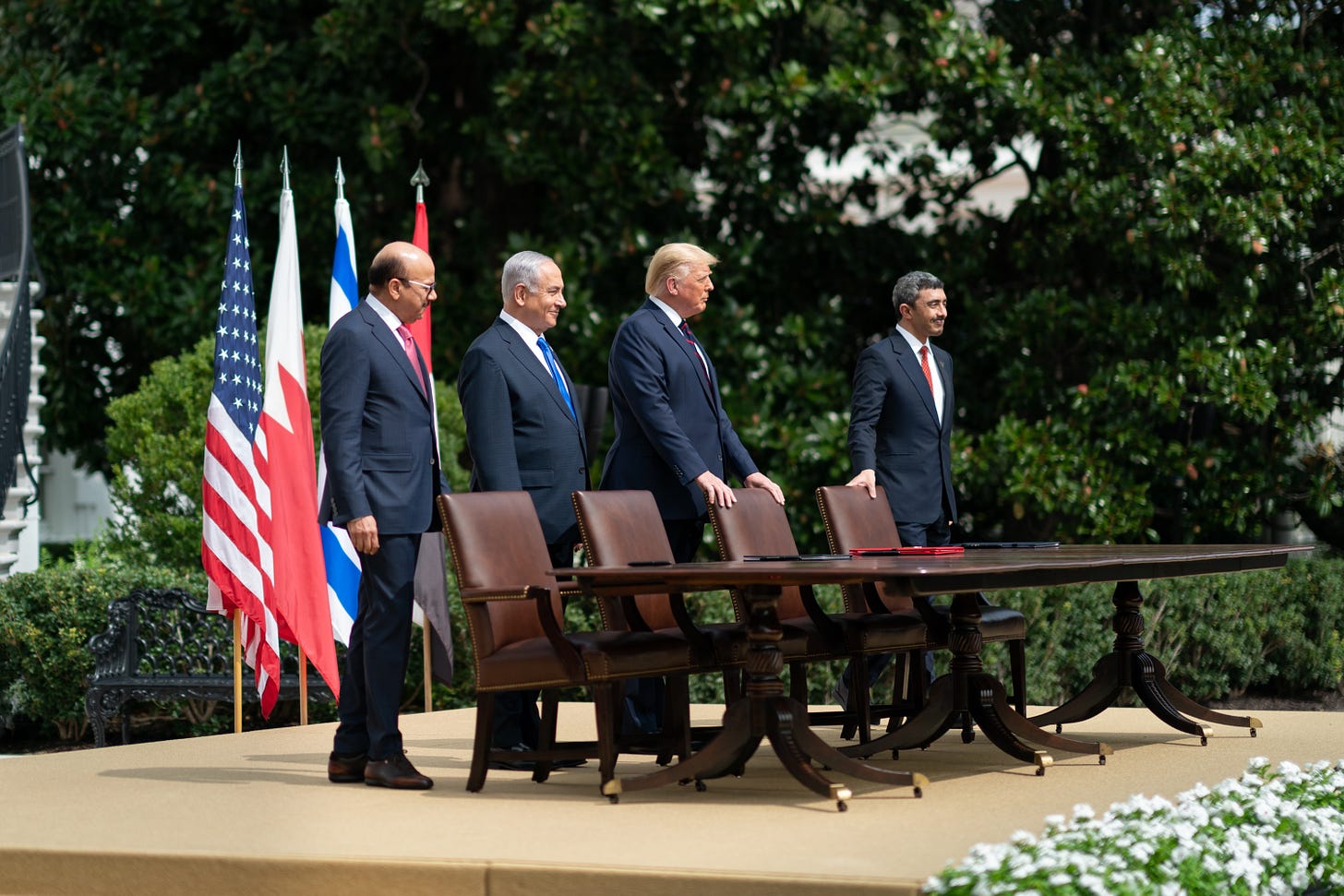 Looks like a real fun time (White House photo via Flickr)
I don't think we need to say much more about these arrangements, which don't fundamentally change the balance of alliances in the Middle East so much as they bring a couple of those alliances out into the open. They're fueled by a mutual opposition to Iran and a shared disdain for the Palestinians in particular and human rights in general. Speaking of the Palestinians, a group of them launched a couple of rockets out of Gaza as the signing ceremony was taking place, wounding at least two Israeli civilians in Ashdod. This will presumably kick off another round of punishing Israeli military strikes and commercial restrictions on Gaza, which will serve to highlight the extent to which Emirati and Bahraini leaders have sold the Palestinian cause out in service of their own interests.
ASIA
INDIA
5,018,034 confirmed cases (+91,120)

82,091 reported fatalities (+1283)
The Indian military is reportedly rushing supplies to its border units in preparation for winter. This is a fairly normal occurrence—winter still does come every year, at least for the time being—but the scope of the operation this year is very large. And this year it also involves the substantial reinforcement of those border units, as much as doubling their manpower. These differences are due largely to this summer's escalation in border tensions between India and China. The race to get supplies and manpower to its border units suggests that New Delhi isn't terribly optimistic about easing those tensions in the near future.
CHINA
85,202 confirmed cases (+8) on the mainland, 4976 confirmed cases (+4) in Hong Kong

4634 reported fatalities (+0) on the mainland, 102 reported fatalities (+1) in Hong Kong
The US State Department has issued a travel warning for China and Hong Kong, with cautions about the use of "arbitrary police and security power." Travel between the US and China isn't exactly booming these days, but the warning itself has already generated a sharp rebuke from the Chinese government. They may look to respond in kind. In related news, a panel at the World Trade Organization has ruled that tariffs imposed by the Trump administration on some $250 billion worth of Chinese imports are "inconsistent" with global trading rules. As we all know, Donald Trump loves tariffs, and he's been pretty eager to impose them, which means that China isn't the only country with a case like this pending before the WTO. This outcome suggests those other cases aren't going to go well for the US, though the administration will probably just ignore the WTO's rulings.
JAPAN
75,958 confirmed cases (+301)

1451 reported fatalities (+9)
Barring a very unforeseen development, new Liberal Democratic Party leader Suga Yoshihide will officially succeed the retiring Abe Shinzō as Japanese prime minister on Wednesday. Speculation is still rampant that he will then call a snap election in order to shore up his position at what might be the height of his popularity. Japan must hold a new election by October of next year, and for Suga not to call a snap election now risks a loss of popularity between now and then. On the other hand, polling suggests that a snap election may not be very well received. Holding a vote risks alienating voters who may feel like Suga is risking their health, and taking his attention away from bolstering Japan's weakening economy, for political gain.
AFRICA
MALI
2940 confirmed cases (+5)

128 reported fatalities (+0)
Leaders from the Economic Community of West African States (ECOWAS) met Tuesday with leaders of Mali's ruling junta to urge them to speed up the transition back to civilian governance. It, uh, didn't go very well, according to acting ECOWAS chair and Ghanaian President Nana Akufo-Addo. ECOWAS seems to have relaxed its previous demands for a 12 month maximum transition before new elections, with Akufo-Addo suggesting the bloc would be open to the 18 month timeframe the junta floated over the weekend. But ECOWAS is not thrilled with the details of the junta's transition plan, specifically the part where it says the transition could be military-led rather than civilian-led.
It's hard to see the junta budging unless it starts to face serious resistance domestically, and that hasn't happened yet. The Malian people still seem happy to have seen an end to the previous government of former President Ibrahim Boubacar Keïta. Moreover, given the systemic dysfunction encompassing all of Malian politics, it's doubtful the Malian public is all that interested in seeing another member of the civilian political elite—even a member of the opposition—put in charge of the country. Even if the junta were amenable to handing power to an interim civilian government, there's no obvious, credible candidate for that job.
KENYA
36,301 confirmed cases (+96)

634 reported fatalities (+10)
US Africa Command wants to take its drone campaign against the Somali jihadist group al-Shabab—the one where it miraculously never kills any bystanders except when it does—to Kenya. I'm sure the Kenyan people must be very excited. Al-Shabab does operate in Kenya, and its fighters carried out an attack against US forces stationed at a Kenyan base back in January. AFRICOM officials are contending that they don't necessarily want the authorization to engage in an offensive effort against al-Shabab in Kenya, but rather for defensive purposes in case of another attack like the one earlier this year. And as we all know the Pentagon never gets carried away when it gets permission to start bombing a new place.
EUROPE
GREECE
13,730 confirmed cases (+310)

313 reported fatalities (+3)
Now that Turkish authorities have recalled their Oruç Reis exploratory vessel from its extended mission looking for offshore energy deposits in the eastern Mediterranean, the Greek government says it is prepared to open negotiations with Ankara to try to ease tensions in that region. The Turks say they brought Oruç Reis to port for maintenance, but have quietly suggested they could extend its downtime to provide an opening for talks. That said, on Tuesday they decided to keep their Yavuz drilling vessel out at sea for at least another three weeks. That's significant because Yavuz is operating in waters that are claimed by Cyprus, and the Turkish-Cypriot dispute over maritime boundaries is linked to the Turkish-Greek dispute over the same issue. So keeping the Yavuz at sea is likely to exacerbate tensions, not alleviate them.
FRANCE
395,104 confirmed cases (+7852)

30,999 reported fatalities (+49)
Speaking of the eastern Mediterranean, analyst Steven Cook tries to explain Emmanuel Macron's newly assertive role in the region:
French policymakers have long maintained the fiction that France remains a power in the Middle East, North Africa, and the Eastern Mediterranean. They sell some big-ticket weaponry to a variety of countries, have joined the Americans and Britons in a variety of military operations (though not Operation Iraqi Freedom), and are involved in counterterrorism operations, especially in North Africa. And every now and again, a French president declares his determination to find a solution to the conflict between Israelis and Palestinians.

But those efforts have tended to fade even before the next news cycle begins. Now it seems the French are more serious about their role in these interconnected regions. Macron is staking a claim that France is willing to wield power to bring order and stability to the area. Why the change? In a few words: refugees, energy, and Turkey.
I'm not sure "Turkey" is a separate category. What Macron wants is stability in Libya and Lebanon (that's the "refugees" part) and protection for French energy interests. Turkey has already wrecked Macron's plans to help Khalifa Haftar seize control of Libya and it's threatening French-Cypriot energy exploration.
AMERICAS
PARAGUAY
29,298 confirmed cases (+931)

552 reported fatalities (+13)
The Paraguayan People's Army (EPP) insurgency has kidnapped former Paraguayan Vice President Óscar Denis, possibly in retaliation for an anti-EPP operation earlier this month during which Paraguayan security forces killed two 11 year old girls. The circumstances of those killings are not fully clear but they appear to have been the object of an attempted coverup by Paraguayan authorities and they fit with a pattern of human rights abuses, particularly against minors in rural parts of the country. As far as I can tell Denis' whereabouts are now unclear. The EPP had threatened to kill him unless the government and Denis' family met several conditions by September 13. The family seems to have complied, but the government did not. An employee of the former VP, kidnapped along with Denis, has been released, but Denis himself has not.
UNITED STATES
6,788,147 confirmed cases (+36,447)

200,197 reported fatalities (+1197)
Finally, a new survey from the Pew Research Center suggests, perhaps unsurprisingly, that the Trump administration's struggles with the pandemic have not been terribly beneficial to America's international image:
President Trump defended his handling of the coronavirus pandemic during an interview with Fox News over the weekend, arguing that he took "tremendous steps" early in the outbreak, which "saved probably two or two and a half million lives."

But much of the world appears to think otherwise. In a new poll of 13 nations released Tuesday, a median of 15 percent of respondents said the United States had handled the pandemic well, while 85 percent said the country had responded poorly.

The data, released by Pew Research Center, suggests that the international reputation of the United States has dropped to a new low in the face of a disorganized response to the novel coronavirus. The country leads the world in virus-related deaths.

International affairs analysts say it may be difficult to repair the damage to the United States' standing overseas. Among some traditional allies like Germany, views of the United States have declined to the lowest levels since Pew began tracking them nearly two decades ago.