World roundup: October 13 2020
Stories from Saudi Arabia, Kyrgyzstan, Mauritius, and more
This is the web version of Foreign Exchanges, but did you know you can get it delivered right to your inbox? Sign up today:
---
THESE DAYS IN HISTORY
October 12, 1492: Christopher Columbus's first expedition makes landfall in the Bahamas. Check out my Columbus and the Islamic World essay for a take on how Columbus's "discovery" of the Americas affected much of Eurasia.
October 13, 1307: The Knights Templar order is purged
October 13, 1943: Italy declares war on Germany. With friends like these, am I right folks? This abrupt shift of alliances was overseen by new Italian Prime Minister Pietro Badoglio, who had risen through the ranks of the Italian military in World War I and was promoted to the rank of Marshal of Italy by Benito Mussolini in the inter-war period. Italian King Victor Emmanuel III appointed him as PM after ousting Mussolini in July, when it was clear there could be no Italian armistice with the Allies so long as Mussolini remained in power. The Allies replaced Badoglio with Ivanoe Bonomi when they captured Rome from the Nazi puppet Italian Social Republic in June 1944. Despite having been responsible for a series of atrocities in Libya and Ethiopia prior to World War II, Badoglio was never brought up on war crimes charges, as the Allies believed he could be an influential anti-communist force in post-war Italian politics.
INTERNATIONAL
Worldometer's coronavirus figures for October 13:
38,348,125 confirmed coronavirus cases worldwide (8,416,675 active, +313,283 since yesterday)

1,090,225 reported fatalities (+5008 since yesterday)
In today's global news:
The seemingly unending saga that is the question of whether or not it's possible to be reinfected with the novel coronavirus took a new turn this week with the publication of an article in The Lancet. That piece recounts the case of a 25 year old man in Nevada who recovered from COVID-19, and was not only reinfected less than two months later with a different strain of SARS-CoV-2 but actually suffered more serious complications from the second infection. Now there's word that a Dutch woman has died after being reinfected, the first such case that's been documented. Probably not great news! There have only been a few documented cases of reinfection so far, but the possibility still has major ramifications in terms of vaccine development. And the possibility of a more severe infection the second time around—doctors apparently aren't sure why—adds a new wrinkle to the issue.

The International Monetary Fund says the pandemic is likely to cause an overall loss of around $28 trillion in global output by 2025. The IMF recently revised its outlook for global GDP in 2020 upward, predicting a contraction of 4.4 percent instead of the 5.2 percent it predicted earlier this year. But it's revised its 2021 growth projection down from 5.4 percent to 5.2 percent, citing new spikes in infections as well as a growing gap between developed and developing nations in terms of managing the crisis.
MIDDLE EAST
SYRIA
4826 confirmed coronavirus cases (+52)

231 reported fatalities (+3)
The New Arab is highlighting reports of a civil war of sorts within Syria's Ahrar al-Sham rebel faction, pitting its political wing against its military wing. The group's political wing apparently tried to sack a regional military commander, an order that's been rejected by Ahrar al-Sham's overall military commander who goes by the name "Abd al-Mundher." Hayat Tahrir al-Sham has of course availed itself of the opportunity to throw its drowning rival an anchor and is reportedly backing the military wing.
LEBANON
55,869 confirmed cases (+1245)

479 reported fatalities (+13)
Former Lebanese Foreign Minister Gebran Bassil is apparently not thrilled at the possibility of Saad al-Hariri once again becoming prime minister. Hariri has once again put himself forward as PM in the wake of Mustapha Adib's failed attempt to form a cabinet. He's already negotiating with political stakeholders about putting together a "technocratic" cabinet to implement the reforms outlined in French President Emmanuel Macron's political roadmap, which is a prerequisite for unlocking new foreign aid.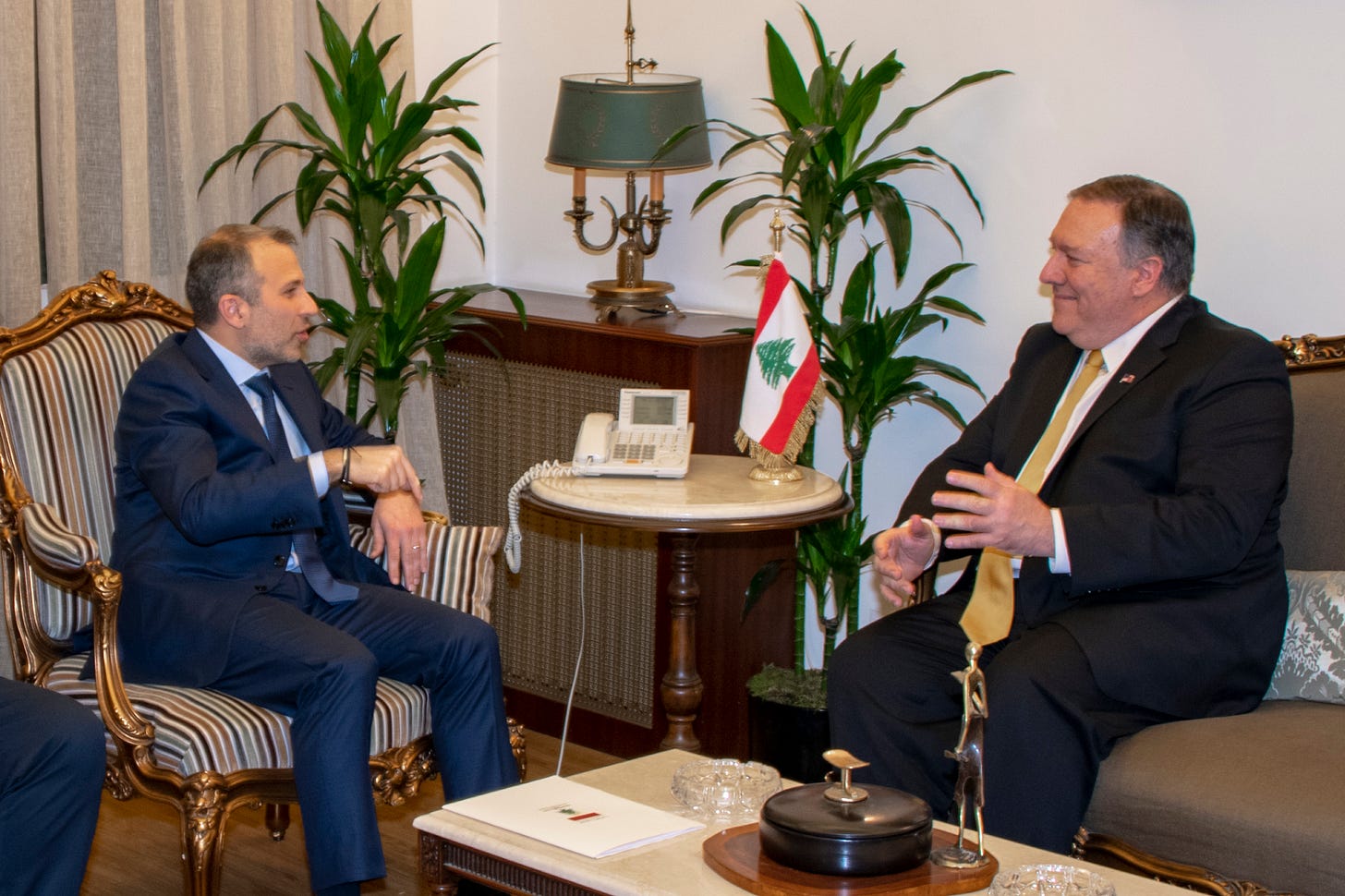 Bassil (left), back in 2019 when he was foreign minister, meeting with US Secretary of State Mike Pompeo in Beirut (State Department photo via Flickr)
I put technocratic in quotes because in the Lebanese context it more or less means "depoliticized" rather than "expert," but also to highlight the absurdity of consummate political player Saad al-Hariri leading a cabinet that is supposed to be above politics. That's Bassil's complaint, and he's got a point. The fact is Hariri may be the only Sunni politician in Lebanon capable of forming a cabinet at this point, but it is also true that there's no justification for him and his faction being represented in the next government while Lebanon's other political factions are shut out. Nor is there much reason to expect such a cabinet to actually reform Lebanese politics.
SAUDI ARABIA
340,089 confirmed cases (+474)

5087 reported fatalities (+19)
Amid heavy opposition from a number of international human rights organizations, China and Russia both won seats on the United Nations Human Rights Council on Tuesday, but Saudi Arabia did not. Wow, you murder one journalist in your consulate and I guess you're tarred for life? Is that how it is now? In addition to China, Nepal, Pakistan, and Uzbekistan won the four open Asia-Pacific seats on the council, so at least we know that there will still be a bunch of egregious human rights abusers on the council despite the Saudis' absence.
Meanwhile, Saudi media may be offering some hints as to the kingdom's future plans with respect to its relationship with Israel:
Two months after the United Arab Emirates announced an agreement to establish diplomatic relations with Israel, the tightly controlled media in Saudi Arabia are offering clues to whether the influential kingdom might follow suit.

Saudi Arabia has yet to comment officially on any plans to normalize relations with Israel. But last month, the kingdom's largest English-language daily, Arab News, published an editorial by the editor in chief welcoming the UAE's new ties with Israel.

The piece contained unusually harsh criticism of Palestinian leaders. "When will they learn that every time they turn away from the negotiating table, the pie only gets smaller?" Faisal Abbas asked. He said the fault was "not all on one side" and that Israel also makes it difficult to reach a deal to resolve the Israeli-Palestinian conflict.
ASIA
AZERBAIJAN
42,381 confirmed cases (+277)

612 reported fatalities (+3)
The conflict in Nagorno-Karabakh remained more or less in stasis on Tuesday, as both sides continue to violate the ceasefire that was supposed to go into effect on Saturday while accusing one another of violating it. There has apparently been a noticeable decrease in the level of violence since the ceasefire went into "effect," but the situation has not deescalated enough to permit the warring sides to exchange their prisoners and their dead, which were supposed to be the next steps in the agreement brokered by the Russian government last Friday. And it appears the Azerbaijani military is using the relative lull to target Armenian ground units from the air, forcing them to withdraw and potentially strengthening the Azerbaijani position ahead of a full resumption of hostilities.
Azerbaijani officials still haven't acknowledged any military casualties in over two weeks of fighting, but they're believed to have been substantial. Karabakh is challenging terrain for an attacker and Karabakh/Armenian forces have the advantages of defending and being more familiar with that terrain. So softening the defenders up from the air makes a good deal of sense from Baku's perspective.
KYRGYZSTAN
49,871 confirmed cases (+343)

1092 reported fatalities (+2)
After meeting with a Russian envoy on Tuesday, Kyrgyz President Sooronbay Jeenbekov has reportedly asked parliament to redo its vote confirming Sadyr Japarov as prime minister. Questions are still swirling about that vote, which took place on Saturday in the apparent absence of a legal quorum. Japarov's backers have countered that several members of parliament voted by proxy, meeting the quorum requirement, but it's unclear whether those members filed the appropriate paperwork or whether voting by proxy is even permissible in the specific case of picking a PM. Jeenbekov has yet to confirm Japarov's ascension, so officially he's not yet PM though he's been acting in that capacity since Saturday's vote. It's unclear whether parliament plans to hold another vote on Japarov, but it did name an interim speaker on Tuesday, Kanat Isayev. That's relevant because by virtue of that appointment Isayev is now first in line to succeed Jeenbekov, if the latter follows through on his promises to resign once there's a new cabinet in place.
Al Jazeera has a new piece online that provides some background into the shady Matraimov family. They've amassed a considerable fortune basically as smugglers and now operate as political kingmakers behind the scenes. Their Mekenim Kyrgyzstan party did well for itself in last Sunday's (annulled) parliamentary election, which helped spark the unrest that's gripped the country ever since. They're so far into the shadows that it seems unclear, at least to my admittedly non-expert eyes, how much of a role they've been playing in that unrest.
AFGHANISTAN
39,928 confirmed cases (+58)

1480 reported fatalities (+1)
The Afghan military has reportedly begun a counterattack against Taliban fighters attempting to capture the city of Lashkar Gah, the capital of Helmand province. The US military has been bombing Taliban forces to blunt their offensive, but it's unclear whether US air support is involved in the counter-offensive. The fighting has reportedly displaced some 35,000 people since Sunday. In a potentially related story, the chair of the US Joint Chiefs of Staff, General Mark Milley, told NPR on Monday that any US withdrawal from Afghanistan remains "conditions-based." That would seemingly contradict Donald Trump's recent promise to have all US forces out of the country by Christmas. I suppose the difference here is that Milley isn't currently polling double digits behind his opponent three weeks ahead of an election.
INDIA
7,237,082 confirmed cases (+63,517)

110,617 reported fatalities (+723)
Indian and Chinese military leaders met on Monday to try yet again to resolve their border dispute in the Ladakh-Aksai Chin region, apparently to no avail. The two sides have agreed not to send new forces to the border but can't seem to agree on a plan to deescalate the situation, and at this point there are signs that New Delhi is being urged to take a hard line by the Trump administration.
MALAYSIA
16,880 confirmed cases (+660)

163 reported fatalities (+4)
Malaysian politician Anwar Ibrahim got his audience with King Abdullah of Pahang on Tuesday in order to make the case for why he, not incumbent Muhyiddin Yassin, should be prime minister. Anwar claims to have amassed a parliamentary majority to remove Muhyiddin, whose own majority has seemed paper thin at best since he took office in March. If he can't convince Abdullah that he does have a majority, then Muhyiddin will remain as PM. If he can, then Abdullah could name Anwar PM…or he could call a snap election.
JAPAN
89,673 confirmed cases (+326)

1634 reported fatalities (+5)
The Chinese Coast Guard has apparently still not actually pulled two of its ships out of disputed waters around the Senkaku/Diaoyu islands, and the Japanese government on Tuesday lodged a formal protest with Beijing as a result. Those Chinese ships entered the disputed waters on Sunday, triggering a response from the Japanese Coast Guard, and apparently that's where things still stand three days later.
OCEANIA
AUSTRALIA
27,317 confirmed cases (+31)

899 reported fatalities (+1)
Apparently the Australian government has a soft spot when it comes to bribery:
A Transparency International report on foreign bribery released on Tuesday found Australia's enforcement system "remain inadequate and prosecutions remain low", despite prior concerns expressed by the OECD.

The report found that Australia commenced 14 foreign bribery investigations in the three years from 2016 to 2019, initiated three court cases and concluded another three.

The cases taken to court included the prosecution of foreign aid contractor Sinclair Knight Merz, a now-merged company which is fighting allegations it paid a series of bribes to secure work across south-east Asia.

Guardian Australia has previously revealed that Sinclair Knight Merz continued to win contracts with the Australian government even after officials learned of serious allegations about the firm's conduct in south-east Asia.
AFRICA
TUNISIA
32,556 confirmed cases (+0)

478 reported fatalities (+0)
Major protests rocked the Tunisian city of Sbeitla on Tuesday amid reports that local officials inadvertently killed a man when they bulldozed his son's cigarette kiosk. The victim was apparently sleeping inside the shop and the authorities never bothered to check to see if anybody was inside before they went to work. They also may not have notified the kiosk's owner before demolishing it. Makeshift street kiosks are fairly common in Tunisia, especially in the impoverished central and southern parts of the country where many people rely on them to help bring in some money. The Tunisian government has ordered a full investigation into the death, probably hoping to head off these protests before they can spread nationally.
MALI
3297 confirmed cases (+1)

132 reported fatalities (+0)
Three militant attacks in central Mali, starting overnight and continuing into Tuesday morning, left at least 25 people dead, 13 of them Malian soldiers. At least two of the attacks, targeting a military base near the town of Sokoura, clearly appear to have been linked. The third attack, on a commercial convoy near the town of Bandiagara, may also have been carried out by the same group though that's less clear.
NIGERIA
60,655 confirmed cases (+225)

1116 reported fatalities (+1)
Boko Haram fighters reportedly murdered 14 Nigerian farmers and critically wounded another in an attack just north of the city of Maiduguri on Monday. The rationale for the attack is unclear, but Boko Haram and Islamic State West Africa Province have both turned increasingly hostile lately toward civilians whom they accuse of collaborating with Nigerian authorities.
MAURITIUS
407 confirmed cases (+3)

10 reported fatalities (+0)
Africa Is a Country's Ramola Ramtohul looks at the anti-government sentiment brewing in Mauritius:
Mauritius has a reputation for stability and the quality of its democratic politics. Massive protest action is relatively uncommon in the country. But the government's handling of a major oil spill—with devastating consequences for the island's biodiversity, health and economy—has resulted in protests, threatening this consensus. In the most significant of these marches, more than 100,000 people marched in the capital, Port Louis, on August 29. The second march, on September 12 in Mahebourg, the site directly affected by the spill, had 25,000 participants according to police estimates; organizers argue that the figure was twice that number, if not higher. The protesters demanded change and the resignation of the government, especially Prime Minister Pravind Jugnauth.

What resulted in this mass mobilization? On July 25, the MV Wakashio, a Panamanian-flagged vessel travelling from China to Brazil and carrying 200 tons of diesel and 3,800 tons of heavy oil, ran aground on the coral reefs of Pointe d'Esny, on the south east coast of Mauritius. The lagoon off this coast is situated near two environmentally protected marine ecosystems and the Blue Bay Marine Park, which is a wetland of international importance. For 12 days, the nation waited for the government to take action to prevent an environmental disaster. To pacify the worried population, the police announced on August 5 that efforts were being made to stabilize the ship and said that it was not sinking, but was resting on a sand bank. However, precipitated by bad weather conditions, the first signs of cracks in the hull were reported that same day. The following day, the ship began leaking and an estimated 1,200 tons of oil spilled into the pristine lagoon. The spill puts numerous species around the lagoons of Blue Bay, Pointe d'Esny and Mahebourg at risk, with dire consequences for the economy, food security, and health in Mauritius.
EUROPE
BELARUS
84,524 confirmed cases (+526)

906 reported fatalities (+5)
Belarusian opposition leader Svetlana Tikhanovskaya, who lost August's disputed presidential election to incumbent Alexander Lukashenko and then fled to Lithuania, has given Lukashenko until October 25 to resign or she will call for a general nationwide strike in Belarus. Her remarks came amid another protest in Minsk calling for Lukashenko's ouster, which was met with flares and tear gas by Belarusian security forces.
POLAND
135,278 confirmed cases (+5068)

3101 reported fatalities (+63)
Polish authorities attempting to defuse the largest unexploded World War II bomb ever found in that country were had their work interrupted when it, ah, exploded on Tuesday. The weapon, a British "Tallboy" (a WWII version of a bunker buster), had landed in the Baltic Sea near the city of Świnoujście. The explosion didn't cause any casualties but it did apparently trigger an impressive water plume.
NORWAY
15,793 confirmed cases (+154)

277 reported fatalities (+1)
Norwegian authorities are blaming Russian hackers for a cyber attack against the Norwegian parliament back in August. The attack reportedly compromised the email accounts of several parliament members and staffers. There's been no comment from Moscow yet as far as I know but you can assume an angry denial is forthcoming.
CYPRUS
2130 confirmed cases (+83)

25 reported fatalities (+0)
If you were planning to purchase Cypriot citizenship, I'm afraid I have some bad news. The Cypriot government has announced that it will "abolish" its "citizenship for investment" program, whereby any enterprising guy or gal could get a swanky Cypriot passport for investing a mere €2 million (about $2.5 million) in the Cypriot economy, effective November 1. With Cyprus a European Union member, those passports have been a hot commodity, especially among some less reputable folks interested in doing some not so reputable things via, say, EU banks, as a recent Al Jazeera investigation showed. I know, it's hard to believe anybody with $2.5 million to invest could be corrupt, but apparently it's possible.
AMERICAS
ECUADOR
148,171 confirmed cases (+856)

12,235 reported fatalities (+17)
The Confederation of Indigenous Nationalities of Ecuador is suing Ecuadorean President Lenín Moreno and other members of his government, alleging that Ecuadorean authorities committed "crimes against humanity" in suppressing last fall's anti-austerity protests. The protest movement began in October, after Moreno suspended fuel subsidies, and forced him to decamp from Quito to the city of Guayaquil before he relented and restored the subsidies. Ten people were killed during the protests.
MEXICO
821,045 confirmed cases (+3542)

83,945 reported fatalities (+164)
Mexico's National Regeneration Movement (MORENA), created by Mexican President Andrés Manuel López Obrador as a non-profit in 2011 and transformed into a political party to support his presidential ambitions in 2014, may be falling apart. Party members have been unable to pick a leader since former boss Yeidckol Polevnsky resigned amid corruption allegations earlier this year. The discord the leadership contest has spawned could leave López Obrador scrambling to hold on to his parliamentary majority in next year's midterms, to say nothing of questions about the party's future once AMLO leaves office in 2024.
UNITED STATES
8,090,250 confirmed cases (+51,531)

220,873 reported fatalities (+843)
NASA announced Tuesday that it's gotten seven other countries—Australia, Canada, Japan, Luxembourg, Italy, the United Kingdom, and the United Arab Emirates—to sign on to the "Artemis Accords," a plan to establish some rules governing potential future human settlements on the Moon. Get it? "Artemis"? Because Artemis is…ah, never mind. The plan would establish buffer zones around future Moon colonies and—because the United States is what it is—privatizes any resources mined on the Moon.
Finally, apologies for the self-indulgence but I thought we'd close with Daniel Bessner's latest Foreign Exchanges column, on the role that the IR theory of realism has played in the development of modern US foreign policy thinking:
In my last column, I discussed the mid-20th century period, which was formative in shaping how Americans understand foreign policy, international relations, and, ultimately, their role in the world. In this column, I'd like to address one crucial approach to viewing geopolitics that emerged from the experiences of that era: realism. Realism is, by far, the most influential theory of international relations in the American academy.

Because US academics are constantly forced to distinguish themselves from their predecessors in order to advance in the university (a form of branding, some might say), in 2020 there are many different types of realisms: classical realism, neorealism, neoclassical realism, offensive realism, defensive realism, etc. Though each of these realisms has different emphases, in my opinion they're united by a set of assumptions about how international relations works.